From the exec's desk
Growing for the future!
We are excited to report that we are growing. Please join us in welcoming Suzanne Moore to our staff as our Development Manager. She has extensive experience in developing the relationships necessary to grow our resources in the coming years so that we might realize the full potential of our mission. Read more about her below.
Our history is full of stories where the organization pursued an aggressive vision to improve the environmental and economic vitality of the River by recognizing it as a resource and destination for all of us to enjoy as a place to live, learn, work and play. Most of our success is currently located in the River Arts District of Asheville, but we intend to replicate that success out in the eight counties of the French Broad River Watershed.
As stated in last month's column, that means finding a way to come to a creek near you!
I hope you will join us on Tuesday, November 15 between 6 p.m. and 8 p.m. at Highland Brewing in East Asheville so we can share more about the future of our organization. We will also be recognizing one of our most precious human resources that night in our volunteers. Come learn about the future, meet Suzanne and our staff, and enjoy a beer on us to celebrate our volunteers.
This time of year is about gratitude, and RiverLink has a multitude of volunteers, donors, members and other supporters to thank. We're a small staff and couldn't do what we do without community support, big and small.
Thanks again, and we hope to see you 'round the River soon,
Garrett Artz, RiverLink executive director
#GivingTuesday on November 29 kicks off end-of-year giving. Make a tax-deductible donation.
Celebrated on the Tuesday following Thanksgiving and the widely recognized shopping events Black Friday and Cyber Monday, Giving Tuesday kicks off the charitable season on November 29, when many will focus on their holiday and end-of-year giving.

#GivingTuesday launched as a national campaign in the U.S. in 2012 to inspire giving of all kinds during the holiday season and has since evolved into a global giving movement that unites people of all backgrounds, faiths and nationalities in a celebration of philanthropy and generosity.
RiverLink is just one of the more than 40,000 organizations that participated in 2015. Worldwide, more than $116 million was raised online, and highlighting the energy, creativity and entrepreneurialism that emerge when people collaborate and share best practices to support causes they believe in and help to spread the word.
And when you do shop, remember that
AmazonSmile
is a simple and automatic way to support RiverLink every time you shop, at no cost to you.
On your first visit to
AmazonSmile
, you need to select a charitable organization to receive donations
In addition to a convenient shopping experience, you can feel good about a portion of your total going to support the work of RiverLink, and our commitment to the French Broad River.

Together, we will continue to make the French Broad River and her watershed a place for everyone to live, learn, work and play.
Welcome aboard a new crew member! Meet Development Manager Suzanne Moore
Suzanne is a native of Winston-Salem where she grew up exploring creeks and enjoying other outdoor adventures. Her love for exploring prompted her to take some extended time away from college to travel. During this time, she lived in Dillon, Colorado, backpacked through the mountains of Alaska, and ultimately moved to Morgantown, West Virginia.
Suzanne finds her true passion is in the nonprofit sector. After finalizing her degree in Fine Art and Political Science, she returned to the nonprofit sector. She has extensive experience in the development field, having worked for the Alzheimer's Association, WV Chapter; directing the efforts of Friends of Deckers Creek in Morgantown, WV and serving on the Development Committee for a small organization that promotes biking for all ages.
She gladly returned to her home state to work with RiverLink. Her passion for environmental stewardship, water resources, and the arts make RiverLink the perfect organization for her to share her expertise in development and passions for conservation.
In her spare time, she enjoys adventures with her husband, two children and dog Toby, making pottery and enjoying the outdoors.
Local businesses show support for RiverLink
During the month of October, RiverLink was fortunate enough to be the recipient of funds from three local fundraising events. Asheville area businesses give strong support to non-profits in the area. We can all be proud to have such a giving community.
On Wednesday, Oct. 5,
Chai Pani
, at
22 Battery Park Ave in Asheville,
donated 10 percent of dinner sales to RiverLink. A donation of almost $200 came our way, and staffers who went to dine were treated to some delicious eats. The event is part of Chai Pani's monthly Give Back Day, when they choose a different non-profit to support.
On Saturday, Oct. 8, RiverLink was the fortunate recipient of two fundraising events.
The Asheville Downtown Association offered RiverLink a sizable donation in exchange for eight volunteers to serve beverages at its OktoberFest. It was a successful afternoon, as all of RiverLink's volunteers and staffer Dave Russell came out and had a good time pouring tastes of local and national beers and ciders to participants.
The
Grey Eagle
, RiverLink's neighbor in the River Arts District and the site of a wide variety of local and national musical acts, donated half of general admission sales from the "Let's Taco 'bout it" taco cookoff also on Saturday, October 8. RiverLink's Dave Russell and a volunteer worked the front door, and a total of $505 was donated to RiverLink.
Dave, Russ Keith and Marianne Beasley of the Grey Eagle, and RiverLink Exec Garrett Artz gather for a check presentation
RiverLink friend and supporter
New Belgium Brewing
hosted an onsite
storm water walk-n-talk on Friday, Oct. 14, to showcase the best management practices installed with help from a $400,000 grant RiverLink procured for the site. In addition to donations for the tour, employees of the Liquid Center, NBB's tasting room, also donated tips, giving RL a total of $700 for the day. Thanks, NBB!
If you own a business and would like to host an event or have other ideas on how we can collaborate to support RiverLink's mission, please contact Suzanne Moore at
suzanne@riverlink.org
.
Speaking of local businesses showing support: Giving Back on Green Friday with the The Adventure Center of Asheville and Wildwater Ltd
.
Avoid the chaos and long shopping lines on Black Friday and join the Adventure Center of Asheville and Wildwater Ltd. for the 6th Annual Green Friday at all their locations. Ages 4 and over can zip at KidZip or climb Treetops Park. Ages 10 and over can enjoy Zipline Canopy Tours. They will donate 50 percent of all revenue to some great non-profit organizations: Appalachian Sustainable Agriculture Project (ASAP) in Asheville, RiverLink in Asheville, Trees Greenville in Upstate South Carolina, Walhalla Heritage Oaks, Watershed Association of the Tuckasegee River, and Arbor Source hemlock treatment programs.
Green Friday is an alternative to Black Friday and has already generated over $10,000 in donations to plant trees and improve green spaces in our communities. Instead of standing in long shopping lines, bring the family or friends and have fun zipping and climbing. Green Friday always happens on the Friday following Thanksgiving; this year's event will be November 25.
Aerial adventures include:
Adventure Center of Asheville:
Asheville Treetops Adventure Park, for ages 4 and over, has 60 unique climbing, zipping, walking, jumping, swinging, and rappelling challenges anchored to over 30 trees and towering poles tucked into a wooded park. There are 5 courses ranging from beginner to challenging levels.
Asheville Zipline Canopy Adventures, for ages 10 and over, urban zipline includes 12 ziplines and 3 bridges in treetop platforms on several large adventure towers with mountain and skyline views of Asheville.
Kid Zip, for ages 4-10, is America's first zipline adventure designed for kids 4-10 years old. It includes 9 Ziplines and 4 fun climbing elements that are "kid sized."
Wildwater has 3 additional Canopy Zipline Tours in the beautiful natural forest locations of the Nantahala River, Pigeon River and Chattooga River for ages 10 and over. The Nantahala River Adventure Center also has a KidZip for ages 4-10 years old.
Reservations are suggested and can be made by calling 800-451-9972 or can be booked online at
www.adventureavl.com
or
www.wildwaterrafting.com
. Please mention Green Friday when calling so they can pass along our appreciation for the support.
Kid Zip, for ages 4-10, is America's first zipline adventure designed for kids 4-10 years old. It includes 9 Ziplines and 4 fun climbing elements that are kid sized.
Follow us on Instagram
Here at RiverLink it seems like there's always something interesting going on. We want to be able to share these daily moments with all of our members, volunteers, donors, and the community at large. So in an effort to share more of what we do, and keep up to date with the constantly changing social media world, we've started an Instagram. If you love beautiful pictures of the river, fun facts about it's ecosystems, or want to see proof of the hard work that's going into protecting it, then follow us!

Take a look at what Tuesday's approval of the City of Asheville's bond referendum will do
In August 2016, the Asheville City Council voted to put three general obligation bond referendums totaling $74 million before Asheville voters in the November 8th general election. Money from the bonds will be used for parks and recreation, affordable housing, and transportation network projects.
On Election Day Nov. 8, Asheville citizens voted on the three categories separately, and all three were approved. While we feel all three are worth supporting, we're especially interested in the Transportation and Parks & Rec categories. Here's what the funds are earmarked for:
Transportation projects:
$15.7 million - Streets and bike lane repaving and reconstruction (22 segments, including Martin Luther King Jr. Drive, Kenilworth and Caribou roads)
$3.5 million - Sidewalk maintenance and reconstruction (14 segments, including All Souls Crescent, Vermont Avenue and Haywood Street)
$6.3 million - New sidewalk construction (11 segments, including Johnston Boulevard, New Haw Creek and Swannanoa River roads)
$1.9 million - Transportation safety improvements (20 bus shelters, including one on Bleachery Boulevard at the Walmart Supercenter; four pedestrian signal pole replacements, all on Patton Avenue, including one at the Asheland Avenue intersection; four pedestrian crossings, including on Airport Road at Hendersonville Road; and 11 traffic calming sites, including Azalea Road, Shelburne Road and Moody Avenue)
$4.6 million - Greenway construction (Two miles of Swannanoa River Greenway from the Walmart Supercenter east to Azalea Park plus other greenway connectors linkages and extensions. Officials say the Swannanoa River Greenway would add a walking and biking path for an under-served part of the city and would offer few construction constraints.)
Parks & Rec projects:
$4.7 million - Wesley Grant Center, phase II (Expansion of community center on Livingston Street. The center straddles one of Asheville's poorest neighborhoods and the burgeoning River Arts District.)
$4.1 million - Memorial/ Mountainside Stadium (Upgrades to sports field southeast of downtown, including better parking, handicapped access improvements and better bleachers)
$825,000 - Jake Rusher Park (Includes restrooms, playground updates and a "sprayground")
$1.7 million Montford Park Complex improvements (Includes outdoor basketball courts, improved parking and public grills)
$520,000 - Richmond Hill Park (Includes restrooms, a "gathering plaza" and maps)
$2 million - Outdoor courts and playgrounds (Upgrades and replacements throughout city)
$1.2 million - Ballfields lighting
$2 million - Land acquisition for parks (For north and south of city which have only two of Asheville's 54 parks)
For the most part, the funding outlined in these initiatives aligns with RiverLink's mission, particularly our focus on multi-modal transportation, greenspace creation and improvement, and greenway development. These three bonds will provide funding to build new homes and apartments that families can afford, as well as the infrastructure to connect neighborhoods to schools, work, grocery stores, and parks.
RiverLink's Education program off to a fast start
Our K-12 Watershed Education program has had a very busy month, reaching 1,200-plus students in September and October alone. That's over 1200 students who have learned about their French Broad Watershed through a hands-on pollution model, stories and poems, and getting a firsthand look at stream quality!
Early in October RiverLink hosted a station at Pisgah Elementary's STEAM Day (Science, Technology, Engineering, Art, and Math). We took the opportunity to focus on observation skills with the K-4 grades, writing poetry and drawing sketches of Curtis Creek. We shifted gears at Carolina Day School to talk about storm drains with a lively reading of All the Way to the Ocean.
Folks young and old stopped by the RiverLink tent at the WNC Nature Center's Hey Day to check out the EnviroScape model and chat about our watershed and ways to protect it. Later in the month we took the EnviroScape model to Fern Leaf Charter School to discuss pollution with K-3rd students.
Then at Omega Middle School we shared EnviroScape in tandem with Wildlands Engineering, who brought a great storm water and wetlands model, giving a more in-depth look at the various scales we use to look at watershed health.
The rest of October was spent getting students in creeks! We did bio-assessments with the fourth graders of The Mountain Community School in the North Mills River, where we happily found many macro-invertebrates that need clean water to survive. We then took the lesson to Buncombe County Field Days, where over 500 fifth-graders looked at macro-invertebrates to evaluate the health of the Swannanoa, and once again we found a variety of pollution sensitive organisms, a great sign!
We are looking forward to another busy month of getting kids in their creeks and teaching them about watershed health through engaging and fun experiences.
If you have a group of preK-12 students that would benefit from a hands-on watershed lesson, please contact Micaela Hyams, RiverLink's education coordinator, at
micaela@riverlink.org
or at (828) 252-8474 x 18.
RiverLink has been hard at work on the Westfeldt Park Greenway and Trail Improvement Project
It probably comes as no surprise that research shows if we humans feel a connection to the natural world, we are more likely to be good stewards of it. In an urban environment, those opportunities to connect with nature may seem far and few between. In reality, especially for kids, it can be as simple as just getting outside and doing something -- anything -- as long as it is outdoors. A picnic in a park or a bike ride on a greenway can offer ample opportunities to connect with nature. Fortunately, the area in which we live is dotted with city parks, ever-expanding greenways, and at the center of it all, the French Broad River.
One of RiverLink's longstanding initiatives is to help create recreational opportunities along the French Broad River, to foster a connectedness and feeling of ownership that will lead to good stewardship of this precious resource. In 1994, RiverLink spearheaded the creation of the first greenway in our area at the French Broad River Park in Asheville. 22 years later, our work to create river access and greenway infrastructure continues, even expanding out into the greater French Broad watershed.
In 2013, RiverLink partnered with neighboring Henderson County to secure a grant that would help increase recreational opportunities at one of their underutilized parks along the French Broad River. If you have ever visited Sierra Nevada Brewing near the Asheville airport, then you have driven past the 15 acre parcel known as Westfeldt Park. The grant, awarded by the North Carolina Division of Parks and Recreation's Recreational Trails Program, funded construction of a 2,400 ft loop trail through the park. The new trail system, completed this fall, provides walking, jogging, and biking paths for visitors to Westfeldt. A paved section of the trail, paralleling the French Broad River, is also the first segment of a greenway planned to connect north with the Buncombe County Greenways Master Plan (including the Mountains-To-Sea trail

) and south to Henderson County parks and greenways.
Community partnerships are key for any large-scale project to go from being a mere grant proposal to a finished product. At Westfeldt Park, Henderson County Parks and Recreation along with volunteers from RiverLink and Carolina Mountain Land Conservancy have worked together to mulch trails and remove exotic invasive plants from a wetland within the park. For me, the payoff came this past week when I was working along the greenway with RiverLink volunteers and simultaneously a jogger sped by just as a noisy Pileated Woodpecker flew overhead. There it was...an opportunity to connect with nature.
Local History: A brief bio of Edwin George Carrier


After moving from Michigan to Asheville in 1885, Edwin George Carrier learned of the great successes of the old Sulphur Springs-Deaver Springs Hotel and its sulphur springs' waters. He envisioned even greater possibilities, and hoped to bring back the popularity of the sulphur waters as well as the glamour and charm realized by the hotel during the pre-Civil War days.

| | |
| --- | --- |
| | |
| | Edwin Carrier from Hominy Valley Revisited, from the NC Collection of Pack Memorial Library |

He purchased
1,200 acres of land in the Sulphur Springs area, which included the old burned-out hotel property and several tracts of land owned by Mr. J. P Gaston. Carrier then organized the West Asheville Improvement Company with the intention of developing West Asheville. Streets were laid out (many by Carrier which bear the names of states), and lots were sold.
In 1887 he built a new, three-story brick building on the site of the old wooden structure and renamed it Carrier Springs Hotel. It accommodated 250 guests and became well known for its comforts and conveniences.
The new hotel was open year-round and business was very good, so Mr. Carrier built an electric railway line to entice even more guests from Asheville. It left the hotel and followed Hominy Creek through what is now Amboy Road; crossing the French Broad River on Carrier's fine, new, high steel bridge. From this point near the mouth of the Swannanoa River the tracks ran to the Asheville depot. The railroad was called the West Asheville and Sulphur Springs Railway Co. Carrier was later able to secure a franchise to extend it to the center of the city.
In 1889 he built a dam just below Bear Creek Bridge on Hominy Creek and installed a powerful turbine and generator to make a hydroelectric plant-the first of its kind in Western North Carolina. It generated enough power to supply the electricity needed for his new hotel, the electric railway, and had a portion left for consumption by the City of Asheville.
A Carrier Race Track and Fair Grounds was built just south of Strawberry Hill, and between the Sulphur Springs Railway and French Broad River, for the enjoyment and entertainment of his hotel guests. Horse training and racing was one of his favorite hobbies. A grandstand was erected and a high fence was built around the race track. There were several exciting races, all of which were well attended.
Carrier's Dam on Hominy Creek
French Broad River Atlas spotlights history
The French Broad River Atlas is the 17th in a series of river atlases from the Virginia Canals & Navigations Society, designed to encourage interest in the fascinating history of navigation on the French Broad. The goal of these atlases is to bring back to light a lost era in America's history when her rivers and streams were the superhighways of their time. They're trying to learn the history of that era, and to explore the rivers to rediscover what's left to see of the navigation works built for river craft running on what they like to call the "Whitewater Ocean."
In North Carolina, this atlas focuses on 50 miles of the upper French Broad
| | |
| --- | --- |
| | |
| The Mountain Lily after her grounding | |
-- "The Trail Of The Mountain Lily" -- and 31 miles in Tennessee, featuring the amazing piled-stone walls (some a mile long) built for steamboat navigation on the lower French Broad. It includes "The Ballad of the Mountain Lily," maps of interesting railroad grades in the region, and the Laurel Park Canal.
The French Broad River is, literally, filled with history. If you canoe it at reasonably low water, you can rediscover fascinating things preserved in its depths. You'll float through rapids with names like Allison's Shoals, Clayton's Reef, Long Shoals, Eli Glen's Shoal, Bell's Shoal, and Smith's Bridge Shoal. You'll experience "The Suck" at Bowman's Bluff, and "The Soap Pot" in the Horse Shoe. You'll shoot down Davidson's River Shoals between a long line of wing-dams just as the Mountain Lily did a century ago. And who knows, you might even discover the long-lost remains of the Lily herself!
Copies of The French Broad Atlas are available by mail from the canal society at www.vacanals.org/ store, for $20, plus $5 postage, (plus tax if you are in VA). A large wholesale discount is available for quantity sales (contact holt@vacanals.org). The Virginia Canals & Navigations Society museum and headquarters is at 3806 S. Amherst Hwy, Madison Heights, VA 24572.
Upcoming Events
Please note: When attending any of these events at the RiverLink office, please do not park at any of the studios on Riverside Drive or the Wedge. Thanks so much.
Wed. 11/9 @ 10 am & 5:30 pm
-- Volunteer info sessions
Sat 11/12 & Sun 11/13 --
Tire Amnesty Day
Thurs. 11/17 @ 11:30 am --
Historic Bus Tour
Fri. 11/18 @ 3 pm --
Future of RiverLink Salon
Other ways to stay in touch with RiverLink


These monthly newsletters are chock-full of good information about what RiverLink has done, is doing now, and will be doing in the future. There are other ways to connect to us and stay riverlinked, though.
Check them all out and let's stay in touch!

Multiflora Rose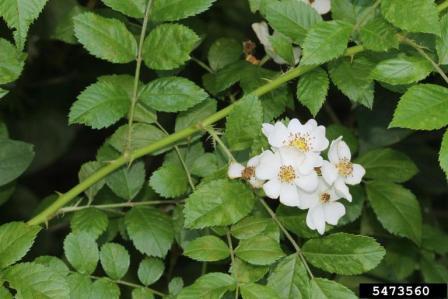 Scientific name: Rosa multiflora (creative I know)
History and Use: Originating from Japan, Korea and Eastern China,Multiflora rose was introduced to the eastern United States in 1866 as rootstock for ornamental roses. Beginning in the 1930's, the U.S. Soil Conservation Service promoted it for use in erosion control and as "living fences" to confine livestock. State conservation departments recommended Multiflora rose as cover for wildlife. More recently, it has been planted in highway median strips to serve as crash barriers and reduce automobile headlight glare.
Identification:
Multiflora is a multi-stemmed shrub, sometimes climbing vine, with arching stems and recurved thorns. Its leaves are divided into five to eleven sharply toothed leaflets. It has clusters of showy, fragrant, white to pinkish, 1 in. wide flowers that appear during May; and small bright red fruits, or rose hips, develop during the summer and remain on the plant through the winter. It has a few look alikes, but only multiflora rose has the combination of upright arching stems and fringed stipules.
Ecology:
Multiflora rose occurs throughout the eastern half of the United States and in Washington and Oregon. It tolerates a wide range of soil, moisture and light conditions and is able to invade fields, forests, prairies, some wetlands and many other habitats.
Threat: Multiflora rose grows aggressively and produces large numbers of fruits (hips) that are eaten and dispersed by a variety of birds. Dense thickets of multiflora rose exclude most native shrubs and herbs from establishing and may be detrimental to nesting of native birds.
Control:
Do not plant multiflora rose. Effective control of multiflora is possible using chemical, manual, or mechanical means or, preferably, a combination. Frequent, repeated cutting or mowing at the rate of three to six times per growing season, for two to four years, has been shown to be very effective. In high-quality natural communities, cutting of individual plants may be preferable to minimize habitat disturbance. Because of the long-lived stores of seed in the soil, follow-up treatments are necessary. Application of a systemic glyphosate-based herbicide to freshly cut stems, to regrowth, or to foliage is very effective, especially if done late in the growing season.
Volunteer Spotlight: Oaktree
At Oak Tree we have a passion for helping others and for giving back to the community. Not only do we really appreciate everything Riverlink does, but we also love the natural and social community of Asheville. We often partake in hikes, go tubing down the rivers, go fishing, and just love hanging around outdoors, so it is very important that we are able to give back to this community which has been so freely given to us. The program at Oak Tree helps teach our clients about the importance of doing service to get outside of ones self and to give back to the loving people of our great city!
Torg Stories captures a Summer on the FBR

Bill Torgenson and his family, aka "Torg Stories," made a movie about the French Broad River, the people who use it, and the social and political issues that surround it.
As a part of the through story for the film, he and his family (girls ages eight and ten) rafted from Rosman, North Carolina to the Rankin Bottoms in Tennessee, a total distance of 147 miles. Along the way, they interviewed a variety of RiverPeople and had a wide range of experiences.
Follow this link
to see what they saw, who they talked to, and the fun they had!
Moss Facts
- Mosses are tiny plants. Most mosses can reach 0.4 to 4 inches in height. The largest species are 20 inches tall.
- Unlike most other plants, mosses do not have vascular tissue (a special kind of plant tissue that is used to transport water and nutrients through the plant). Because of that, mosses lack roots, stems and flowers.
- Mosses use structures called rhizoids (which look like miniature roots) to attach themselves to the ground.
- Mosses were the first plants that managed to survive on the solid ground. They evolved from algae.
- Mosses are able to absorb huge amount of water and prevent erosion of soil from water runoff.
- Mosses were used as bandages during the First World War to prevent blood loss. Mosses were also used to soothe the infection since they contain a chemical with anti-bacterial properties.
- People used dried mosses for heating their houses in the past. Live mosses were used to insulate boots in cold climates.
- Mosses are very popular in gardening because they require low maintenance, tolerate periods of drought and visually improve beauty of the garden.
- Certain animals, such as reindeer, consume mosses because they contain a chemical which warms their blood.
- Mosses are indicators of pollution. They can grow only in clean environments.
- Moss can stop its metabolism almost completely during the hot periods of the year when water is not available.
- The life cycle of moss consists of two generations: sporophyte and gametophyte. Sporophyte generation produces spores that are spread by wind. Spores develop into gametophyte generation which produces male and female sex organs and ensures sexual reproduction.
- Moss lives near the water because male and female reproductive cells travel to each other and merge in the water.
- The lifespan of moss depends on the species. It ranges from a couple years to 10 years.