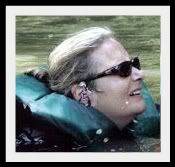 My usual column this month features the letter our Board of Directors recently sent to our supporters as part of our annual fund drive. Please give it a read and follow the link below to do your part to make the French Broad River and her watershed a place for everyone to live, learn, work and play.



Dear River Lover,

All the members of RiverLink's Board of Directors would like to extend our sincere thanks for your past and future support of our annual fund drive. We need your help today to raise $200,000 to meet our annual fund goal.To give you a brief overview of what we achieved last year, we have attached our accomplishment card for 2014. As you'll see, we continue to be extremely productive.
We are especially proud of the success of the Wilma Dykeman RiverWay Plan, a plan we funded and facilitated. It is a demonstration plan for the watershed that promotes better pedestrian access, multiuse greenways, boat ramps, safer roadways, open space and mixed-use, mixed-income development. It has attracted over $40 million for implementation along two miles of the French Broad River in Asheville. That's two miles funded and only 215 miles to go.
We need your help and participation. RiverLink's diverse Board of Directors is committed to using our energy and expertise to engage our small professional staff and 2,700 inspired volunteers to protect quality of life and promote responsible development within the watershed - now and in the future. Clean water is the lifeblood of our region, supporting health, recreation and industry.
Rivers are a critical part of the legacy we leave our children and grandchildren. While RiverLink's past record of accomplishments is impressive, to ensure that our future efforts are even more impressive, we have undertaken a strategic planning process to help us chart the next five to seven years.
We believe the best is yet to come.Please use the enclosed return envelope to support our team's efforts with your tax deductible donation before June 30th. Let's work together to navigate a sustainable future for the French Broad River Watershed.
Sincerely,
Esther Cartwright,
Chair of RiverLink Board, on behalf of the RiverLink Board of Directors
Controller, AVL Technologies
Brian Moore
Vice Chair, RiverLink
Mission Hospital, Director of Planning And Public Policy
Peter Sprague
Secretary, RiverLink
Ingles Markets
Dick Hall
Treasurer, RiverLink
Retired

John Curry
Retired attorney
Paul Dismukes
Retired from healthcare field
Ken Grossman
CEO, Sierra Nevada
Daniel Hitchcock
Adams, Hendon, Carson, Crow & Saenger, P.A.
Barbara LaGuardia Korb
Retired, IT
Renee Kumor
Retired, Chair of the Henderson Co. Board of Commissioners
Joe Sasfy
Retired, Music Executive
Denise Snodgrass
Retired, Deputy Director UNCA OL
lIE Center
David Whilden
Senior Trust Officer/Boys Arnold Trust Co
Debi Whitmire
Owner, Headwaters Outfitters
The first RiverMusic was a big hit, and the June 12 show is going to be bigger and better!
The first
RiverMusic
was Friday, May 1, and it was a rousing success. Though the weather was a bit cold, attendance was good, with about 1,500 people turning out. Our volunteers performed spectacularly, of course, and everything went smoothly.
Our headlining band, The Movement, had everyone dancing under an almost-full Moon and smiles and happy kids were abundant. WLOS came out and shot some video of the event.
Check it out!
"
My own sense of anticipation peaks on June 12 when the Ben Miller Band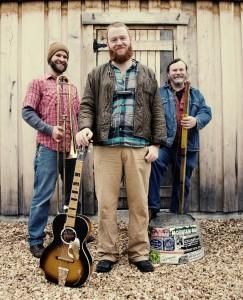 The Ben Miller Band

headlines what should be an evening of rowdy Americana. This Missouri trio wowed 'em as openers for rock legends ZZ Top, and have been turning heads and twisting ears everywhere with the inspired fusion of bluegrass, delta blues and old-timey they call "Ozark stomp." The band looks a little weird, plays some eccentric homemade instruments, but is no joke. This is one totally original, explosive American band that seems a perfect fit for Asheville. The evening's tone will be set by Asheville's alt-folkies, the Toothe, and a tough electric blues band from Hickory, the Red Dirt Revelators."
We'll have beer from New Belgium and Twin Leaf that night, delectables from
Twisted Root, El Kim Chi, Farm to Fender, Amazing Pizza, Avery's Hot Dogs, and Taste & See. There will also be ice cream from The Hop.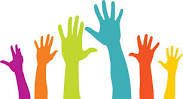 Reserve your RiverLink free French Broad River Paddle Trail campsite today!

RiverLink has launched a new
online reservation system for RiverLink campsites located along the French Broad River Paddle Trail. This will make it easier for couples, families, and groups to plan their next trip along this beautiful river. Each campsite managed by RiverLink is free and open to the public.
You can now reserve a campsite with a few easy steps:
Go to the Campsite Reservation Page on RiverLink's website
Select the specific campsite
Select from the dates that are available on the reservation calendar
Fill out the contact information form located below the calendar and click Book Now
You will receive a confirmation email once your reservation has been approved
To help you plan your next float along the French Broad River, you can use the
RiverLink Interactive Map
to locate access points, campsites, and other amenities along the river. This Map App is also available on mobile devices, click
here
to download. Feel free to contact information@riverlink.org or call (828)-252-8474 if you have any questions.
Happy paddling!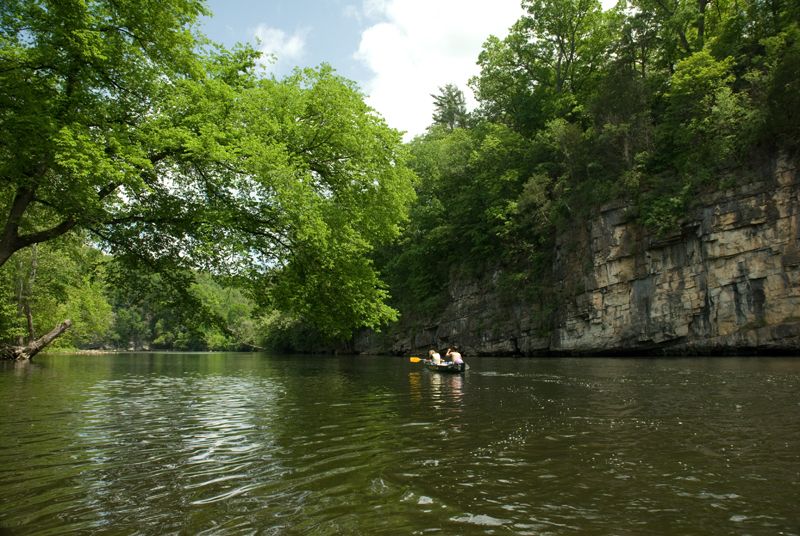 Monthly Cleanup

RiverLink and the town of Black Mountain are excited to launch a watershed-wide initiative to engage the town and get volunteers out into the community. Black Mountain secured a grant and the cleanup taking place on May 16th is just the start of ongoing projects that RiverLink and the town will be taking part in together. The time of the event is 9 a.m. to 12 p.m. and everyone is invited to participate no matter your experience or expertise with rivers and cleanups.

RiverLink has held numerous Comprehensive CreekCare Program cleanup days and we are determined to make the entire French Broad River Watershed an even better place for everyone to Live, Learn, Work and Play. RiverLink is excited to expand all of our programs throughout the watershed so give us a call if you would like to join.
What is it like? We will meet in the morning and split into different groups. There will be something for everyone! Volunteers can pick and choose from any of the activities that they feel comfortable with. One group will be in the river with waders on dragging out tires and garbage of all sizes. Another group will be walking the sides of the Swannanoa with garbage sticks picking up trash before it ends up in the river. Yet another group will be walking some streets in town placing placards on storm drain grates that say "Do not dump, flows to river". And for the kids our Environmental Educator will be there to conduct a Kids In The Creek activity and teach young ones about the importance of water quality.
Why? Volunteers are the lifeblood of our organization here at RiverLink. We are a small staffed nonprofit organization with a big goal of continually cleaning the entire French Broad River watershed. Without our volunteers our mission would be impossible! The Swannanoa is a main tributary to the French Broad River and a huge piece of the puzzle to ensure cleaner waters throughout the watershed.
Guaranteed good time -- take the trolley to Oskar Blues, hoist a few pints for RiverLink
Looking for a way to make your beer dollar go farther? Love craft beer and conservation along the French Broad River watershed? Wanna free ride in a vintage trolley to a brewery? Here's the perfect event for you.
RiverLink is thrilled to be the featured nonprofit of the Oskar Blues/Tasty Weasel Making A Difference Monday program. On Monday, May 18th, 10 percent of all sales in the Tasty Weasel Taproom will be donated to RiverLink. The taproom is open noon until 8 p.m.
There will also be an Old Time Music jam from 6 -- 8 p.m. that is open to all ages.

The tasting room is located at 342 Mountain Industrial Drive, Brevard, North Carolina 28712. To ease driving woes, there is a special offer for a free trolley ride from the River Arts District to Oskar Blues if we can get at least 25 people to commit. The trolley will leave between 4:30 and 5:00 p.m., drop guests off at the Oskar Blues Brewery, and then return them to the River Arts District after the event ends at 8:00.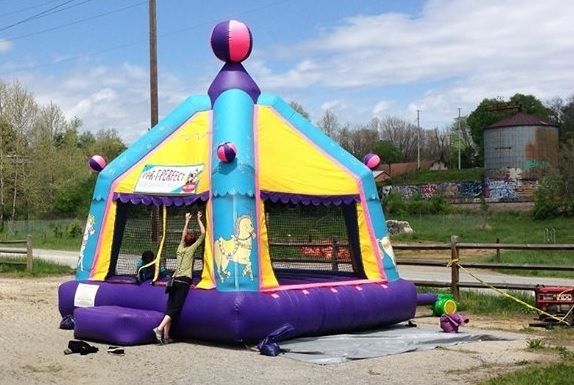 Earth Day Celebration

Thank you to everyone that came out to celebrate Earth Day with us on Saturday, April 25th. Everyone who came by got to enjoy the bouncy house, crafts, games and FUN!

Thank you again to FLS Energy for making the event possible this year!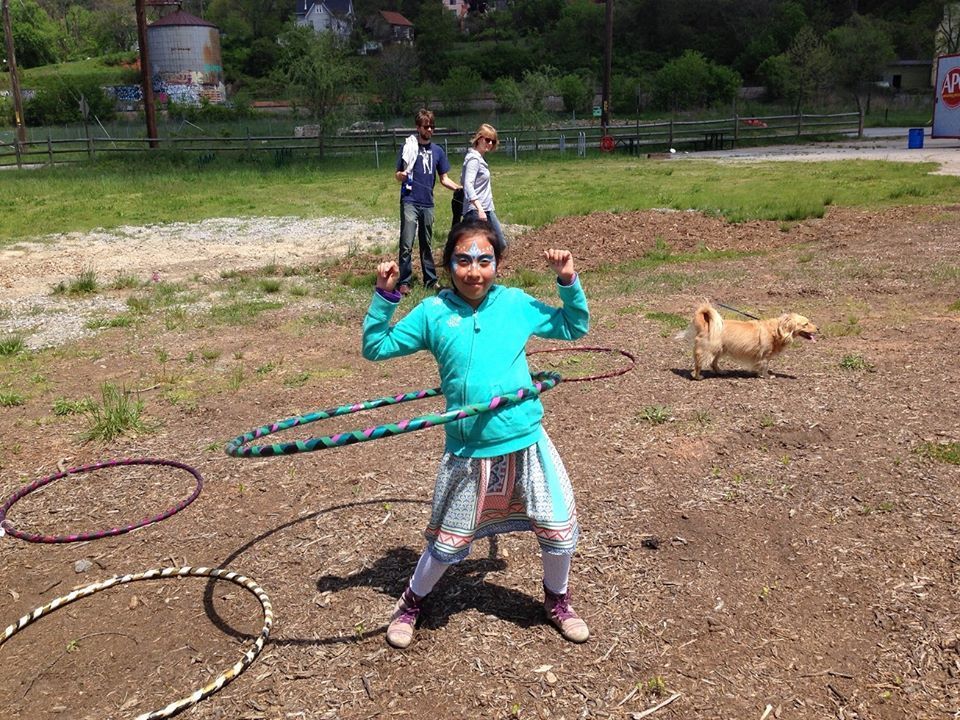 Mountain Sports Festival needs volunteers
The 15th Annual Mountain Sports Festival returns to Carrier Park on Memorial Day weekend (May 22 - 24). It's a weekend music and sports festival celebrating community, athletics and local business. View the schedule of events, entertainment and other offerings here.
The free festival has grown from its humble beginnings when RiverLink put together the RiverLink Triathlon in 1996, and the Tourism Development folks put up $25,000 to kick off the event. Since then, it has grown to include outdoor events such as standup paddleboard yoga, cyclocross, disc golf, a 10K run, and plenty of family activities.
Volunteers are needed to make it all work. Just head over to www.mountainsportsfestival.com, click on Get Involved /Volunteer, and get signed up. You may also shoot Jen Jameson an email at volunteer@mountainsportsfestival.com. They have some great swag and gifts from vendors for volunteers who are able to help out for more than 2 shifts. i.e FREE pair of KEEN shoes.

Upcoming Events
Please note: When attending any of these events at the RiverLink office, please do not park at any of the studios on Riverside Drive. Thanks so much.
-----------------------------------
Wednesday Workday
May 13th, 20th and 27th.
Please check our events calendar here for location details!
WednesdayWorkdays will take place every week from 1 p.m. -- 4 p.m. and will be an extension of our Comprehensive CreekCare program. We will focus on trash removal along rivers and streams, invasive plant removal, native tree planting and also storm drain marking. Click here to register
-----------------------------------
Wednesday May 13th
10:00am - 11:00am & 5:30 PM - 6:30PM
The information session will
detail all of RiverLink's volunteer opportunities in a 30 minute powerpoint presentation. Volunteers will also have a chance to fill out a volunteer questionnaire and find the opportunities that best fit their needs.
RSVP to attend please
-----------------------------------
May 14, 2015 @ 10:00 am - 12:00 pm at the RiverLink office -- Calling All Artists: Learn How To Contract With The City Of Asheville. Join RiverLink and City of Asheville Economic Development Specialist Brenda Mills to find out how as an artist you can become a contractor for the city. It's free but reservations are a must. Reserve your seat today by clicking here. Email Melinda@riverlink.org (preferred) or call 828-252-8474, ext. 10 for more information.
-----------------------------------

Friday, May 15 from 4:00 pm - 6:00 pm at the RiverLink office - Presentation: Who is Wilma Dykeman and What is the Wilma Dykeman RiverWay All About? Join RiverLink's executive director Karen Cragnolin and Jim Stokeley, Wilma Dykeman's son and Chairman of the Wilma Dykeman Legacy Board of Directors, for an informative presentation at RiverLink's Warehouse Studios, 170 Lyman Street in the heart of the River Arts District. It's free but reservations are a must.
Email Melinda@riverlink.org (preferred) or call 828-252-8474, ext. 10.

-----------------------------------

Thursday, May 16, 9:00AM -- 12:00PM
Monthly Cleanup May
We will be joining the town of Black Mountain in an initiative to clean up the Swannanoa River.
-----------------------------------
Thursday, May 21, 11:45 -- 2 p.m., the Riverfront Bus Tour -
Discover the magic of the Riverfront area firsthand -- past, present and future. Registration Required.
-----------------------------------
May 30, 10:00 am - 2:00 pm Clean Streams Day.
This is our biggest cleanup of the spring, please contact us if you would like to get a team together and help us clean our streams!

English Ivy
Hedera Helix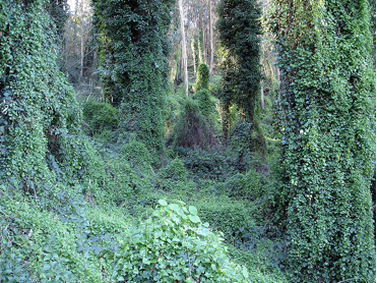 English Ivy Is a species of flowering plant native to most of Europe and western Asia.
Hedera Helix is an evergreen climbing plant, growing from 20-30 meters high where suitable.
It is widely cultivated as an ornamental.
Leaves are dark-green and waxy with palmate veins. 3-5 lobed leaves with heart shaped base.
Flowering is triggered by sunlight, when the vines climbs into taller vegetation. Seeds are spread by birds.
English Ivy spreads by runners and can invade woodlands. It can spread along the ground as well as in forest canopy. English Ivy is aggressive and it will out compete other species and choke out the forest floor.
English Ivy is continually widely planted as an ornamental. Do not buy or plant English Ivy.
It can be treated by cutting out a 2 foot section on trees and treating the lower vines with Glyphosate. Dye can be used in the Glyphosate in order to track where treatment has occurred.
Volunteer Spotlight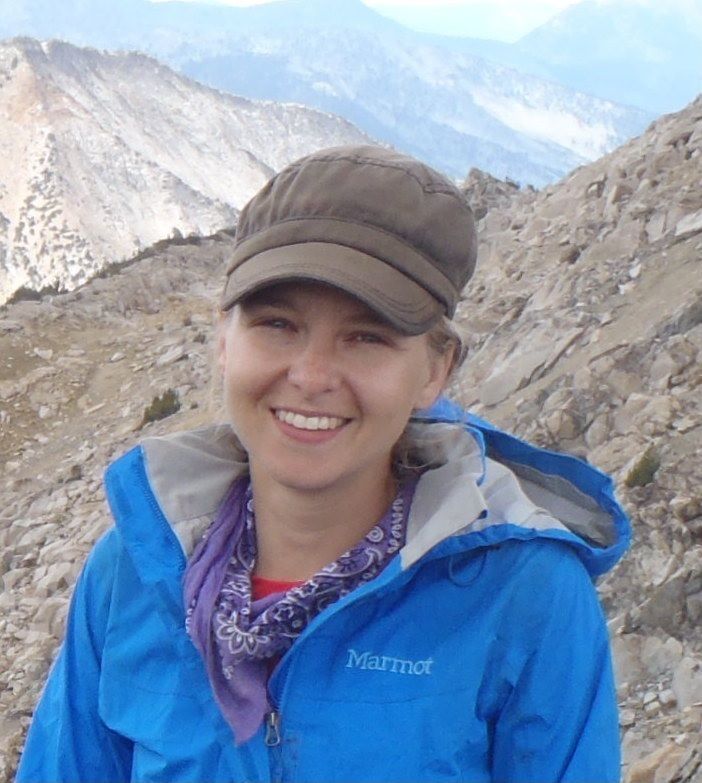 Stevie Tucker
Upon relocating to Asheville six months ago, Stevie fell swiftly in love with this great city, the gracious people and beautiful scenery. I was immediately impressed, among other things, by the pride taken in cultivating community.
RiverLink, the great stewards of the French Broad River, in their efforts of clean-up and conservation, work earnestly to provide an idyllic place to gather and recreate right in the heart of our city. I am proud to call Asheville my home and as such am grateful to be able to take an active role in that work, preserving the beauty for all, who, like me, fall in love with living here.
Fun Facts
Tadpoles look more like fish than frogs, they have long finned tails and breathe through gills.
An amphibian can live both on land and in water.
Although frogs live on land their habitat must be near swamps, ponds or in a damp place. This is because they will die if their skin dries out.
Instead of drinking water, frogs soak it into their body through their skin.
Frogs breathe through their nostrils while also absorbing about half the air they need through their skin.
Frogs use their sticky, muscular tongue to catch and swallow food. Unlike humans, their tongue is not attached to the back of its mouth. Instead it is attached to the front, enabling the frog to stick its tongue out much further.
The common pond frog is ready to breed when it is only three years old.
Frogs in the wild face many dangers and are lucky to survive several years. In captivity however, frogs can live for much longer.
Frogs can see forwards, sideways and upwards all at the same time. They never close their eyes, even when they sleep.
Remarkably, frogs actually use their eyes to help them swallow food. When the frog blinks, its eyeballs are pushed downwards creating a bulge in the roof of its mouth. This bulge squeezes the food inside the frog's mouth down the back of its throat.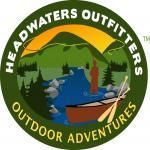 Float with Headwaters Outfitters for one of the best cleanups of the year
Volunteer Call
Transylvania Times - The French Broad River Clean-up remains the best volunteer gig in town with a free canoe ride down the river, along with a complimentary breakfast, lunch, and all the garbage bags one can fill.
Since the inception of "The Upper French Broad River Clean-up Day" in 1992, the annual river clean-up has netted more than 3,000 garbage bags, 4,700 old tires and roughly 15 additional tons of trash along the upper French Broad. More than 3,000 volunteers have participated in the event, many of them returning year after year.
Volunteers show up at Headwaters Outfitters at 8:30 a.m. and will be treated to a light breakfast before being shuttled to a launching area in Rosman. Everyone will be assigned canoes (no kayaks), paddles, life jackets, and garbage bags. Participants should bring sturdy gloves, river shoes and tools such as long-handled barbecue tongs to grab trash with. It's always a good idea to bring a change of clothing for afterwards.
After the clean-up, volunteers are served a lunch at Headwaters. Lunch is a light-hearted affair, with volunteers swapping tales of creatures hitchhiking in garbage bags and unusual finds excavated from the riverbed. Though support for the clean-up has remained steady despite hard economic times, new donations of cash or food are always welcome.