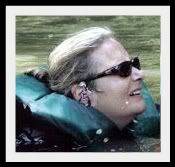 Brrrrr RiverLovers,
It really has been cold and then warm then cold and windy again. You know what they say, "If you don't like the weather in Asheville, wait a minute!"
Dave took some great photos of on streams in our watershed in the cold. Click here. If cold were a color it would be the French Broad for several days this past January!
It was so cold we had to delay installation of the new ATM outside our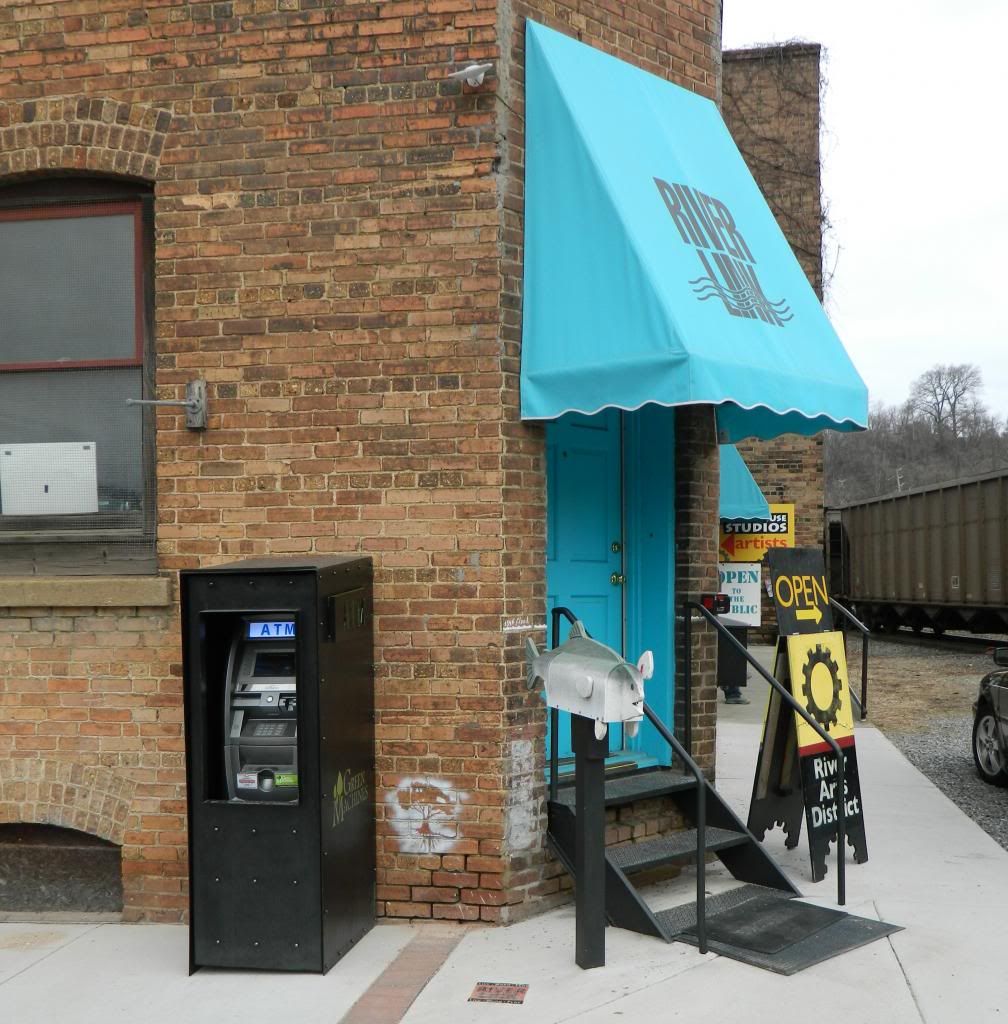 Warehouse Studios building. Our goal with the ATM is to make it easier and enable visitors to the riverfront area to access cash to spend at area studios and eateries.
We also added some motion-sensing lights around the Warehouse Studios to make the street more pedestrian friendly at night.
We love your volunteers -- all 1,700 of them -- and we want to make sure we are fulfilling your needs and getting feedback from you so we have prepared a volunteer survey. Let us hear your thoughts and once again thank you so much for all you do to make the river better!
We cleaned out some old computers, printers and other electronic oldies and brought them to Biltmore Iron and Metal (BIMCO) and got a $58 check in return! Thanks BIMCO! We thought you were great taking them off our hands and recycling the parts. We were thrilled to get a check, too! We are still recycling cellphones as an ongoing project, so if you have upgraded your old phone bring it to us Monday thru Friday 8 to 5 p.m. and we will recycle them for you.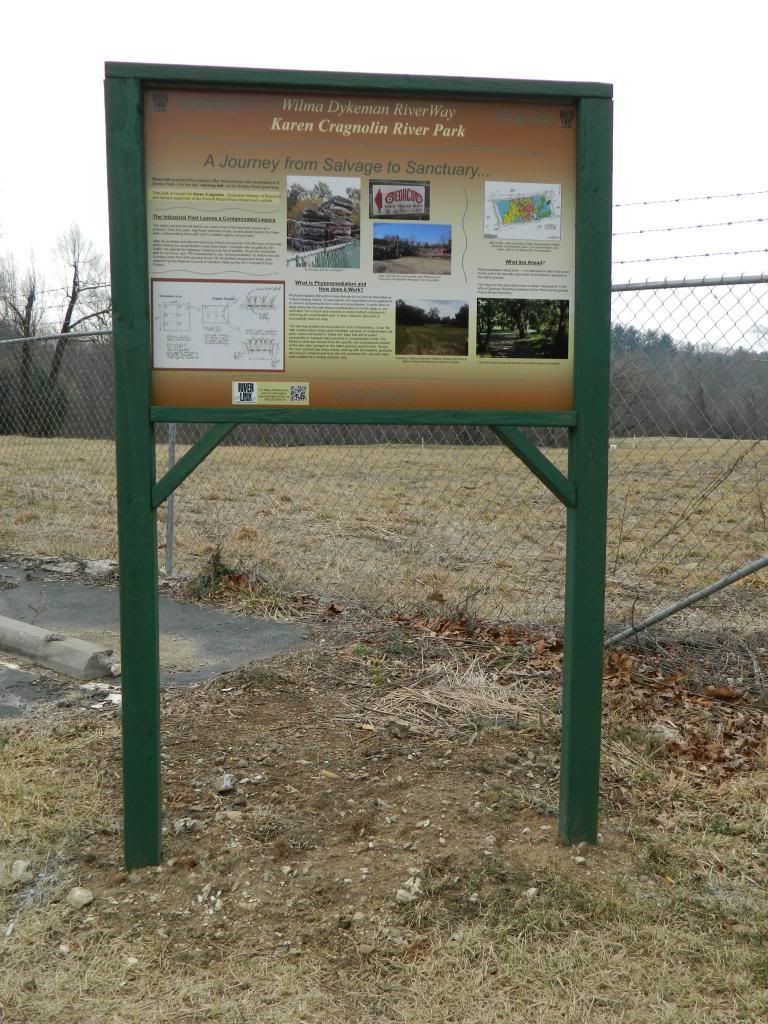 Karen Cragnolin Park kiosk
Very encouraging news from the soil test we conducted at Karen Cragnolin Park in November. After only one full growing season the contamination at 24 of the 26 "Hot Spots" is gone. DENR and EPA are recommending that we continue our protocols of fertilizing, irrigating, and soil moisture monitoring again next fall. One of our main goals with this project has been to not have the contamination on the site dictate the ultimate design of the future park and pavilion. I am pleased to say it looks like that wish may come true.
Have you seen the new kiosk we installed over there? It has a lot of really good information and maps that illustrate the phytoremediation process. Check out French Broad River Park and Jean Webb. Those information kiosks should be installed by the end of the month.
We are starting our land trust accreditation process this year. In December we recorded two new easements -- one on Smith Mil Creek that drains Patton Avenue in West Asheville and is on the state's 303 d list of impaired streams and another easement in Ross Creek that drains Tunnel Road and is also on the state's 303 d list for impaired streams. That's what we love - FOREVER PROTECTION of our resources.
Speaking of protecting our resources DENR has released its report on the French Broad River and is seeking comments for the update. Once again the main stem of the French Broads big problem is flowing from Mud Creek in Henderson County up to the airport. But read the report for more information.
If you have time Tuesday, February 11, the DOT is hosting an information session at Haywood Community College from 4 to 7. You can go look at the maps, comment and get the picture of transportation plans for WNC for the next few decades.
I am so lucky to have had Wilma Dykeman as a friend, travel companion and
mentor and now I am very proud to serve on the board that is promoting her legacy of environmental protection, sustainable development and social justice. The board is called the Wilma Dykeman Legacy and we are hosting a series of seminars in March with the Buncombe County Library about -- you guessed it -- WATER. You won't want to miss these if you care about this very important issue. We are blessed in WNC with abundant water and not everyone in the rest of the world is so fortunate. Look at California, or Africa or any number of places where being able to get a clean refreshing glass of water from the tap is not possible. I hope you will join us for this series.
I had an interesting dinner with some PhDs from Duke University who are conducting a water, weather assessment study of the French Broad River watershed with NASA. You know we have a unique watershed in many ways -- the driest place in the state is in Asheville and the wettest place in the state is in Transylvania County -- all in the watershed. One of the many things they will be studying and mapping is the impact of fog on groundwater recharge. Stay tuned, as this should be a very interesting program to follow about how our watershed functions.
Thanks for all you do and see you on the river,
Karen

P.S. If you haven't checked out our new Web site - you are missing out because it is really functional and beautiful!
Watershed Education Volunteer Training Sessions
Every year RiverLink provides dozens of water-based environmental education programs to students of the French Broad River Watershed. These interdisciplinary lessons aim to educate and inspire the next generation of river stewards.
Volunteers are essential as RiverLink works to increase the availability of our Educational Programs to an increased number and a wider demographic of students.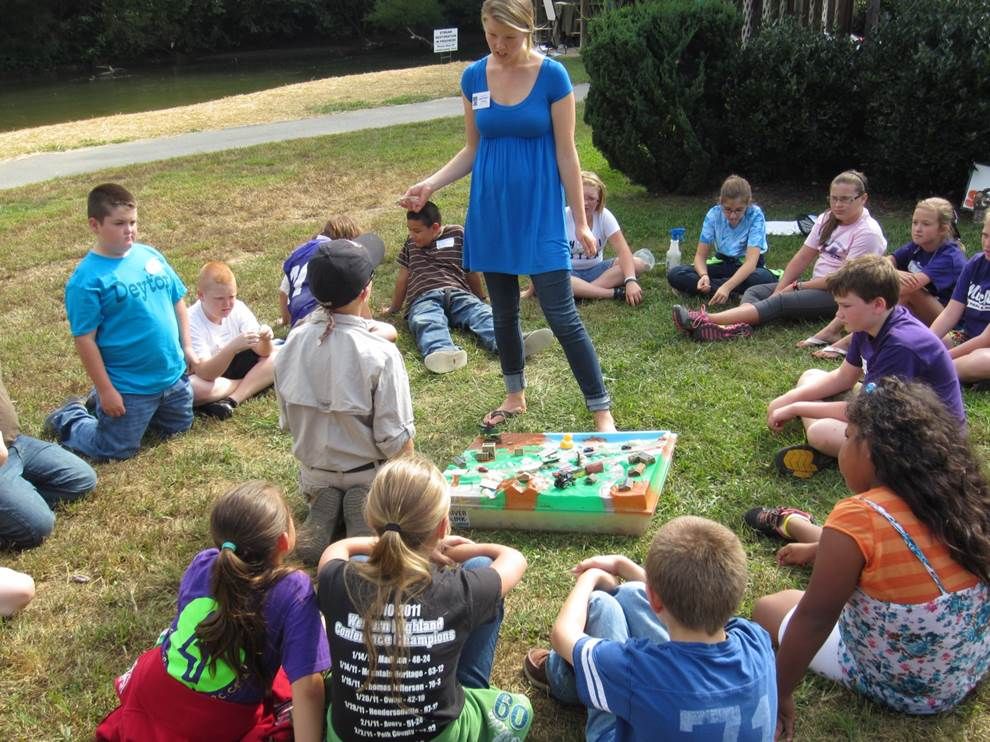 Requirements for Participation
All volunteers are required to undergo a background check before working with children.
Skills/Interests:
Time Commitment:
Weekday availability required to participate in school programs
Volunteers should be willing to commit at least one hour/month during the school months (Sept-Nov, Feb-June)
Some opportunities available on weekends for general public. Summer opportunities available for River Camps.
Programs include: Enviroscape, Kids in the Creek, project WET Lessons, and the Voices of the River Art & Poetry Contest
The next training date is Thursday February 13th, 2014 at the RiverLink offices. There will be two info sessions:
12:30-1:30 pm

5:30-6:30 pm
If you are interested in participating as an education volunteer, please contact:
Lizzy Stokes-Cawley, Education Coordinator
(828) 252-8474 x 18 education@riverlink.org
Join us for the second Annual "All Roads Lead to the RAD" R
eco
verLink Cleanup
It's time to brave the cold and come together to pick up litter to make the French Broad River a place for everyone to live, work, and play.
Join RiverLink and
Recover Brands
for
the 2nd Annual All Roads Lead to the RAD
cleanup, focusing on streams and roads in Asheville's River Arts District.
The cleanup will be Friday, February 28, starting at 2:00 p.m.
All Roads Lead to the RAD will be the first R

eco

verLink cleanup of the new year. Because of the cold weather, teams will be working in the flood plane of the French Broad but will not be getting in the water. Groups will work in various locations in the River Arts District and will eventually converge at the RiverLink offices.
RiverLink will provide safety vests, gloves, litter pickup sticks, and orange trash bags for all volunteers.
Please plan to meet at the RiverLink offices around 2:00. We will divide into groups from there. After the cleanup join RiverLink and Recover Brands for light snacks, libations, and some awesome t-shirts!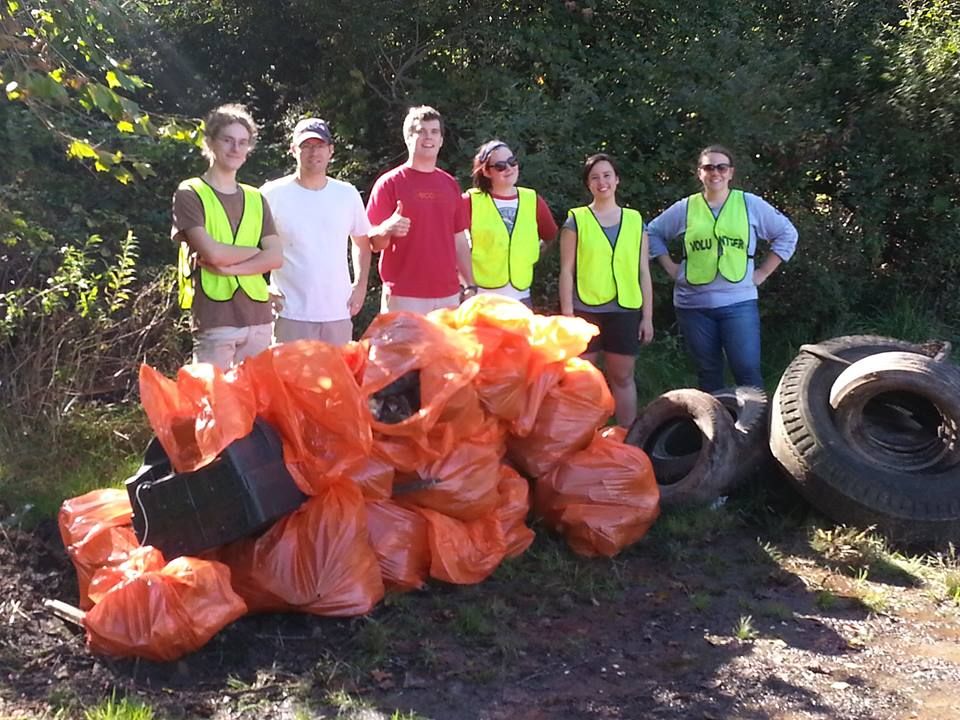 RecoverLink volunteers conquered trash in a small stream located in the Westwood Place neighborhood.
The RecoverLink cleanups are a collaboration that started last year when Recover Brands approached RiverLink with the idea of a roving Adopt-A-Stream team. In 2013, there were four RecoverLink cleanups across Western North Carolina. Over the course of the year, 79 volunteers retrieved 174 bags of trash and 54 tires.
RiverLink Honors King's Memory with Service Projects

The national Martin Luther King Day of Service challenges Americans to transform the King Holiday into a day of citizen action volunteer service in honor of Dr. King.





RiverLink is celebrating Dr. King's memory with service projects across the French Broad River watershed.

Assistant volunteer coordinator, Jess Peete

, said MLK Day is a way to get students engaged even though there is no school. "It's a day on, not a day off. We want people of all ages to see the impact they can have and I hope they will learn from an early age what a real difference they can make."



Claxton fifth graders picking up trash along Reed Creek
On Jan. 16, RiverLink partnered with Claxton Elementary School of A
New Steward of the River, Jeremiah

rts and Humanities as part of the school's MLK Day of Service. A group of 5th-graders gathered at the Reed Creek Greenway to learn about social and environmental justice and pick up litter from Reed Creek. The group discussed Dr. King's legacy and how service projects can better the entire community.



According to RiverLink's Education Coordinator, Lizzy Stokes-Cawley

, it was clear to see that the students really put thought into the importance behind their service project and how it might affect other people.



"The Claxton 5th-graders were not only excited to be outside cleaning the Greenway but thoughtful as they considered the role Martin Luther King had in striving for equality as they did their part in working towards environmental justice", Stokes-Cawley said.



The Claxton students ended up gathering more than 12 bags of trash in three short hours. Everyone in the group was impressed with the trash gathered along Reed Creek's banks, including shoes, a sink, and an area rug.



Stokes-Cawley was pleasantly surprised by the group's selflessness. "Among the unique objects found while Claxton's 5th-grade spent their morning cleaning the greenway was a dollar, the finder and one of our newest River stewards offered to donate the dollar to RiverLink! Reminding us of the amazing contribution even our young volunteers can make!"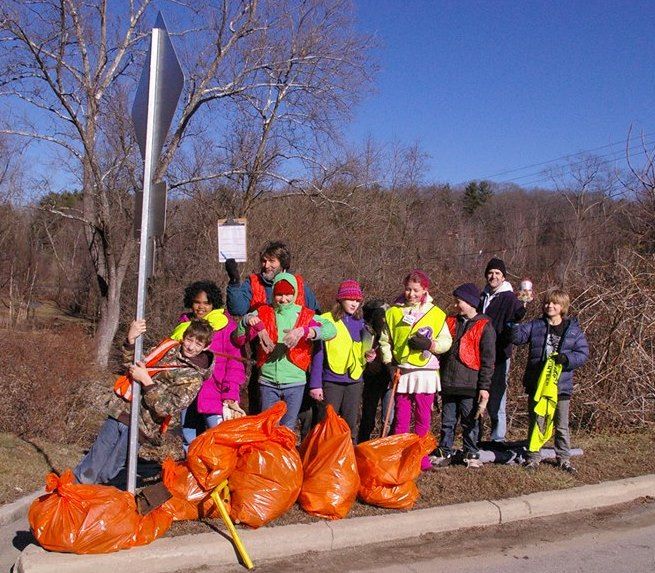 RiverLink seeks to "Name that Creek" in East West Asheville
Westwood Place is a neighborhood in East West Asheville, bounded by Haywood Road, Craven Street, I-26 and Patton Avenue. RiverLink seeks to name the stream that flows through the neighborhood into the New Belgium Brewing site on Craven Street as part of its "Name that Creek" program. RiverLink is currently taking suggestions for names. So far, potential names from the community include "Big Wayne Creek," "Penland Creek," and "Reynolds Creek."
Name that Creek is a long-time project whereby RiverLink asks the community to submit suggestions for creek names and then vote for the most fitting name and having a creek-naming ceremony. RiverLink will host a potluck naming ceremony at its offices (170 Lyman Street in the River Arts District) on Saturday, March 8 at noon, providing soft drinks and iced tea.
After a name is chosen, it is submitted to the United States Geological Survey and eventually becomes the official name for the creek. Since the project's inception, RiverLink has sponsored two successful creek name changes with the help of community volunteers: Buttermilk Creek, a tributary of Hominy Creek in West Asheville, and Big Branch, a tributary of Reems Creek in Weaverville.
Names for the Westwood neighborhood creek might focus on famous local families, Civil War battles, interesting natural features, etc. Please let Dave Russell know your thoughts as RiverLink searches for more information on Westwood Place by e-mailing Dave at volunteer@riverlink.org or filling out the contact form at http://riverlink.org/help-us-name-that-creek-2/.
Seats Available for February Friday Salon



There is still time for reserve your seat for the Friday Salon with Dr. Frank Kalinowski. The 2014 series is entitled "The American Constitution: The Logic of Law and the Consequences for the Nation."

The purpose of these interactive lectures is to explore a deeper understanding of environmental issues and to attempt the placement of these issues in a larger social, political and historic context.

Each lecture will take place from 3-5 p.m. at the RiverLink offices on Friday afternoons. The dates and topics for the Friday Salon are as follows:
February 21 - "How the Supreme Court Shapes Policy: Governmental Power, Civil Liberties, and Civil Rights."

March 21, April 18, and May 16 - "Environmental Legacies: Politics, Policy, and American National Character."
The Friday Salon series is free and open to the public. However, space is limited for these talks.
Attendees will be able to make a one-time or standing reservation depending on schedule.


Now Accepting Applications for the 7th Annual Voices of the River Art and Poetry Contest
In this unique and creative contest we ask students K-12 throughout the
French Broad Watershed to visit the rivers of our community and take time to reflect what the river means to them. The students then choose how they can portray the river in a meaningful and artistic manor. In the past we have seen inspiring pieces from students of all ages throughout the entire French Broad River Watershed.
Last year RiverLink received over 700 entries, we can't wait to see what the talented artists and poets of the watershed have in store this year!
Now is the time to start working towards your 2014 submission! We will begin accepting submissions now with the deadline to submit your artwork or poetry Wednesday March 19th 2013. This is a great opportunity for art teachers, classroom teachers, community groups and individuals to learn about The French Broad River and tap into your creativity!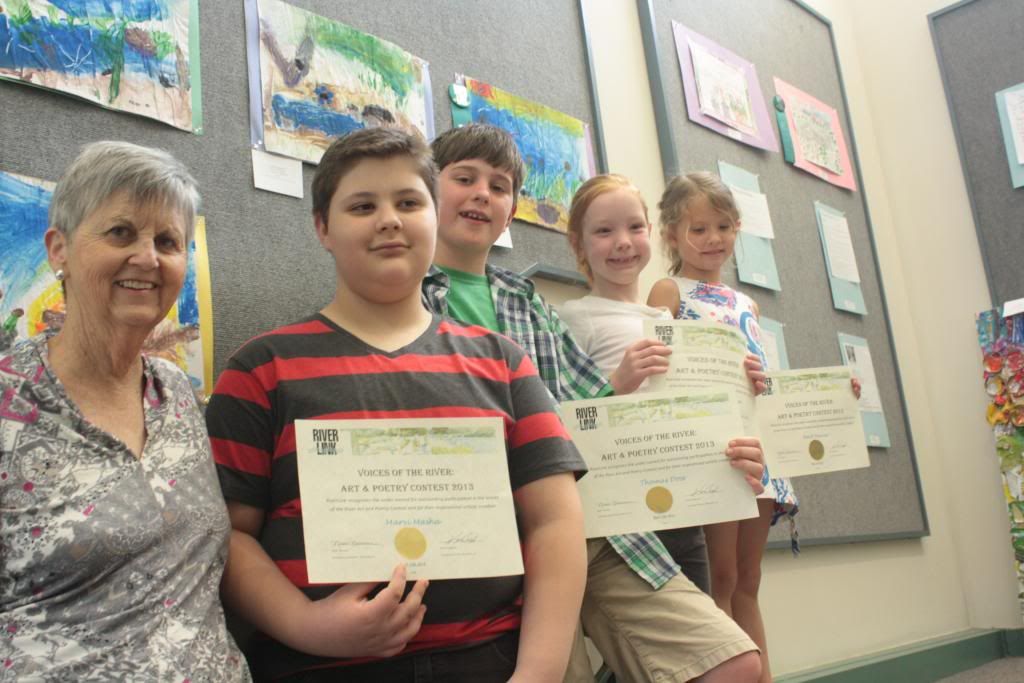 Find 2014 Submission forms, prompt ideas, worksheets, and lesson plans at http://riverlink.org/learn/education-programs/poetry-contest/
Drop off work with completed submissions form at the RiverLink Office located at 170 Lyman Street, or mail to PO Box 15488 Asheville, NC 28813
If you have any questions, concerns or comments please contact:
Lizzy Stokes-Cawley
Education Coordinator
(828) 252-8474 x 18
Volunteer Opportunity!
RiverLink is seeking a monthly volunteer to drive during the RiverFront Bus Tour.
The time commitment is 11:30-2:30 on the 3rd Thursday of the month.
Volunteers must be at least 25 years old and be comfortable driving a 15 passenger van.
For more information, please contact RiverLink's Director of Volunteer Services, Dave Russell at
dave@riverlink.org or
828-252-8474 ext 11.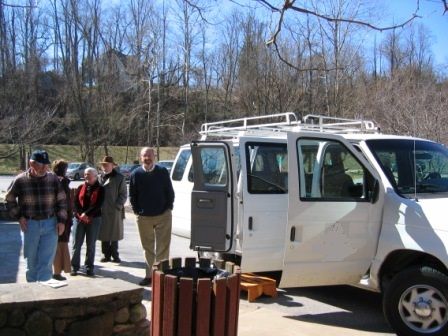 Upcoming Events
Wednesday, February 12, at 10 a.m. & 5 p.m. at the RiverLink offices --
Volunteer orientation sessions.
Become involved in the evolution of the river and learn more about RiverLink and join Jim Stokely to learn more about his mother, Wilma Dykeman.
Thursday, February 13, 12:30-1:30 p.m. or 5:30-6:30 p.m. at the RiverLink Offices--
Watershed Education Info Sessions.
Interested in becoming an education volunteer? Join Education Coordinator, Lizzy Stokes- Cawley, to find out more about our preK-12 education programs.
E-mail Lizzy for more information.
____________
________________
Friday, February 21, 3:00 p.m. at the RiverLink office --
Friday Salon with Dr. Frank Kalinowski:
"

How the Supreme Court Shapes Policy: Governmental Power, Civil Liberties, and Civil Rights

."
Free to the public but space is limited.
Reserve Your Spot Today!
____________________________
Friday, February 28, 2:00 p.m.- 5:00 p.m.--
The 2nd Annual All Roads Lead to the RAD R

eco

verLink cleanup.
Meet at the RiverLink offices. Afterwards, we'll have light snack, libations and t-shirts!
____________________________

Saturday, March 8, noon --
Join us at the RiverLink offices for a potluck as we celebrate our latest Name that Creek contest
____________________________

Wednesday, March 19, 5:00 p.m.--
Submissions for Voices of the River Art and Poetry Contest Due
____________________________
Thursday, March 20, 11:45 a.m.-2 p.m. -- RiverLink Bus Tour.
Experience the Riverfront magic firsthand! The RiverLink bus tour meets at the Asheville Area Chamber of Commerce at 11:45 a.m.
Register Online by 3/18 (Confirmation Required)
____________________________
Friday, March 21, 3:00 p.m. at the RiverLink office --
Friday Salon with Dr. Frank Kalinowski: "
Environmental Legacies: Politics, Policy, and American National Character."
Free to the public but space is limited.
Volunteer Spotlight
Jimmy Maxwell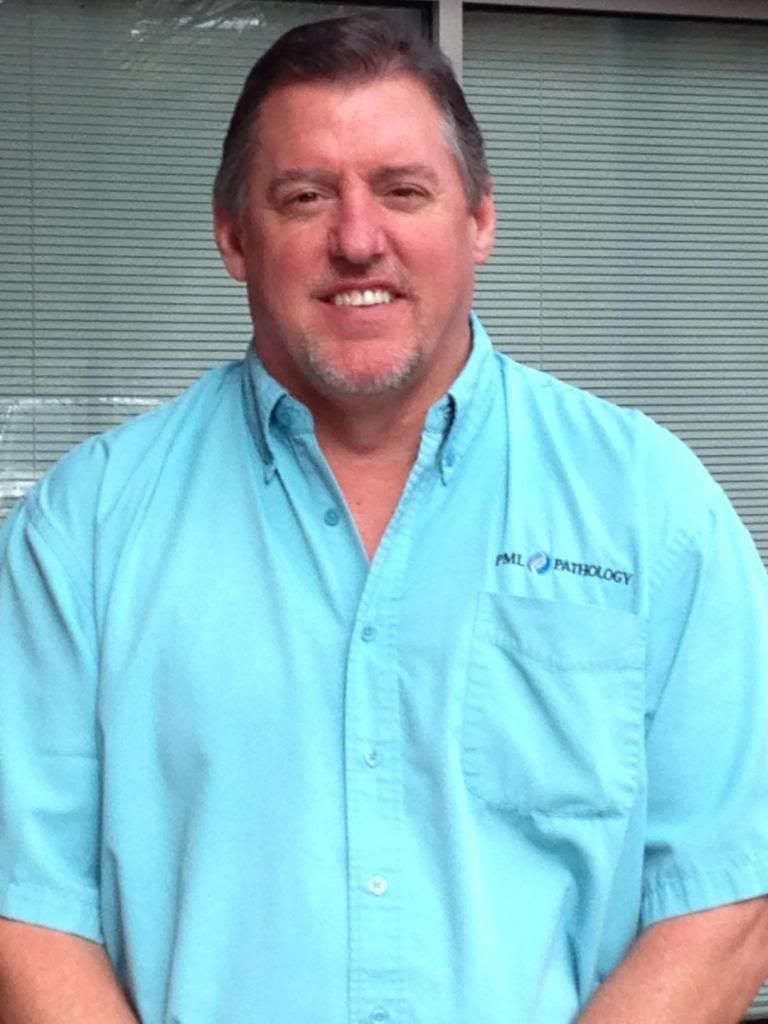 Jimmy was born in Hendersonville, NC and moved to the Bee Tree area of Swannanoa in 1971. He graduated for Owen High School and attended UNC-Asheville. Jimmy said, "I've fished and played in Bee Tree Creek and the Swannanoa River since I was 9 years old. Just a stone's throw from the Charles D. Owen and Anvil textile plants, I have been aware of the water quality in and around Asheville for many years and am willing to help improve it in any way possible."

One of his first jobs was with the Youth Conservation Corps-working on projects along the Blue Ridge Parkway; building trails and helping kids connect with their environment, community and surroundings. He currently works for Pathology Medical Lab as a medical courier.

The mountains have a way of calling people back home. Jimmy returned to Asheville in 2007 and started volunteering with the Downtown association with Downtown after 5 and was looking for other ways to get involved with the community.

"When I found out that RiverLink and New Belgium were starting a music series, I jumped at the chance to volunteer. I also volunteer for LEAF and French Broad River festival in May and September. I have helped with river clean-up at the River festival for years. Volunteering has given me the opportunity to meet many interesting people, many of whom are now friends."

Jimmy enjoys Summer weekends floating the French Broad with friends. "I remember the days when no one would think of getting in the Swannanoa and French Broad rivers. I'm looking forward to better and better water quality in the years to come. Not to mention a fun cookout at the Bywater."
"I would like to thank all of the volunteers that give their time and effort to promote the causes of RiverLink now and in the future. We hope that everyone will support the summer music series in the years to come; and will also help with the many ongoing projects that RiverLink promotes. Grab a friend and join in."

Alligatorweed
Scientific Name: Alternanthera philoxeroides
A native of South America, alligatorweed was inadvertently introduced to Southeastern U.S. in the late 1800s. Its white flowers are clover-like and bloom a summer.
Most commonly found floating in mats along the water's edge, alligatorweed also grows immersed and even terrestrially. Its opposing leaves are lance shaped, 1-2 inches long, and have a distinct midrib. When it grows aquatically, its stems grow hollow for buoyancy.
Damage -- Alligatorweed infestations cause several problems. Flooding and erosion; the floating mats can get caught up around dams and other structures, such as fallen trees and bottlenecks. It has been known to grow across waterways to become a hazard to navigation. Infestations dampen aesthetic value, inhibit recreational activities such as boating, swimming, and fishing, and harbor mosquitoes.
Spread - So far, alligatorweed has been spotted in 12 states and Puerto Rico, spreading mainly by fragmentation. Boaters should beware when moving their trailers and watercraft from waters with alligatorweed present to insure they do not inadvertently spread this invasive.
Control -

In North Carolina, herbicides are the primary method of control. It's tough to manage - even annual herbicide sprayings can fail to control it. Two varieties of insects have been employed as biological control agents -- the flea beetle and a stem borer moth. Neither are particularly effective in WNC.
DOT meeting to focus on transportation
You are invited to NCDOT Division 13's Strategic Transportation Investments (STI) public meeting.


The purpose of this meeting is to gather feedback about transportation issues that are important to you.
In lieu of attending the meeting you may also submit comments by emailing them to STI_Comments_Div13@ncdot.gov. The deadline for receiving comments is February 12, 2014 by 5 p.m.
Date: Tuesday, February 11
Time: 4-7 pm
Location:
A-B Tech Enka Campus
Harvey L. Haynes Building
1465 Sand Hill Road
Candler, NC 28715
Water Lecture Series

Announcing an upcoming lecture series during spring 2014 at Pack Memorial Library in downtown Asheville, North Carolina:
"Water Troubles and Water Solutions: Western North Carolina Water in Context"
All presentations will take place on Saturday afternoons - 3:00 to 4:30 PM - from late March through mid-May in the Lord Auditorium.
March 22: NORTH AMERICA
Presenter: Carla Friedrich
Programme Officer for Ecosystems Management Regional Office for North America
United Nations Environment
Programme
April 5: ATLANTA
Presenter: Gil Rogers
Senior Attorney Southern Environmental Law Center
April 26: COLORADO
Presenter: Hannah Holm
Coordinator, Water Center
Colorado Mesa University
May 3: CATAWBA RIVER
Presenters: Regina Guyer
Associate Director of the IDEAS Center UNC at Charlotte
Barry Gullet, Director, Charlotte Mecklenburg Utilities
Rusty Rozzelle, Stormwater Director, Mecklenburg County
Amy Knisley, Environmental Studies Faculty, Warren Wilson College
May 10: TENNESSEE RIVER
Gary Springston, Water Supply Program Manager, Tennessee Valley Authority
Thanks to you, we collected 51 cell phones and one iPod as part of our January 2014 cell phone recycling & fundraising event!!!
Keep an eye out for the next cell phone recycling program. If you want to recycle your old cell phone early, we'll gladly accept them throughout the year.
Trivia: Droughts
An interest in droughts has been causing a buzz in America lately, and we are here to fill you in on the 'need to know' facts about this possible paranoia...
* There are four major types of droughts:
1. Meteorological: referring to a lack of precipitation
2. Agricultural: referring to a lack of moisture in the soil where crops grow
3. Hydrological: referring to low levels of water in lakes and reservoirs
4. Socioeconomic: referring to water shortages affecting people in society (drinking water, running water)
* Drought is most commonly due to a lack of water vapor in the atmosphere. Because of this lack of moisture we are more susceptible to experiencing wildfires that can damage communities and food supplies, as well as ruin forests and/or harm people and animals.
* As climates continue to rise, droughts are expected to become more frequent and severe in some locations.
* In the United States, droughts can have major impacts on things such as agriculture, recreation and tourism, our water supply, energy production, and even transportation.
* Meteorologists predict drought based on precipitation patterns, stream flow, and moisture of soil over long periods of time.
* Of all the water on earth, only .003 percent is available fresh water that is not polluted, trapped in soil, or too far underground. During a drought, shared sources of water such as reservoirs, rivers and groundwater for wells are in jeopardy of running dry.
* All living things must have water to survive. People can live for weeks without food, but only a few days without water.
* It often creates a lack of clean water for drinking, public sanitation and personal hygiene, which can lead to a wide range of life-threatening diseases .
* Faced with the other impacts of these extreme conditions many people will flee the area in search of a new home with a better supply of water, enough food, and without the disease and conflict that were present in the place they are leaving. As seen during the 1930s Great Dust Bowl