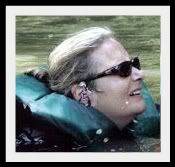 From the exec's desk
Dear RiverLovers,
Is your "yacht" ready to launch on Saturday, August 9th for the Anything That Floats Boat Parade? We have all sorts of people behind the scenes working that day who are helping to make your day a fun filled -adventure. Victor Nizovtsev produced our beautiful poster this year. He has a whole mermaid series on his website and his work has inspired Ashley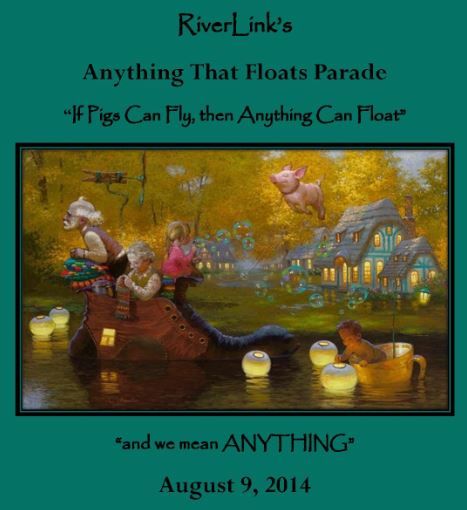 Heath to be an absolutely beautiful singing mermaid at RiverFest.
If you somehow miss the Anything That Floats you will be able to catch it on video on our website after the event, thanks to The Branding House. It's much better to see it all in person but sometimes that is not possible so we are preserving the fun on our website.
We couldn't launch all these creative "yachts" without the help of Harrins Sand and Gravel on Amboy Road. Danny Rice has been taking down his dredging line every year so the taller yacht masts can pass undisturbed. Dave Donnell at Asheville Outdoor Center, a former RiverLink board member, has been cheering the Anything That Floats on for decades and allowing us to use his property at Hominy Creek as the "yacht" launch.
For our winners of the Anything That Floats Boat Parade will receive gift baskets from Whole Foods/Greenlife, photos, appropriate yacht club memorabilia, kudos and bragging rights for the entire year.
Then there are the almost 100 volunteers who help set up, take down, sell tokens and wristbands, pour beer, paint faces and make the day possible. Don't miss the fun!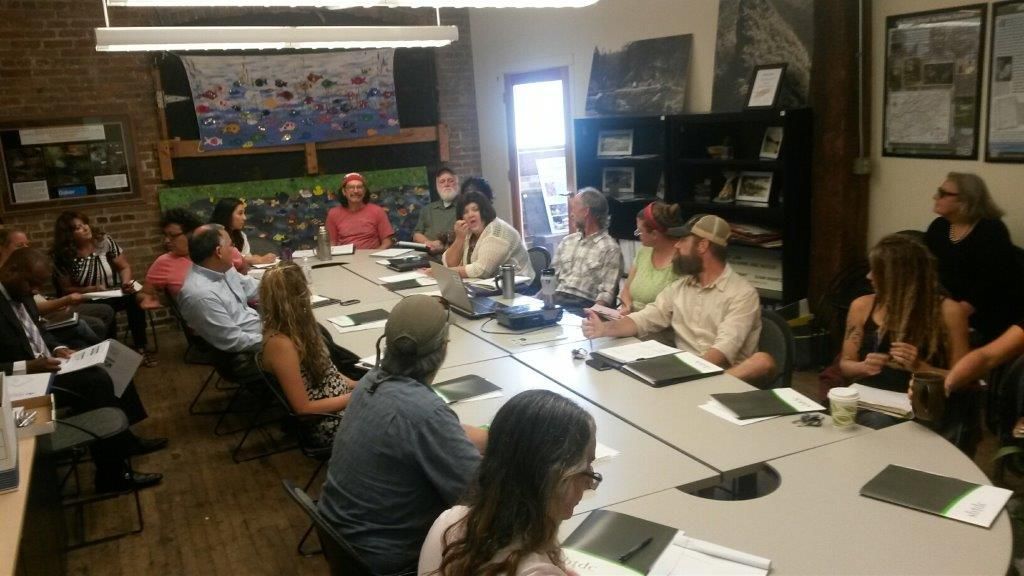 We have had some really creative, interactive business seminars with SBTDC, SBA and the AB-Tech Small Business Center. This is a program we offer every quarter to help our creative class of artists, wellness experts and recreation folks who want to start a business identify free resources that will help them write a business plan, redefine their business strategy and think out loud with other creative types and business experts. Joseph Ransmeier, a veteran of the River District said he got "some great ideas" by coming. Our next seminar is September 16 from 10 to 12 and you must register by emailing information@riverlink.org or calling 828-252-8474, ext. 10 so we can have enough materials for everyone.
We are also teamed with Brenda Mills, a City of Asheville Economic Development Specialist, to help artists learn the ins and outs of how to contract with government. You will love Brenda's style and be amazed to learn how much help is available for folks trying to contract with the city. Our next seminar is scheduled for August 26 from 10 to 12 and you must register by emailing information@riverlink.org or calling 828-252-8474, ext. 10 to reserve a seat.
In next month's newsletter we will bring you up to date on RiverLink projects in Ross Creek, Chunn's Cove, at New Belgium, Westfeld Park, Hominy Creek and lots more!
August is a really busy month and we jump right off the Yachts from the
The Artimus Pyle Band
Anything that Floats onto the next RiverMusic concert on August 29 featuring Artimus Pyle, who is enshrined in the Rock & Roll Hall of Fame, along with local band Andrew Scotchie and The River Rats. Like all our summer concerts, this one is multi-modal so jump on your bike, or into your boat, walk, run, hop on the trolley and well -- I'll see you on the river!
All Hands on Deck,
Karen
RiverLink Celebrates 15th Annual RiverFest Featuring the Anything That Floats Parade at French Broad River Park
RiverLink invites everyone to their biggest party of the year. The 15th annual RiverFest happens at French Broad River Park on Saturday, August 9 from 1 p.m. - 7 p.m.

The highlight of the event is the Anything that Floats Parade. Read more about it below.
The Prestige Subaru Stage will also offer live music, featuring Soldier's Heart, Ashley Heath and Plankeye Peggy.

This is a family-friendly event and RiverFest offers lots of fun for kids, too, with face-painters, art supplies, hoola hooping, juggling and craft booths. Kids can ride, skate, walk, run, and skip in costume in the Kids Parade, which starts at 1.
Here's the complete schedule:
10:00 - First boats launch at Hominy Creek Park
1:00 - Welcome and lining up for kids parade - at French Broad River Park
1:30 - Kids Parade
1:45 - Juggling with Walter Beals of Forty Fingers and A Missing Tooth
2:00 - Musical act - Soldier's Heart
3:00 - Claire Dima & her belly dancing troupe
3:30 - Musical Act - Ashley Heath
4:30 - Some mad Hula-hoopin'
5:00 - Anything that Floats winners announced
5:15 - Headlining Musical Act - Plankeye Peggy
7:00 - Farewell!
A variety of local food trucks will offer vegetarian and meat-loving options. This year food truck food court includes El Kimchi, Avery's Hot Dogs, Farm to Fender, Taste & See NC, Root Down as well as Ursa Minor Coffee and the ice Cream from Sunshine Sammies. There will be beer from Sierra Nevada and Oskar Blues.
To ease parking woes, RiverLink will be offering shuttle service from a satellite parking are at 144 Riverside Drive, the property known as The RiverLink Sculpture and Performance Plaza (
map
).
There will also be trolleys from Gray Line making non-stop trips between the event site and two satellite parking areas:
In West Asheville, there will be service at Grace Baptist Church, 718 Haywood Road (map). The Grace parking area is towards the rear of the building. Parking is not allowed in the bank lot.
On the other side of the river, the trolley stop will be the Asheville Area Chamber of Commerce, 36 Montford Ave (map).
Volunteers are still needed to make this a fun and successful event! In exchange for their time and hard work, volunteers receive a free t-shirt and a free drink per shift. If you're interested in volunteering, please contact the RiverLink's Director of Volunteer Services, Dave Russell, at volunteer@riverlink.org or 252-8474, ext. 11.
It's Anything That Floats Parade time!
It is not too late to register for RiverLink's 2014 ANYTHING THAT FLOATS Parade to be held on Saturday, August 9, 2014! Find details at www.riverlink.org.
Gather your crew and join us for the wildest, wackiest event of the summer where teams build "anything that floats"without a motor. Creativity, innovation, and zaniness are encouraged. Rafts can represent a business, organization, group, or any personal theme. Designing and building a raft with your friends, family or co-workers is not only a grand excuse to hang out and play on the river, it's also a chance to have a blast while showcasing your creativity in a 'friendly competition'.
Judges will select a winner in each of the four categories: Most Creative, Green Machine (best use of recycled materials), Funniest, and Judge's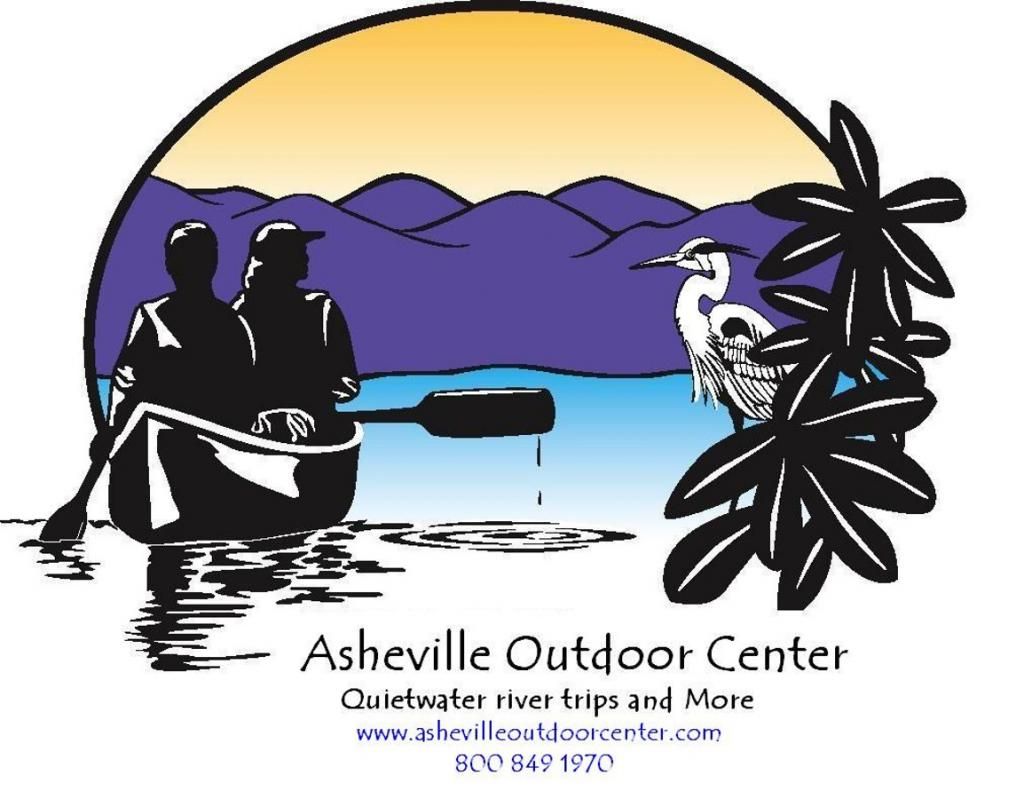 Choice - overall best in parade. Judging will take place near the launch site at Hominy Creek Park. Asheville Outdoor Center, one of the event sponsors, will present the awards to the winners at RiverFest 2014 at 5:00pm.
RiverLink is pleased to announce the 2014 ANYTHING THAT FLOATS judges:
* Jason Sanford - Asheville Citizen Times reporter and founder of the blog Ashevegas.com
* Scotty Robertson - WNCW Music Host and Producer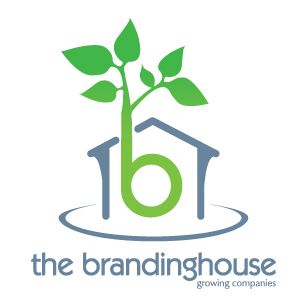 * Greta Johnsen - WCQS Morning Edition Host and Reporter
Many thanks to The Branding House for videotaping the event for those who can't be there!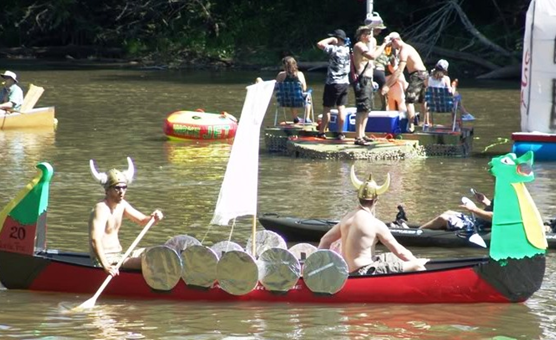 Anything That Floats Parade entries from 2012
Sadly, we say "Goodbye!" to our two awesome AmeriCorps members

Jess Peete
Each year RiverLink is fortunate to welcome AmeriCorps members to the fold, and every time, we are amazed at the talents and energy they bring in the door with them. Though both are moving on to other things, they have left a lasting imprint on RiverLink and our community and will be missed.
We had the pleasure of working with Jess Peete over the past two years during her AmeriCorps service period with RiverLink. AmeriCorps positions are normally for one 11-month term, but Jess's work with us during her first year was so exemplary that we recruited her to stay for a second term. She completed every project and task we handed her thoroughly and impeccably.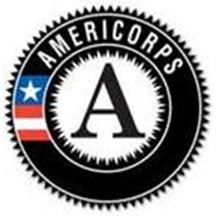 Often, when we approached her about taking the next step in an assignment, we would find that she had already started working on it, or even completed it. We regularly remarked that Jess always knew the "next right thing to do."
Her leadership of our Adopt-A-Stream program and other volunteer efforts has been impressive. From scheduling and preparing the supplies for river cleanups to leading them on the day of, Jess has handled it all, making out Adopt-A-Stream program the strongest it has been since inception.
Education Coordinator Lizzy Stokes-Cawley was an amazing AmeriCorp member. She was busy every day, every minute preparing fun hands-on watershed education classes for the over 5,000 students she reached out to this year, running a summer day camp and over seeing over our annual Art & Poetry contest and exhibit at AB-Tech.
Lizzy Stokes-Cawley
Lizzy was also one of the first to volunteer to go the extra mile and staff a table at events, help with RiverMusic and gave 110% all of the time. Both she and Jess exemplify the whole concept of service to the community.
Somehow Lizzy did all of this and more with a big smile, grace and her quiet competence. She is off to graduate school at Duke 's Nichols School for the Environment and starts her classes in just a few weeks. Despite her limited time left in Asheville, Lizzy found the time to come in and help orient our new AmeriCorps education coordinator Alex Guyton who takes up her service challenge in September.
Both Lizzy and Jess helped us this year as we developed a new website for RiverLink and a brand new app for the French Broad River watershed. Their technical skills and insights were invalubale to the team.
Each year we are overwhelmed with how much we as an organization learn from our AmeriCrorp Team members and how much RiverLink and the community at-large benefits from their efforts.
Join RiverLink for the August RiverFront Bus Tour
Enjoy the beauty of Asheville's riverfront as we continue the RiverFront Bus Tour series. The next tour will be Thursday, August 21, when the public is invited to tour the French Broad and Swannanoa Rivers with RiverLink.
The RiverLink Bus Tour offers answers about Asheville's past, present and future: How did the Flood of 1916 change the river area landscape? What is the Wilma Dykeman RiverWay Plan and what does it hold for Asheville's future?

This is an opportunity to see the improvements that have occurred and hear what is coming over the next several months and years to make our rivers better places to work, live and play. You will learn some local history and visit some streets and neighborhoods you have never seen before.
The tour is free for RiverLink members but the tour cost for non-members is $20 per person. Reservations are required. A final confirmation (or cancellation if required) will be sent the week of the tour. Click here to reserve your seat today.
What: RiverLink's Riverfront Bus Tour
When: Thursday, August 21 11:45 -- 2 p.m.
Where: Meet at the Asheville Area Chamber of Commerce Parking Lot, third level down.
Take another hike with Dave
Last month's Hike With Dave along Shining Creek was a success. Recent rains made the cascades and falls really full, the weather was nice, and a good time
was had by all. So let's do it again!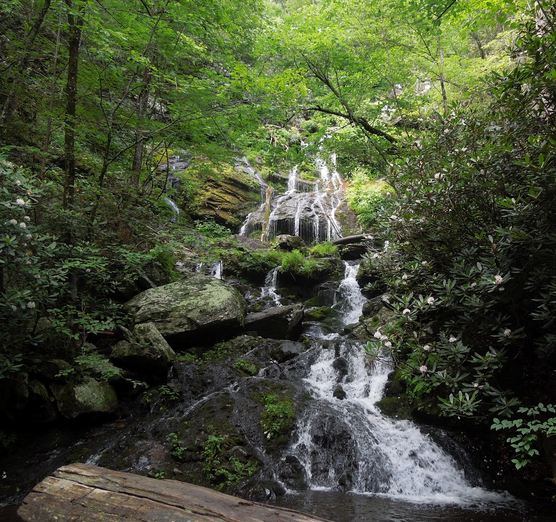 Lower Catawba Falls
This month, on Sunday, August 24, RiverLink's Dave Russell will lead a trip to Lower Catawba Falls. The falls are just over the Continental Divide in the Catawba River Watershed.
This is an easy hike, with no serious climbs (unless you scramble up to the top of the falls), though there are two creek crossings. It's a three-mile roundtrip.
We'll meet at the Root Bar in East Asheville (
map
), located at 1410 Tunnel Road, Sunday, August 24 at 08:45 and leave promptly at 9. We'll be back sometime between noon and 1 p.m.
A certain level of fitness; ability to hike two miles per hour.

Insurance - by coming along you acknowledge that hiking can lead to injury and will not hold RiverLink responsible in any way for injuries.

Snack/lunch

Rain gear

Camera, walking stick, etc.
There's no charge, but please let Dave know you're coming so carpooling can be arranged by e-mailing dave@riverlink.org or phoning 828-252-8474.
Upcoming Events
Saturday, August 9, 1 -- 7 p.m. at French Broad River Park -- RiverFest, our biggest event of the year. Come check out the Anything That Floats Parade, live music, local beer and much, much more. Read all about it in the column to the left.
_____________________________
Wednesday, August 13, 10:00 a.m. & 5:30 p.m., at the RiverLink offices -- Volunteer information session. Become involved in the evolution of the river and learn more about RiverLink. RSVP to dave@riverlink.org by 8/12.
_____________________________
Thursday, August 21 11:45 -- 2 p.m., the Riverfront Bus Tour -- Meet at the Asheville Area Chamber of Commerce Parking Lot, third level down. Discover the magic of the Riverfront area firsthand -- past, present and future.

_____________________________
Saturday, August 23, 11:30 am- 7pm
Universal Joint, 784 Haywood Road

--
Friends of Hominy Creek Fundraiser for park improvements along the Hominy Creek Greenway from Shelburne Rd to Sand Hill Rd. All beer sales from the day will be donated, along with a raffle for many great items from local businesses, such as Harvest Records, Second Gear, and King Daddy's. RiverLink is the fiscal agent for The Friends of Hominy Creek and we just received a $25,000 grant from Buncombe County to make Hominy Creek's Waller track and even better place to visit.
_____________________________
Sunday, August 24, 08:45 a.m. -- 1:00 p.m.--
Take a Hike with RiverLink's Dave Russell to Catawba Falls. M
eet at the Root Bar in East Asheville
, located at 1410 Tunnel Road, Sunday, August 24 at 08:45 and leave promptly at 9.
_____________________________
Tuesday,
Aug 26 @ 10:00 am - 12:00 pm at the RiverLink office --
Join RiverLink and City of Asheville Economic Development Specialist Brenda Mills to find out how as an artist you can become a contractor for the city.
_____________________________

Friday, August 29, 5:00 p.m. at the RiverLink Sculpture and Performance Plaza (144 Riverside Drive)

--
RiverMusic featuring The Artimus Pyle Band and the River Rats. Local beer, foodtrucks, and a good time!
RiverLink's RiverMusic continues on Friday, August 29 with the Artimus Pyle Band
RiverLink's RiverMusic series continues on Friday, August 29 with The Artimus Pyle Band and Andrew Scothie and the River Rats. Gates open at 5 p.m. and the music goes until 10 at the RiverLink Sculpture and Performance Plaza, 144 Riverside Drive in the River Arts District (map). RiverMusic offers local beer, food trucks, and the waters of the beautiful French Broad flowing right by the stage.
There will be beer service from two local breweries -- New Belgium Brewing and Sierra Nevada.
These events have always been solar powered by long-time partner Sundance Power Systems, Inc. None of this would be possible without the support of sponsors, including The Chaddick Foundation, Prestige Subaru, Pisgah Investments, Heira Productions, Oskar Blues, New Belgium Brewing, Sierra Nevada and Catawba Brewing, along with media sponsors Mountain Xpress and WNCW.
Sensibilities Spa Fundraiser Tuesday, Sept. 9


Every quarter Sensibilities Spa has a day on which 20% of proceeds from both locations are donated to a local non-profit. They have chosen RiverLink to be the non-profit for September 9th because they are so grateful for the work RiverLink does in our community. So come on down to Sensibilities -- there's one downtown at 59 Haywood St. and one to the South at

43 Town Square Blvd -- and pamper yourself and support RiverLink at the same time.
Volunteer Spotlight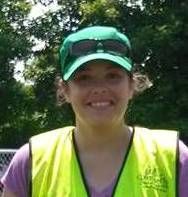 LaJuanda Bond
LaJuanda Bond grew up in Western North Carolina, in Rutherford County with the Broad River in her backyard. She has lived in Asheville for 11 years. She attended Appalachian State where she studied Hospitality and Tourism and went on to get a MS from Auburn University in Hotel and Restaurant Management.
She is currently employed as the Director of Sales & Marketing at event venue in downtown Asheville and has volunteered for a variety of non-profits in town. She lives off Pearson Bridge Road by the French Broad River.
LaJuanda's husband, Jason, has also volunteered with RiverLink. He operates Grateful Gardening Services, specializing in garden restoration, consultation, design and installation.
LaJuanda has helped RiverLink in a variety of ways. In one day - July 11 - LaJuanda brought and spread a load of mulch in front of the stage at RiverMusic where we had puddling problems, bought and delivered ice for RiverMusic, and took a shift selling wristbands and tokens. She is also spearheading the kids area for RiverFest.
Congratulations to Erika Schneider, winner of the Love the French Broad raffle first drawing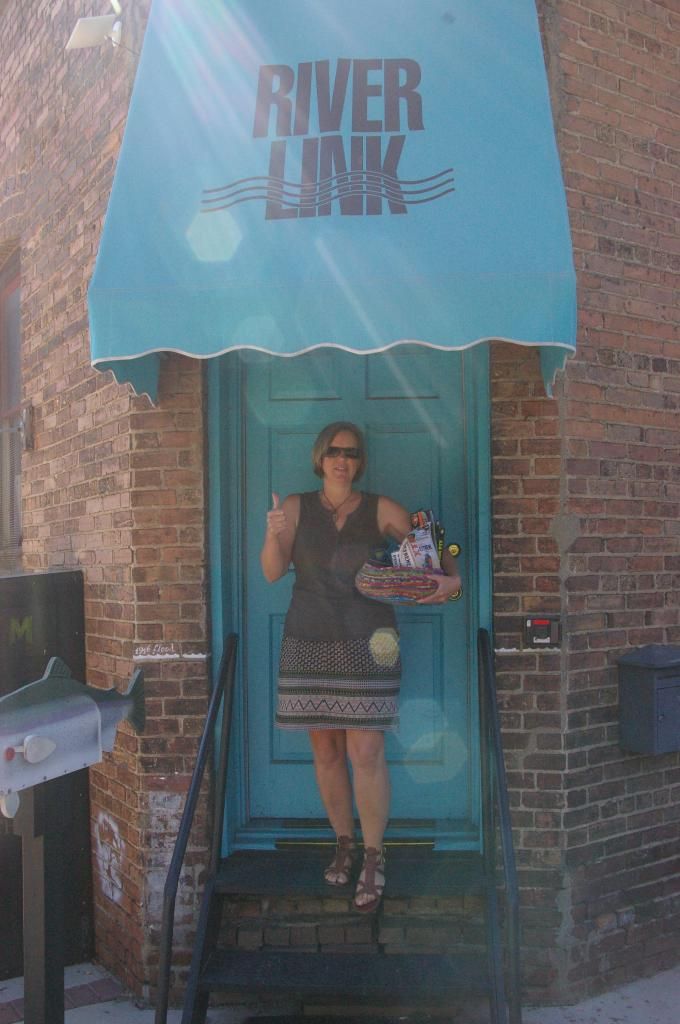 the first Love the French Broad raffle of the year. She won two ENO Doublenest hammocks, a New Balance armband to hold her iPhone while running, Sofsol shoe inserts, and more!
We have two more drawings to go, with the next one on
Saturday, August 9 at RiverFest. The grand prize drawing will be at the last RiverMusic on Friday, Sept. 12.
Buy three tickets for $10 or one ticket for $5. Tickets will be on sale at all RiverMusic events, at our office at 170 Lyman Street or online here.
The next prize packages include prizes such as two ENO hammocks, a New Balance calorie monitor watch, Sofsole shoe inserts, and more!
Lightning Trivia, Statistics and News
Lightning puts 10 million tons of nitrogen into the Earth each year.
The Earth has 100 lightning strikes per second - 3.6 billion per year!
The Earth has 2,000 thunderstorms at any one time!
Without thunderstorms, the earth would lose its electric charge in less than 1 hour.
Rwanda, Africa is the lightning capitol of the world, receiving nearly 2.5 times the amount of lightning as Florida
Florida is the Lightning Capital of the U.S.
Central Florida, from Tampa to Titusville is "Lightning Alley" in the U.S.!
The central California coast has the least lightning activity in the U.S.
Lightning is the #2 weather killer in the U.S.
Lightning is the #1 weather killer in Florida - more than all other weather deaths combined!
Florida leads the U.S. in lightning deaths, injuries, and casualties. Texas is #2.
Pennsylvania leads the U.S. in lightning damage.
The U.S. has 20 Million cloud-to-ground lightning flashes each year - up to 70 Million lightning flashes aloft are also counted!
The U.S. has 100,000 thunderstorms per year.
The Odds Of An Individual Being Struck By Lightning Each Year In The U.S. Is About 300,000 To 1
Lightning injures many more than it kills..
Lightning often causes life-long severe debilitating injuries.
Lightning kills about 100 people in the U.S. each year.
Lightning injures about 1000 people in the U.S. each year.
In the U.S., lightning kills more than Hurricanes and Tornadoes, combined. Only floods kill more!
Lightning causes $5 Billion of economic impact in the U.S. each year.
Most lightning strikes occur either at the beginning or end of a storm.
Lightning is 50,000° F - three times as hot as the Sun.
Lightning is only 1 inch in diameter.
Lightning has been observed over 100 miles long.
An average lightning flash has the energy of a 1-kiloton explosion.
Lightning voltage can be up to 300 million volts.
Lightning current averages 30,000 amps, but ranges from 10,000 to 200,000 amps - 100 To 1,000 times as strong as a steel welder.