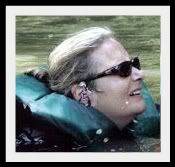 From the exec's busy desk
Dear RiverLovers,
What a great month. I hope you have been reading all the good news about the federal and MPO grants that will help implement the Wilma Dykeman RiverWay and provide multimodal access to our French Broad from neighborhoods and along the river. YEAH! $20-plus million for our French Broad and the city will match $45 million-plus to make our community more LINKED & multi model. It would be difficult to overstate how excited and appreciative we are that the Wilma Dykeman RiverWay is the number 1 priority of the MPO. Check out a map of a potion of the RiverWay that has been updated to reflect 2014 changes.
I also hope you had an opportunity to read my article in Mountain Xpress about the evolution of the riverfront and the various projects that led to the Wilma Dykeman RiverWay plan being funded. Writing that article has made me think more about how much in transition our watershed has been in since ... well, forever. Change is here to stay. Time is like the river. It is fluid. The river and time keep on going - there is no stopping, either. To paraphrase Leonardo Di Vinci when you step into a river you gain everything that has already happened and are the first touch what is to come.
Which brings me to an art show that RiverLink is hosting with 14 of Asheville and WNC's most accomplished artists. John Mac Kah severed as curator and he has put together an amazing talent pool of artists to interpret the river with ties to Asheville novelist Thomas Wolfe, no less. Thomas Wolf's second book,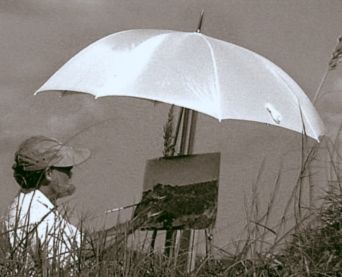 John Mac Kah creating
"Of Time and The River," chronicles the youthful struggles of creativity.
I love the idea of tying together Thomas Wolfe's' book about his struggles to be creative and his youth with scenes from the river by 14 of Asheville's most professional and outstanding artists. The river is changing both physically and in our collective public perception so painting Plein Air style seems very appropriate to these times and the river. We are so excited that these wonderful professional artists are hosting a fundraiser for us and hope to make this an annual even that helps chronicle the changes.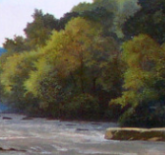 Kah captures the FBR
The night of the 23rd you will have an opportunity to meet and talk to the artists involved and hear and see from their viewpoint perceptions of this dynamic French Broad River.
To view the artist bios and statements click here.
October 23rd is the date and you can
buy your tickets here
.

Another unique aspect of this event is its location at Sol's Reprieve on the west bank of the river offering a panoramic view of the New Belgium construction area. Many thanks to our sponsors for this event Whole Foods, Catawba Brewing and Biltmore Estate Winery, Sol's Reprieve, 14 artists - we couldn't do this without your support and creativity.
We are expecting about 150 CEO's from the Outdoor Industry Association to descend upon us again this October to help us install permanent public facilities at the RiverLink Sculpture and Performance Plaza. This same group came several years ago and helped us clear all the debris in front of the old Ice House so we could actually see the river, install information kiosks and built a labyrinth at the Cotton Mill. We are so honored that they chose RiverLink as their partner again this time and are helping to pay for the permanent infrastructure improvements. Oh yes, and a number of them will be on the river with NOC picking up litter. Litter -- the constant enemy of our watershed!
Russian Yacht Club Members
A delegation of civic and education directors from
Russia visited us again this year to learn more about riverfront development, volunteerism and community empowerment. We made them all members of the French Broad River Yacht Club and really enjoyed their visit. I didn't realize until we started working with the Russian delegations how little volunteerism occurs in their country. They were overwhelmed to learn we had over 2,000 volunteers working with us last year!
Our Creek Care Program is in full swing - you will be hearing more about it as we move forward with LINKING our adopt-a-stream, - adopt-a- greenway, Wanted Dead invasive species removal teams and our stencil of storm drains team. Unfortunately the exotic invasive are winning the war against our riparian areas and we are seeing increased loss of natural habitat, more erosion and less biodiversity. If you want to join the team give us a shout at information@rverlink.org, we need all the help we can get.
Speaking of invasive removal we had a wonderful full house program with Bill Jones in our parking lot! Bill owns Carolina Native Nursery and is a real expert on native plants. He lives, works and eats and talks about the importance of natives to our beautiful landscape.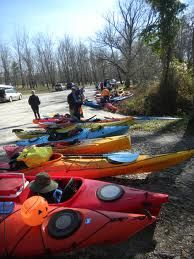 Boats lined up at Westfeldt
We are working on a new greenway at Westfeld Park
with Henderson County that will connect ultimately to the Sierra Nevada Brewery site and eventually we hope all along the river corridors south to Transylvania County and north to Madison County and the Appalachian Trail and into neighborhoods all along the river.
Work continues at the New Belgium site. You may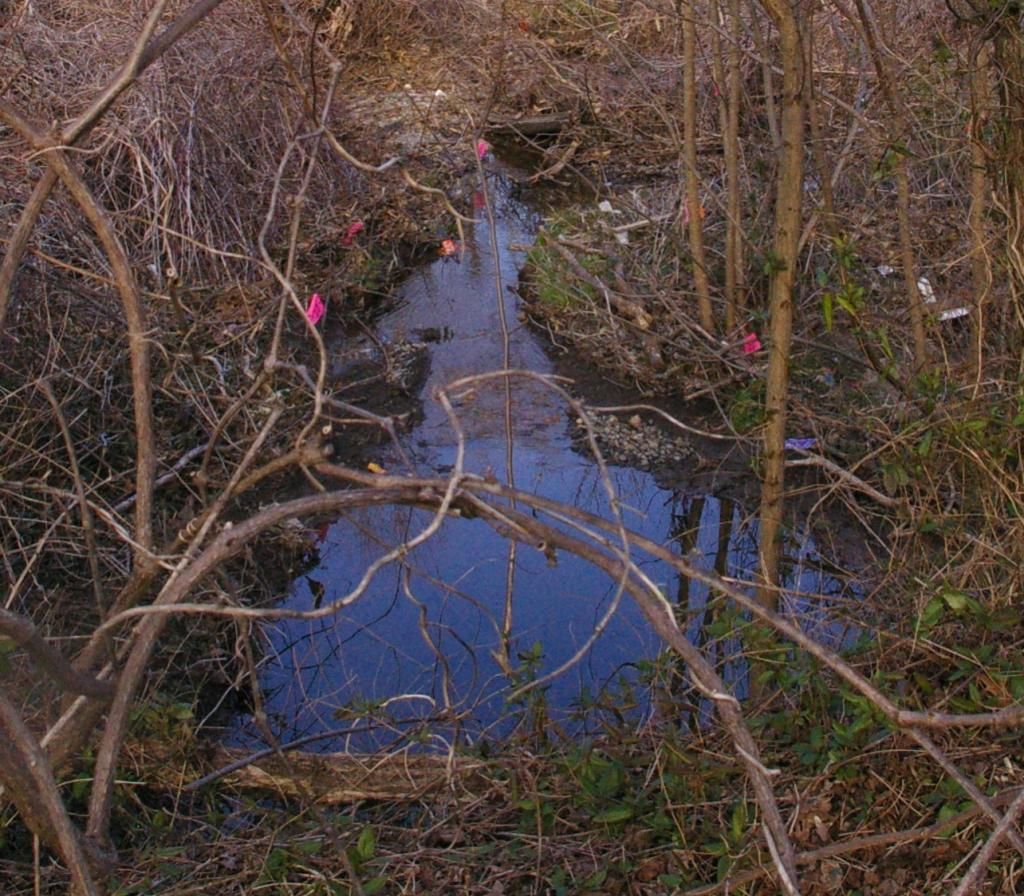 recall that RiverLink received a $400,000 grant from the Clean Water Management Trust Fund for storm water controls, stream restoration, name that creek education and outreach at the New Belgium site. Click here to see a map of the stormwater mitigation plans for the area. When you drive by now you can definitely see progress is being made every day.
Finally a big shout and thank you to all the folks, like volunteers, musicians, food trucks, breweries, sponsors, sound engineers, stage assemblers, solar providers and you who came out to make RiverMusic 2014 so special. Get out your calendar because we have the dates for RiverMusic 2015 already picked and they are May 8, June 12, July 10 August 8 (RiverFest), Sept. 11, Oct. 9., It's much easier to remember the second Friday of every month from May thru October! Be there!
Thanks for all you do. See you on the River,
Karen Cragnolin
Join Us For A Special Benefit Art Event - "Of Time And The River"
Artists interpret the French Broad through drawing and painting, much of it from direct observation. RiverLink invites you to a showing of this artistic inspiration and exclusive sale of the works. Featuring the work of 14 area artists, including John Mac Kah, Christine Dougherty, Julyan Davis, Mark Henry, Matthew Good, Peter Loewer and more!
It's happening Oct. 23, from 6 -- 9 p.m. at Sol's Reprieve (map).
Click here for more details, and follow the invite to the end to register!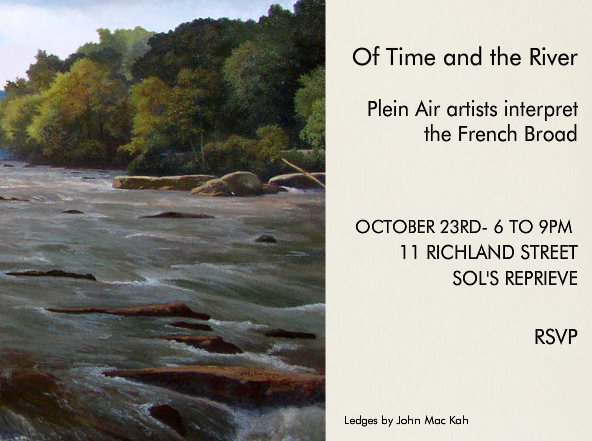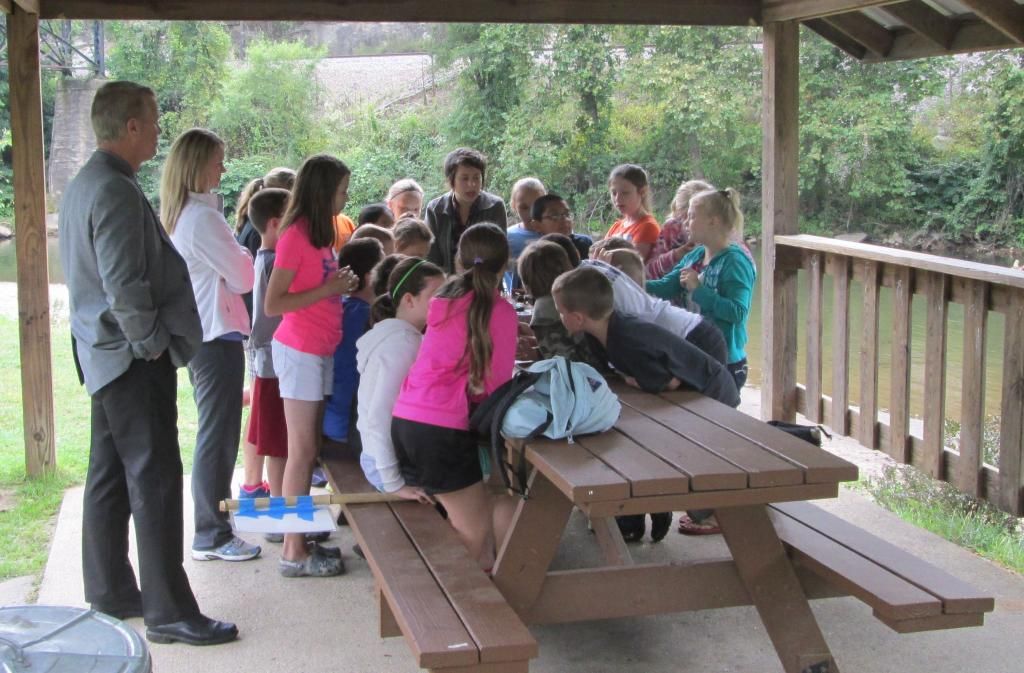 News in RiverLink's Education Program

In September alone RiverLink's education department has already educated over 750 students in the French Broad watershed! The month was kicked off with the Toe River Valley Science Festival in Yancy and Mitchell County. Students tested their knowledge of their watershed and the effects of non-source pollution using the Enviroscape model.
Heading back towards Asheville, RiverLink worked with 9th grade students of North Buncombe High School. The students learned the importance of water quality testing by observing macorinvertebrate populations in their very own stream.
This week students from Hall Fletcher Elementary, Fairview Elementary, Haw Creek Elementary, Charles C. Bell Elementary, Evergreen Charter School, Sand Hill-Venable Elementary, and Carolina Day School learned about the French Broad watershed using hands-on education and the Enviroscape model.
If your school or community group is interested in scheduling a program with RiverLink please contact RiverLink's Education Coordinator. Additionally we are looking for education volunteers to help out with some of our bigger programs this fall, if you are interested in getting involved please email our Education Coordinator Alex at education@riverlink.org
RiverLink announces a new program to improve water quality in the FBR watershed
RiverLink announces the Comprehensive Creek Care program, an approach to neighborhood creek care that approaches water quality improvements in a variety of ways. Neighborhoods, businesses, churches and other groups around Western North Carolina have already worked to improve water quality through RiverLink's Adopt-A-Stream program. RiverLink is now offering more tools for more improvements: litter cleanups, stormdrain marking, invasive species removal, and giving unnamed streams names.
The traditional river cleanups, the bread and butter of the Adopt-A-Stream program, will continue. RiverLink has been providing gloves, litter pickup sticks, trashbags and safety vests to caring citizens for over a decade now, empowering them to rid their adopted section of stream of trash and tires.
The Storm Drain Marking project is one simple way of reducing the amount of pollutants going down the drain and into our rivers. RiverLink will provide "Do Not Dump -- Flows to River" markers, glue, and safety vests for volunteer groups that are interested in this project. This is an easy first step towards public education and active involvement in storm water pollution prevention.
Invasive species are an increasing problem in our watershed. Oriental
Former RiverLink staffer Jess PEete removes invasive English Ivy
bittersweet, rosa japonica, Japanese knotweed, kudzu and a host of others crowd out native plants along riparian areas. RiverLink's Wanted Dead program will help neighborhood volunteers how to identify the problem plants and arrange volunteer workdays to control the spread of these noxious weeds beside their streams. Plantings of native plants can also be arranged.
In an effort to name and protect the nameless tributaries of the French Broad River, RiverLink is holding Name That Creek contests throughout the watershed. These are local, grassroots projects in which the community submits suggestions for creek names and votes for the most fitting name at a creek-naming ceremony. After a name is chosen, it is submitted to the USGS and eventually becomes the official name for the creek.
Concerned community members who have streams in need of some TLC in their neighborhood can organize a team for the Comprehensive Creek Care program and RiverLink will help get the ball rolling. Contact RiverLink Volunteer Coordinator Adam Sanderson at 828-252-8474, ext. 17 or adam@riverlink.org for more information.
We are currently looking for groups of volunteers to help us further our positive impact on the French Broad River basin by cleaning all of its tributaries. The health and vitality of the French Broad River is vastly improved when all of the streams in the watershed are kept clean.

RiverLink's goal is to have all the tributaries and the main stem of the French Broad adopted. Any group of individuals or an organization can partake in our Adopt-A-Stream program and take on one of the many streams that flows into the mighty French Broad River. This is a flexible program that offers you and your group numerous ways to help clean and improve our watershed.

RiverLink's minimum level of commitment asks for two cleanups a year and short reports on those activities. Once you conduct your second river cleanup, RiverLink will arrange to install your Adopt-a-Stream sign displaying your organizations name. This is a great way to publicize your commitment to cleaning up our watershed.

I look forward to working with you.

Adam Sanderson
Volunteer Coordinator
adam@riverlink.org
(828) 252-8474 x17

Storm Drain Marking
Do you know where the water that flows into a storm drain goes? It does not go to a treatment plant but flows directly into our streams, lakes, and rivers.
Many people poor oil,
paint, yard waste, and other pollutants into the storm drain because they think the water will be treated before it reaches the river. Unfortunately this is not the case and consequently storm drains are a large source of pollution for the watershed.
RiverLink is starting a Storm Drain Marking program with the goal of marking every storm drain in Asheville. These highly visible markers are a simple reminder not to pollute and can help reduce the amount of contaminants that go into our rivers.
You can take an active role to help protect your watershed by marking storm drains in your neighborhood! These durable plastic markers can be glued down in seconds. RiverLink will provide markers, glue, and safety vests for your project

. If you have a group that is interested in getting involved, please contact the Watershed Resources Coordinator Mimi at

mimi@riverlink.org

to get started.
An ounce of prevention is easier than a pound of cure.
Upcoming Events
Please note: When attending any of these events at the RiverLink office, please do not park at 12 Bones or any of the studios on Riverside Drive. Thanks so much.
_____________________________
Wednesday, Oct. 8, 10:00 a.m. & 5:30 p.m., at the RiverLink offices -

-
Volunteer information session.
Become involved in the evolution of the river and learn more about RiverLink. RSVP to dave
@riverlink.org
by 10/7.
_____________________________
Saturday, Oct. 11, 9:00 a.m. -- noon: Invasives cleanup day at the Hominy Creek Greenway. Meet at the parking lot at the corner of Shelburne and Hominy Creek Roads (map).
_____________________________
Saturday, Oct. 18, 10 a.m. -- 1 p.m.: Hominy Creek Greenway workday with The Friends of Hominy Creek Greenway.
Meet at the parking lot at the corner of Shelburne and Hominy Creek Roads (
map
).
_____________________________
Sunday, Oct. 19, 08:45 a.m. -- 1:00 p.m., meet at the Black Mountain Bi-Lo

parking lot

--



Take a Hike with RiverLink's Dave Russell to see views of eastern Buncombe County's leaf splendor. Meet Sunday, Oct. 19 at 08:45 in the northwest corner of the B-Lo parking lot (map) and leave promptly at 9.
See the article to the left for more info.
_____________________________
Thursday, Oct.
29 @ 10:00 am - 12:00 pm at the RiverLink office --
Join RiverLink and City of Asheville Economic Development Specialist Brenda Mills to find out how as an artist you can become a contractor for the city.

_____________________________

Thursday, Nov. 20 11:45 -- 2 p.m., the Riverfront Bus Tour --
Meet at the Asheville Area Chamber of Commerce Parking Lot, third level down. Discover the magic of the Riverfront area firsthand -- past, present and future.
October's Hike with Dave is all about the leaves


In September the Hike with Dave stayed in the valley surrounding Shining Creek and went to a waterfall. With October being the peak of leaf season, this month we're going for elevation and views.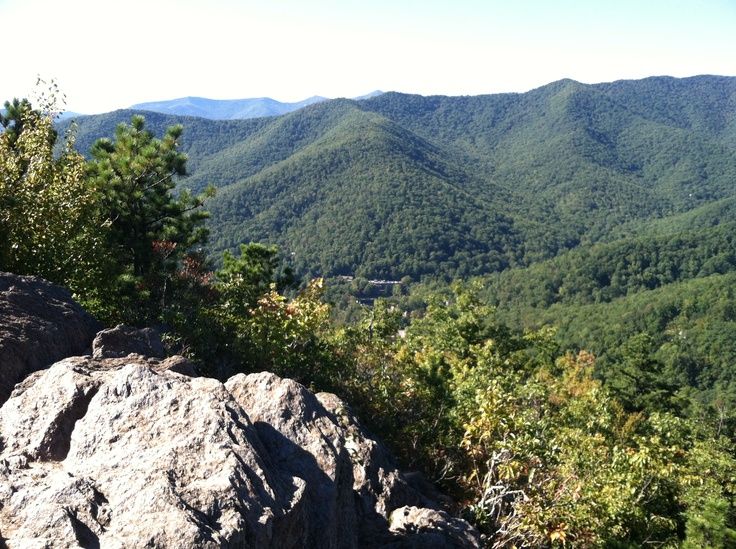 View from "Little Lookout"
We'll do a 2.5-mile loop trail, a short (but steep!) hike taking in both Lookout summits and Rattlesnake Mountain, a rocky peak with some of the best
viewpoints around Black Mountain, Montreat, and Ridgecrest
.
Part of the hike is on the Old Mitchell Toll Road, a gated track that was once the route for Model T's to chug their way to Camp Alice below Mt. Mitchell.
Be warned - it's really steep. The Big Lookout Summit is at 3,670 feet above sea level, and all in all, this hike features an elevation gain of 1,100 feet.
Parking at the trailhead is scarce, so let's
meet to carpool in the northwest corner (take a hard right as soon as you enter the parking lot) of the Black Mountain Bi-Lo (
map
) at 08:45 and leave promptly at 09:00. If anyone is interested, perhaps afterward we'll stop by the
Dripolator
in downtown BMT for a cuppa and a chinwag.
Things to bring:


A certain level of fitness; ability to hike two miles per hour.

Insurance - by coming along you acknowledge that hiking can lead to injury and will not hold RiverLink responsible in any way for injuries.

Snack

Rain gear

Camera, walking stick, etc.


There's no charge, but please let Dave know you're coming so carpooling can be arranged by e-mailing dave@riverlink.org or phoning 828-252-8474.
Our RiverFront Bus Tours have been very popular of late: October's tour is full, but you can join RiverLink for the November RiverFront Bus Tour
The RiverLink Bus Tour offers answers about Asheville's past, present and future: What is the Wilma Dykeman RiverWay Plan and what does it hold for Asheville's future? How did the Flood of 1916 change the river area landscape?
The next tour will be Thursday, Nov. 20, when the public is invited to tour the French Broad and Swannanoa Rivers with RiverLink.
This is an opportunity to see the improvements that have occurred and hear what is coming over the next several months and years to make our rivers better places to work, live and play. You will learn some local history and visit some streets and neighborhoods you have never seen before.
The tour is free for RiverLink members but the tour cost for non-members is $20 per person.
Reservations are required. A final confirmation (
or cancellation if needed) will be sent the week of the tour. Please go to http://www.signupgenius.com/go/10c0e4caea82ba1f49-february
to reserve your seat today.
What
: RiverLink's Riverfront Bus Tour
When
: Thursday, Nov. 20, 11:45 -- 2 p.m.
Where
: Meet at the Asheville Area Chamber of Commerce (36 Montford Avenue) at 11:45
The 8th Annual
Voices of the River Art and Poetry Contest
will open on April 18th at AB Tech's Holly Library
Calling all students in the French Broad River Watershed
Featuring 2D Art, 3D Art, and Poetry
Submission Deadline:
March 27th, 2015 @ 5:00pm
Drop off work with completed submissions form
to the RiverLink Office:
170 Lyman St.
Or mail to PO Box 15488 Asheville, NC 28813
For more information contact
RiverLinks Education Coordinator:
Alex Guyton
alex@riverlink.org
(828) 252-8474 ext. 18
Volunteer Spotlight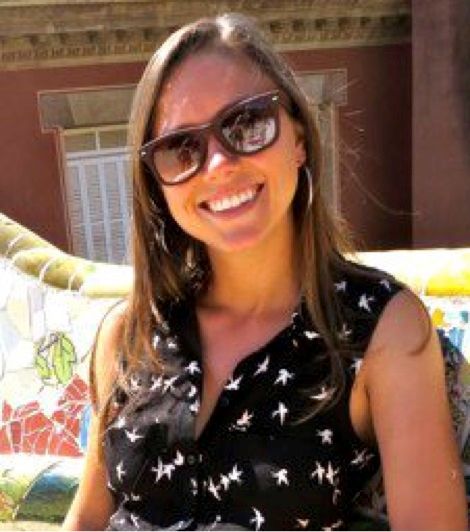 Lara Lrenzetti
Lara Lorenzetti admits that as a child she never fully appreciated what it meant to have access to an abundant supply of fresh water. Lara grew up swimming in the glacier-formed Finger Lakes of upstate New York and spent summers exploring the lakes and creeks of the Adirondack Park. With the Erie Canal running right through her hometown, New York's waterways were an ever-present part of life that she often took for granted. However, while studying International Health at Georgetown University, Lara began to explore the health of vulnerable populations in developing countries and found that water is a common denominator in many of the world's most treatable and preventable illnesses. In Ghana, Lara worked in a hospital where the vast majority of patients were hospitalized due to malaria. In Peru, Lara worked on an activity that distributed water filters to rural families in an effort to reduce diarrheal disease among children. Her experiences working abroad have propelled her into a career that seeks to improve access to basic goods and services, like clean water and preventive health care, for families in developing countries.
Lara now studies Health Policy & Management at the University of North Carolina at Chapel Hill and enjoys exploring the trails and parks of the Piedmont whenever she has the opportunity. When her sister and brother-in-law moved to Asheville, she was excited to explore the surrounding area. Although many people visit Asheville for the mountains, Lara finds herself more drawn to the rivers! She volunteers with RiverLink because she supports their mission to revitalize the French Broad and its tributaries. In general, Lara appreciates that communities throughout North Carolina are focused on respecting, protecting, and promoting the environment, but she especially values the demonstrated impact that RiverLink has had on raising community awareness and cleaning up the French Broad, an essential source of life for Asheville and beyond.

Chinese lespedeza
or sericea is a semi woody upright leguminous forb to 6 feet (2 m) in height with many three-leaflet leaves feathered along erect slender whitish stems that often branch in the upper half. Many tiny cream-colored flowers in leaf axils during summer yield abundant single flat seeds in fall and winter. Plants remain standing dormant most of the winter and form dense stands that prevent forest regeneration and land access. Seed have low germination but are long lived in the soil seed bank and require long-term monitoring after control treatments. Seed spread by birds, ants, and rodents. Resembles native lespedeza which grows in tufted clumps instead of infestations, has crowded clusters of pink-purple to violet flowers, somewhat larger leaflets 0.6 to 1.2 inches (1.5 to 3 cm) long, and brown stems. Also resembles roundhead lespedeza (L. capitata Michx.), which has similar leaves but whitish flowers in round-topped clusters.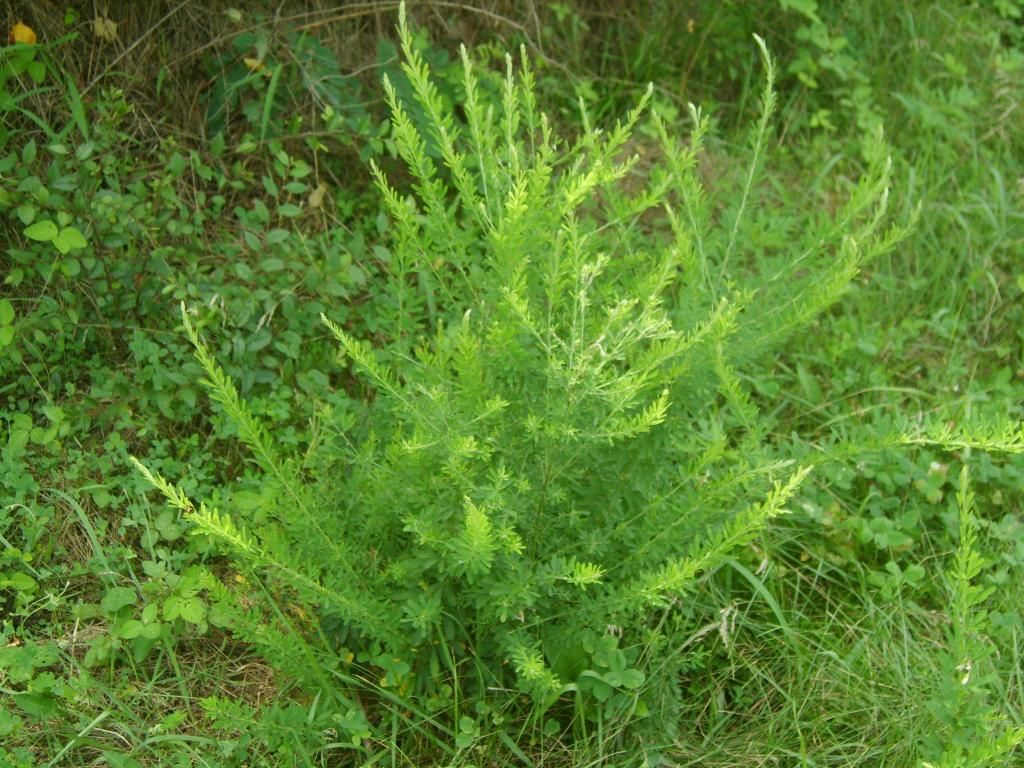 Management strategies:
Do not plant.
Remove prior plantings, and control sprouts and seedlings. Bag and dispose of fruit in a dumpster or burn. Pull, cut, and treat when seed are not present. Minimize disturbance within miles of where this plant occurs, and anticipate wider occupation when plants are present before disturbance.
Manually pull when soil is moist to ensure removal of all roots. Prescribed burning can promote spread of the infestation margins and mowing will increase stem density and canopy cover.
Suppressing can be accomplished by fertilization of nutrient poor soils.
Mowing 1 to 3 months before herbicide application can assist herbicide control.
Trivia
This fish is found in the French Broad River, how many clues until you know what it is?

* These fish are not easy to catch and are often referred to as elusive or a fish of 10,000 casts.

* They are known as capricious, moody and brooding beasts that hang out in shadowy lairs.

* Adults of this fish are apex predators.

* According to NC Wildlife Resource Commission it takes on average 47 hours to catch one fish.

* Through its Table Rock State Fish Hatchery in Burke County, the state Commission stocks this fish in the French Broad, Nolichucky and New rivers.

* They prefer coolwater rivers and lakes with abundant woody debris, vegetation and rocky habitat.

* As a predator, they feed on a variety of fishes, particulary sucks, as well as salamanders and small mammals.

* You will want to spool up with 30 pound test line to reel in one of these.
* This fish is a member of the Pike family.

* It has an olive to dark gray back with silvery sides.

* Its sides usually have vertical bars or blotches, and its fins have spots or streaks.

* Don't forget your wire leader on the line, this fish has razor sharp teeth and will bite through standard line.

* NC Wildlife Resource Commision minimum requirements for this fish is 42 inches in length. In all public waters, and the daily creel limit is one fish.

* If you still think that you can catch this elusive Muskellunge, here is a link to NC fishing public access points thanks to NC Wildlife Resource Commision. http://ncpaws.org/wrcmapbook/FishingAreas.aspx

* Remember bring your patience and a strong grip, just in case you snag this 10,000 cast fish.