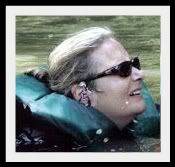 From the exec's desk
Rain, rain go away! We have tons of outdoor stuff planned for the last month of summer -- so no more rain, please!
You must read this newsletter to see and enjoy all we are putting on this month from the Anything That Floats Parade and RiverFest, to another SunLink Solar presentation, to a free trolley for a fun-filled night at Oskar Blues Brewery to a bluegrass concert to a blood drive and another lecture series by Dr. Frank Kalinowski this time focusing on the U.S. Constitution. Whew! Read this newsletter all the way to the bottom to find out about it all!
August is also when we are kicking off our membership drive. If you have been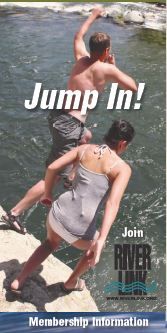 enjoying the French Broad River in all its glory from Carrier Park and the river greenways to fishing in the river, or getting your exercise, riding your bike and walking your dog or floating it or camping along its banks then you really want to join our team and become an official member of RiverLink.
RiverLink's mission is the economic and environmental rebirth of the French Broad River and its watershed. We accomplish our mission by providing permanent public access to the river thru conservation and recreation easements, reclaiming contaminated lands for public use, greenway development, public no-fee overnight camping space along the river, adaptive reuse of historic structures, educating the public at large about the river's importance, offering five free music concerts and a host of informative and educational programs and tours and empowering over 1,700 volunteers to help make the river the best destination to live, work and play. Jump in today and help navigate the future of the French Broad River. Click here.
By joining RiverLink you can become part of the solution, enjoy free historic tours that retail at $20 per person, receive reduced fees for events and enjoy our annual members-only party and get together.
Another way to show your support of RiverLink and the economic and environmental rebirth of the river is to buy one of our new license plates.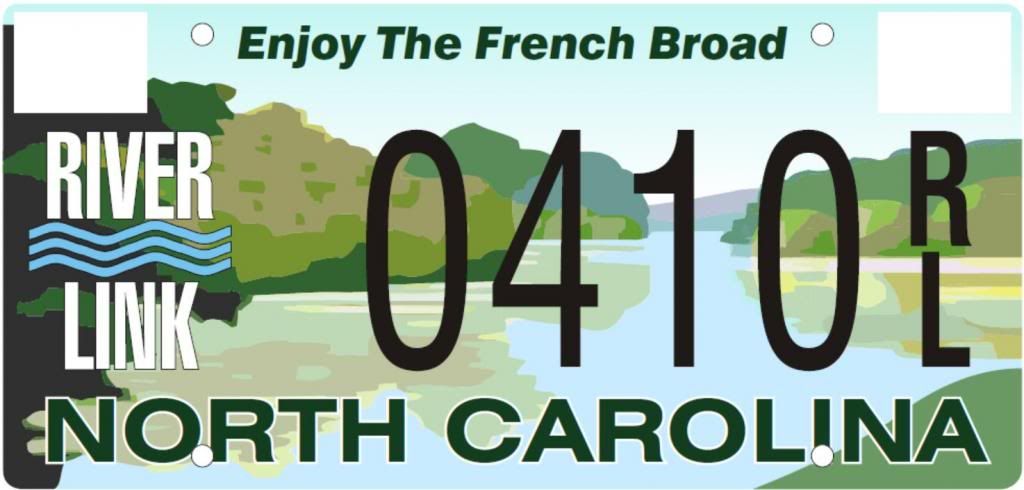 They are beautiful and you have to have one to drive your car anyways so why not sign up for one that shows you understand how important clean water is to our quality of life and overall health. Click here to see it full size. This plate was designed by one of our former AmeriCorps members Laura Barry - thanks Laura this is a gift that will keep on giving.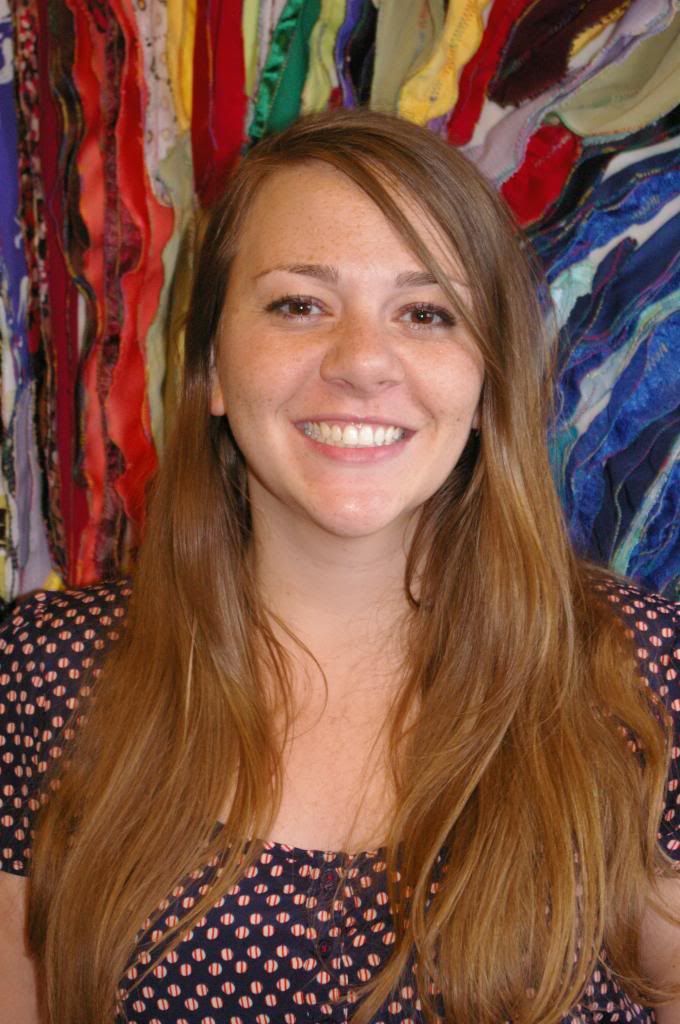 Jess "The Great" Peete
Speaking of AmeriCorps we are thrilled that Jess Peete will be staying on with us for another year as assistant volunteer coordinator. She is a gem and with her "can do" professional approach to all she does we are really excited she has elected to stay on our team.
After two years of great work and exceptional effort at RiverLink our Education Coordinator and AmeriCorps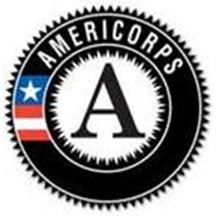 member Nikki Bauman is off to the University of Vermont with a full scholarship as she enters the graduate school to further
refine her already impressive skill
set. Nikki is promising to come back after graduate school and we are going to hold her to that.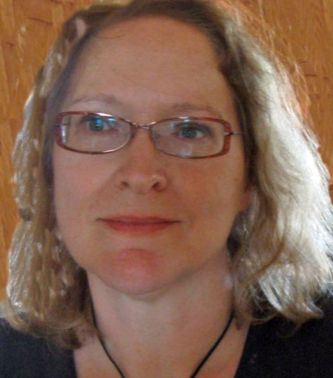 New staffer Mary Noel
A new face at RiverLink is Mary Noel, who will be working with us on special projects. Mary has an impressive background and recently retired after 30 years with the U.S. Forest Service, serving national forests in Idaho, Washington, Indiana, Ohio, and the last 20 years in North Carolina. Starting as an Archaeologist with a special interest in log cabins and gold rush mining sites in the Rocky Mountains, she went on to manage forest programs for Recreation, Lands and Planning. She also worked on interpretive exhibits and programs with the National Park Service.
Next month we will introduce Lizzy our new AmeriCorps education guru in our newsletter, wait until you meet her. Lizzy is another incredibly impressive member of our team who will be our new education coordinator.
See you on the river -- jump in!
Karen
P.S. Many thanks to the Universal Joint for their benefit for us in July. Let's make it an annual event.
T

he Anything That Floats Parade is
filling up with off the charts zaniness!

The Fighting Pickle Club??? Say What? If you must know, you'll need to get on down to the French Broad River on Saturday, August 10th for the ANYTHING THAT FLOATS PARADE sponsored by French Broad River Realty!
Joining the Fighting Pickles in the Parade will be Endangered Species, Odditorium's SS Who Done It, Disco Volante, Bambu Verde, Asheville Mardi Gras Krewe, French Broad Brew Feast and Midnight Oil Brewing. So far. All this is missing is you!
Registrations are floating in at a record breaking pace, so don't be the last to register at riverfestavl.brownpapertickets.com. It's a day of dash and splash for a good cause -- RiverLink. Even if you can't get a float created this time, you can cheer the wacko rafts as they float from Hominy Creek Park past French Broad River Park to take out at the RiverLink Sculpture and Performance Plaza at 144 Riverside Drive.
First launch time is 10 am. Zen Tubing will also be renting tubes at Carrier Park, so you can join the parade even if you don't have a boat. Adding to this festive celebration of the French Broad River, RiverFest 2013 will be kicking off at 1:00 pm and in full swing till 7 p.m. Everyone is welcome and it's FREE! Music, Dance, Juggling, Swinging From the trees (for professionals only!) Kids Parade, food trucks, local craft beer, ice cream, craft and outdoor gear vendors ... all happening on the beautiful banks of the river at the French Broad River Park. See you there!
Shirts For Sale at 14th Annual RiverFest
Wear the coolest shirt on the block and show your love for RiverLink and the French Broad. You'll be able to buy a shirt from Jess at the RiverLink information tent. They're $20 and are available in men's sizes S-2XL.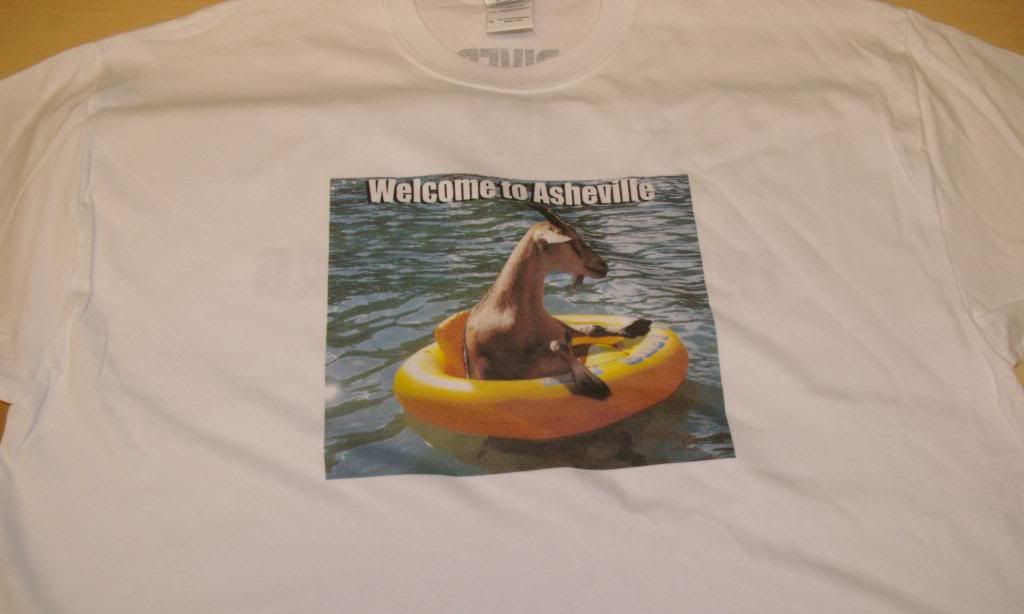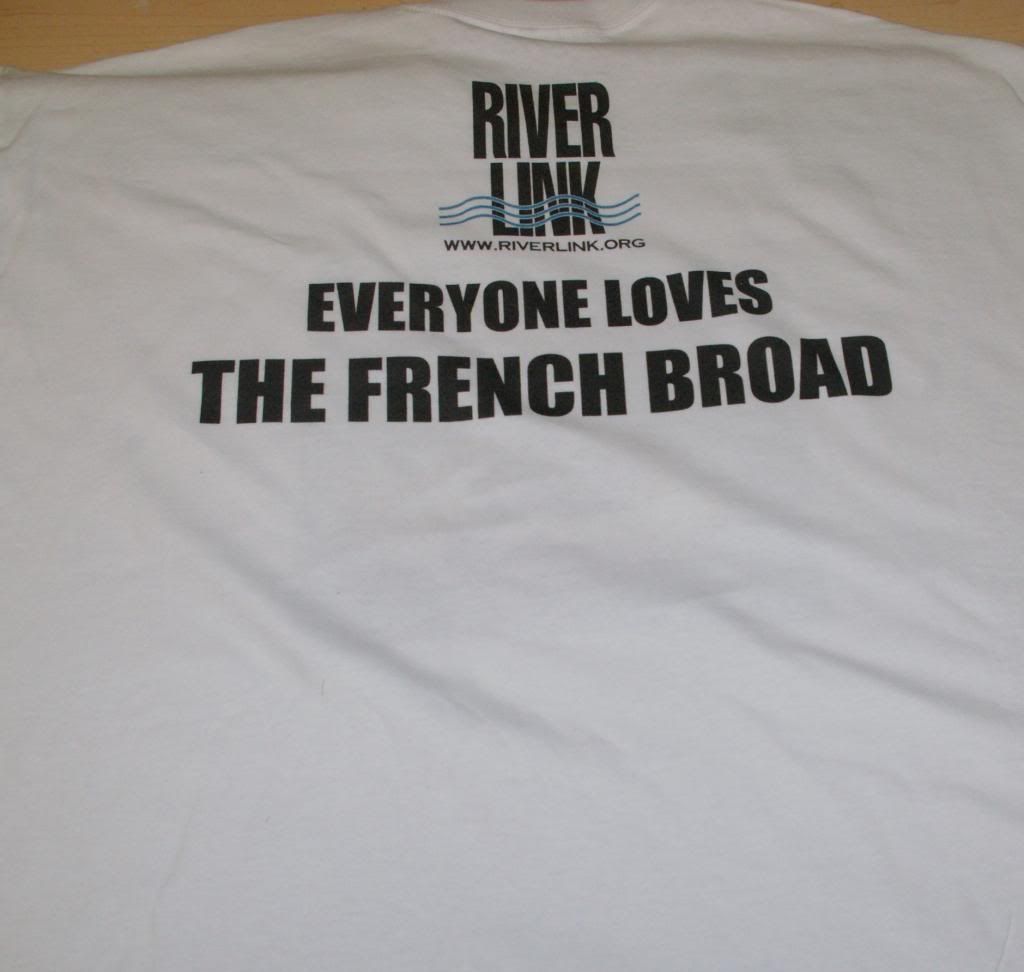 August's RiverMusic Gets Back to Old Time Roots
The inaugural RiverMusic concert series in 2012 was a smashing success and RiverLink is again hosting a series of live music performances beside the river. There are only two dates -- August 23 and Sept. 13 -- left of the five concerts at the RiverLink Sculpture and Performance Plaza, at 144 Riverside Dr. in the River Arts District of Asheville (map).
Inspired by a grant from the Chaddick Foundation, RiverMusic is also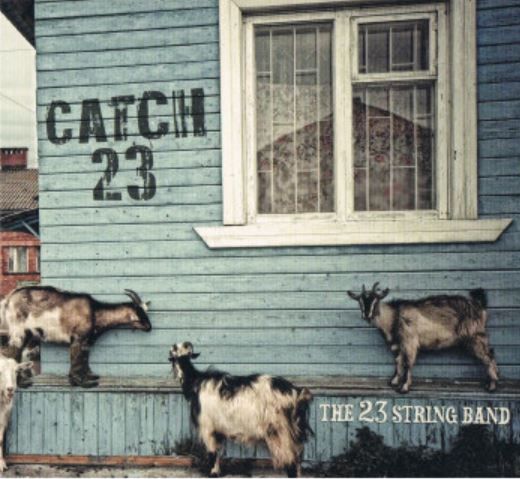 Latest 23 String Band album
sponsored by Pisgah Investments, Prestige Subaru, Ingles Markets, Sundance Power Systems, Ingles and five local craft brewers: Highland, Pisgah, Sierra Nevada, New Belgium and Asheville Brewing Co.
Please remember -- no outside food or beverages and no dogs allowed.
The remaining concert dates are on Fridays: August 23 and Sept. 13. Gates for all events open at 5:00 p.m., with the first band cranking up shortly after that. The headlining act will start at 8:00. There will be beer from five local craft brewers, food trucks, live music from local and national acts, and the waters of the beautiful French Broad flowing right by the stage.
Check out the RiverLink information tent for posters and shirts!
RiverMusic 2013 Lineup
Oskar Blues' Make a Difference Monday to Benefit RiverLink: Hop on the free trolley to the Brevard Brewery
Asheville, NC - Looking for a way to make your beer dollar go farther? Love craft beer and conservation along the French Broad River watershed? Here's the perfect event for you.


RiverLink is thrilled to be the featured nonprofit of the
Oskar Blues/Tasty Weasel
Making A Difference Monday program. On Monday, August 19. 10 percent of all sales in the Tasty Weasel Taproom will be donated to RiverLink. The taproom is open noon until 8:00p.m. There will also be an Old Time Music jam from 6:00-8:00p.m. that is open to all ages.

The money donated will help RiverLink continue the economic and environmental revitalization of the French Broad River and its tributaries as a place to live, work, and play. RiverLink is an environmental non-profit organization focusing on issues that directly impact the environmental health of our region's rivers and streams and the growth and sustainability of our economy.


The tasting room is located at 342 Mountain Industrial Drive, Brevard, North Carolina 28712. To ease driving woes, there is a special offer for a free trolley ride from the River Arts District to Oskar Blues if we can get at least 25 people to commit.


The trolley will leave between 4:30 and 5:00 p.m., drop guests off at the Oskar Blues Brewery, and then return them to the River Arts District after the event.


Reservations are a must -- If you would like to sign up for the free trolley or simply need more information call the RiverLink offices at 828-252-8474, ext 10.
RiverLink, Red Cross to host blood drive by the French Broad River on Saturday, August 31
RiverLink and the American Red Cross are teaming up to host a blood drive on Saturday, August 31, from 9 a.m. to 1:30 p.m. at the RiverLink Sculpture and Performance Plaza, 144 Riverside Drive in the River Arts District of Asheville. The Red Cross will bring the donation bus, and the organizations hope to bring 41 donors to the site to donate. All participants will receive a free American Red Cross t-shirt and a River Access Guide.
"It only makes sense that we would partner with the Red Cross on a blood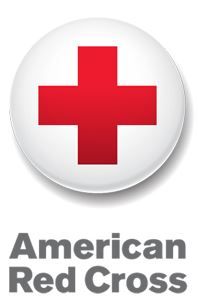 drive," says RiverLink Executive Director Karen Cragnolin. "Just like blood donation is essential, the rivers and streams in the French Broad River watershed that we work so hard to protect are the lifeblood of our region."
Donors must meet the following requirements:
Be healthy -- feeling well and able to perform normal activities. Donors with a chronic condition such as diabetes must be in treatment and the condition under control.
Be at least 17 years old
Weigh at least 110 lbs.
Additional weight requirements apply for donors 18 years old and younger and all high school donors.
Other aspects of each potential donor's health history are discussed as part of the donation process before any blood is collected. Each donor receives a brief examination during which temperature, pulse, blood pressure and hemoglobin (or hematocrit) are measured.
Appointments begin at 9 and are scheduled every 15 minutes afterward. Snacks and seats by the French Broad River will be provided. To register, click to www.redcrossblood.org/make-donation-sponsor, and enter RiverLink in the sponsor code block, or contact RiverLink's Dave Russell at dave@riverlink.org or 252-8474, ext. 11.
The American Red Cross shelters, feeds and provides emotional support to victims of disasters; supplies about 40 percent of the nation's blood; teaches skills that save lives; provides international humanitarian aid; and supports military members and their families. The Red Cross is a not-for-profit organization that depends on volunteers and the generosity of the American public to perform its mission. For more information, please visit redcross.org or visit us on Twitter at @RedCross.
RiverLink is a regional non-profit spearheading the economic and environmental revitalization of the French Broad River and its tributaries as a place to live, work and play.
RiverLink and Sundance Power team up for SunLink:
Sundance Power Systems is proud to partner with RiverLink in a summer SunLink benefit, donating 2 percent of residential solar sales to support RiverLink's efforts protect the French Broad River and the vibrant community that has developed around it.
This 2 percent donation will apply to local residential solar systems that are contracted by September 16. For more information, contact Sundance Power Systems at 828-645-2080 and let them know you are interested in SunLinking.
Solar Energy (Solar Electric Overview) is now a solid investment, as well as a viable means of producing clean, carbon-free electricity for homeowners. Up to 65 percent of cost may be recovered through state and federal tax credits and financing enables homeowners to put a solar system on their home with no money down and be in positive cash flow in the two years.
There is a FREE seminar on Tuesday, August 13, at 5:30 p.m. to explain the benefits of solar. Residents of Western North Carolina can find out if solar systems are right for them at this informal meeting at the RiverLink office at 170 Lyman Street. Please RSVP at 828-252-8474 if you would like to attend the event.
Dedicated to leading the clean energy transition, Sundance Power Systems has installed hundreds of renewable energy systems throughout the region since 1995. From teaching 5th graders about energy at Conservation Field Days, to powering festivals like LEAF and RiverMusic with their mobile solar array, they're out there showing people that solar energy is a viable solution.
RiverLink is an environmental non-profit working on the revitalization of the French Broad River and its watershed as a place for everyone to live, work, and play.
What: Is Solar Right For You - Tax Credits - & Financing explained seminar
When: Tuesday, August 13 at 5:30 p.m.
Where: RiverLink office at 170 Lyman Street (directions) in the River Arts District
Solar energy provided by Sundance powers the stage at RiverLink's RiverMusic
MFuge Campers Clean Watershed
Summer is a time for camp. Every year, teens from around the country travel to the idyllic mountains of Western North Carolina to form new friendships and gain new life experiences.
Over the course of the summer, RiverLink worked with nine different groups from the MFuge Camp at Ridgecrest. Despite the summer's rain, the groups picked up trash across the watershed, enhancing the beauty and water quality of the French Broad River.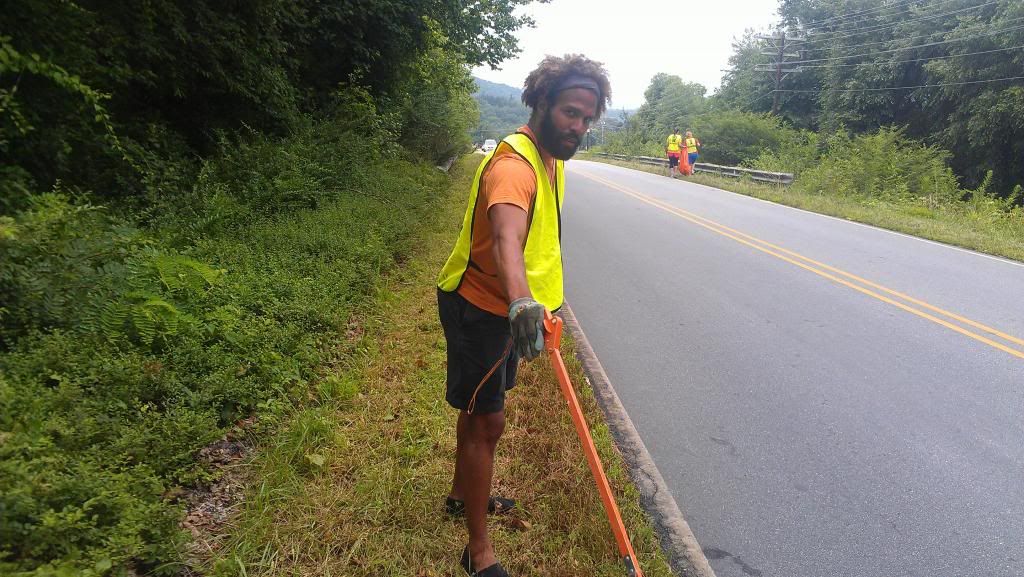 One of the projects was very special. We coordinated a
service project with Barbara Barton Leonard to do a river up at a river access at the border of Henderson and Transylvania Counties. This area is so special to Mrs. Leonard because she has set up a memorial for her son, Michael Scott Rogers.
Michael Scott Rogers died in 2010 after attending a party- he was beaten and left in a field where he froze to death. Mrs. Leonard and her family have adopted the area around the river access, and the
county road by the river. They pick up trash and tires and also maintain a small memorial garden at the park. However, she is not able to do regular cleanups because of back injuries.
Because of the rain this year, they park and road needed a lot of attention. I took 15 volunteers to this park where we picked up all types of trash- including roofing shingles. We worked for four hours and collected 15 bags of trash, 4 bags of recycling, and a giant tire from the area surrounding the river.
We're excited for another summer of working with the campers from MFuge. Their dedication to service is truly inspiring.
RiverLink teams with Recover Brands for RecoverLink
RiverLink and Recover Brands, the newest partnership in the Adopt-A-Stream program, will combine forces for a cleanup of a stretch of the Big Ivy River on Saturday, August 17. Recover Brand's mission is to produce the most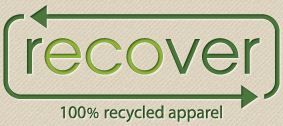 eco-friendly clothing possible and raise awareness about environmental sustainability. They have committed to six cleanups throughout 2013 the French Broad River watershed to help RiverLink in its mission to make it a place to live, work and play.

This the third RecoverLink cleanup of the scheduled six. Volunteers are needed and will meet Saturday, August 17 at 10 a.m. at the RiverLink office at 170 Lyman Street (map) in the River Arts District of Asheville to caravan to the site in northern Buncombe County and work until 2 p.m. This collaboration will bring together members of the community with the help of local businesses to remove and recycle waste from a riverside location in a fun and educational way. We will celebrate after the cleanup with food and libations and volunteers will receive free t-shirts.

RecoverLink is part of RiverLink's Adopt-A-Stream program. The 40 participating teams -- from churches, businesses, schools and other agencies such as Scouts -- adopt a section of river or stream to clean twice a year. To find out more about adopting, contact RiverLink's Jess Peete at 252-8474, ext. 17 or jess@riverlink.org.

Volunteers are still needed for the August 17 cleanup. Contact RiverLink volunteer coordinator Dave Russell at 252-8474, ext. 11 or dave@riverlink.org for more information.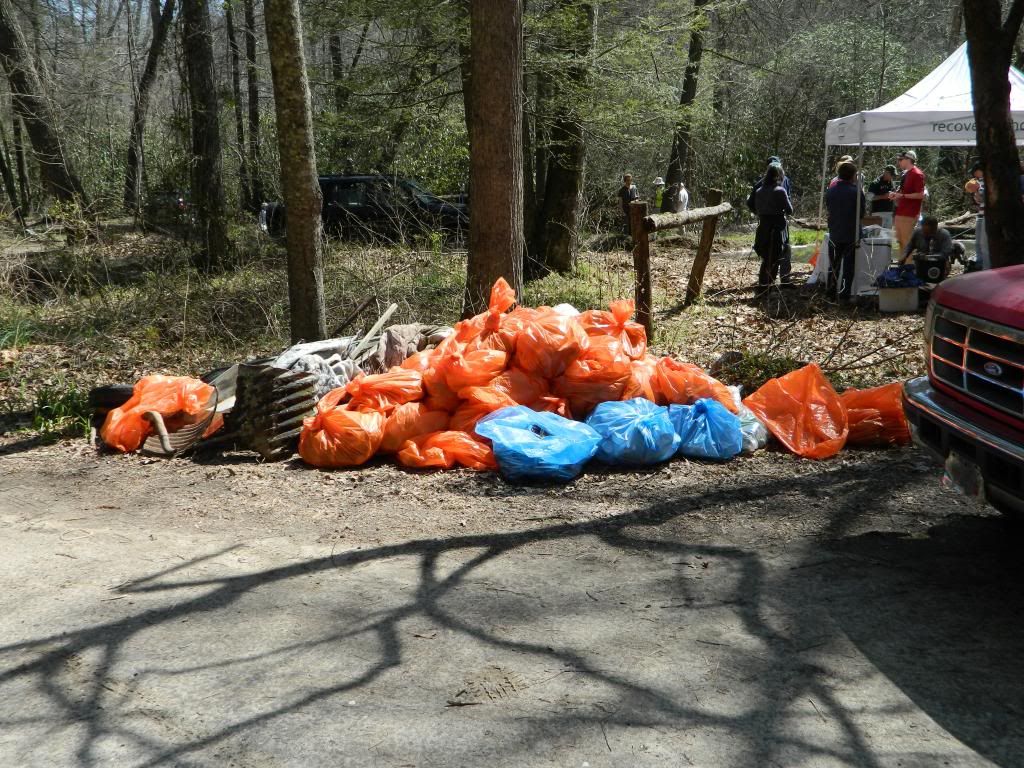 Volunteers gather with the litter collected from Bent Creek during a previous RecoverLink cleanup in April.
Want to know how much water runs off your property to our streams?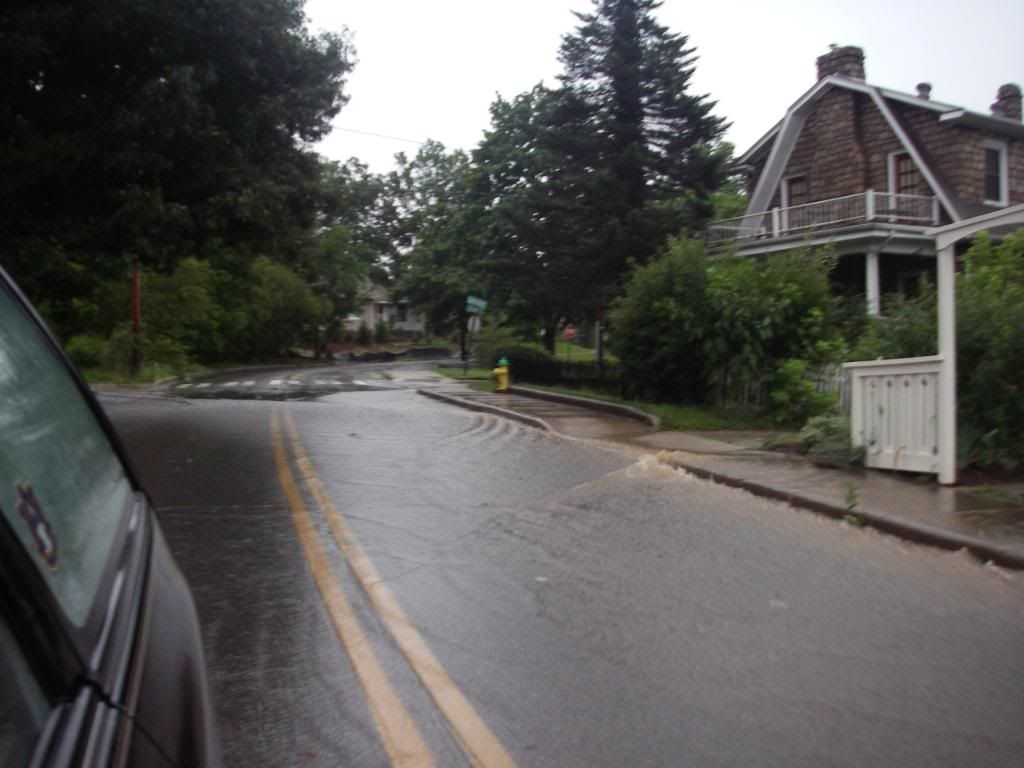 This month the EPA launched a new FREE software program that will calculate you stormwater runoff. The calculator and directions can be downloaded HERE. The calculator was developed as part of President Obama's Climate Action Plan, and is an innovative tool to help Property owners, developers, land planners, engineers, and landscape architects make informed decisions to protect local waterways from non-point source pollution. Preventing stormwater runoff, which can impact drinking water resources and local ecosystems, protects people's health and the environment.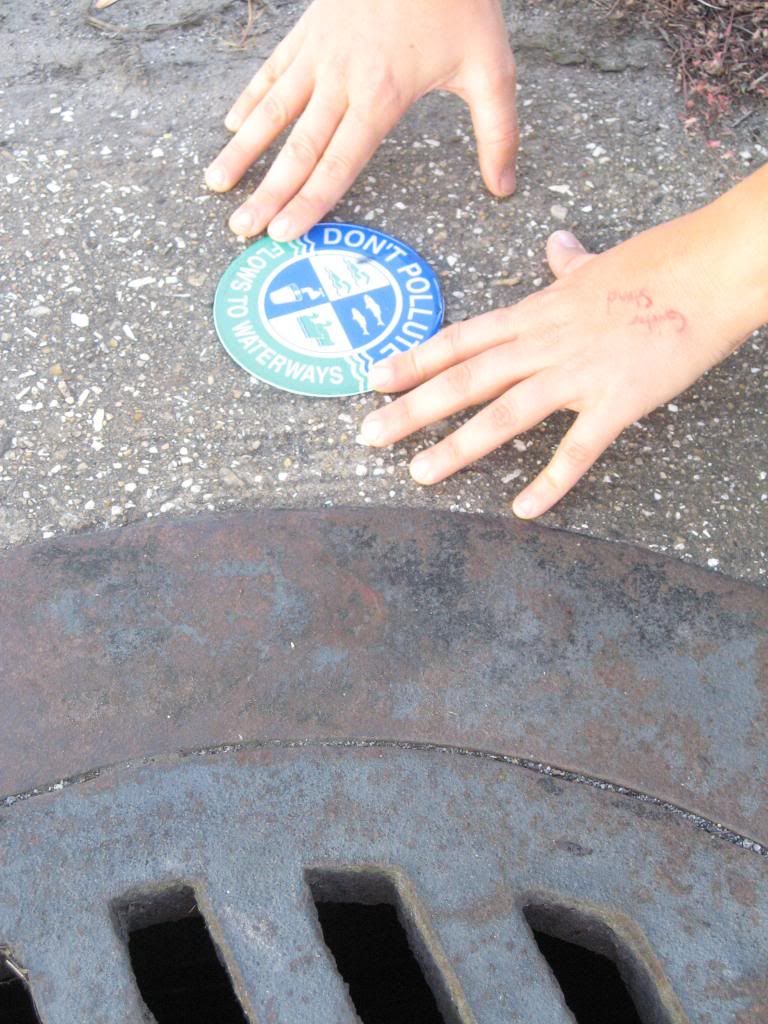 The calculator can be used along with our WaterRICH Program and Handbook to help property owners learn what they can do to help reduce stormwater runoff and non-point source pollution. Including design and construction of rain gardens to help infiltrate stormwater, rain water harvesting, and a variety of other landscaping techniques which can help reduce sedimentation and pollution in our streams.
Volunteer Call
We still need a few volunteers for RiverFest this Saturday. We particularly need a shuttle driver for the 5-8 p.m. shift.
Volunteers get a t-shirt and free beer.
Email jess@riverlink.org or call 252-8474, ext. 17 if you can help out.
Upcoming Events
Saturday, August 10, 1 p.m.-7 p.m., at French Broad River Park--
14th Annual RiverFest
A Saturday afternoon of crafts, kid fun, a raft race, music and more! Craft vendors sell local handmade goods, there are kids parades and activities and the popular Anything That Floats raft parade also takes place that afternoon
Wednesday, August 14, at 10 a.m. and 5 p.m. at the RiverLink offices --
Volunteer orientation sessions. Contact Dave Russell at 252-8474, ext. 11 and become involved in the evolution of the river and learn more about RiverLink and join Jim Stokely to learn more about his mother, Wilma Dykeman
PLEASE RSVP by 8/12
Thursday, August 15, 11:45 a.m.-2 p.m. --
Experience the Riverfront magic firsthand! The RiverLink bus tour meets at the Asheville Area Chamber of Commerce at 11:45 a.m.
To sign up c
ontact Dave at 828-252-8474 ext 11.
Monday, August 19, 12:00 p.m- 8:00 p.m.at the Oskar Blue Brewery in Brevard--
Tasting night for RiverLink at the brewery in Brevard. 10% of sales will be donated to RiverLink.
If we get at least 25 people to sign up Oskar Blue will run their fun free trolley from Asheville. Call 828-252-8474 to sign up.
Friday, August 23, 5:00 p.m.- 10:00 p.m. at the RiverLink Sculpture and Performance Plaza --
RIVERMUSIC! Come on down to some sweet tunes by the river.
23 String Band (Old Time, Roots & Bluegrass), CaroMia and The Flowers (Americana, Soul, Blues)
Free to the public. Gates open at 5:00 p.m.
Friday, August 30, 3:00pm at the RiverLink office --
Join us on the fourth Friday of the month for a series of discussions with retired Warren Wilson instructor, Frank Kalinowski.


The talk in the series is entitled "The American Constitution: The Logic of Law and the Consequences for the Nation."
This event is free but a reservation is required.
Saturday, August 31, 9 a.m- 1:30 p.m. at the RiverLink Sculpture and Performance Plaza --
Blood Drive with the American Red Cross.
Appointment times start at 9 a.m. and will be scheduled in 15 minute increments. See the longer article in this newsletter about the event and sign up!
Saturday, September 21, 9 a.m. - 4 p.m., across the French Broad River Watershed --
NC Big Sweep. It's time for our annual Fall river cleanup. This year we're teaming up with
ECO
and
Asheville GreenWorks
for a service day that's bigger and better than before!
We'll have teams in boats and on foot cleaning creeks, streams, and rivers throughout the watershed.
People with reliable water transportation are encouraged to participate (we have limited access to boats).
Afterward we'll have free food and libations.
Saturday, October 12, at Carrier Park, 8 a.m. - 5 p.m.-
Volunteer to help CrossFit Pisgah put on the
Beer City Beatdown
, a series of judged Crossfit fitness and strength tests. Volunteers can contact Devin Gaynor, Volunteer Coordinator, at
devin@crossfitpisgah.com
to register.
Remembering Wilma Dykeman's Legacy at UNCA's Osher Lifelong Learning Institute
All presentations will take place on Sunday afternoons- 3:00 to 4:30pm in the Manheimer Room
(Free and open to the public)
September 15
Wilma Dykeman as Historian
Author of The French Broad,
With Fire and Sword (King's Mountain), and Tennessee: A Bicentennial History. Tennessee State Historian for 20 years. Dan Pierce, Professor of History and Department Chair,

UNC-Asheville
Wilma Dykeman as Journalist
Author of Neither Black Nor White and more than
20 feature articles for The New York Times Magazine, The Nation, The Progressive, and other national magazines during the Civil Rights movement of the 1950's and 1960's.
Darin Waters, Visiting Assistant Professor of History,
UNC-Asheville

October 6:
Wilma Dykeman as Environmentalist


Chapter on pollution in the French Broad River seven years before Rachel Carson's Silent Spring.

Environmental themes throughout her novels, fight against Pigeon River pollution, public speaking

throughout the region and nation.

Viki Rouse, Associate Professor of English, Walters State Community College,
Morristown, Tennessee

October 20:
Wilma Dykeman as Teacher


UT professor of Appalachian literature and creative writing for 21 years, founder of the James R. Stokely Institute for Liberal Arts Education at UT (an early summer institute for high school teachers).

Martha Gill, retired teacher

November 3:
Wilma Dykeman as Novelist


The Tall Woman (has sold a quarter- million copies), its sequel The Far Family, and her last published

novel Return the Innocent Earth.

Jim Cole Overholt, retired teacher



November 10:
Wilma Dykeman as Traveler

Where she went, why she went, how she saw, her journals.

Jim Stokely, one of Wilma Dykeman's two sons
We Have a Winner!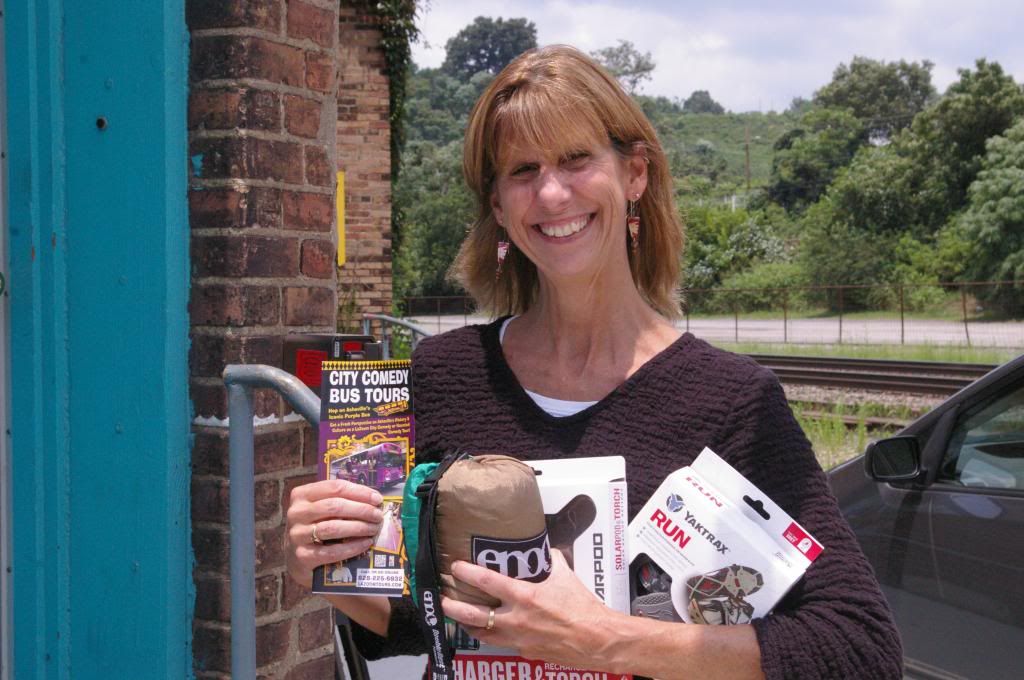 Congratulations to Sara Gresko, the winner of this year's first Love the French Broad Raffle!
Sara is now the proud owner of:
-Two (2) Adult Tickets: La Zoom Tours $48 value


- Ex Officio Underwear (Women's Large) $15 value


-Three (3) pairs Sofsole

Antifriction Socks

(Men's Size 10-12.5)

$12 value


-Solarpod: solar charger

backup power and

rechargeable torch

$45 value


-Two (2) High Gear LED

rechargeable mini torch

$30 value


-Two (2) Double nest ENO hammocks $140 value


-Yaktrax Slip-on Cleats

We have two more drawings- August 12th and September 16th. Tickets are $3 or 2 for $5.
Japanese Blood Grass
Scientific Name:
Imperata cylindrica


AKA:
Blady grass, cogon grass, sword grass, cogon, or kunai grass


Japanese blood grass is an ornamental plant reaching a height of one- to ten- feet with a dark green blades that change to a deep red or burgundy in the fall.


Appearance:
Japanese blood grass has blades (or leaves) that are about 2 cm wide closer to the base and end with a narrow or almost sharp point at the top of the plant. The margins of the blades are finely toothed with a set of sharp silica crystals. Generally, the main vein of the blade is a lighter color than the rest of the leaf, and is usually closer to one side of the blade opposed to the other. The underside of the blades are usually hairless while the upper surface is hairy near the base of the plant. The blades are normally a vivid, sharp emerald green color throughout the year. When autumn arrives the leaves turns a deep, rich red or burgundy
color.
Habitat:
The Japanese blood grass is normally found in areas where the soil has been disturbed, such as; roadsides, building sites, or surface mined land. However, this ornamental can also thrive in naturally dry, sandy condi
Ecological Threat:
When Japanese blood grass grows wild, it can form grass mats that cover and shade out native plants. This invasive can also turn fire-adapted ecosystems into hazardous areas because the blades are so flammable when dry. This grass spreads rapidly and can cover large areas in a short amount of time. Japanese blood grass also produces toxins that can affect the growth of native plants and the seeds are easily blown around or transported large distances which makes it a difficult plant to control.
Control:
Generally, chemical control methods or used to remove and kill Japanese blood grass due to its rhizome mass and expansive stands that make it nearly impossible to remove by hand weeding. Suggested chemical controls include grass-selective and nonselective herbicides.
Native Alternatives:
Shenandoah, Squaw and Rotstrahlbusch.
Volunteer Spotlight

Andy Buttrick

Andy
Buttrick
enjoys paddling, fishing and listening to live local music, especially on the French Broad River. He tries to give back to the community & preserve the natural resources that I use; whether it be river cleanups or assisting on the RiverLink river access point. So, it is easy to see me wanting to volunteer with such a great organization such as RiverLink. They have a great staff of dedicated professionals and a terrific following of volunteers.
Andy is a General Contractor and owner of Full Circle Construction. He is licensed for both Residential and Commercial construction. Serving WNC for over 15 years. In 2001 he became a Certified Green Builder. And in 2007 he became an Aging In Place Specialist, which allows people to remain in their homes longer through design and building techniques. On the front of his construction trailer is a quote from Black Elk a Oglala Sioux medicine man: "The power of the world works in circles, The seasons are a circle and so is the life of man." We
strive to be respectful and mindful of our impact on the environment with all of our construction projects.
His contact info is andybuttrick@hotmail.com or (828) 243-1831. You may also visit his website at www.full-circleconstruction.com.