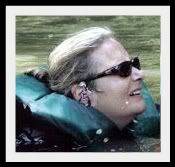 Dear RiverLovers,
It is November, Thanksgiving time and oh boy do we ever have a lot to be thankful for here at RiverLink! October was a magical month. So far this Fall has been one of the very best ever.
Thanks to our 2,300 volunteers we have been getting projects on the ground and making loads of progress in the effort to make the French Broad River the very best destination for everyone to live, work and play.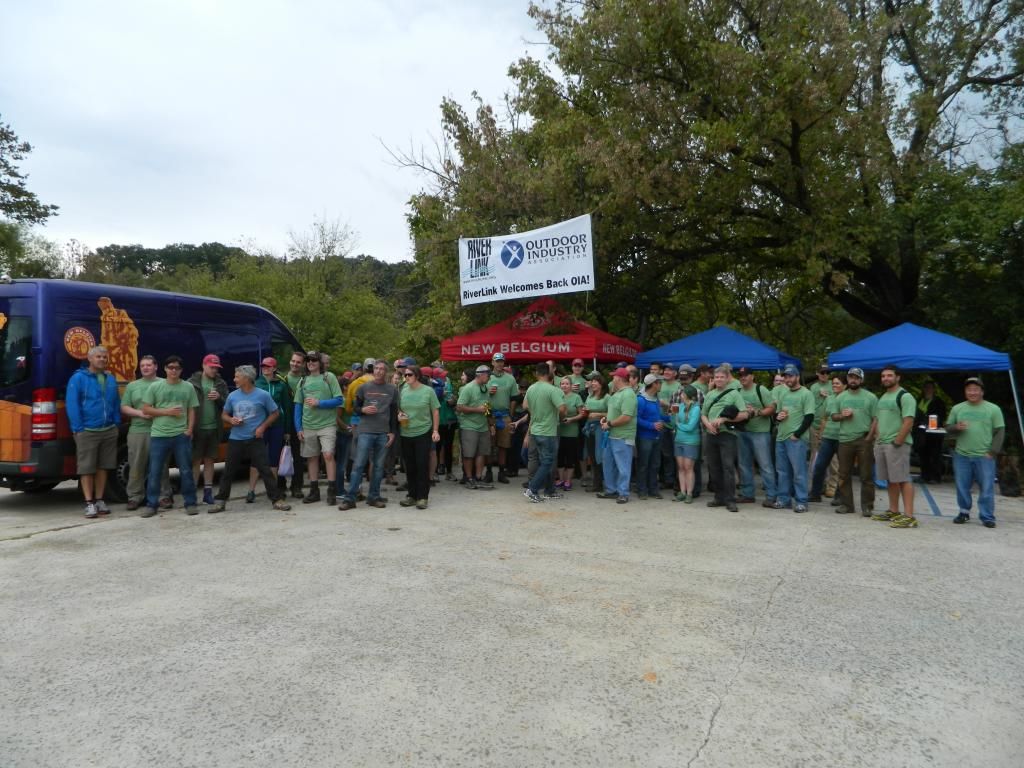 The OIA gang at the end of a great day!
First a shout out to all our friends and volunteers across the U.S. who helped us install permanent infrastructure at the RiverLink Sculpture and Performance Plaza -- bike racks for 60 bikes and six picnic tables. Four years ago the Outdoor Industry Association (OIA) came to Asheville for their annual conference and picked RiverLink to partner with for their service day. So we had 150 CEO's of recreation manufacturing companies helping us clear brush and debris all the way from Jean Webb Park to the Performance Plaza, plus design and install a labyrinth at the Cotton Mill. This year they came and helped to install the bike racks and picnic tables that our community can use all year long. On both visits they donated the funds, muscle and the equipment to make it all happen. Thank you, OIA!
Thank you to the Buncombe County Tourism Product Development Fund (TPDF). They just awarded us a $25,000 matching grant to build a new boat access at Pearson Bridge. The original $25,000 was from the Duke Energy Foundation. Stay tuned -- by next summer we will have a great new place for you to access and enjoy the French Broad.
Thanks also to the TPDF for giving the City enough money to finally rehab the historic PSNC building that the gas company donated as a destination for information about happenings on the river and much needed restrooms and other amenities that will make teh urban riverfront even more inviting and accessible.
Thanks again to TPDF for helping to fund the ENKA ball fields project that RiverLink is partnering with to develop another two miles of greenway for the public to use and enjoy.
Thank you to all the people who bought one-foot sections of greenway deeds from us for the Reed Creek/Broadway greenway at $50 a foot and to the Pigeon River Fund for donating funds to help us help UNC Asheville Foundation and the City complete another 1,200 linear feet in the greenway that will eventually connect the downtown and the river to UNCA.
Thank you to Marci Spencer for her new book entitled, "Pisgah National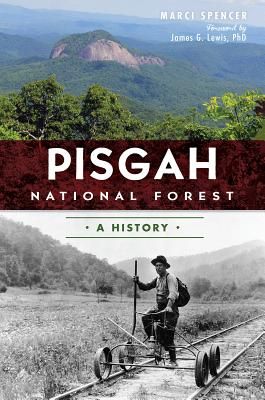 Forest: A History" and the shout-out she gave RiverLink for reviewing sections of the book before it was published.
Thank you to the 15 local artists who came together to host an incredible art show entitled, "Of Time and The River," featuring original art from our own French Broad. It was such a success we are planning to do it again every year. And thanks to the generous and wonderful folks who own Sol's Reprieve, where we held Of Time and The River. The location was superb. Thank you to our friends at Whole Foods who put together a wonderful array of food that was delicious and beautifully displayed along with some great craft beers from Catawba Brewing and really delicious wines from the Biltmore Estate.
Thank you to City Bakery for welcoming us to host our volunteer appreciation party at the store and for making us your charity of the month.
Thank you to all the many hundreds of people who have joined RiverLink as members and to all the hundreds more who have renewed their membership again this year. We couldn't do what we do without your support.
Thank you to the Preservation Society for leading efforts to save our architecturally significant and historic roundhouse. We as a community have lost way too many historic structures to arson and the wrecking ball. Our past is disappearing as I type. Click here to see an awesome aerial photograph of the Roundhouse.
Thank you to the artists of the Warehouse Studios who every month will install a new exhibit in our hallway and donate a percentage of their sales to RiverLink. Some of our artists at the Warehouse Studios have been here for over 25 years!
There are so many people, volunteers, donors, foundations, families agencies and partners to thank for their work with us. I am especially thankful for our hard-working small professional staff, our dedicated board of directors and our incredible AmeriCorps members who come together with our volunteers and the community day after day, project after project, and make magic.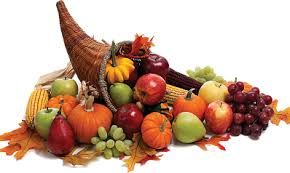 From all of us at RiverLink, a joyous and thankful Happy Thanksgiving to you.
See you on the river,
Karen
Remember RiverLink on Giving Tuesday, Dec. 2
On Tuesday, December 2, 2014, charities, families, businesses,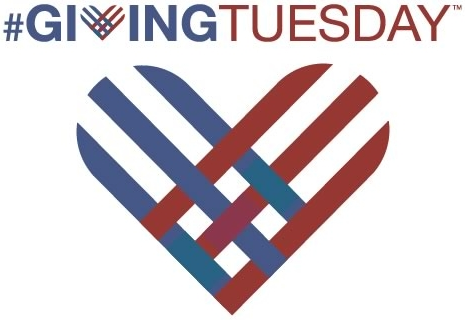 community centers, and students around the world will come together for one common purpose: to celebrate generosity and to give. Giving Tuesday is the new spin on the super-commercialization of Thanksgiving's Black Friday and Cyber Monday.
Giving Tuesday is aimed at getting people to spend a little of their mall money on some charities that could really benefit from all the spending at this time of year.
One place you can give? RiverLink. We've put together a selection of giving levels offering packages of cool RiverLink bling. Take a look and support RiverLink -- The Little Nonprofit That Does -- today.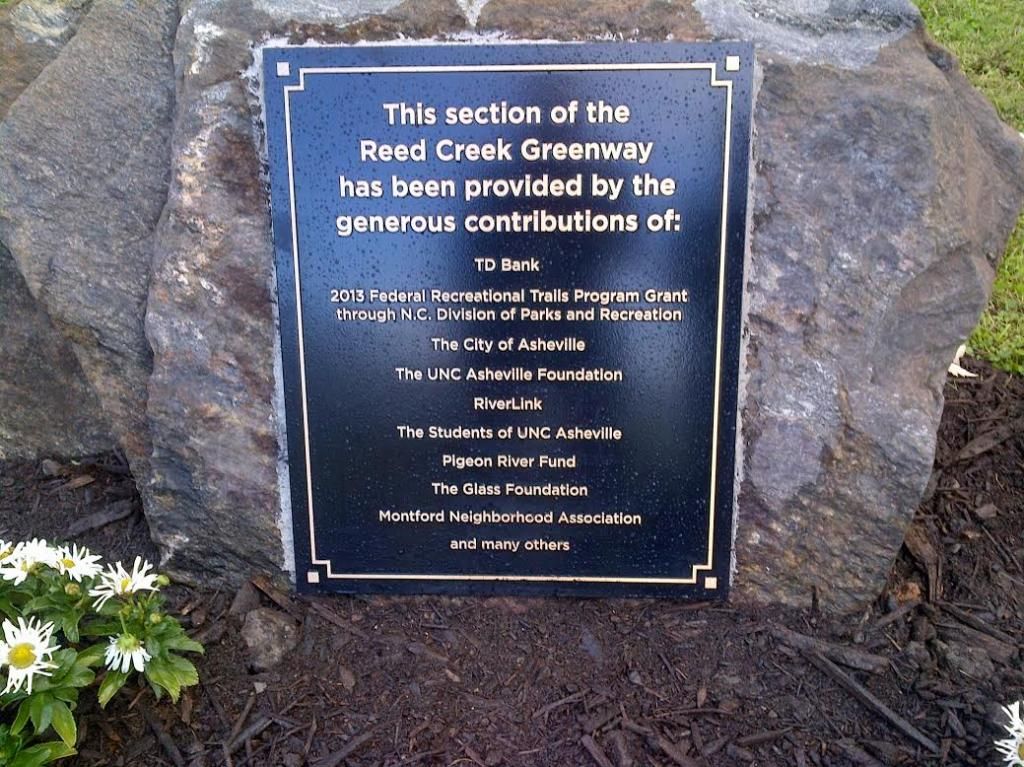 New Section of Reed Creek Greenway

RiverLink worked with the UNC Asheville Foundation, City of Asheville, and Montford Community to complete a 1,200 linear foot greenway connection from Catawba St. to W.T Weaver Blvd. The greenway will incorporate two stormwater wetlands which will treat water runoff from the greenway, roads and other impervious surfaces. Additionally these wetlands will provide an educational resource for the community and local schools.
RiverLink is worked with the local community to remove invasive species and replant native species along the Reed Creek to improve the riparian habitat along the creek. RiverLink is also excited to announce that we have successfully located a second Adopt-A-Greenway Team along the Reed Creek Greenway to help keep it clean and enjoyable for all to use. These teams participate in a cleanup two to three times a year and also report major problems that are in need of repair.
Hominy Creek Greenway
A lot's been happening at Hominy Creek! In October, we had several workdays at the Hominy Creek Greenway. Volunteers of all ages removed invasive species and replanted natives along the main trail and stream banks. They also helped put in new infrastructure such as kiosks, dog stations, and stairs to the beach.
Thanks to a grant RiverLink received from Buncombe County RiverLink is currently working on a management plan to improve the City parkland known as the Hominy Creek Greenway of the "Waller Tract" between Shelburne and Sand hills roads in West Asheville. In partnership with the Friends of Hominy Creek Greenway and the city of Asheville, we aim to manage and create community parkland that maintains its wild nature, preserves the area's rich history, and connects the West Asheville community to the river and to downtown.
If you would like to get involved with the Friends of Hominy Creek Greenway, join us for our Annual Board Meeting on Wednesday, November 12th from 6pm to 8pm. The meeting will take place in the RiverLink Board Room at 170 Lyman Street, Asheville, NC 28801.
If you are planning on attending, please email Nancy Watford with your name and number of attendees by NEXT Monday, November 10, 2014 to nancy@riverlink.org.
Comprehensive CreekCare Workday -- November 15


RiverLink invites volunteers to help with the next Comprehensive CreekCare Workday Saturday November 15th from 9:00am to 12:00pm. This exciting event is part of our on-going Comprehensive CreekCare program; this workday will make a big impact on the removal of trash and debris along Beaverdam Creek in Woodfin. Beaverdam Creek and the surrounding areas suffered massive flooding and erosion last April. Although the flood waters are long gone, all of the debris from the flood still remains, and RiverLink would like to help the town of Woodfin restore Beaverdam Creek and its tributaries back to original beauty.
RiverLink's CreekCare program involves linking all our programs together which includes exotic invasive removal, storm water stenciling, adopt-a-stream, adopt-a-greenway and stream restoration to improve the water quality of our watershed. Getting the trash out of Beaverdam Creek will drastically improve water quality before the creek flows into the French Broad River.
RiverLink has held numerous Comprehensive CreekCare Program cleanup days and we are determined to make the entire French Broad River Watershed an even better place for everyone to Live, Work and Play. RiverLink is excited to expand all of our programs throughout the watershed so give us a call if you would like to join our team or start a new team on your creek or stream.
RiverLink has over 2,300 volunteers who are the backbone and lifeblood of many of our programs so give us a call at 828-252-8474, ext 17 or email us at volunteer@riverlink.org and be sure to check our website for future opportunities. www.riverlink.org.
Who: Open to the public please RSVP to adam@riverlink.org or sign up using
this wonder of modern technology.

What: Comprehensive CreekCare flooding cleanup and restoration

Where: Parking lot behind the ABC store 142 Weaverville Rd, Woodfin NC. Please carpool whenever possible.

Time: 9am to 12pm

Bring: Dress appropriately for the weather rain or shine. Bring rain or Muck boots if you have them. RiverLink will bring tools and gloves, but if you have your own please feel free to bring them.


An interesting new cookbook is on the table
Former RiverLink intern Corrine Duncan has penned a new cookbook
Dandelion Salad
focusing on invasive species eradication through mastication. Entitled "They're Cooked: Recipes to Combat Invasive Species," the book offers 50 delicious recipes for 15 different plant and animal species.
Invasive species are plants and animals that colonize aggressively, readily out-compete other members of the ecosystem and are very difficult to eradicate. When an invasive plant or animal becomes established in an area, biodiversity decreases and habitat structure is altered often causing unwanted changes in ecosystem function. Kudzu can smother trees leading to unsightly landscapes and habitat loss for cavity nesting birds. Wild boar destroy native vegetation and knotweed can choke riparian areas.
These examples, and there are many others, support the need for elimination of these species from our landscapes. Traditional methods of invasive species control include herbicide/pesticide, physical removal and prescribed burning for plants, but surprisingly many of these species can be harvested for food and that is what this cookbook is all about
Fifty recipes for 15 different plant and animal species have been gathered here to delight the palate. General species accounts are provided to help to educate about the ingredients. Some species native to our backyards are invasive elsewhere in the U.S. and readers also learn who that fish was that jumped up and knocked out their cousin last time you were on the lake.
Copies available for purchase here: http://eradicationbymastication.org/cookbook/
Sales support the Institute for Applied Ecology, a non-profit conservation group.
Take another hike with Dave
Last month's Hike With Dave was a leaf-looking trip up to The Lookout above Montreat. A good time was had by all, so let's do another one!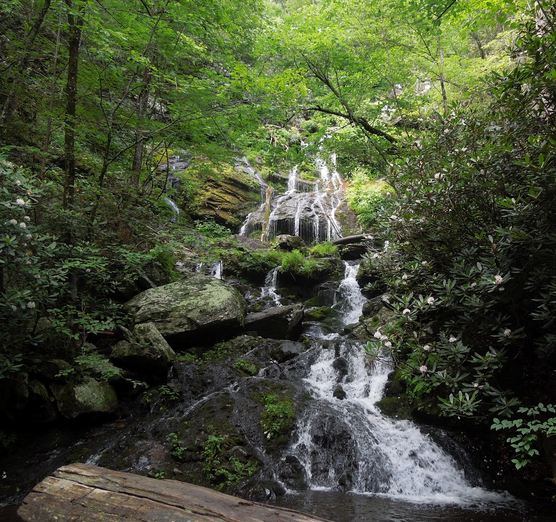 Lower Catawba Falls
This month, on Sunday, November 16, RiverLink's Dave Russell will lead a trip to Lower Catawba Falls. The falls are just over the Continental Divide in the Catawba River Watershed.
This is an easy hike, with no serious climbs (unless you scramble up to the top of the falls), though there are two creek crossings. It's a three-mile roundtrip.
We'll meet at the Root Bar in East Asheville (
map
), located at 1410 Tunnel Road, Sunday, November 16 at 08:45 and leave promptly at 9. We'll be back sometime between noon and 1 p.m.
A certain level of fitness; ability to hike two miles per hour.

Insurance - by coming along you acknowledge that hiking can lead to injury and will not hold RiverLink responsible in any way for injuries.

Snack/lunch

Rain gear

Camera, walking stick, etc.
There's no charge, but please let Dave know you're coming so carpooling can be arranged by e-mailing dave@riverlink.org or phoning 828-252-8474.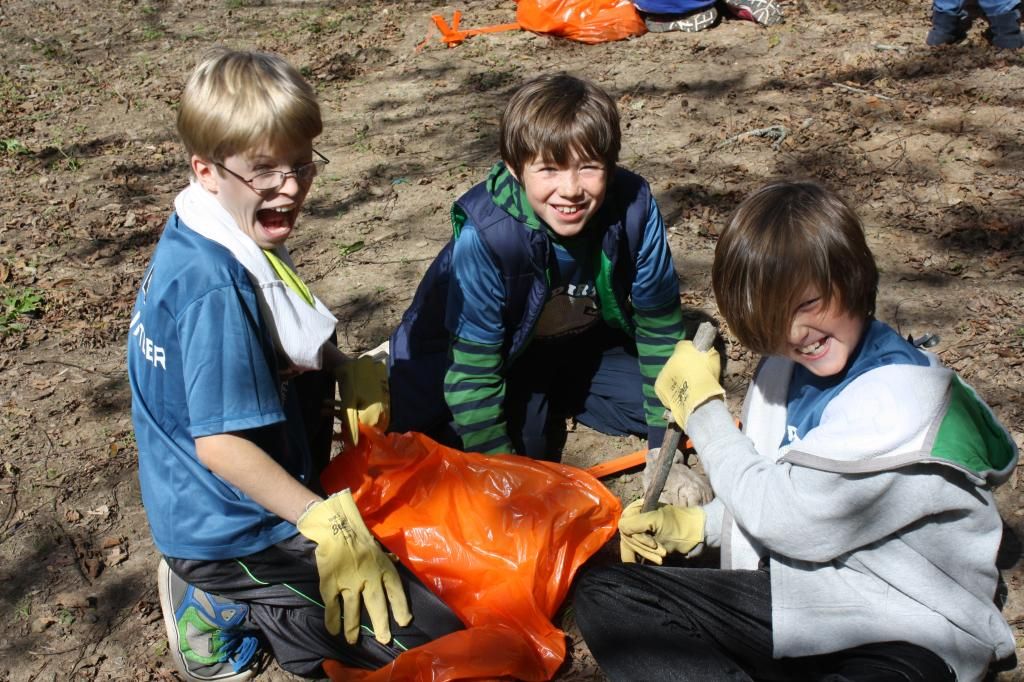 Rainbow Community 5th Grade Students Learn About the Watershed
The 5th grade class at Rainbow Community School has not only learned all about protecting our French Broad Watershed, they have gotten out in the community and taken action!
Last month RiverLink paired up with the class for a 3 week long exploration of water in Western North Carolina. First the students learned about watersheds and the effects of point and non-point source pollution using our enviroscape model. Next we took the learning outside and conducted a bio monitoring study in Reed Creek.
Finally Rainbow Community School put into action what they learned about the health of our watershed, and conducted a clean-up at French Broad River Park!
If you are interested in programming like this or getting involved in watershed education please contact our education coordinator:
Alex Guyton
828-252-8474 x18
Upcoming Events
Please note: When attending any of these events at the RiverLink office, please do not park at 12 Bones or any of the studios on Riverside Drive. Thanks so much.
_____________________________

Wednesday, November 12, 10:00 a.m. & 5:30 p.m., at the RiverLink offices -- Volunteer information session. Become involved in the evolution of the river and learn more about RiverLink. RSVP to volunteer@riverlink.org by 11/11.
_____________________________

Wednesday, November 12, 6:30 p.m. at the RiverLink office -- Join the Friends of Hominy Creek Greenway Annual Board Meeting. Learn how you can impact this vital link in the greenway system.
Please reserve you spot by emailing nancy@riverlink.org.
_____________________________
Saturday, November 15, 9:00 a.m. -- noon:
Workday on Beaverdam Creek in Woodfin. We will be meeting behind the ABC store in Woodfin (
map
) and cleaning up debris from the April flood. Please bring rain boots or muck boots if you have them and gloves. We will be providing gloves and as many boots as we can along with trash bags and pickup sticks.
Please use our handy-dandy signup form by clicking here.
_____________________________
Sunday, November 16, 08:45 a.m. -- 1:00 p.m.--
Take a Hike with RiverLink's Dave Russell to Catawba Falls. Meet at the Root Bar in East Asheville, located at 1410 Tunnel Road (
map
), at 08:45 and leave promptly at 9.
_____________________________
Wednesday, November 19 at 10:00 am - noon at the RiverLink office --
Join RiverLink and City of Asheville Economic Development Specialist Brenda Mills to find out how as an artist you can become a contractor for the city.The event is free, but please register at by contacting RiverLink at 828-252-8474, ext. 10, or at melinda@riverlink.org.
Volunteer Spotlight
Lowell Grabel
Lowell Grabel spent his formative years in St. Louis and will always be a Cardinals fan. He developed a passion for the outdoors exploring the backwoods and rivers of Missouri. He continued to develop his love of the outdoors through moves to Minnesota and Georgia, enjoying the hiking and running of numerous trails whenever time permitted. His work career initially began in visual communications, morphing into consulting on the design of communication networks and finally business continuity and disaster recovery planning.
Always a recreational runner regardless of the weather or season, Lowell has participated in numerous races since high school and over the last few years has finally graduated to marathons. Now firmly planted in Asheville, Lowell particularly enjoys long runs on the city greenways and through the Carrier Park area alongside the French Broad and through the River Arts District. Lowell finds that Asheville is a great place to get involved in so many different areas and helping to raise awareness on protecting Asheville's very special environment is at the top of the list.
He enjoys volunteering at RiverLink, particularly at RiverMusic, and having the opportunity to socialize with so many interesting people who share that love of the outdoors. When not exploring the North Carolina countryside with his wife Susan, Lowell is off visiting his sons in Washington, D.C. and Alaska.

Tree of Heaven


Ailanthus altissima (P. Mill) Swingle

Simaroubaceae Family


Origin:
Northeastern and Central China and Taiwan
Background:
Also called shumac, stinking sumac, Chinese sumac, and ailanthus, it was introduced by a Pennsylvania gardener in 1748 and was made available commercially by 1840.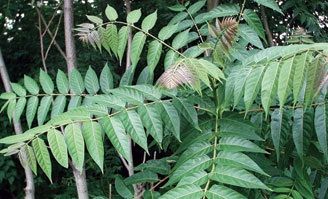 Distribution and Habitat:
Tree of heaven is reported to be invasive in natural areas in 30 states across continental U.S. and Hawaii. It is highly adaptable to disturbance and a huge range of soil types and conditions, grows best in full sun and is tolerant of drought.
Ecological Threat
A common tree in urban areas where it causes damage to sewers and structures, ailanthus poses a greater threat to agriculture and natural ecosystems. It is a vigorous growing tree and prolific seeder that establishes dense stands that push out natives. Tree of heaven contains chemicals, including ailanthone, that have been found to have strong allelopathic (herbicidal) affects on the growth of other plants which help it establish and spread.
Description and Biology
Plant: deciduous tree that can reach 70 ft. in height; twigs with smooth, pale gray bark, and twigs that are light chestnut brown, especially in the dormant season; dioecious meaning plants are either male or female; wood soft, weak, coarse-grained and creamy white to light brown in color; leaves, stems and some flowers have a strong, unpleasant to offensive odor likened to cat urine or rotting peanuts or cashews.
Leaves: alternate, large (1-4 ft. long), compound, with 11-25 smaller leaflets, each with one to several glandular teeth near the base.
Flowers, fruits and seeds: large showy clusters of small yellowish-green flowers produced during June; in summer, flat, twisted, single-seeded winged fruits or samaras are produced on female trees and may remain on trees for long periods of time; individual trees may produce an estimated 325,000 seeds per year.
Spreads: reproduces by seed and by vigorous re-sprouting, especially in response to injury such as breakage or cutting.
Look-alikes: compound-leaved shrubs and trees like staghorn sumac (Rhus typhina), ash (Fraxinus sp.), black walnut (Juglans nigra), and hickory (Carya sp.). Sumac has fuzzy, reddish-brown stems and leaves; ash species have opposite leaves; ash, black walnut, hickory and sumac leaf margins are completely to mostly toothed; black walnuts have large green fruits.
Prevention and Control:
Do not plant tree of heaven or spread its seeds when moving soil from infested areas. Before attempting control, ensure that you are not mistaking a native species like staghorn sumac, ash or walnut for tree of heaven. Elimination of tree of heaven requires diligence. Targeting large female trees for control will help reduce spread by seed. Because vegetative spread by male and female trees will continue to be a threat, elimination of all trees must be the long term goal. Systemic herbicides with active ingredients like glyphosate and triclopyr are most effective and can be applied to bark, cut stems or foliage
Cerulean Warblers
The Southern Appalachians are a birder's paradise. Bald eagles, Peregrine falcons, great blue herons, ospreys and pileated woodpeckers are just a few of the 200 birds that make their home here year-round, while another 80 species move through the mountains on their annual migratory journey.

The north-south orientation of the Appalachians makes this mountain chain a superhighway for migratory species, especially the feathered kind. It's easy to hear their song, but even more exhilarating to catch a glimpse of wild birds in the mountains. Fortunately for bird-watching enthusiasts, the varied ecosystems of the Asheville area host a myriad of beautiful winged creatures who remind us of nature's delicate balance.*
Cerulean Warblers are one of the most endangered birds in the eastern United States and they travel through western North Carolina while migrating to South America. Here are some interesting things you may not have known about them.
They are a small bird that forages higher in the canopy than most other warblers.

On the wintering ground in South America the Cerulean Warbler is usually found in mixed-species foraging flocks, associating with tropical tanagers and other resident species.
When renesting after a failed first nest, the female often discards all material from old nest but reuses spider web from the old nest to start construction on the new nest.
When a female Cerulean Warbler leaves her nest, it is often considered bungee jumping because she hops out of the nest with her wings folded and only opens them when she is far below the nest.
Breeds in forests with tall deciduous trees and open understory, such as wet bottomlands and dry slopes.
Winters in broad-leaved, evergreen forests.
Cerulean Warbler is one of the species of highest concern in the eastern United States because of a small total population size and significant declines throughout its range. Under consideration for listing under the Endangered Species Act. Listed on the Audubon Watchlist
*www.exploreasheville.com