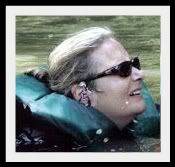 From the exec's desk

Dear RiverLovers,
Ho, ho, ho and oh my gosh is it almost a New Year? Again?
What a year it has been. Click here for a brief overview of our accomplishments in 2014. It's amazing what we can accomplish working together with our empowered volunteers, staff and board and other professionals and people we respect and admire to make living, working and playing along the French Broad River watershed so much fun.
We have a number of projects and programs in the works to make 2015 an even better year for the French Broad watershed.

Thanks to a grant from the Pigeon River Fund, RiverLink will have 20 new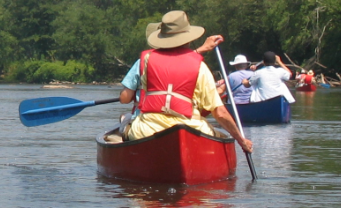 canoes to cruise the watershed picking up litter and getting folks out on his precious resource. Watch for us this spring as we spring into even more action on the French Broad.
By next spring we will also have finished installing our new public access at Pearson Bridge, thanks to funding from the Duke Energy Foundation and The Buncombe Tourism Development Fund.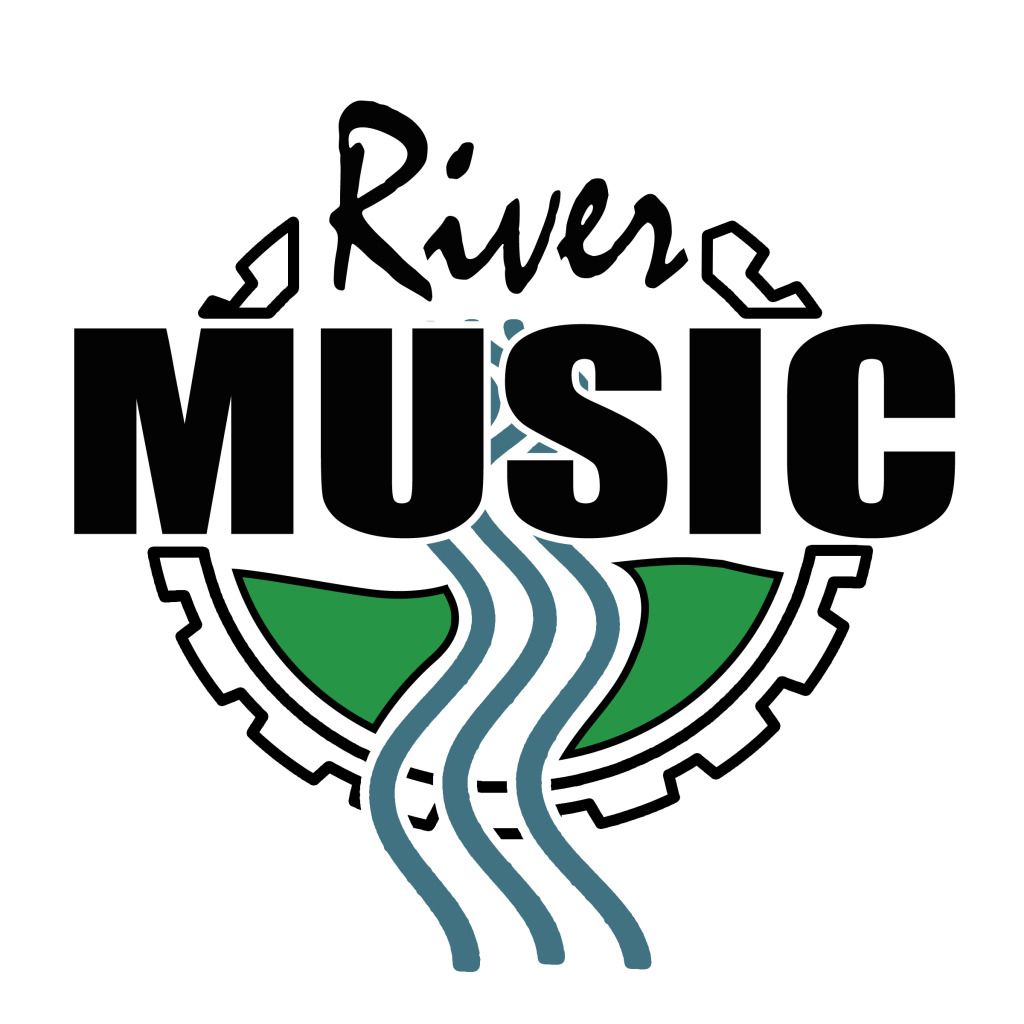 We have also picked the dates for RiverMusic 2015 - so mark your calendars for the second Friday of every month May through October for some free, multi-modal, toe-tapping, solar powered great music under the stars at the RiverLink Performance and Sculpture Park. The legendary party we call RiverFest, featuring the fabulous Anything that Floats Parade, will be August 8.
On January 12 we will be the beneficiaries of a fundraiser that our friends at Vortex Donuts on the South Slope are

planning. Stay tuned for details.
If you plan to make resolutions about taking our tour, volunteering with us or starting a new business or finally figuring out how to contract with local government we have programs for you in January all set up to help you keep your resolve for the New Year.
Wilma Dykeman
January 14 at 10 and again at 5 come to our Warehouse Studio offices to join our volunteer information session. If you are really lucky Jim Stokely, Wilma Dykeman's son, will join us too to give you an overview on native Wilma Dykeman and her many gift to the world of literature and the importance of oral history.
January 15 -- jump on the bus with us and tour the emerging Wilma Dykeman RiverWay and its River Arts District to learn the history and gain some perspective about where we are with this vital natural resource and the opportunities and challenges ahead. Reservations are a must for this popular tour and you can make yours on our web at riverlink.org or by emailing us at bustours@riverlink.org.
January 27 from 10 to 12 is another one of our free How to Start Businesss programs with SBTDC and AB Tech. We focus on the Wilma Dykeman RiverWay economic development strategies -- recreation, manufacturing to retail, arts & crafts, and wellness. The same principles apply to almost any start-up business so make your reservation today,information@riverlink.org.
January 29 from 10 to 12 we continue our series on how to contract with city government. This has been highly popular and very well attended and once again the same process is required for any government type contract so make your reservation today by calling us at 252-8474, ext. 10 or emailing us at melinda@riverlink.org.
Finally, from all of us at RiverLink a very big thank you for another great year. Get some rest over the holidays because we have a power-packed
year planned for 2015 and need you, your energy, your creativity and your "can do" spirit to tackle the challenges and leverage the opportunities that 2015 is sure to bring.
Happy Holidays and see you on the River,

Karen
Give a gift, get a gift (or two or more)
We are giving back to people who donate through December 18, as a way of saying Thank You for supporting our work in improving the French Broad River.

We are offering a variety of gift packages for each donation level.
Our Deeds of Support that support the development of greenways along the French Broad River also make great gifts!
We hope you have a wonderful holiday season and thank you for your support!
Craven Street Project Update
Many of you may have seen all the construction in process at New Belgium and Craven Street, RiverLink in partnership with the City of Asheville and New Belgium to secure grant funding to support the stormwater improvement and green streets implementation. This is in an effort to improve stormwater management and protect water quality in the French Broad River. RiverLink recieved a $400,000 grant from the Clean Water Management Trust Fund to make this site a great example of storm water management and best management practices.
The project is moving forward, and since breaking ground in July they have completed: the striping of a bike climbing lane on Haywood Rd., installation of a new water line and the sewer line along the greenway, And installation of the arch culvert over Penland Creek.
You may have also noticed all the activity and earth moving from French Broad River Park to the New Belgium site. That is Duke Energy moving transmission lines to create more power and make way for the greenway that will finally connect French Broad River Park and greenway along the west bank of the river to the New Belgium site. Take a look at this plan we commissioned in 1992 to see what's ahead, what's in progress and what's been completed.
Join RiverLink for the December RiverFront Bus Tour
Asheville -- The RiverLink Bus Tour offers answers about Asheville's past, present and future: What is the Wilma Dykeman RiverWay Plan and what does it hold for Asheville's future? How did the Flood of 1916 change the river area landscape?
The next tour will be Thursday, Dec. 18, when the public is invited to tour the French Broad and Swannanoa Rivers with RiverLink.
This is an opportunity to see the improvements that have occurred and hear what is coming over the next several months and years to make our rivers better places to work, live and play. You will learn some local history and visit some streets and neighborhoods you have never seen before.
The tour is free for RiverLink members but the tour cost for non-members is $20 per person. Reservations are required. A final confirmation (or cancellation if needed) will be sent the week of the tour. Please go to http://www.signupgenius.com/go/10c0e4caea82ba1f49-february to reserve your seat today, email bustour@riverlink.org, or call 828-252-8474, ext. 10.
What: RiverLink's Riverfront Bus Tour
When: Thursday, Dec. 18, 11:45 -- 2 p.m.
Reserve: http://www.signupgenius.com/go/10c0e4caea82ba1f49-february, email bustour@riverlink.org or call 828-252-8474, ext. 10.
A little bit of cold weather isn't gonna stop RiverLink volunteers!
Saturday, November 15 was a great workday. Just look at the picture of our collected garbage and our thrilled volunteers! 12 dedicated volunteers showed up at 9 a.m. in 25 degree weather, ready to work. We pulled all sorts of debris that was still lingering from last April's massive flooding
out of Beaverdam Creek
in the town of Woodfin. 28 bags of trash were removed from the creek thanks to our volunteers! They also remediated some unique items such as, wheelbarrows, filing cabinets and sections of carpet.
RiverLink was pleased to help the town of Woodfin begin the process of restoring Beaverdam Creek; it is one of many direct tributaries of the French Broad River. Restoration of the French Broad River watershed in its entirety is the best way to create a destination for everyone to work, live and play.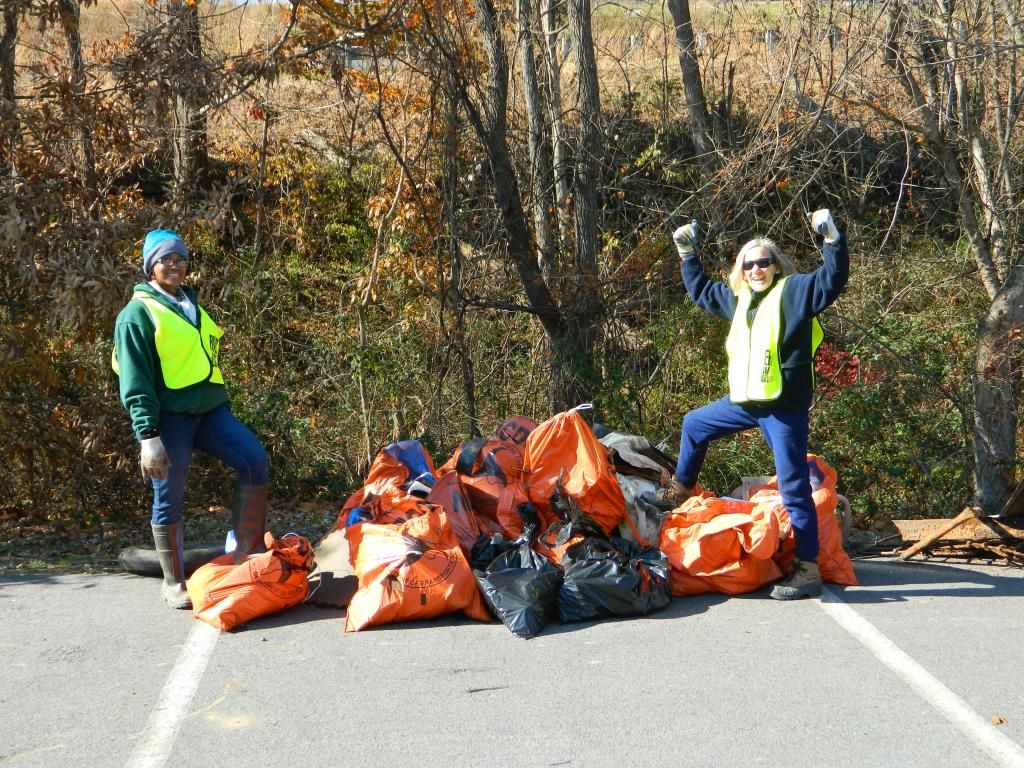 December Monthly Cleanup Date Announced!

Our monthly cleanup day for December is Saturday the 13th. We will be meeting in the large parking lot @ 25 Shelburne Road in Asheville (map) and we will work from 9:30 a.m. until 12 noon.

Come help us make Hominy Creek Greenway beautiful!

We had a great turnout for our November cleanup day, help us keep it rolling in December!!

Questions? Feel free to email or call Adam@riverlink.org, 828-252-8474 x17

DATE: 12/13/2014 (Sat 9:30AM - 12:00PM)

LOCATION: 25 Shelburne Rd Asheville, NC

Dress for the weather and bring work gloves if you have a pair that you like. Extra gloves and tools will be provided.
Land Trust Accreditation - We Call it Our Forever Option


In 2015, we are submitting our application to become an Accredited Land Trust. RiverLink has worked to revitalize and protect the French Broad River and its watershed the past 28 years utilizing conservation and recreation (along with other important tools) easements to protect water quality, wildlife, and preserve natural history.
Becoming an Accredited Land Trust allows us to join thousands of land trusts across the country in the long-term protection of the land in the public interest. It increases public awareness of and confidence in land conservation. The Land Trust Accreditation Commission, an independent program of the Land Trust Alliance, conducts an extensive review of each applicant's policies and programs. The Commission conducts an extensive review of the application and grants accreditation - and the right to use the accreditation seal - to land trusts that meet the practices.
The Commission invites public input and accepts signed, written comments on pending applications. Comments must relate to how RiverLink Inc. complies with national quality standards. These standards address the ethical and technical operation of a land trust. For the full list of standards see http://www.landtrustaccreditation.org/tips-and-tools/indicator-practices .
One of the ways we protect land is through the FOREVER OPTION, RiverLink's conservation easement program. Currently RiverLink holds easement over 100 acres, and an additional 20 acres of conservation land. Conservation easements are an increasingly popular tool to protect land, habitat, and water quality, as well as preserve our mountain heritage. RiverLink's FOREVER OPTION easements, like all easements, are voluntary legal agreements between a landowner and RiverLink which permanently define an agreed upon set of uses for a specific property. The FOREVER OPTION targets riparian and steep slope areas of our mountain region. Our goal is to work with willing landowners to protect land, streams, and water quality FOREVER. Conservation easements are strictly voluntary and are tailored to both the needs of the land and the landowner's desired use of that land. The donor of an easement always retains title to the property, and agreements never involve conditions that have not been approved by the landowner.
Although we have worked successfully for decades to protect The French Broad River watershed especially the riparian areas and steep slopes we are taking the next step to become an Accredited Land Trust. Over the next year we will submit our application and work with the Land Trust Alliance to obtain our accreditation by the end of 2016.
To submit a comment, visit: www.landtrustaccreditation.org,
or email your comment to info@landtrustaccreditation.org.
Comments may also be faxed or mailed to the Land Trust Accreditation Commission, Attn:
Public Comments: (fax) 518-587-3183; (mail) 36 Phila Street, Suite 2, Saratoga Springs, NY 12866.
Comments on RiverLink's application will be most useful by May 22, 2015.
Click here to learn more about
Conservation Easements
, or contact Nancy at
nancy@riverlink.org
.
Time to take another hike with Dave
Big Laurel River
This month, on Sunday, December 14, RiverLink's Dave Russell will lead a hiking trip along the Big Laurel Creek in Madison County. The hike will be one hour in, a half-hour for lunch and chit-chat, then back to the trailhead.
This is a very nice hike along the Big Laurel, an In-out route that begins at the intersection of Hwy 25/70 and Hwy 208 between Marshall and Hot Springs. The group will meet at the RiverLink office at 170 Lyman Street at 08:45 and leave promptly at 09:00. If all goes according to schedule, we'll be back at 1:00 p.m.
Well behaved dogs are invited, though owners are solely responsible for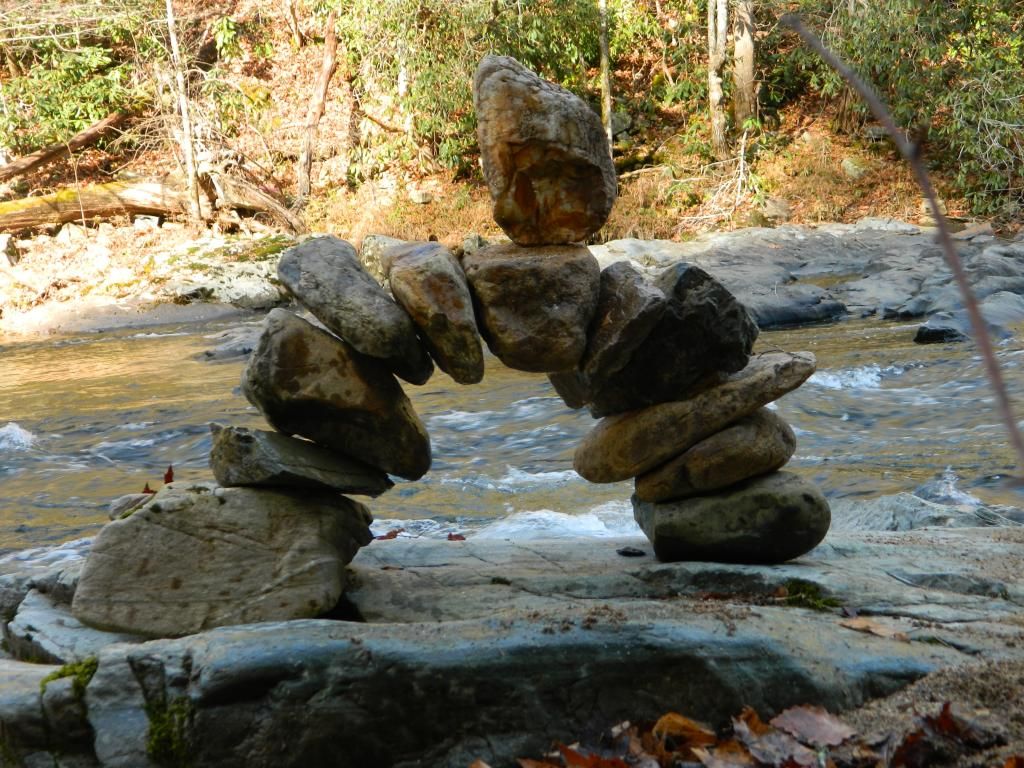 Stone Arch on the Big Laurel
their behavior. It will be an easy hike, with no serious climbs, though there are some rocky spots in the trail. Sturdy shoes are highly recommended.
As always, some things to bring:
A certain level of fitness; ability to hike two miles per hour.
Insurance - by coming along you acknowledge that hiking can lead to injury and will not hold RiverLink responsible in any way for injuries.
Snack/lunch
Rain gear
Camera, walking stick, etc.
There's no charge, but please let Dave know you're coming so carpooling can be arranged by e-mailing dave@riverlink.org or phoning 828-252-8474.
What not to put down the drain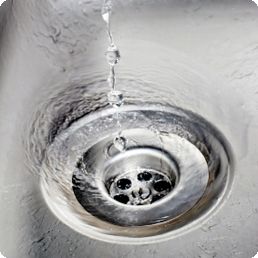 Everyday we greatly affect the environment around us in many aspects of daily life. We can directly affect the surface and groundwater with what we pour down the drain. This is especially true because once something goes down the drain, it's "out of sight and out of mind." There are many compounds that wastewater treatment plants are simply unable to treat. Thus those chemicals can end up in our groundwater, streams, and rivers. Similarly for septic tanks, some toxic chemicals can pass directly through the system without breaking down at all.
Things not to put down the drain include:
Medications (both unused or expired)
Fat, grease, and cooking oil
Lawn, garden, and pool chemicals
Gasoline, kerosene, and other fuels and substances that may explode or burn
Corrosive substances (acidic or alkaline items including but not limited to those with a pH lower than 6 or higher than 10)
Fertilizer, herbicides, pesticides/insecticides in solid, liquid or spray form
Metals and metal compounds including mercury, lead, etc.
Detergents with more phosphate than allowed under NC law
Paint, stains, wood preservatives, solvents, sealants, thinners, poisons
Nail polish and nail polish remover
Undiluted bleach, hair dye
Please consult your local waste management office to learn how to properly dispose of hazardous household items in your county. For Buncombe County, click
here
for more information.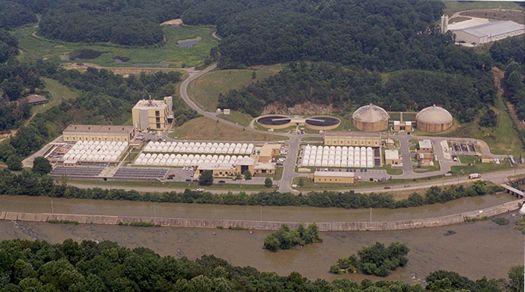 Community Members Tour Wastewater Treatment Plant
During the month of November RiverLink organized tours of Asheville's Metropolitan Sewage District. Originally only one tour was scheduled however, in order to accommodate the overwhelming responses we schedule two more! The tours proved to be very informative as to how our water system works here in Buncombe County. In order to further understanding of the water system, we will be offering tours of the North Fork Reservoir in the Spring.
Thanks to everyone who showed up to the tours despite the unseasonably cold weather! If you missed out be sure to keep an eye out for more tours in 2015!
Upcoming Events
Please note: When attending any of these events at the RiverLink office, please do not park at 12Bones or any of the studios on Riverside Drive. Thanks so much.
_____________________________
Wednesday, December 10, 10:00 a.m. & 5:30 p.m.,
at the RiverLink offices
-- Volunteer information session. Become involved in the evolution of the river and learn more about RiverLink. RSVP to volunteer@riverlink.org by 12/09.
_____________________________
Saturday, December 13, 9:30 a.m. - 12:00 p.m.
at 25 Shelburne rd, Asheville
-- Join Adam for RiverLink's monthly cleanup day. We will be removing invasives and planting trees along the Hominy Creek Greenway! Feel free to bring your own work gloves, and dress for the weather!
_____________________________
Sunday, December 14, 08:45 a.m. -- 1:00 p.m.
-- Take a Hike with RiverLink's Dave Russell to The group will meet at the RiverLink office at 170 Lyman Street at 08:45 and leave promptly at 09:00. If all goes according to schedule, we'll be back at 1:00 p.m.
_____________________________
Wednesday, December 17, 10:00 a.m. -- 12:00 p.m.--
-- Calling all artists: Join RiverLink and City of Asheville Economic Development Specialist Brenda Mills to find out how as an artist you can become a contractor for the city. The event is free, but please register at by contacting RiverLink at 828-252-8474, ext. 10, or at melinda@riverlink.org.
_____________________________
Thursday, December 18, 11:45 -- 2 p.m., the Riverfront Bus Tour -
-- Meet at the Asheville Area Chamber of Commerce Parking Lot, third level down. Discover the magic of the Riverfront area firsthand -- past, present and future. Registration Required.
Click here to register
_____________________________
Wednesday, January 14, 10:00 a.m. & 5:30 p.m.,
at the RiverLink offices
-- Volunteer information session. Become involved in the evolution of the river and learn more about RiverLink.
RSVP to volunteer@riverlink.org by 01/13.
2015
Voices of the River
Art & Poetry Contest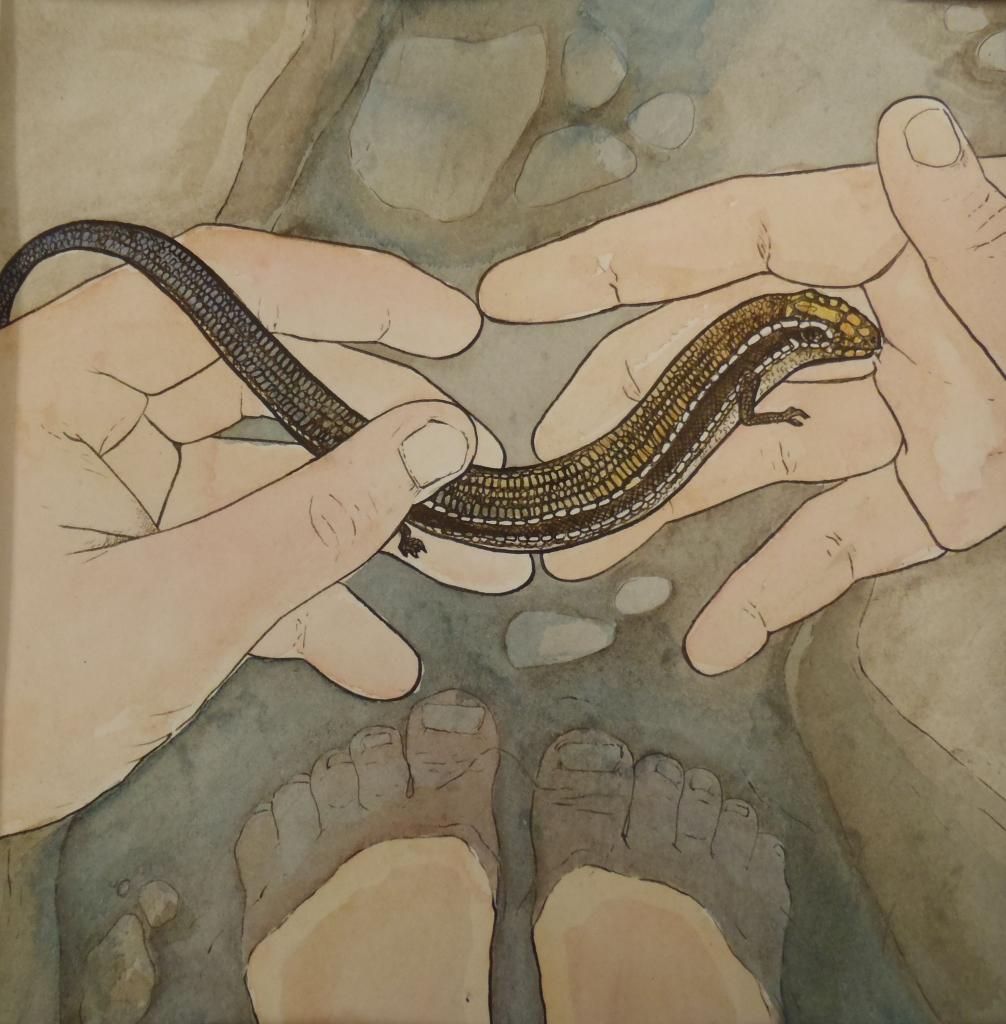 RiverLink invites all students of the French Broad watershed to participate in our annual Art and Poetry Contest! Students are encouraged to describe in art and words what they see, feel, smell, hear, and think when near the river.
Submission Deadline:
March 27th, 2015
Submissions will be displayed in a month-long exhibit and judged by local artist and poets. Winners will be awarded prizes from various local sponsors.
Thanks, Volunteers!

We'd like to extend a big THANK YOU! to our awesome volunteers who made our work possible over the past year. 163 volunteers made RiverMusic and RiverFest the great successes they were. Altogether RiverLink employed 1,531 volunteers performing 4,271 hours in the field and 149 hours in our office. Piles of tires and trash bags, yanked-out invasives, new bike racks and picnic tables. 6 successful concert events, and a host of other endeavors were the result of the participation of our friends and neighbors. We wish you the best of holidays and hope you'll come see us again in 2015!

Russian Olive
Eleagnus angustifolia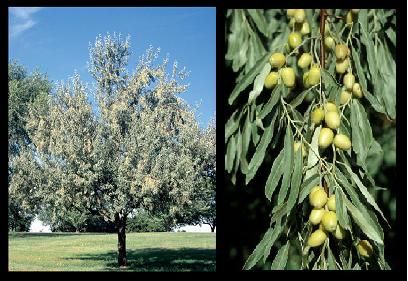 Identification:
Russian Olive is a deciduous throny tree that may reach 35 feet in height. The tree has alternate, lanceolate leaves with a silver color on the top and underside. The bark is brown and stems are red, smooth, and thorny. Five to ten tubular, silver or yellow fragrant flowers appear between April and June. During August to October, the olive-shaped drupes containing one nut mature.
Ecology:
Russian Olive prefers sandy floodplain and is shade intolerant. The invasice tree is spread by bird dispersed seeds. The tree occurs along forest edges and openings, eventually forming dense stands.
Plant Control:
In the home landscape, cut down large individual tree with chainsaw and treat outer two inches of cut surface of stump with undiluted glyphosate concentrate (53.8%). Large saplings can be treated in a similar fashion, taking care to treat the entire surface. Monitor for seedlings and control as needed.
Alternative Native Species:
Yaupon (Ilex vomitoria), Carolina Laurel Cherry (Prunus caroliniana), Rusty Blackhaw (Viburnum rafinesquianum).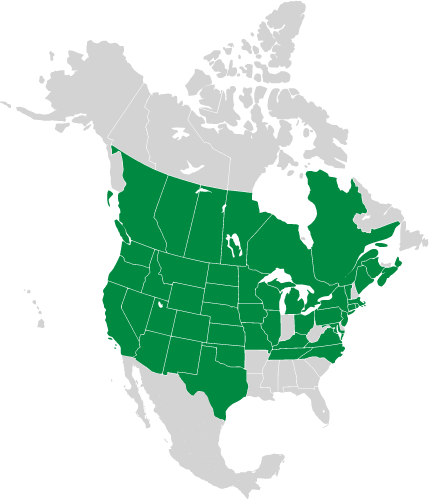 Volunteer Spotlight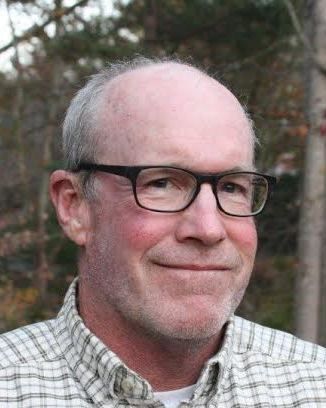 Bill Jones
The essence of Riverlink, the environmental revitalization of the French Broad river, is a mission many in our community share. The banks of our rivers fulfill their ecological promise only when they are covered with native plants. Bill Jones, President and founder of Carolina Native Nursery, grows those vital native plants and is our volunteer of the month.
Bill's work with Riverlink involves education through our salon series of talks. Four times this year for a few hours on Friday afternoons at the Riverlink office he has shared his expertise. In a discussion format, sometimes to a packed house, Bill voluntarily has led talks about native azaleas and rhododendrons, landscaping with natives, and proper planting and care of landscapes in general.
For over a decade his company, Carolina Native Nursery, has led the regional efforts in education of not only the general public, but landscape professionals in the ecological and environmental advantages of utilizing native plants to restore our mountain ecosystems. Birds, bees, insects, and the wildlife that is essentially part of our region totally depend on native plants for their existence in our mountain and river ecosystems. RiverLink's educational efforts certainly help the understanding of this relationship.
Volunteers like Bill, who gladly give their time and expertise, are important in continuing Riverlink's mission of environmental appreciation and understanding of our wonderful river.
Fun Facts Appalachian Trail

- The Appalachian Trail is nearly 2,200 mile long hiking trail.
- It is the longest "hiking only" footpath in the world
- It travels through 14 different states, from Maine to Georgia.
- The AT is the largest and the longest running volunteer conservation project in the world.
- Elevation gain/loss of hiking the entire trail is the equivalent of climbing Mount Everest 16 times!
- Less than 15,000 people have completed a successful thru-hike of the trail.
- It is estimated that 99% of the entire tail has been either relocated or rebuilt since its completion.
- During creation it was thought that most hikers would thru-hike southbound, but today most hikers actually tackle the feat headed northbound.
- Of the 14 states that it passes through, the AT will only take travelers within hiking distance of 7 of the state's highest peaks.
- Skyline Drive follows the original path of the Appalachian Trail.
- Hot Springs, NC is home to a WW1 internment camp. The Mountain Park Hotel was leased to the US government in 1917 to house captured German merchant sailors.
- New Jersey is the state that you are most likely to encounter a black bear while hiking the trail.
- The AT will take you by the only town in America to ever execute an elephant by hanging.
True Story!
Erwin Tennessee hanged an Asian Elephant in 1916 after it killed its trainer who was a part of Sparks World Famous Show circus.
A Quote We Like

Ralph Waldo Emerson
"
What is success? To laugh often and much; To win the respect of intelligent people and the affection of children; To earn the appreciation of honest critics and endure the betrayal of false friends; To appreciate beauty, to find the best in others; To leave the world a bit better, whether by a healthy child, a garden patch, or a redeemed social condition; To know even one life has breathed easier because you have lived. This is to have succeeded.
"