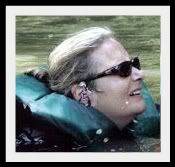 From the exec's desk

Dear RiverLovers,
I hope you and your family and co-workers avoided the flu, variety of viruses, colds and sniffles that seemed just rampant over the holidays. For a few days here almost our entire staff was under the weather. But we are back and ready for a project-filled great New Year.
One of our big initiatives this year is becoming an accredited land trust. Our focus areas are under 100 acres that protect the riparian corridors and steep slopes throughout our watershed. We are also looking at protecting the little spaces that enrich neighborhoods and urban living in ways that are necessary for quality of life, mental and physical well being and property value retention.
Our big pilot project for neighborhood protection is in West Asheville in the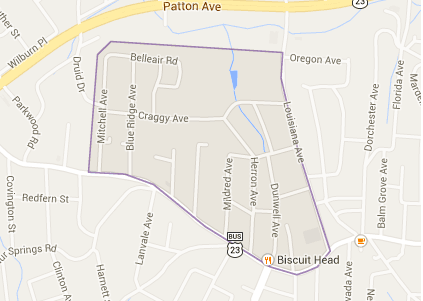 Falconhurst neighborhood. Smith Mill Creek runs through the neighborhood as well as some fairly steep slopes. We were gifted a one-acre parcel there for permanent open space protection next to an 11-acre conservation easement previously held by the conservation trust and now owned by the City of Asheville. We are thrilled to be working with this neighborhood that is so engaged in controlling storm water, investigating, documenting and preserving its history, developing a community garden and just making it a great place to be and to live. A new in-fill development is proposed for the Falconhurst neighborhood and we will all be watching and listening closely to see how these new homes integrate into a well established neighborhood with existing dedicated open space and more open space promised in the future. Stay tuned.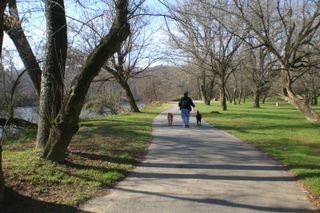 As our watershed becomes more densely populated, both through zoning and because we are just a popular destination, it becomes even more important to protect open space. Open space enhances our quality of life, helps protect water quality, can be an essential tool in controlling storm water run-off, raises the value of all surrounding property and in some instances even offers us alternate transportation options.
Smart growth recommends higher density in urban areas to prevent sprawl, utilize existing infrastructure and create hubs for public and alternative transportation. The more dense we become the more we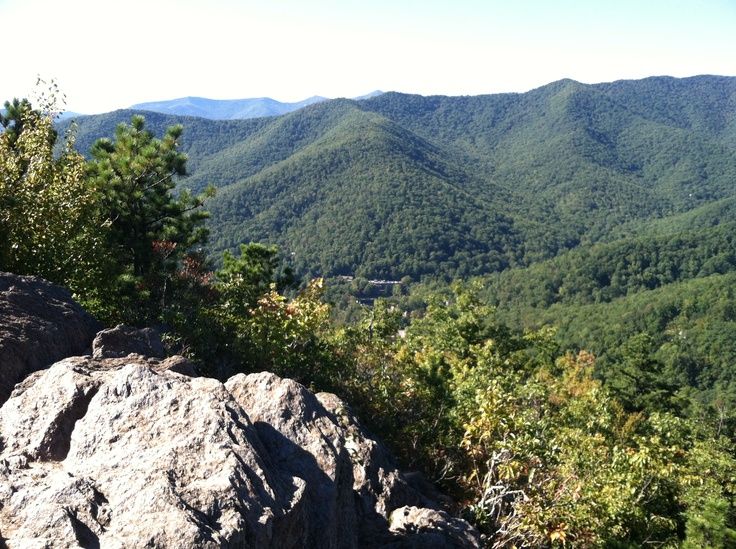 need open space in our mountain communities. Mountain views, river views and access, historic preservation, crafts and other cultural and authentic experiences and green open spaces are essential to refresh the mind and body, and are what we as a region specialize in. They are our brand. Taken together they are what makes WNC so special and inviting.
So we are becoming an accredited land trust to help protect our special regional brand -- forever. We call it our FOREVER OPTION. Stay tuned. We are very excited to take this next step together with you!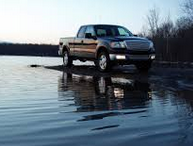 RiverLink seeks its first-ever truck! An organization as busy as ours needs a truck for cleanups, concerts and towing the canoes we're buying this Spring. Do you or someone you know have a connection in the local auto industry who could help us find a low-mileage, relatively new, used truck that can be bought on a non-profit's budget? Also, a donated truck would be tax deductible!
We have 20 brand new canoes to carry around now thanks to the Pigeon River Fund so we really need a truck!
Per usual we have a chock full newsletter so take a few minutes and read on.
Happy New Year and thanks for all you do to make our watershed a place we all love and enjoy.
Karen
Events committee offers way to get involved
RiverLink is looking forward to a very busy 2015, with activities planned up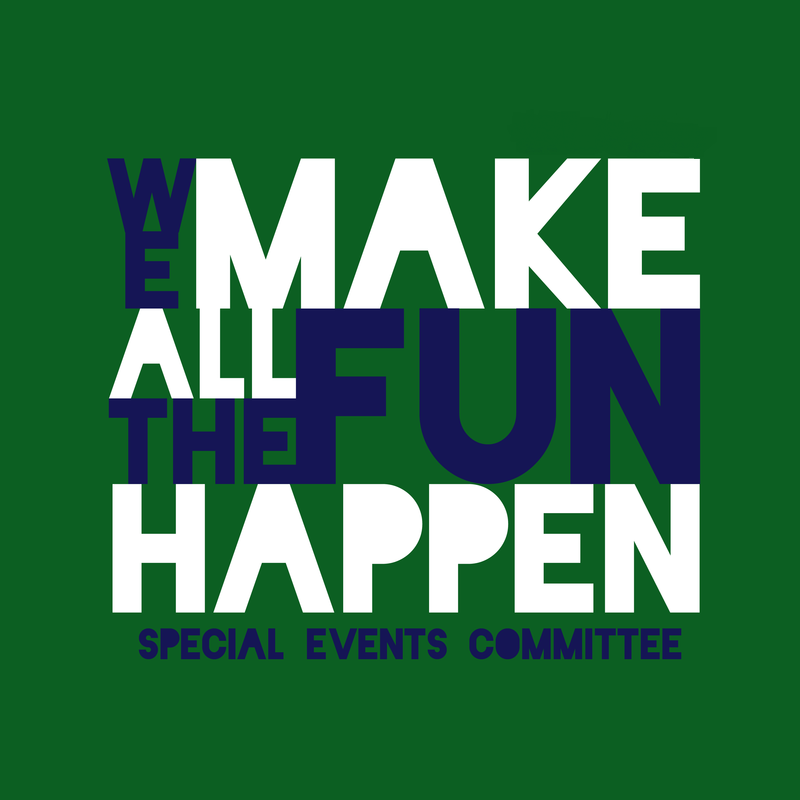 and down the French Broad River for most of Spring, Summer and Fall. To help with the planning and execution of festivals, concerts and parties, we are establishing a Special Events Committee.
Volunteers for this committee will be asked to assist RiverLink at least through the summer, tackling RiverMusic and RiverFest, our biggest event of the year.
Volunteers will take on tasks relating to a part of each event, and report progress to the committee. The special event committee will meet at least once a month, usually at 5:30 p.m.
RiverLink staff will be working with and directing the committee, but outside help is essential to accomplish all RiverLink has planned. This would be a great opportunity for volunteers who enjoy or have experience in planning, and the folks who tell us, "I'd like to get involved but don't want to get in the water."
For more information about helping out, volunteers should call RiverLink's Dave Russell at 252-8474, ext. 11 or e-mail to dave@riverlink.org.
Our first meeting is Thursday, January 22 at 5:30 p.m., but even if you can't make that one, don't be shy! Give us a call.
Seminar:
Doing
Business i
n the Wilma Dykeman RiverWay and French Broad River Watershed withSBTDC and AB Tech Small Business Center
As part of RiverLink's mission to stimulate the economic well-being of the French Broad River watershed through arts and crafts, recreation, and health and wellness (as outlined in the popular Wilma Dykeman RiverWay Plan), RiverLink, the A-B Tech Small Business Center, and the Small Business and Technology Development Center (SBTDC) are pleased to announce two upcoming sessions focused on encouraging entrepreneurship and teaching the nuts and bolts of starting a small business. "Starting a Better Business" sessions will be held on Tuesday January 27 from 10:00-12:00, at RiverLink's Warehouse Studios at 170 Lyman Street in the heart of the River Arts District.
These collaborative events are aimed at preparing small business owners, entrepreneurs, and creative minded individuals for business planning. Find out how to assess your business ownership skills and the feasibility of your idea. Participants will also learn what type of information is needed in order to produce a viable and successful business plan.
Session handouts will include the SBTDC Business Startup and Resource Guide, a business plan outline, additional planning documents, and helpful resources to guide the planning process. There will be an opportunity for discussion and to ask questions about specific aspects of business. This session is FREE and open to anyone interested in starting a business, but registration is required in order to secure seating. To register, please visit the following link:
For questions about these sessions or how to register, please contact Valerie Bennett at 828-398-7950.
The Small Business Center (SBC) at Asheville-Buncombe Technical Community College is part of the statewide Small Business Center Network (SBCN) which is comprised of 58 SBCs throughout North Carolina. For more on the SBC at A-B Tech Community College please visit our page at www.abtech.edu/sbc.
Founded in September 1984, North Carolina's Small Business and Technology Development Center (SBTDC) is the business and technology extension service of the University of North Carolina which oversees the 16 constituent institutions of the University system. For more on the SBTDC and our services, visit www.sbtdc.org.
Join us to honor Dr. Martin Luther King Jr.

Join RiverLink for our Martin Luther King, Jr Day of Service! We will be celebrating MLK Day this year on Saturday January 17th, 2015. We are excited to continue to implement our Comprehensive CreekCare program in Hominy Creek. The creek is looking much better but we still have a long way to go!
RiverLink invites volunteers to help with our MLK Workday, Saturday January 17th from 09:30am to 12:00pm. This day of service is joint effort between RiverLink, Asheville Greenworks and is being staffed by River Link AmeriCorps members with Project Conserve. Our AmeriCoprs team has also been doing what is called "disaster mitigation" all along the creek.
RiverLink has held numerous Comprehensive CreekCare cleanup days this past year. We want to hear from you if you have or know of a creek or stream that needs our attention and focus.
We look forward to another great turnout, rain, snow or sun Saturday January 17th and invite any and all volunteers to come out and help. We invite everyone for the full duration, but if you can only make part of the event please feel free to meet us for as long as you can.
Where: Paved parking lot on the corner of Shelburne and Hominy Creek Roads.
When: Saturday, January 17th (9:30am - 12:00pm)
What: MLK Day of Service
Bring: Pants, long sleeves and sturdy shoes/boots & water. We will bring tools and gloves but if you have your own please feel free to bring them.
Call us at 828-252-8474, ext 17 or email us at information@riverlink.org if you have questions about how you can get involved or establish a RiverLink CreekCare Program near you.
Civic Engagement and the Management of Watershed Resources Discussion Panel or
What do the oldest and third oldest rivers in world have
in common?
THE NILE PROJECT: INSPIRING. EDUCATING.
EMPOWERING.
NEW MOUNTAIN PRESENTS, LEAF Community Arts, UNCA, AMP (Asheville Music Professionals) and RiverLink are proud to bring the Nile Project to Asheville. Experience the collaboration of musicians from 11 Nile Basin nations performing a two-night concert of music that combines the region's diverse instruments, languages and traditions. The concert experience aims to inspire cultural curiosity, highlight regional connections, and showcase the potential of trans-boundary cooperation.
Event Overview:
The Nile Project and RiverLink Present an Interactive Panel Discussion: Civic Engagement and the Management of Watershed Resources. 5:00 - 7:00 pm.
Concert: Doors 7:00 pm / Show 8:00 pm
Concert tickets include Saturday's panel discussion.
Tickets can be purchased at HERE
Sunday, January 18, 2015
The Nile Project and AMP Presents: East African Drumming Master Class. 2:30 - 4:30 pm.
The Nile Project and AMP Presents: Musicians and Social Activism Panel Discussion 5:00 - 7:00pm.
Concert: Doors 7:00 pm / Show 8:00 pm.
Concert tickets include access to one of Sunday's activities. Access to both: suggested donation of $10-$20 for additional workshop.
Tickets can be purchased at HERE
Description of Music and Sustainability Panel Discussions and Classes
During The Nile Project's residency at New Mountain in Asheville, Founding member Mina Girgis and other artists will lead participatory dialogues on music, culture and sustainability.
Civic Engagement and the Management of Watershed Resources
Saturday, January 17th
5-7 pm, New Mountain
Human life depends on the availability and quality of water to sustain our health, grow our food, power our homes with electricity and stimulate our economies. However, due to overpopulation, increased demand for food, climate change and pollution, as much as two-thirds of the world's citizens may face water-stressed conditions severely impacting the living and economic conditions of communities, countries and regions by 2025. Without water, we cannot survive. How can we, as individuals, become more involved in the management of this precious and limited resource? Using the Nile Basin and your community as regional and local case studies, a panel of experts, Nile Project founder Mina Girgis and select Nile Project musicians will explore the use of innovative civic engagement strategies to overcome political stakeholder barriers, create a common understanding between competing interests and build constituencies for action both between and within nations where water has become an impediment to peace and socio-economic development.
Watershed Discussion Participants:
Nile Project founder Mina Girgis and select Nile Project musicians
Nancy Watford, Watershed Resources Manager, RiverLink
Katie Hicks, Assistant Director, Clean Water for North Carolina
David Gillette, Associate Professor, UNC Asheville
Sunday January 18th
Musicians and Social Activism
5-7pm
Across societies and throughout history, music has brought people together and united them through the power of emotional connection, the development of a collective identity and the ability to transform and inspire minds. Music offers a unique space for cultural and political dialogue and has played a critical role in the evolution of social movements. Join us for for what is sure be a stimulating conversation and music and social transformation.
Participants:
Nile Project founder Mina Girgis, select Nile Project musicians
AMP and local musicians
East African Drumming Master Class
2:30-4:30pm
With The Nile Project Musicians Micheal Bazibu (Uganda), Hany Bedair (Egypt), and Kasiva Mutua (Kenya)
The Nile Project is excited to present a drumming masterclass that focuses on nuances of musical traditions from Egypt to the Lake Victoria region, well as the creative process of bringing them together into a single band. Hosted by 3 master drummers from Arabic, Ugandan and Kenyan traditions, we will discover how in the process of building deep rhythmic relationships, we may strengthen the whole through combining our differences.
This workshop is open to percussionists of all backgrounds, styles, and levels of experience.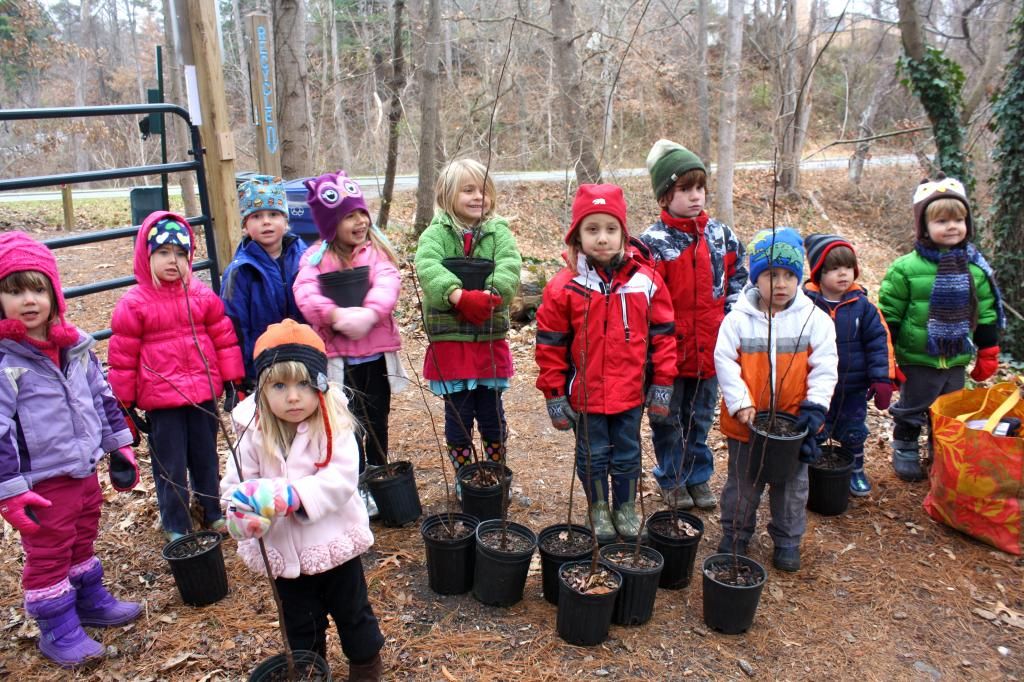 Singing With The Trees



RiverLink would like to thank the Lighthouse Learning Coop and their 12 preschoolers ages 3-5 for helping us plant 20 Hazel Alder trees along the Hominy Creek Greenway. It was a chilly December morning in Asheville but the kids were not fazed by that, runny noses and all they were excited to be outside. Each little boy or girl grabbed a 1 gallon pot as if it was the biggest thing they had ever attempted to lift and they headed down the greenway.
After the plantings were complete we gave each tree a big drink of water to help it grow into its new home. What these new saplings really needed to get rooted before Old Man Winter's grip gets a hold of them is a serenade; luckily we had 12 preschoolers that just learned a new song and they were ready to sing. Each tree that we planted received a special song that would help it through the cold winter months, and once we were done the kids gathered around and all 'harmonized' together one last song before we would have to leave our newly planted trees.
Planting native trees and shrubs along the greenway is an important step in our ongoing battle to eradicate invasive species. The children planted their Alder trees in a location that was recently cleared of invasive Japanese Knotweed and Multiflora Rose. Clearing invasive plants and planting native trees and shrubs is a big part of our Comprehensive Creek Care program at RiverLink. If you have a group that would like to get involved and volunteer please email volunteer@riverlink.org or call Adam at 828-252-8474 ext 17.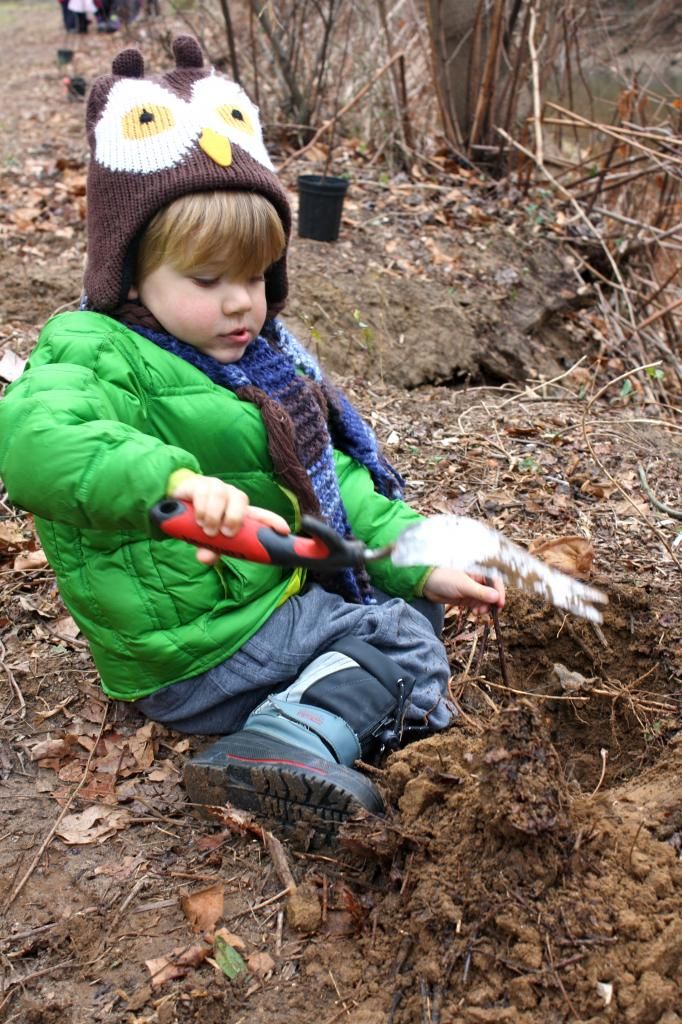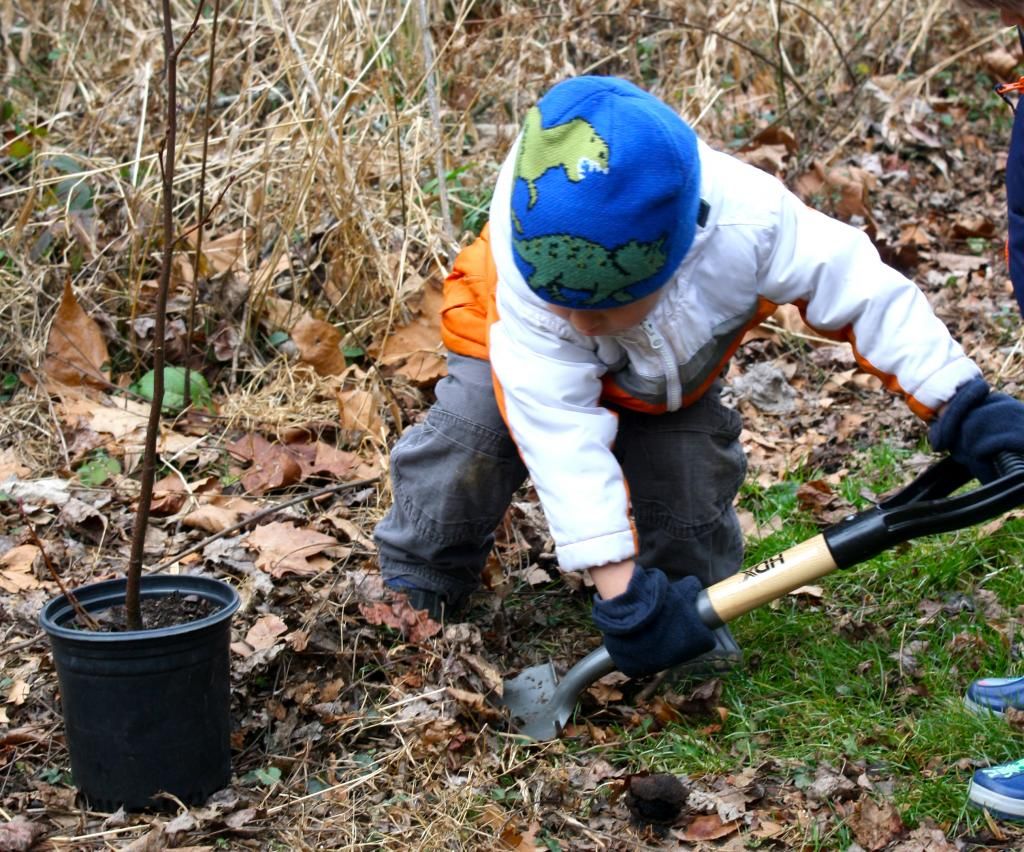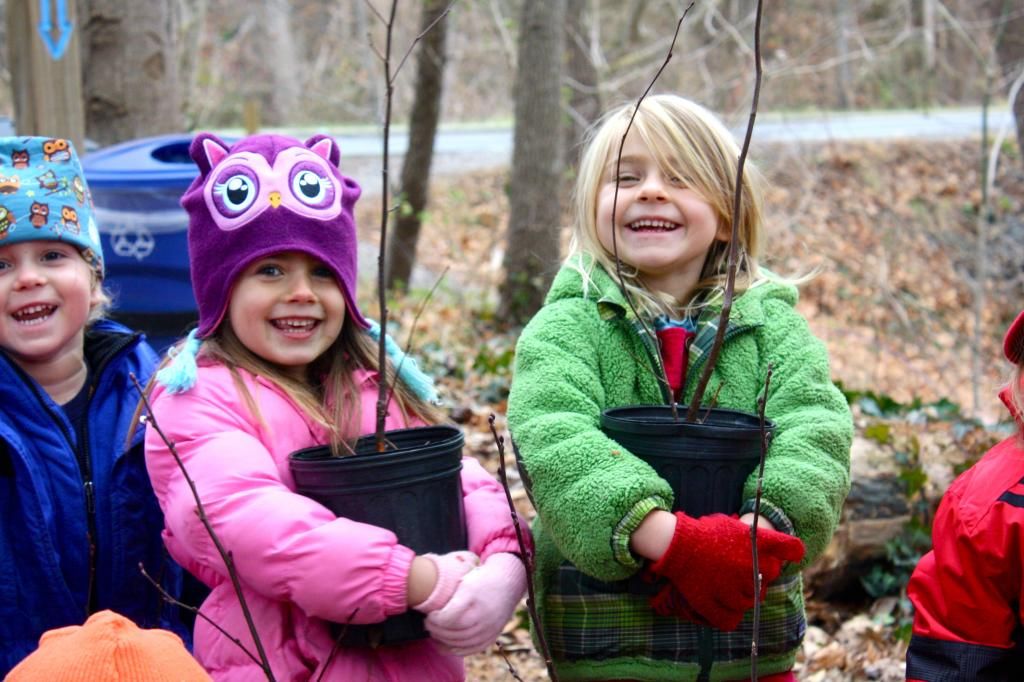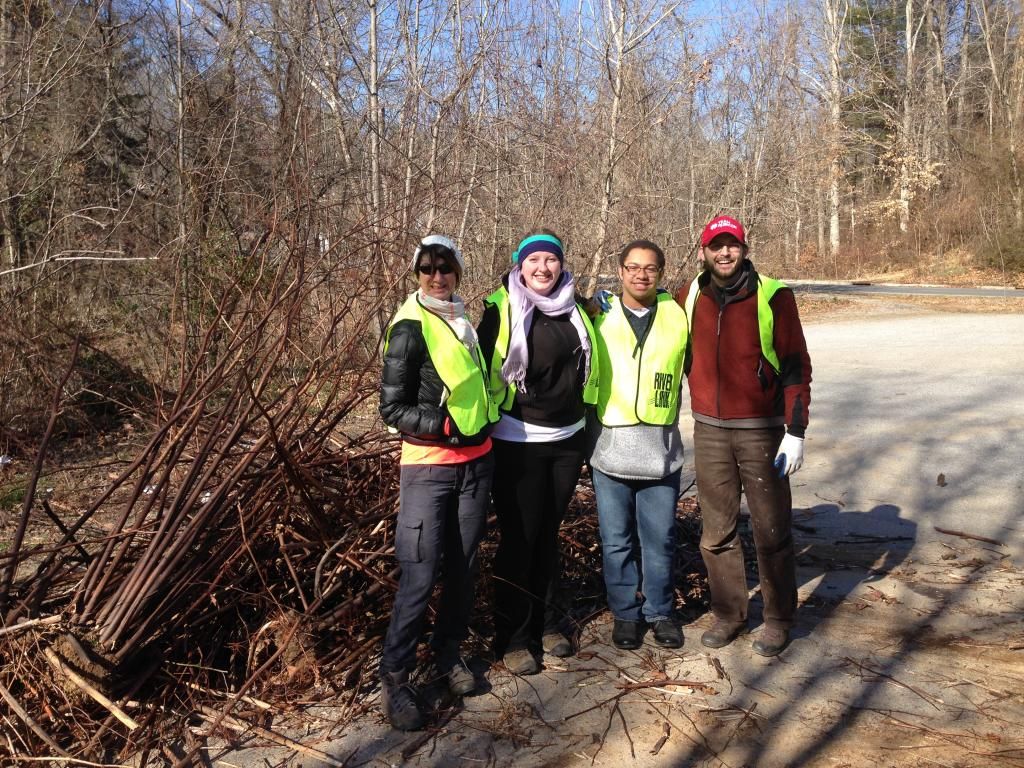 RiverLink partners with Western Carolina University!

Thirteen students returned from their winter breaks early to participate in the 3rd Annual Social Justice Institute. This initiative seeks to bring to life and into focus the inequality, oppression, and privilege that still exists in our world and communities today. The institute is a five day experience that brings students together with community leaders, experts (academically and experientially), and new, potentially unexamined, information around various "isms" still alive in our society today (e.g., racism, sexism, environmentalism, etc.). Students navigate new waters and reflect on their role and responsibility within a community and in turn examine their community's responses to inequality and privilege. Finally, through dialogue the students process their experiences and collaborate to formulate a social action plan that will be implemented during the spring semester.

RiverLink was happy to host this group from the Social Justice Institute at Western Carolina University in Cullowhee, NC. Environmentalism is an ever important topic in our society today. What a great fit for a group looking to get hands on experience in environmentalism helping RiverLink improve the Hominy Creek Greenway. RiverLink has been working alongside The Friends of Hominy Creek and the West Asheville community to manage and create community parkland that maintains its wild nature, preserves the area's rich history, and connects the community to the river and to downtown.
If you would like to become a volunteer with RiverLink please contact Adam, volunteer@riverlink.org or 828-252-8474 ext 17.
New Product aims to reduce litter in streams

RiverLink and LoveThisBagDryer! are teaming up to keep plastic bags out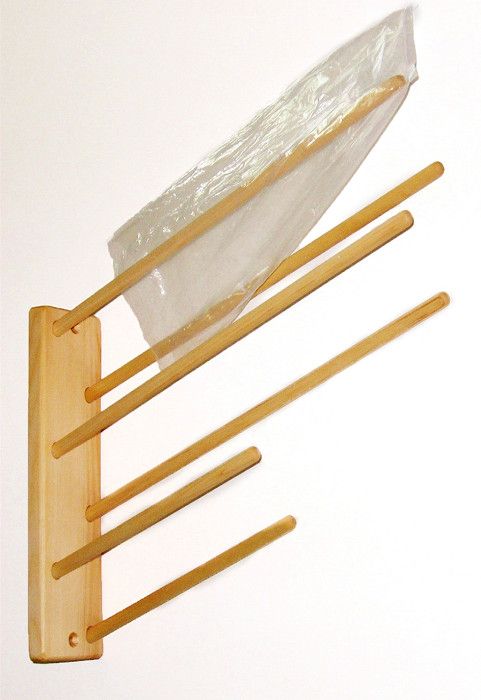 Bag Dyer in Action
of the French Broad River and its tributaries, and to raise funds for the Clean Streams Day cleanup in the spring.
RiverLink estimates that plastic bags make up at least 15 percent of the trash on the river and in nearby trees.
The two organizations encourage people to wash, dry, and re-use bags rather than throw them out and buy new ones. LTBD's bag dryers make re-using bags easy and convenient.
From January 14, 2015 through Valentine's Day -- February 14, 2015 - 14 percent of the sale price of each bag dryer sold will be donated to RiverLink for Clean Streams Day. The goal is to raise at least $400 for this purpose. This is a way for all of us to love the French Broad River. Click on www.LoveThisBagDryer.com to order.
Imagine RiverLink's river and stream cleanups taking half the usual time and people power, due to this and other trash-reduction strategies. All the staff and volunteers will spend more time playing on the river and less time cleaning it up! Everyone will enjoy the river more.
Don't forget to volunteer by calling us at 828-252-8474 or e mailing us at volunteer@riverlink.org.
Upcoming Events
Please note: When attending any of these events at the RiverLink office, please do not park at 12Bones or any of the studios on Riverside Drive. Thanks so much.
_____________________________

Thursday, January 15, 11:45 -- 2 p.m., the Riverfront Bus Tour -
-- Meet at the Asheville Area Chamber of Commerce Parking Lot, third level down. Discover the magic of the Riverfront area firsthand -- past, present and future. Registration Required.
Click here to register
_____________________________
Saturday, January 17, 9:30 a.m. - 12:00 p.m. at 25 Shelburne Rd, Asheville -- Join Adam for RiverLink's MLK Day of Service. We will continue work along the Hominy Creek Greenway! Feel free to bring your own work gloves, and dress for the weather!
_____________________________
Saturday, January 17, 5 -7 p.m., Watershed Resources Management Panel Disscusion
7 pm The Nile Project Concert
-- Join us at New Mountain for an interactive discussion about water quality and quantity, at the local and global scale. This will be followed by a concert from the Nile Project.
_____________________________
Tuesday, January 27, 10:00 a.m. -- 12:00 p.m.--
-- RiverLink and the Small Business and Technology Development Center (SBTDC) are pleased to announce our first of several business seminars in 2015 focused on encouraging entrepreneurship and the nuts and bolts of starting a business in the French Broad River Watershed.
The event is free, but please register by clicking following this link: Click Here
_____________________________

Tropical Soda Apple
Solanum viarumeDunal
Plant:
Upright, thorny perennial subshrub or shrub, 3 to 6 feet (1 to 2 m) in height, with leaves shaped like oak leaves, clusters of tiny white flowers, and green-to-yellow golf-ball size fruit. Fruit sweet smelling and attractive to livestock and wildlife. Remains green over winter in most southern locations.

Stem:
Upright-to-leaning, much branched, hairy, covered with broad based white-to-yellow thorns. Leaves. Alternate, 4 to 8 inches (10 to 20 cm) long and 2 to 6 inches (5 to 15 cm) wide. Margins deeply lobed (shaped like oak leaves). Velvety hairy with thorns projecting from veins and petioles. Dark green with whitish midveins above and lighter green with netted veins beneath.

Flowers:
May to August (year-round in Florida). Terminal small clusters of five-petaled white flowers. Petals first extended, then becoming recurved. Yellow-to-white stamen projecting from the center.
Fruit and seeds:
June to November (year-round in Florida). Spherical, hairless, pulpy berry 1 to 1.5 inches (2.5 to 4 cm). Mottled green ripening to yellow. Each berry producing 200 to 400 reddish-brown seeds.
Ecology:
Occurs on open to semishady sites. Viable seed in green or yellow fruit but not in white fruit. Reaches maturity from seed within 105 days. Persists by green stems or rootcrowns in warmer areas. Rapidly spreading by cattle and other livestock transportation and by wildlife-dispersed seeds as well as seed-contaminated hay, sod, and machinery.

Resembles:
horsenettle, S. carolinense L., an 8- to 30-inch (20- to 80-cm) forb, which has similar but smaller fruit, long elliptic-to-ovate lobed leaves 3 to 5 inches (8 to 12 cm) long and 1 to 3 inches (2.5 to 8 cm) wide, and prickly yellow spines on stems and lower leaf veins.
History and use:
Native to Argentina and Brazil and introduced into Florida in the 1980s. No known use. A Federal listed noxious weed with an eradication program underway.
Range: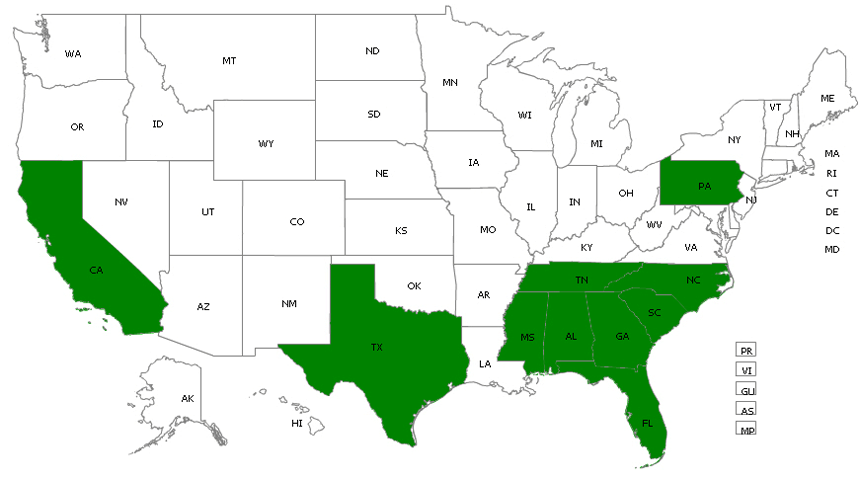 Volunteer Spotlight:
Charlie Flynn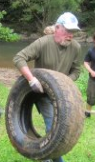 Charlie hard at work!
Charlie Flynn is a retired health care provider. He volunteers at a local CSA organic farm and is an active YMCA member, a leader of the Y Hiking Club. He plays mandolin in local bluegrass band. Charlie loves outdoors, and enjoys tubing and hiking along the French Broad River. The main reason he volunteers with RiverLink is to help preserve and improve the FBR basin.
Charlie will be leading a Y hike along the FBR and Hominy Creek on the 18th, including a portion he and a group of other RiverLink volunteers recently upgraded, removing invasive species and replanting natives.
Trivia
Crazy Water Facts!
Water can dissolve more substances than any other liquid including sulfuric acid.
More than 25% of bottled water comes from a municipal water supply, the same place that tap water comes from.
A ten meter rise in sea levels due to melting glaciers would flood 25% of the population of the United States.
There is more fresh water in the atmosphere than in all of the rivers on the planet combined.
Water boils quicker in Denver, Colorado than in New York City.
Approximately 400 billion gallons of water are used in the United States per day.
In one year, the average American residence uses over 100,000 gallons (indoors and outside).
It takes seven and a half years for the average American residence to use the same amount of water that flows over the Niagara Falls in one second (750,000 gallons).
American residents use about 100 gallons of water per day.
Americans use more water each day by flushing the toilet than they do by showering or any other activity.
The average faucet flows at a rate of 2 gallons per minute. You can save up to four gallons of water every morning by turning off the faucet while you brush your teeth.
Taking a bath requires up to 70 gallons of water. A five-minute shower uses only 10 to 25 gallons.
A running toilet can waste up to 200 gallons of water per day.
The New York City water supply system leaks 36 million gallons per day.
If you drink your daily recommended 8 glasses of water per day from the tap, it will cost you about 50 cents per year. If you choose to drink it from water bottles, it can cost you up to $1,400 dollars.
An inch of water covering one acre (27,154 gallons) weighs 113 tons.
At 1 drip per second, a faucet can leak 3,000 gallons per year.
Water is the only substance found on earth naturally in three forms: solid, liquid and gas.
A gallon of water weighs 8.34 pounds.
A cubic foot of water weighs 62.4 pounds


A Quote We Like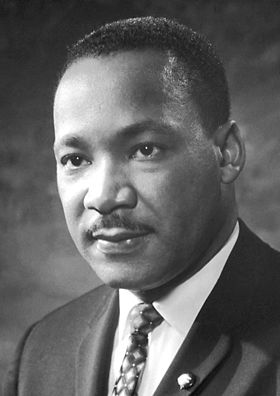 "Our lives begin to end the day we become silent about things that matter."
-Dr Martin Luther King Jr.


Tips for Weathering

the Winter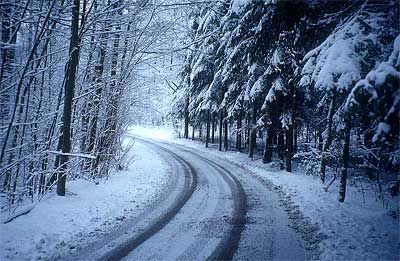 So far, it looks like the 2015 winter will be a cold one. As freezing temperatures and winter storms come our way, stay warm and safe with these tips.
- If you loose power and have a generator, always put the generator outside well away from doors windows, and vents. Carbon-monoxide (CO) is deadly, can build up quickly, and linger for hours.
- Never try to heat your home using "combustion appliances." This includes appliances like a gas stove, oven, barbecue grill, or dryer. Never operate any gas-burning heater or appliance in a poorly vented or closed room, or where you are sleeping.
- A properly installed correctly used wood-burning appliance should be smoke free. If you see or smell smoke, that means you may have a problem. Never burn household garbage, colored paper or ink, or any type of plastic, foam or other artificial materials. Burning these can release harmful fumes in the air.
- For ice and snow on sidewalks and roads, consider using non-toxic deicing substances such as clean clay cat litter, sand, or fireplace/stove ash to prevent hazardous waste from chemicals. Chemical deicers can be hazardous to your pets, your plants, and the environment.
- Winterize your vehicle by checking your tires for tread wear and proper inflation, checking the condition of your windshield wipers, and checking your air filter and fluid levels. By ensuring your vehicle is ready for winter changes will reduce damage, which prevents waste from broken parts, and will keep you safe on the road.