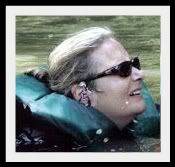 From the exec's desk

Dear RiverLovers,
Happy February. It's Valentines month and full of things we just love to do for the river we love to protect and promote.
We are working with the historic Falconhurst neighborhood to clean up around Smith Mill Creek on February 7th from 10 a.m. to 1 p.m. We will supply the gloves, vest, trash bags so if you want to join us give a call to Dave, our volunteer guru at 252-8474, ext. 11. Our newest Adopt-A-Stream Team is in this neighborhood. There is a small unnamed tributary of Smith Mill Creek and we are working on adding that to our Name That Creek Program. We will be putting loads of energy and focus onto this neighborhood as we pursue different aspects of our conservation efforts with a group of like-minded neighbors.
I am giving my monthly bus tour on February 19 from 12 to 2. I have been giving these tours since 1986! I can hardly believe it has been that long! Things are sure changing for our French Broad so the tour is very dynamic with new information every month.
Click here to check availability and make a reservation
.
On March 6 from 4 p.m. to 6 p.m. join me and Jim Stokley (Wilma's
Wilma Dykeman

Dykeman's son and president of the Wilma Dykeman Legacy) for a new program called "
Who is Wilma Dykeman and What is the Wilma Dykeman RiverWay Plan All About?
" Jim and I will be tag-teaming to talk about Wilma's works and her values and how RiverLink worked with the community to develop the Wilma Dykeman RiverWay Plan to reflect those values in a truly consensus plan that promises to protect and promote our watershed as an authentic destination for
everyone
to live, work and play. Reservations are a must as seating is limited so call 828-252-8474, ext. 10 or even better, emailing melinda@riverlink.org, to make your reservation today.
Starting later this month and every month thereafter for the rest of the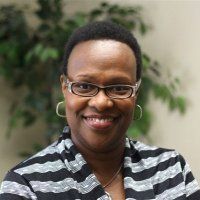 Brenda Mills

year RiverLink is teaming up with
Asheville
Economic Development Specialist Brenda Mills to offer information sessions about how to contract with the city (or any government agency) if you are a minority business owner and/ or an artist. Put these dates on your calender for the seminars on contracting with government entities:

March 26,

May 14,

July 23,

Sept. 22,

Nov. 17. Take note of these dates for our new series for minority business owners:

Feb. 26,

April 30,

June 23,

August 25,

Oct. 27 and
Dec. 8. All seminars are from 10 a.m. -- noon. R
emember that seating is limited and you must register by calling RiverLink at 828-252-8474, ext 10, or even better, emailing melinda@riverlink.org.

If you read the recently released DOT TIP -- that is Department of Transportation, Transportation Improvement Plan for those who don't speak bureaucrat, ha-ha -- you know that the Wilma Dykeman RiverWay Plan attracted a lot of attention and funding recently from the federal and state government. We are still digesting the plans but it appears that a four-lane highway either with or without a medium is planned for Amboy Road. This is NOT AT ALL what was recommended in the Wilma Dykeman RiverWay Plan. We will be working with our friends at NCDOT and the community to ensure that Amboy Road is designed as a multi-modal, complete street with a turning lane to address the backup that occurs only at 8 a.m. and again at 5 p.m. because of AB Tech comings and goings. Other than those two hours a day, the traffic is pretty slim on that road. Stay tuned!
Back by popular demand on Thursday, October 22 is the RiverLink Art Show, "Of Time and the River" featuring beautiful
By Curator John Mac Kah

images of the French Broad in a show
curated
again by local artist John Mac Kah. Last year's VIP reception was sold out and we expect the same positive
response
this year as well. The goal "Of Time and
the
River" is to
capture
from an
artist
viewpoint the changing nature and timelessness of
the
river.
An added feature this year will be a display of river memorabilia from yesteryear. If you happen to have something of interest from the old days on the river and are willing to let us borrow it please call me at 828-252-8474, ext 16. Mar
k your calender for the Time and The River VIP Reception 2015 on Thursday, October 22.
Love the French Broad this month and all year, and we'll see you 'round the River,
RiverLink announces RiverMusic 2015 - another summer of sweet sounds by the water
RiverMusic -- five nights of live music from established and up-and-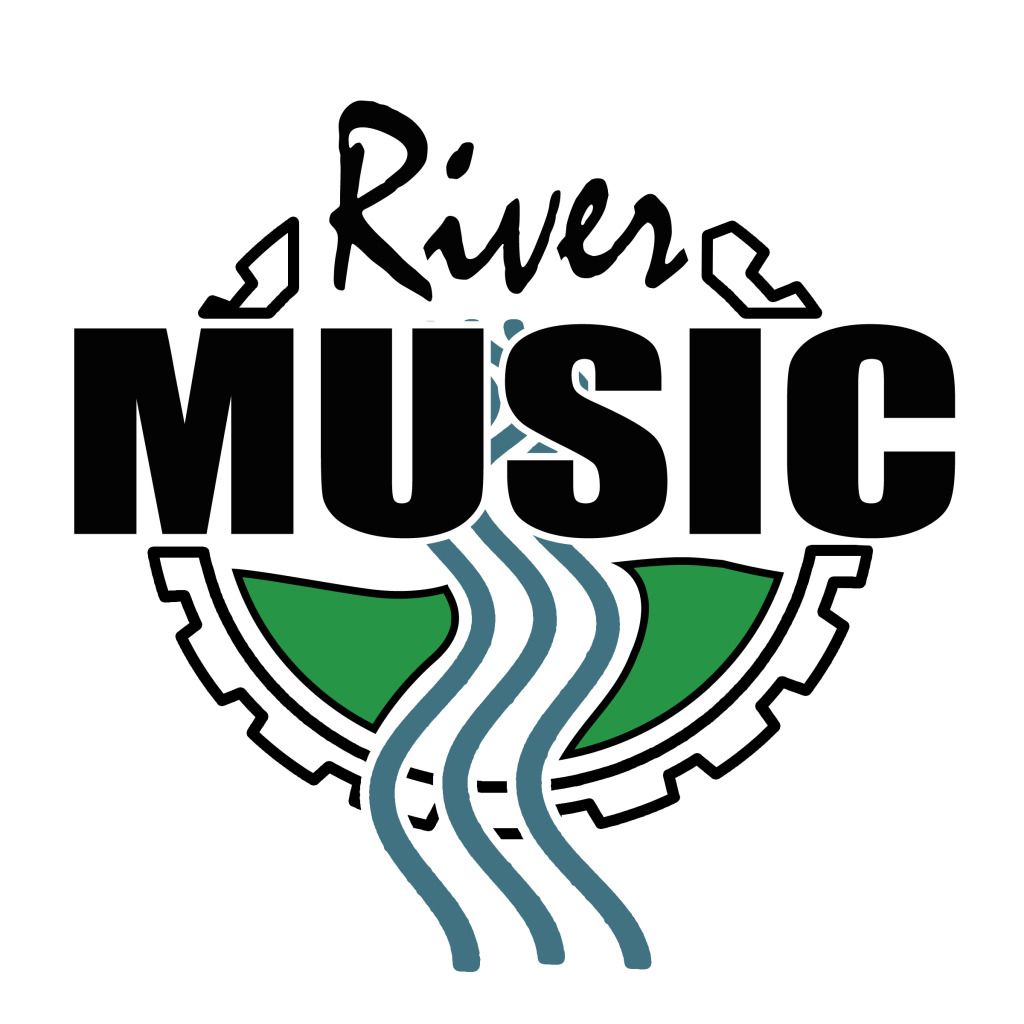 coming acts, foodtrucks, local beer, and more -- is back for year four!
Each night will feature a different line-up of beer from two local breweries. So far, New Belgium, Catawba, Highland and Twin Leaf have all signed on to provide tasty brews on varying nights. Local foodtrucks will provide a wide variety of tasty treats.
The 2015 lineup is better than ever. So far, our lineup looks like this:
Sundance Power has signed on again to power our musical event using the Sun, and Heira Productions arranged the performers again this year.
Sponsorship is still available for a summer by the river is still available. Contact RiverLink Executive Director Karen Cragnolin directly at karen@riverlink.org or 828-252-8474, ext. 16 for more information.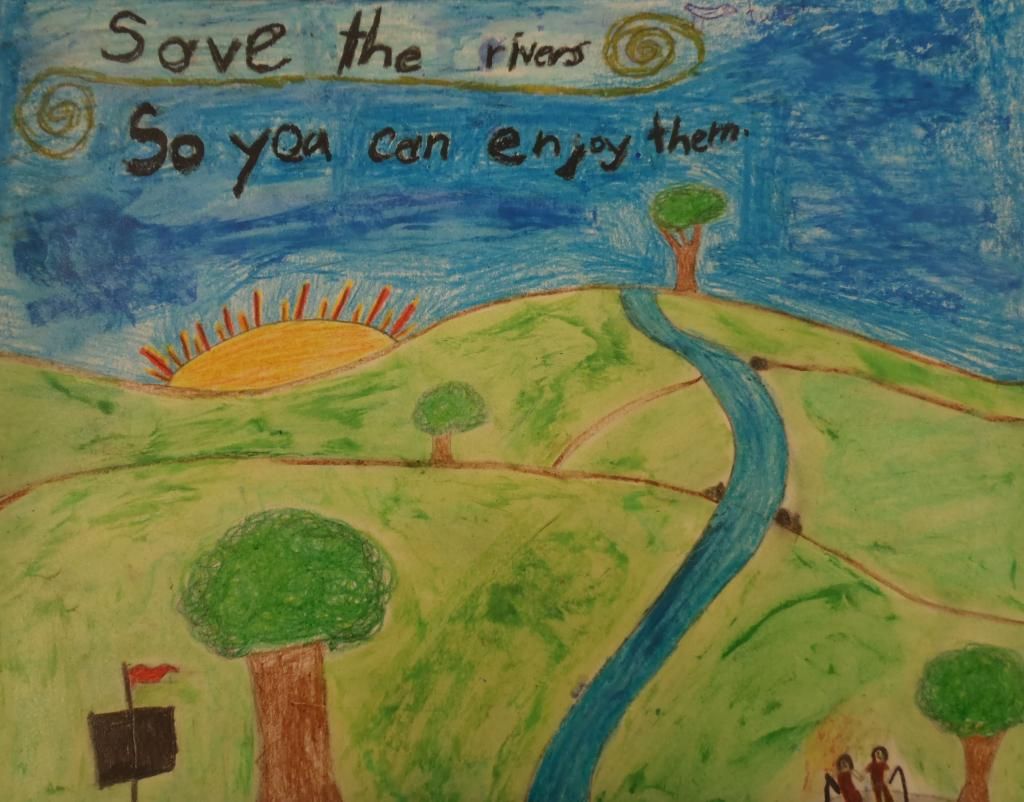 RiverLink's Art & Poetry Contest in Need of Judges and Sponsors

We are in the midst of planning our 8th annual Voices of the River Art and Poetry Contest for K-12 students of the French Broad Watershed.
Participants create the work at home or at school and submit their painting, sculptures, photographs or poems to RiverLink. We are looking for local artists and writers to serve as judges for this contest. Please get in touch with our education coordinator if you are interested or know someone who may be.
The exhibition will be displayed Holly Library on AB Tech's campus. A reception/awards presentation will be held April 18th.

The contest is growing and we expect over 750 participants this year!

For this event we are in need of
in-kind donations, gift certificates for prizes as well as promotional funds.
All donors will be given due recognition prior to and during the reception. Please contact us if you can help in any way. For more information on the contest please visit our website:
Thanks!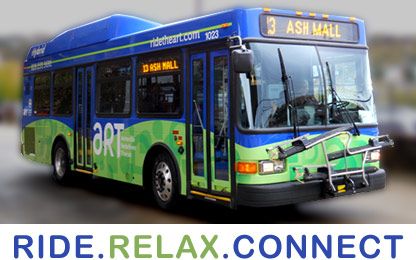 RiverLink offers
transportation help

Want to volunteer for RiverLink but have trouble getting a ride to our events and programs? We have a new RiverLink initiative to help you join us and improve the French Broad River watershed as a destination to live, work and play. Volunteers are the lifeblood of the organization and we need you.
As part of this effort, RiverLink is providing a bus pass reimbursement to individuals and families who are attending one of our volunteer events or educational workshops. RiverLink plans to reimburse any volunteers who use the bus as a means for transportation and would like to attend a volunteer event or educational program.
The reimbursement will be in the form of two bus passes, one to compensate the attendee for the fare paid to get to the event, and one to use as a return ticket when leaving the program or event. RiverLink asks that the volunteers stay for the duration of the event or educational workshop. Please inform the event coordinator upon arrival that you will be seeking reimbursement prior to your departure that day.
Questions? Please email Adam, volunteer@riverlink.org or call 828-252-8474 ext. 17.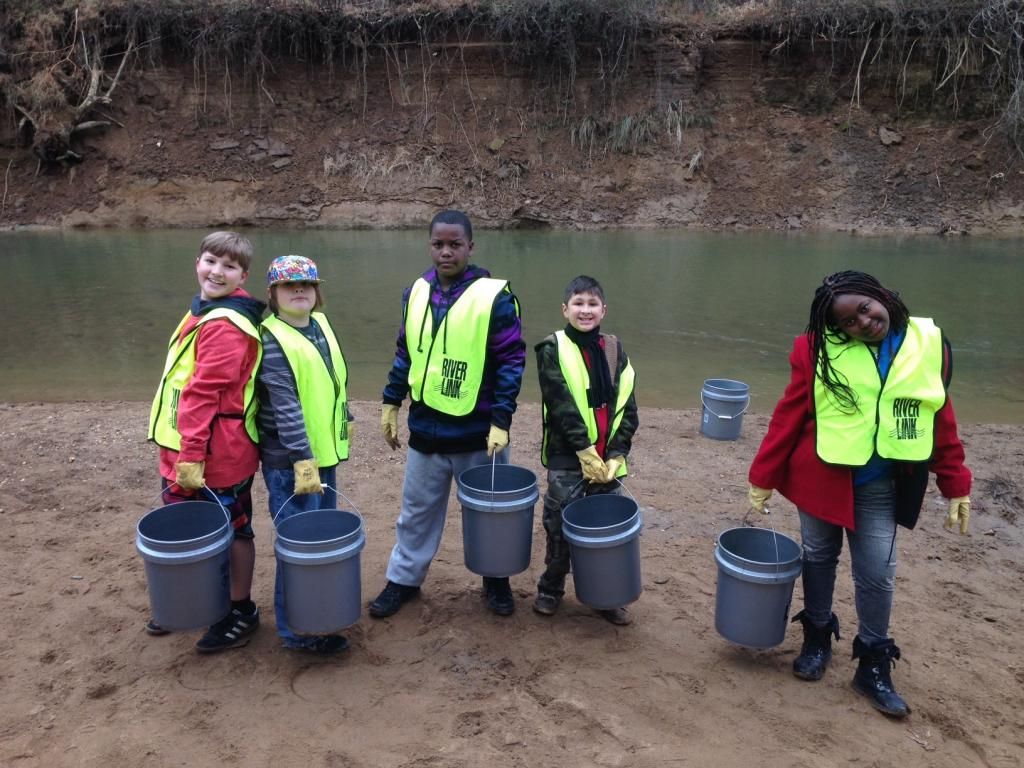 Claxton Elementary Day

RiverLink would like to thank Mrs. Then and her fifth grade class from Claxton Elementary School for coming out and volunteering with us along the Hominy Creek Greenway for their MLK Day of Service. What a hardworking and well-behaved class! They planted 35 trees and removed over 25 bunches of Japanese Knotweed on the morning of January 15th.
Numerous students were begging to stay and work longer and also wondered if they could come back at a later date and continue to help.
Playing right into our goal for the morning, it quickly became a contest to see which group of students could remove the largest bunch of Japanese Knotweed from the river banks. Rules were that it had to remain in one huge piece, and the roots from the plant had to come with it. Nothing gets kids motivated like a contest!
Alex Guyton, our Education Coordinator, also led the group of students through a game to teach them about invasive plants. The game informed the students about what invasive plants are and how they spread and take over an area. The game, which was similar to musical chairs, was a hit and it got the students blood moving and warmed them up on that chilly January morning.
Thanks again, Claxton, let's do it again next year!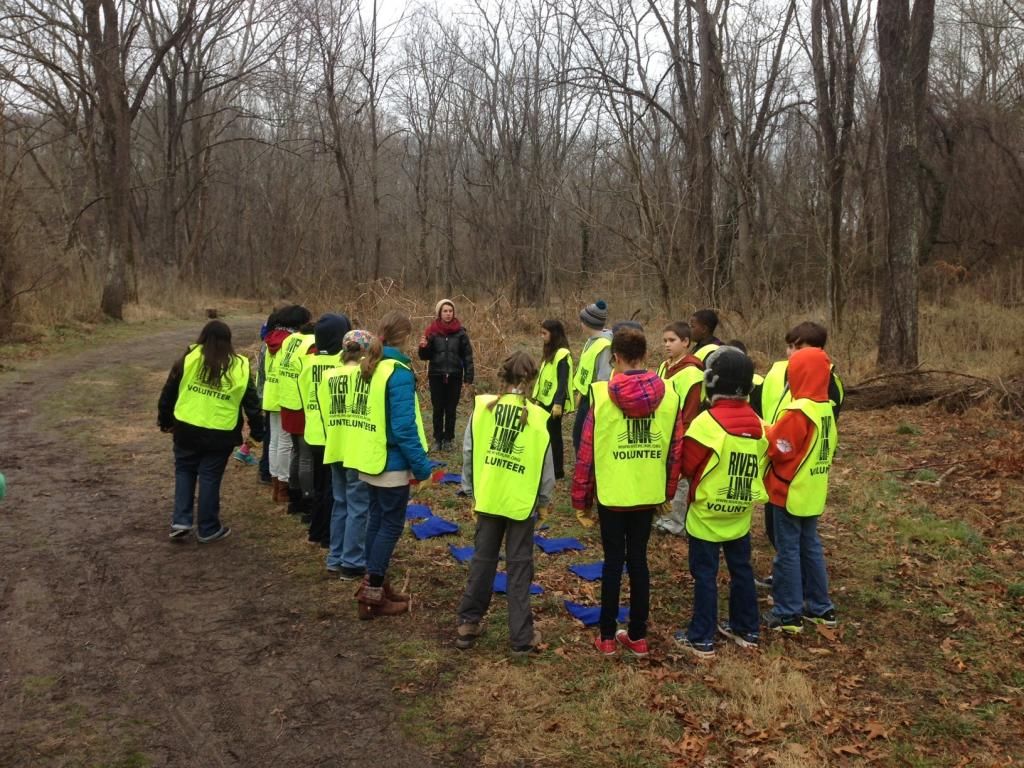 Alex Guyton teaching Claxton 5th grade students about invasive species through a Project WET hands-on game.
Wednesday Workdays!
RiverLink brings to you Wednesday Workdays as an initiative to get more volunteers out in the community and keeping the French Broad River clean!
Wednesday Workdays will take place every week from 1 p.m. -- 4 p.m. and will be an extension of our Comprehensive CreekCare program.
We will focus on trash removal along rivers and streams, invasive plant removal, native tree planting and storm drain marking.
When: Wednesdays 1 p.m. -- 4 p.m.
Where: Meeting address will be posted one week in advance on RiverLink website event calendar.
Dress for the weather and RiverLink will supply all tools needed for projects, feel free to bring your own gloves if preferred.
Questions? Please email Adam, volunteer@riverlink.org or call 828-252-8474 ext. 17.
Wetland at Malvern Hills Park
Stormwater BMP Tours
What are ways that individuals and businesses can make a positive impact on water quality and quantity? One solution is Stormwater Best Management Practices (BMPs). BMPs are methods to reduce the amount of pollutants in runoff and slow down volumes of runoff during storm or melting events. Examples of BMPs include bioretentions, wetlands, rain gardens, green roofs, rainwater harvesting, and many more.
As the French Broad River Basin becomes more urbanized, the amount of impervious surface increases and therefore increases the amount of runoff. Increased stormwater runoff can erode stream channels, increase pollutant loadings, cause downstream flooding, and prevent groundwater recharge. BMPs are great small scale solutions to help address the growing importance of stormwater.
RiverLink has implemented several BMPs in parks and other landscapes all throughout the French Broad River Basin. Specifically, there are several examples of BMPs and stream restorations at West Asheville Park, Malvern Hills Park, and Carrier Park. If you are interested in looking at the BMPs in person, you can follow the self-guided BMP driving tour found here on our website. You can also contact the Watershed Resources Coordinator, Mimi at

mimi@riverlink.org

or call 828-252-8474 ext.13 if you would like to set up a guided tour and learn more about RiverLink's BMPs.
Gear-n-Beer hands-on event to benefit RiverLink
Read the AC-T article about it
here
.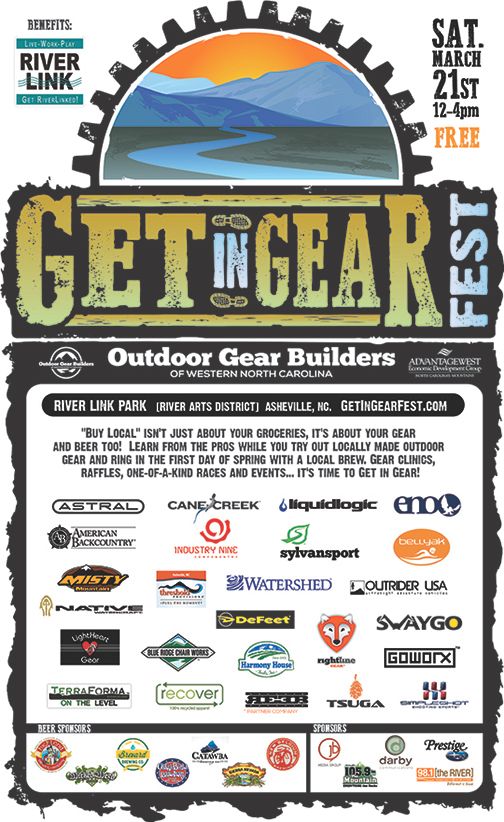 Discover a hidden gem of a waterfall with RiverLink's Dave Russell on Sunday, Feb. 22
Shining Creek is one of the hidden gems in WNC, and on Sunday, Feb. 22, RiverLink's Dave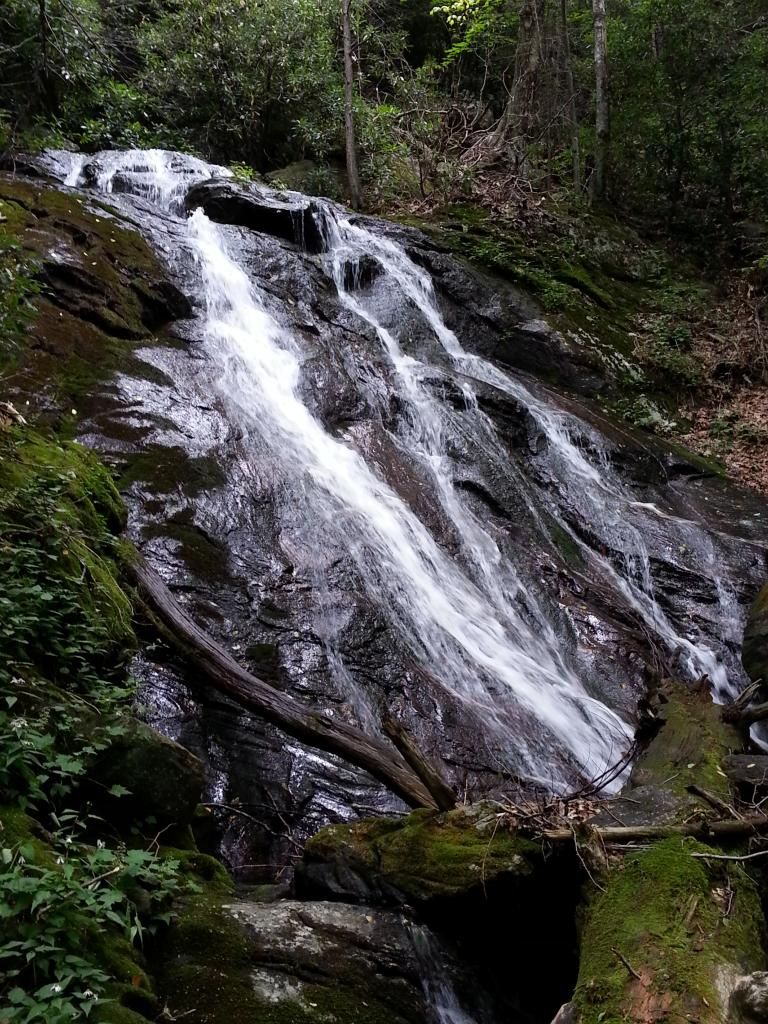 Secret waterfall
Russell is leading a hike to waterfall most folks don't know about.
This is a somewhat strenuous hike, with some uphill portions and some rocky terrain. It's a four-mile roundtrip. We'll meet at the RiverLink office on Sunday, Feb. 22 at 08:45 and leave promptly at 9. We'll be back sometime between noon and 1:30 p.m. Maybe. Due to Blue Ridge Parkway closure, we'll have to dogleg through Canton to get to NC 276, and Dave has never driven that way.
Things to bring:
A certain level of fitness; ability to hike two miles per hour.
Insurance - by coming along you acknowledge that hiking can lead to injury and will not hold RiverLink responsible in any way for injuries.
Snack/lunch
Rain gear
Camera, walking stick, etc.
There's no charge, but please let Dave know you're coming so carpooling can be arranged by e-mailing dave@riverlink.org or phoning 828-252-8474, ext. 11.
Upcoming Events
Please note: When attending any of these events at the RiverLink office, please do not park at 12Bones or any of the studios on Riverside Drive. Thanks so much.
_____________________________

Wednesday, February 11, 10:00 a.m. & 5:30 p.m.,
at the RiverLink offices
-- Volunteer information session. Become involved in the evolution of the river and learn more about RiverLink. RSVP to
volunteer@riverlink.org
by 02/10.
_____________________________
Thursday, February 19, 11:45 -- 2 p.m., the Riverfront Bus Tour -
-- Meet at the Asheville Area Chamber of Commerce Parking Lot, third level down. Discover the magic of the Riverfront area firsthand -- past, present and future. Registration Required.
Click here to register
_____________________________
Thursday, Feb. 26 10 a.m. -- noon at the RiverLink office -- Minority Business Seminar.
Join Riverlink and Brenda Mills as they team up once again to provide a 2-hour session for minority and women businesses. Email melinda@riverlink.org to reserve a seat.
_____________________________
Wednesday, March 11, 10:00 a.m. & 5:30 p.m., at the RiverLink offices -- Volunteer information session. Become involved in the evolution of the river and learn more about RiverLink. RSVP to volunteer@riverlink.org by 03/10.
_____________________________
Thursday, March 12, 10:00 a.m. -- 12:00 p.m.-- RiverLink and the Small Business and Technology Development Center (SBTDC) are pleased to announce the second of several business seminars in 2015 focused on encouraging entrepreneurship and the nuts and bolts of starting a business in the French Broad River Watershed.
The event is free, but please register by clicking following this link: Click Here
_____________________________
Saturday, March 21, 12 noon -- 4 p.m. at the RiverLink Sculpture and Performance Plaza -- The Outdoor Gear Builders "Get in Gear Fest." Come have a local brew and get your hands on the fine outdoors gear built right here in WNC. Volunteers needed!
_____________________________
Climbing Yams
Air yam, Chinese yam & Water yam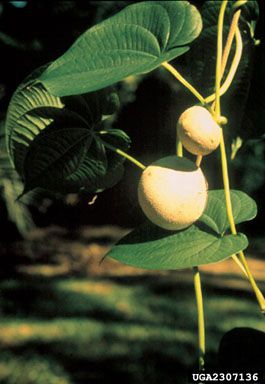 Plant: Herbaceous, high climbing vines to 65 feet (20 m) long, infestations covering shrubs and trees. Twining and sprawling stems with long-petioled heart-shaped leaves. Spreading by dangling potato-like tubers (bulbils) at leaf axils and underground tubers. Monocots.

Stem: Twining and covering vegetation, branching, hairless. Internode cross sections round for air yam to angled for Chinese and water yams. Water yam nodes winged and reddish. All stems dying back in winter leaving some small bulbils attached.

Leaves: Alternate (air) or combination alternate and opposite (Chinese and water). Heart-shaped to triangular with elongated tips, thin and hairless, 4 to 8 inches (10 to 20 cm) long and 2 to 6 inches (5 to 15 cm) wide. Long petioled. Basal lobes broadly rounded (air) or often angled (Chinese and water). Margins smooth. Veins parallel and converging at base. Dark green with slightly indented curved veins above (quilted appearing) and lighter green beneath. Chinese yam leaves turning bright yellow in fall.

Flowers: May to August. Rare, small, male and female flowers in panicles or spikes on separate plants, to 4.5 inches (11 cm) long in axils. Green to white. Fragrant, with Chinese yam having a cinnamon fragrance (thus the common name cinnamon vine).

Fruit and seeds: June to September (and year-round). Aerial tubers (bulbils) resembling miniature potatoes being the most notable fruit with 1 to 4 occurring at leaf axils that drop and sprout to form new plants. Shape spherical (air and Chinese) to oblong (water). Texture smooth (air) to warty (Chinese) to rough (water). Air yam to 5 inches (12 cm) long, Chinese yam to 1 inch (2.5 cm) long, and water yam to 1.2 inches (3 cm) long and 4 inches (10 cm) wide. Very rarely have capsules and winged seeds, which have questionable viability.

Ecology: Rapid growing and occurring on open to semishady sites: water yams in Florida, air yams extending from Florida to adjacent States, and Chinese yams in all States except Florida. All dying back during winter but able to cover small trees in a year, with old vines providing trellises for regrowth. Spread and persist by underground tubers and abundant production of aerial yams, which drop and form new plants and can spread by water.

Resembles greenbrier, Smilax spp., which has thorns and green-to-purple berries but no aerial potatoes. Also resemble several native Dioscorea species that do not form dense vine infestations nor have aerial tubers (bulbils): fourleaf yam, D. quaternata J.F. Gmel.; wild yam, D. villosa L., with hairy upper leaf surfaces; native Florida yam, D. floridana Bartlett; and, only in Florida, nonnative Zanzibar yam, D. sansibarensis Pax.
History and use: Introduced from Africa (air) and Asia (Chinese and water) as possible food sources in the 1800s. Ornamentals often spread by unsuspecting gardeners intrigued by the dangling yams. Presently cultivated for medicinal use.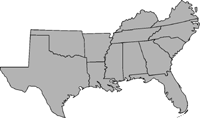 Volunteer Spotlight
Stephen Jones
Our volunteer spotlight is a little different this month, as we highlight the life of one of our community's most awesome volunteers, Stephen P. Jones.
Stephen Jones, who volunteered with RiverLink and other community organizations, passed away on January 9. With RiverLink, Stephen worked a variety of events, such as river cleanups and plantings, and driving one of the 15-passenger shuttle vans at RiverFest.
Stephen gave his time to serve with Mountain BizWorks, the Asheville Greenway Commission, the boards of Asheville GreenWorks and the Western North Carolina Historical Association, and Homeward Bound of WNC.
Stephen was a passionate supporter of the park and greenway system, and a staunch supporter of the proposed White Fawn Park overlooking the City of Asheville.
His impact on our area was huge; his kindness, generosity, and upbeat personality unmatched. RiverLink thanks you for the time you gave to us and our community.
Amazon River Trivia

The Amazon is the world's biggest river
The average discharge of water into the Atlantic Ocean by the Amazon is approximately 175,000 m3 per second, or between 1/5th and 1/6th of the total discharge into the oceans of all of the world's rivers. This discharge is 4-5 times that of the Congo River (the second largest in ocean discharge), and 10 times that of the Mississippi.
The Rio Negro, a tributary of the Amazon, is the second largest river in the world in terms of water flow, and is 100 meters (over 300 feet) deep and 14 kilometers (~9 miles) wide near its mouth at Manaus, Brazil.
The water discharged into the Atlantic Ocean is actually only about 1/3rd of the water that falls in the Amazon basin as rain. Up to half of the rainfall in some areas may never reach the ground, being intercepted by the forest and re-evaporated into the atmosphere.
A long and winding river road. The total length of the Amazon River from its source springs in the Andes 4075 miles, not including all river bends.
The Amazon headwaters are located high in the Andes at an elevation of about 17,000 feet), and only 120 miles from the Pacific Ocean.
Like mother, like daughters.... Two of the tributaries of the Amazon, the Juruá and the Madeira Rivers, are both over 2,060 miles long. About 1,100 other sizeable tributaries empty into the Amazon River.
The mouth of the Amazon is over 200 miles wide, and contains the world's largest freshwater island, Marajó Island, with an area of 48,000 km2 (about the size of Switzerland).
Seasonal water levels can vary up to 65 feet in the middle Amazon region. The seasonal variation in water levels means that huge areas along the major rivers in the Amazon basin are flooded annually. The total area of flooded, or varzea, forest is between 50-60,000 km2, or about 4% of the total area of the Amazon rainforest. These flooded forest areas may extend as much as 50 miles from the main river channels.
In the Atlantic Ocean beyond the mouth of the Amazon, and resting on the continental shelf, the Amazon sediment cone has a length of about 680 km and a width of 250 km. These fine grained deposits (mostly clay/mud particles) on the ocean floor are over 11,000 meters (36,000 feet) thick. This is mostly sediment that has been carried downriver from the Andes Mountains, the Guianan Shield (to the North) and the Brazilian Shield (to the south), by the river current, and which settled out of the water column once the river current dissipated into the waters of the Atlantic Ocean.
The Amazon basin is about 2,500,000 square miles, and covers about 40% of South America.
The Amazon basin covers significant portions of the countries of Brazil, Peru, Colombia, Ecuador, Venezuela and Bolivia, though the major part of the watershed lies within Brazil.
Although it now empties into the Atlantic Ocean, the Amazon once flowed into the Pacific. The uplift of the Andes Mountains about 65 million years ago in a geological event called the Laramide Revolution cut the flow to the Pacific, and forced the Amazon River to flow eastward
But It's a Dry Heat... The Amazon basin has not always been an area of lush tropical rainforest. At several times during its history, the basin has been the location of huge lakes and shallow seas. Salt deposits up to 600 meters thick (nearly 2000 feet!) have also been found in some locations, indicating that at one time, the basin may have been desert-like, drying up the shallow seas and creating the salt deposits.
The Amazon basin is home to over 2,500 species of fish, more species than are recorded for the entire Atlantic Ocean, and some experts estimate that there may be as many as 6,000 species. These range from giant 3-meter air-breathing fish (Arapaima gigas) and river catfish weighing up to 600-700 lbs, to tiny tetras, electric eels, sting-rays, needlefish, fresh-water flying-fish, and knife-fish.