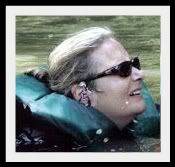 From the exec's desk
Dear RiverLovers,
Spring has sprung! And I, for one, am thrilled!
It's April and that means we are celebrating Earth Day all month long. We have so many seminars, celebrations, kick-offs and cleanups this month I almost don't know where to begin. I'll just mention a few, but please take a moment to read our entire newsletter for all the details. If you are interested in the BIG California drought we have assembled a number of news stories about it that you can check out. It's interesting and terrifying reading for anyone interested in water issues.
I just finished reviewing for about the third time our application to the Land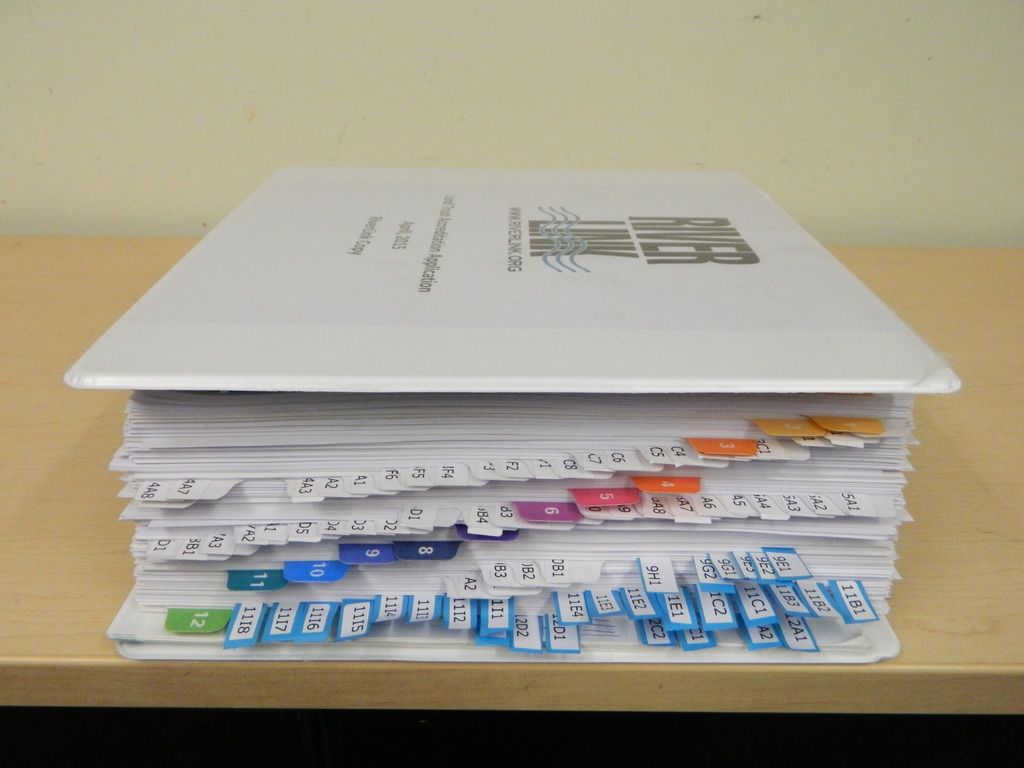 Our Land Trust application
Trust Accreditation Commission. It gets mailed this week -- all 50 pounds of it in three huge notebooks! We will be dialoguing with the Commission about our application over the next 10 to 12 months as they review every word. Many thanks to all of you who submitted comments about our application to the commission. We appreciate your help so much!
So do you ever wonder who is Wilma Dykeman and What is the Wilma Dykeman RiverWay Plan is all about? Well join us on Friday, April 10 from 4 to 6 p.m. or Friday, May 8 at the same time at RiverLink's Warehouse Studios and get the scoop firsthand from Wilma's son Jim Stokely and me! Reservations are a must so click here to make yours.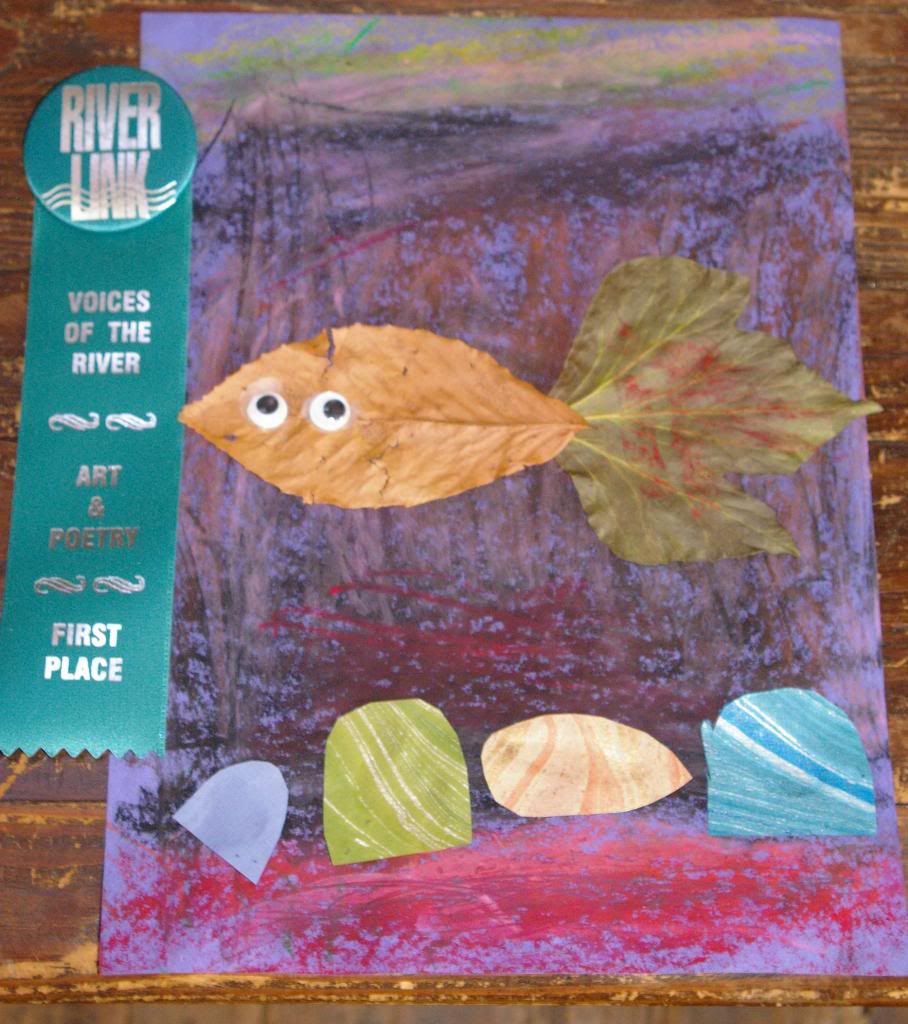 One of the 2014 winners
I hope you will take a few minutes and visit the Holly Library on AB Tech's Asheville campus April 18 to May 18 to see the wonderful art and poetry entries from children all over the watershed K through 12. We ask the kids to go to a water source and use all their senses to describe in art and poetry what they hear, smell, see, think and feel about water. Every year I am overwhelmed by how intuitive and creative the children are in describing the beauty, realities, challenges and opportunities in the watershed and beyond.
We are very honored that The French Broad River Classique Canoe and Kayak Race from April 25 to the 26 has selected RiverLink as a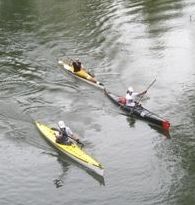 beneficiary. This year in addition to the regular three races, the French Broad 50-miler is back. And, for every boater who finishes the 50-miler, RiverLink will receive a $50 donation! The 50-miler starts at Hap Simpson Park in Transylvania County and continues for 50 miles to the finish line at Asheville Outdoor Center on Amboy Road. RiverLink has been one of the proud sponsors for this race since its inception and it is so exciting to see how much it has grown over the years! All the information for the Classique, including registration, can be found at the FB Paddle Racing main page.
Julian Monroe Fisher
On April 29th we welcome Julian Monroe Fisher for the launch of Carolina River Exploration at Highland Brewery. We were very honored when Julian asked us to be one of his sponsors, and thrilled he is launching his two year expedition in Asheville. Julian will spend the next two years (gosh, I am jealous) traveling and exploring Carolina rivers. He's a very interesting fellow and member of the Royal Geographical Society in London as well as a filmmaker and author. Join us at Highland Brewing April 29th from 4:30 to 6:30 to view a short video and meet Julian.
A big shout out and thank you to the members of our legislative delegation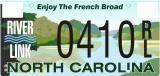 for sponsoring the RiverLink license plate bill. This is a HUGE win for us and for clean water. The plates cost $30 and $10 from every plate comes to us to support our conservation and greenway projects. $10 goes to the Clean Water Management Trust Fund and $10 goes to the Department of Motor Vehicles for making the plate. Incidentally, last year the Clean Water Management Trust Fund received over $4 million from license plate sales from around the State. Click here to buy your plate.
Loads happening this Summer on the river -- RiverMusic starts May 1st and it's going to be our best season ever for free, multi-modal concerts on the river. See the entire schedule elsewhere in this newsletter.
We are now accepting applications for three AmeriCorps positions starting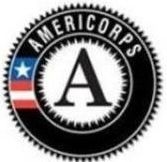 in September and ending in July 2016. We will hire an assistant volunteer coordinator, assistant watershed resource coordinator and an education coordinator. Participants receive a stipend, health insurance, great training, huge resume bragging rights, funds for graduate school or to reduce college debt and an opportunity to make a difference.
Thanks so much for all you do to make the French Broad a better place to live, learn, work and play.
See you on the river,
RiverMusic kicks off Friday, May 1 in the RAD
RiverMusic returns on May 1 to the River Arts District for its fourth big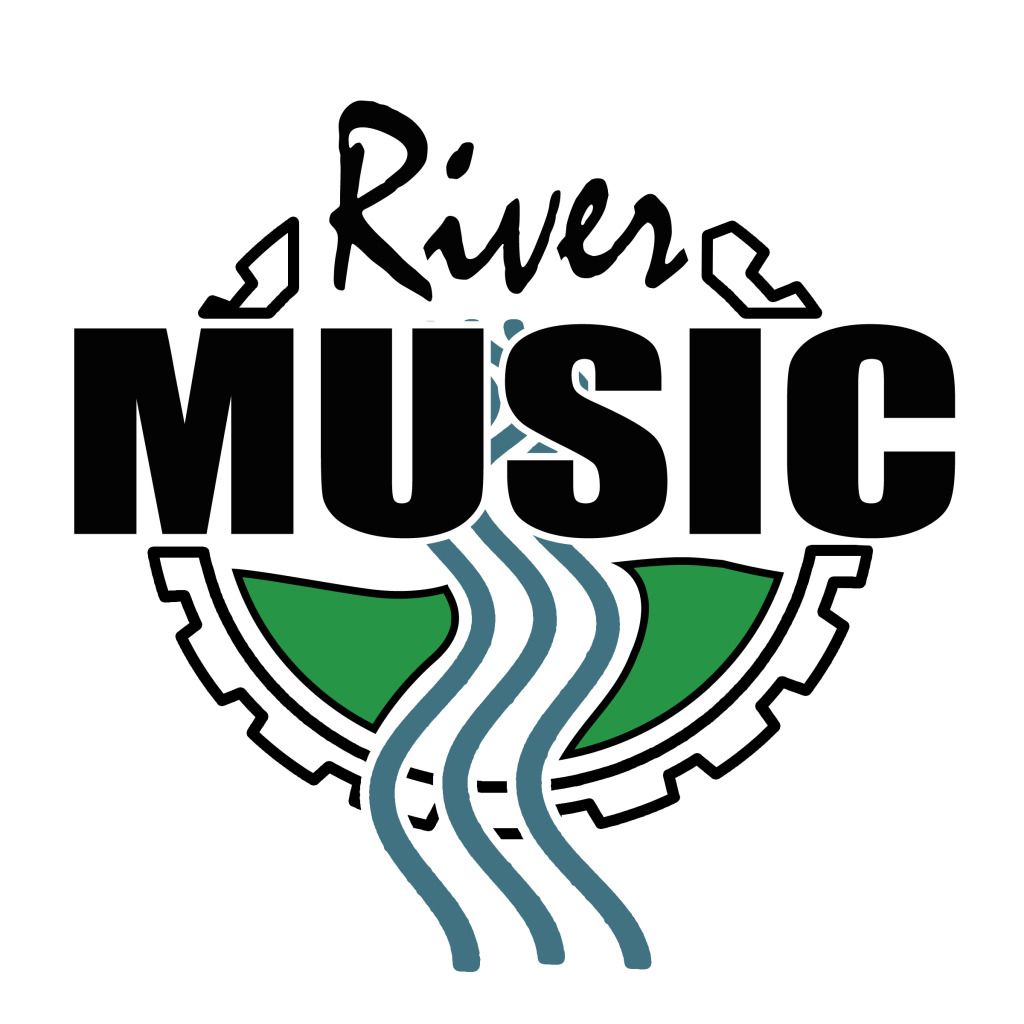 year! RiverLink has put together another exciting lineup of music, food and beer for 2015. Gates at the RiverLink Sculpture and Performance Plaza (144 Riverside Drive in the River Arts District) open at 5. The music starts at 5:30, with our second band at 6:45 and our headliner at 8:15.
On the Prestige Subaru stage, grooves rule with headlining reggae-rockers The Movement. Former Washington Post music critic Joe Sasfy says of the evening, "Led by singer-songwriter Josh Swain, this Columbia, S.C. trio has been a fixture on the reggae album charts, churning out an infectious, danceable brand of reggae that is nothing but positive vibrations. Expect more grooves, jams and riddims as Asheville's own Satta Roots and jamsters Franklin's Kite start the party."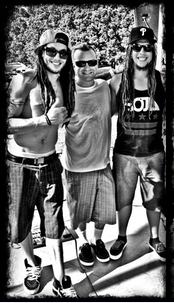 The Movement
Read what Sasfy has to say about the evening's entertainment as well as the rest of the RiverMusic lineup by clicking here.
For May 1, we'll be serving New Belgium and Catawba brews, and will have a variety of foodtrucks serving up eclectic delectables.
Also on May 1, outdoor clothing makers Patagonia will bring their Worn Wear Tour to the event, bringing repair staff from their repair facility in Reno, Nevada, to offer free repairs on busted zippers, rips, tears, buttons, pulls and more. Used Patagonia items will be for sale.
Make RiverMusic the cherry on top of a day in the River Arts District. Visit some of the 180 working studios in 22 former factories and historical buildings nestled along the French Broad River. Have lunch at one of the 14 restaurants in the RAD, get some Christmas shopping done and come to RiverMusic to dance by the River and have dinner and a few beverages.
RiverCamp Registration is Still Open but Filling Up Quick!
Give your children an opportunity to explore our local watershed this summer! Adventure through creeks in Pisgah, visit our reservoir to find out where drinking water comes from, raft down the French Broad, and learn important natural history of this region!
RiverLink's French Broad RiverCamp is open to all rising 3rd-8th grade students in the French Broad Watershed. The registration form can be found on our website:
French Broad RiverCamp Dates:
Session 1: Rising 3rd-5th grade
June 15th - June 19th
Session 2: Rising 6th-8th grade
June 22nd - June 26th
Session 3: Rising 3rd-5th grade
July 13th - July 17th
Session 4: Rising 3rd-5th grade
July 20th - July 24th
Don't forget! Full scholarships to RiverCamp are available for those who qualify. To apply visit our website:
For questions or more information contact our Education Coordinator:
First annual Get in Gear Fest a smashing success
If you own outdoor gear, there's a good chance your kayak, hammock, climbing harness, PFD, running socks, and mountain bike components may have been made right here in the mountains.
On March 21, fittingly the first day of Spring, the Outdoor Gear Builders of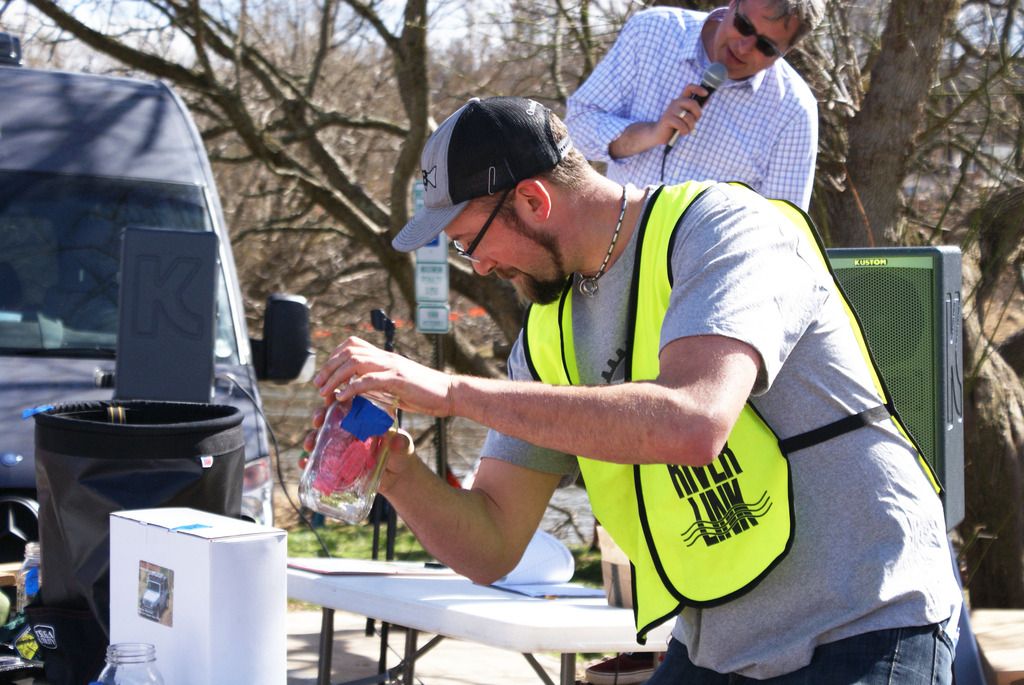 Noah Wilson of Advantage West shakes the raffle tickets at Get in Gear Fest
WNC and RiverLink hosted the first annual Get In Gear Festival from 12 - 4 p.m. at the RiverLink Sculpture and Performance Plaza. This free event featured raffles, races, gear clinics, product demos, and craft beer from local breweries. A portion of the proceeds supported the work of RiverLink. Outdoor recreation is one of the cornerstones of the Wilma Dykeman RiverWay Plan, and RiverLink was thrilled to be invited to take part in this event.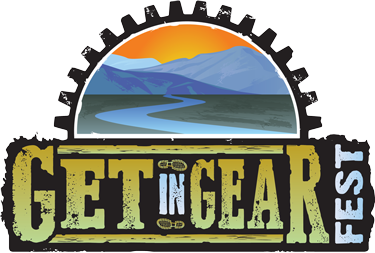 The coalition of 26 outdoor gear manufacturers includes Eagles Nest Outfitters, SylvanSport, LiquidLogic, DeFeet, Native Watercraft, Recover, Threshold Provisions, Bellyak, Industry Nine, Watershed, and Cane Creek.
The Outdoor Gear Builders of WNC have brought 470 jobs and over $6 million to the region. Thanks to their efforts, the outdoor industry is one of the most rapidly growing sectors in Southern Appalachia.
The event was a huge success and will definitely happen again next year -- with more parking, because we're going to need it!
Read more about the Outdoor Gear Builders here, and view a photo gallery from the event here.
Carolina Day School

A big thank you to Carolina Day School for all of their hard work on the Hominy Creek Greenway! The greenway is looking better than ever thanks to all of our volunteer groups that have lent a hand. If you have not been down on the greenway lately, please check it out. The native plants are starting to rally!!
Celebrate with us
April 25th,
11 a.m. -- 3 p.m.
Earth Day and Earth Week are annual reminders to appreciate the bounty of our Planet Earth. Come celebrate with RiverLink's EARTH DAY CHILDREN'S FESTIVAL. Enjoy an afternoon filled with exciting crafts, educational lessons, games, food and fun! We will also be collecting and recycling used computers, keyboards, cords, cables and cell phones during the event. A great big thank you to FLS Energy for making this day possible!
Who: Children of all ages
What: Earth Day Celebration filled with food, fun and giveaways
Where: RiverLink Sculpture Plaza, 144 Riverside Drive in the River Arts District
When: April 25th, 2015 11 a.m. -- 3 p.m.
How: Parking is available on-site, but please also feel free to ride your bike or float the river to the event.
Volunteers Needed! Link to sign up: Click Here.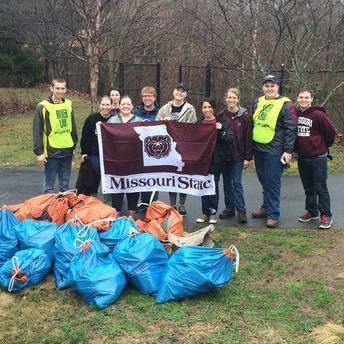 Missouri State, Ramapo College of NJ & Ursinus College Alternative Spring Break Trips
Three wonderful groups of students on an alternative spring break came all the way to Asheville from Western Missouri, New Jersey and Pennsylvania. Thank you for spending your spring break trips with us and helping to improve Asheville and the French Broad River watershed! It was a pleasure to work with all of you!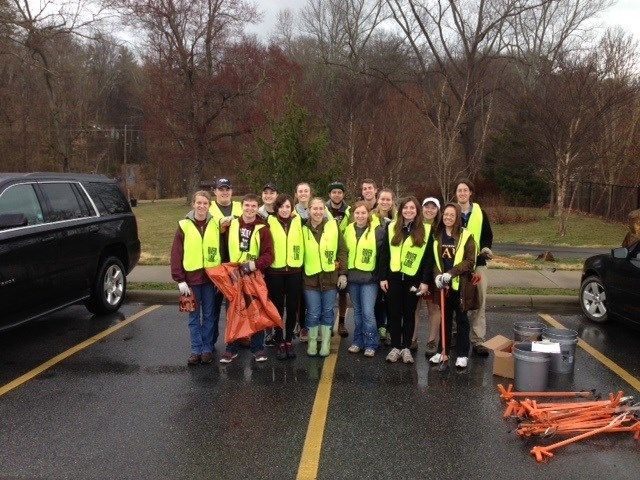 Looking for Education Volunteers
Interested in inspiring the next generation of watershed stewards? RiverLink needs education volunteers for events on April 23rd and 24th as well as May 8th. Spend the day outdoors teaching environmental principles and stewardship. Volunteers will need to submit a background check and attend a brief training before the event. If you are interested please contact our education coordinator:
Alex Guyton
(828) 252-7547 x.18


Adopt-A-Stream

A warm welcome to one of our newest Adopt-A-Stream teams! Thank you to Mrs. Skeen's third grade class for all of your hard work in Weaver Park. Adopt-A-Stream is a big part of our Comprehensive CreekCare program and is helping to create clean rivers and streams throughout the watershed!
The Blue Ridge Parkway is finally open! Come discover a hidden gem of a waterfall with RiverLink's Dave Russell on Sunday, April 19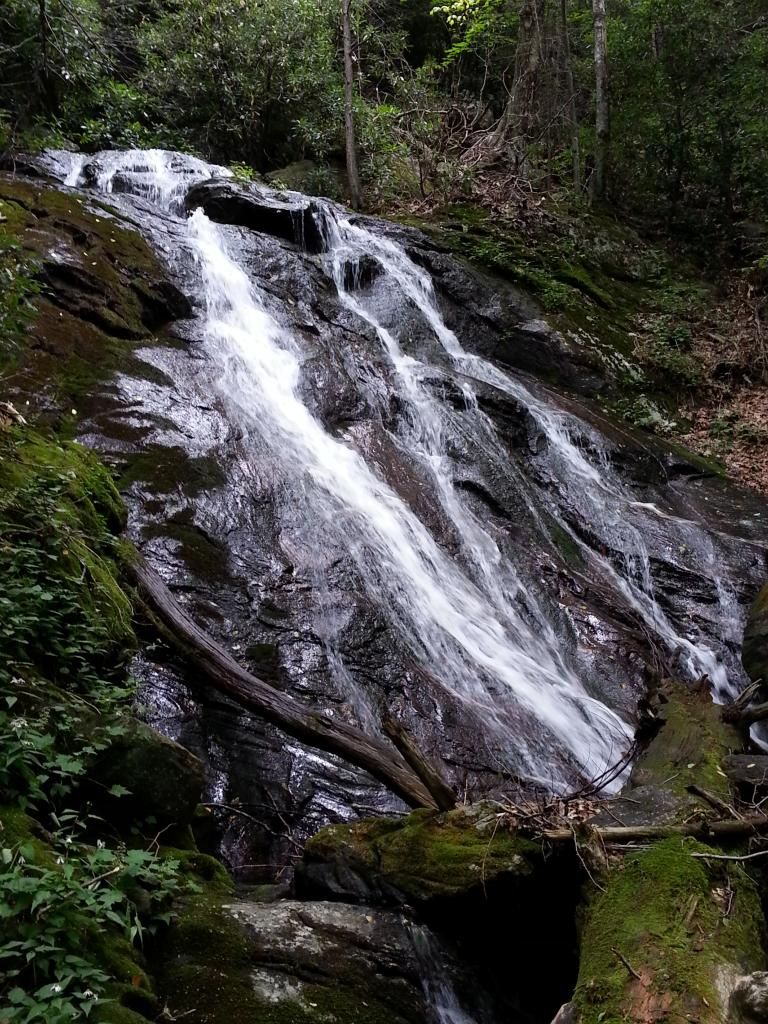 Secret waterfall
Shining Creek is one of the hidden gems in WNC, and on Sunday, April 19, RiverLink's Dave Russell is leading a hike to waterfall most folks don't know about.
This is a somewhat strenuous hike, with some uphill portions and some rocky terrain. It's a four-mile roundtrip. We'll meet at the RiverLink office on Sunday, April 19 at 08:45 and leave promptly at 9. We'll be back sometime around 1:30 p.m.
Things to bring:
A certain level of fitness; ability to hike two miles per hour.
Insurance - by coming along you acknowledge that hiking can lead to injury and will not hold RiverLink responsible in any way for injuries.
Snack/lunch
Rain gear
Camera, walking stick, etc.
There's no charge, but please let Dave know you're coming so carpooling can be arranged by e-mailing dave@riverlink.org or phoning 828-252-8474, ext. 11.
Upcoming Events
Please note: When attending any of these events at the RiverLink office, please do not park at any of the studios on Riverside Drive. Thanks so much.
-----------------------------------
Wednesday, April 8, 10:00 a.m. & 5:30 p.m., at the RiverLink offices
-- Volunteer information session. Become involved in the evolution of the river and learn more about RiverLink. RSVP to volunteer@riverlink.org by 4/7.
-----------------------------------
Wednesday, April 8, 1 p.m. -- 4 p.m., meet at 25 Shelburne Rd in Asheville at 1 p.m. Wednesday Workday at Hominy Creek Greenway. WednesdayWorkdays is an initiative to get more volunteers out in the community and to help keep the French Broad River clean! WednesdayWorkdays will take place every week from 1 p.m. -- 4 p.m. and will be an extension of our Comprehensive CreekCare program. We will focus on trash removal along rivers and streams, invasive plant removal, native tree planting and also storm drain marking. Click here to register
-----------------------------------
Friday, April 10 from 4:00 pm - 6:00 pm at the RiverLink office - Presentation: Who is Wilma Dykeman and What is the Wilma Dykeman RiverWay All About? Join RiverLink's executive director Karen Cragnolin and Jim Stokeley, Wilma Dykeman's son and Chairman of the Wilma Dykeman Legacy Board of Directors, for an informative presentation at RiverLink's Warehouse Studios, 170 Lyman Street in the heart of the River Arts District. It's free but reservations are a must.
-----------------------------------

Thursday, April 16, 11:45 -- 2 p.m., the Riverfront Bus Tour -
Discover the magic of the Riverfront area firsthand -- past, present and future. Registration Required.
-----------------------------------
April 30, 10:00 am - 12:00 pm at the RiverLink office -- Minority Business Seminar. Join Riverlink and Brenda Mills as they team up once again to provide a 2-hour session for minority and women businesses or those who are considering a business to learn more about public contracting, getting registered and marketing their businesses.
Reservations are a must so make yours by emailing melinda@riverlink.org or calling (828) 252-8474, ext. 10.
Volunteer Spotlight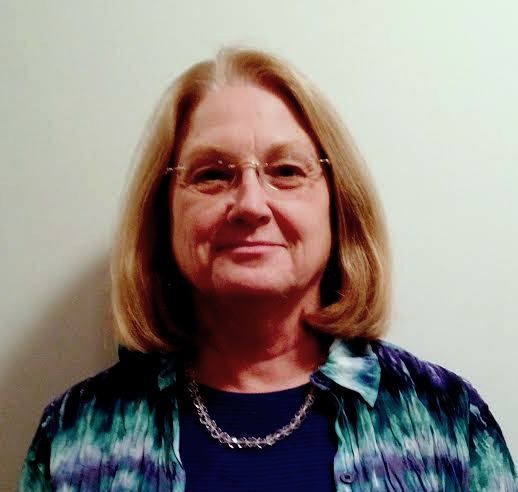 Carol Forthman
Carol A. Forthman retired in 2013 after more than 30 years practicing environmental and land use law. Her most recent position was as a Senior Attorney at the Florida Department of Agriculture and Consumer Services. She has worked in both government and private practice. Her experience encompassed litigation, mediation and administrative law.
She has extensive experience with conservation easements working for Tall Timbers Research Center and the State of Florida. She taught environmental law and policy at Florida A&M University for six years, and later worked for the American Sportfishing Association as Director of Ocean Policy.
Her education includes a Masters of Science in Biology/Ecology from the University of Miami and a Juris Doctor degree from the University of North Carolina Law School.
Needless to say Carol was enormous help to us as we researched, wrote and submitted our land trust accreditation application. She also volunteers at RiverMusic and has become a really valuable member of the RiverLink team.


Winged Burning Bush
Description
Winged burning bush is a deciduous shrub that will grow to 15 to 20 feet tall and equally as wide. It is a member of the Staff-tree family (Celastraceae) with elliptic to obovate leaves, which are opposite or sub-opposite, 1 to 3 inches long and ½ to 1¼ inches wide. The leaves turn a bright red in the fall before dropping. Occurring in May to early June, the small green flowers are inconspicuous. The green to brown stems have two to four prominent corky wings.
Habitat
Native to northeastern Asia to central China, winged burning bush, also known as winged euonymus and burning bush euonymus, was introduced into this country about 1860 as an ornamental shrub. It is very adaptable to a variety of soils, including being pH adaptable, performing best in well drained soils and poorest in waterlogged soils. It grows well in full shade and full sun but shows stress in soils subject to drought.
Distribution
Winged burning bush, because of its spectacularly red autumn foliage, is one of the most popular shrubs on the market. Consequently, its distribution is limited only by its hardiness, extending from New England south to northern Florida and the Gulf Coast. It is commonly used in landscaping, especially for malls and highways. However, reports suggest winged burning bush may spread by seed from wherever it is used as an ornamental shrub.
Control
is therefore considered difficult once a parent plant has become established. It will probably not be much of a problem in cities, towns or thickly developed areas, but any nearby woodland where birds can roost may quickly become infested. Therefore, abstaining from using the plant becomes the most important step toward control. Continued use of winged burning bush may result in it becoming a widespread invasive. No information on control of this species was found researching this fact sheet. Attempt control as for any shrub species.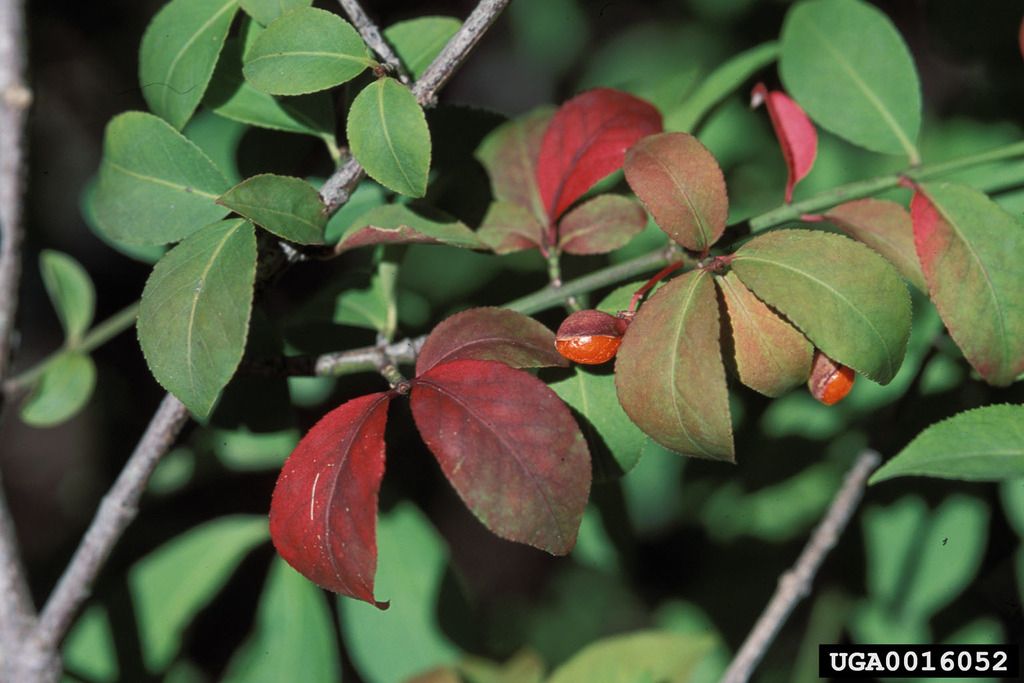 11 Wild Facts About the Environment
The amount of water on Earth is constant and continually recycled over time. Some of the water you drink will have passed through a dinosaur.
40 percent of all bottled water sold in the world is bottled tap water.

27,000 trees are felled each day for toilet paper.

Toilet paper can only be recycled six times. After that, the fibers are too weak to hold together.
Humans and elephants are the only animals with chins.
Octopuses have 3 hearts.

Beavers have transparent eyelids, so they can see under water with their eyes shut.
The 100,000 trillion ants in the world weigh about the same as all human beings.
As soon as tiger shark embryos develop teeth they attack and eat each other in the womb.
There are more than 1,200 species of bat in the world and not one of them is blind.
Dolphins shed the top layer of their skin every two hours.
Huffingtonpost.com