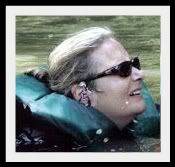 From the exec's desk
Hello RiverLovers,
Summer is in full swing, so our usually busy schedule is even more packed with great fun adventures on the French Broad.
We want everyone to have the opportunity to volunteer and learn with us, and to make it easier for you to get to us, we are offering free bus passes to and from events to volunteer or learn with a minimum of two hours work on your part. For more information contact Assistant Volunteer Coordinator Adam Sanderson at adam@riverlink.org.
Saturday, June 6 is National Trails Day so get out and walk the 4.5 miles of the Wilma Dykeman RiverWay that is already complete along the French Broad River Greenway. Start at French Broad River Park and go all the way to Hominy Creek. And the best news is that there are more trails coming along the river and to the river.
Last Saturday was a blast and thanks so much to all our volunteers who
came out to try out our 10 new canoes thanks to a Pigeon River grant. The French Broad River yacht club is growing! It was our annual Clean Streams Day and we loved working with Greenworks to clean up the French Broad.
RiverLink is focusing on neighborhood conservation and one of our biggest priorities is the historic Falconhurt neighborhood in West Asheville. Please join us on June 13 from 9 to 11 for another big cleanup along Smith Mill Creek with the neighborhood. We have an intern from UNCA, Erin Bishop, working on documenting neighborhood conditions like plants, animals and historic photos. To sign up, click here.
I hope I will see you at the next RiverMusic on Friday, June 12. It promises to be one of the best shows anywhere this summer and it's free, multi-modal and solar powered. More details in the newsletter.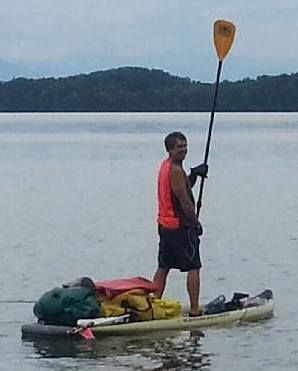 Dr. Lechner
Scroll through Dr. Chris Lechner's Facebook page documenting the first ever standup paddle board trip from the headwaters of the French Broad all the way to Knoxville. He also wrote a blog about what he saw, who he met and river conditions. He's not just a great hand surgeon he's a very adventurous paddler! This trip earned him the title of River Whisperer!
Speaking of paddle boarding, there is a new company in the urban French Broad offering lessons and donating $5 to RiverLink for every customer. Get in touch with Kyle at kylethevagabond@gmail.com to sign-up so you can learn how to safely have fun on the river. Kyle supplies everything you will need from river shoes to life vests to paddles and boards so you can learn to paddle board and support RiverLink's efforts to make the French Broad and even better destination to live, learn, work and play at the same time.
Katie, one of our wonderful volunteers and a professional videographer, recorded Jim Stokely (Wilma Dykeman's son) and me during our program "Who is Wilma Dykeman and What is the Wilma Dykeman RiverWay all about?" If you missed our program take a look at it on our YouTube account. Pull up a comfy chair because it is chock full of information about our favorite native daughter and author.
By the way did you know that the Wilma Dykeman RiverWay is the number one priority of the French Broad Metropolitan Planning Organization? Yeah!
If you like to plan ahead put October 22 on your calendar for the second annual "Of Time and the River" art show. It's back by popular demand. The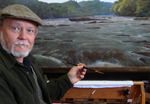 John Mac Kah
owners of Sol's Reprieve, just above the New Belgium site on Craven Street, have generously donated their incredible historic space again this year for the event and 18 area artists led by well-respected fine artist John Mc Kah will be painting fabulous pictures of the beautiful French Broad and donating 50% of the art sales to RiverLink. This year as an added benefit for the October 22 show we will be displaying artifacts from our historical river as well as historic photos of our rapidly changing river.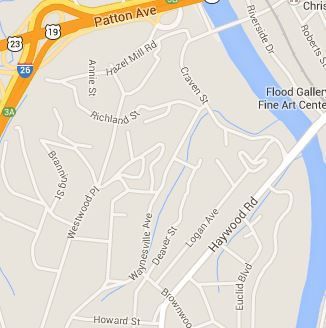 It's official. The USGS sent us a letter last week proclaiming that previously unnamed creek that runs through the New Belgium site is now officially recognized as Penland Creek. By the way this is the same creek we are using a $400,000 Clean Water Trust Fund grant RiverLink received to complete a stream restoration and install extensive BMP's (Best Management Practices) to control erosion and storm water.
We are very excited to be working with the city of Hendersonville, Luther Smith & Associates and the NC DOT to install the very first ever river access along Mud Creek. This is a big breakthrough for Hendersonville so watch this space for updates as we make progress.
Also in Henderson County we are working with the Parks & Recreation Department and Luther Smith & Associates to design a greenway loop at Westfeldt Park that will eventually connect to Sierra Nevada's fabulous

new facility. If you haven't visited the Sierra Nevada Campus you are missing a number of treats - visually it's beautiful, the food is fantastic and the beer speaks for itself, after all they are the second largest craft brewer in the USA!
We are also making progress on our new river access point at Pearson Bridge funded by the Tourism Product Development Fund, Duke Energy Foundation and Pisgah Investments. And more good news -- The Pigeon River Fund just awarded RiverLink $25,000 to develop a new river access point on Amboy Road right across from the Smokey Mountain Adventure Center.
For sure we will see you on the river with all these new access sites. But be sure to wear sunscreen, a life vest and make sure to celebrate the river after you dock your "yacht"!
Calling all pirates and seaworthy craft: The French Broad River Yacht Club is gearing up for the Anything That Floats Boat Parade on August 8 at French Broad River Park. As in years past there will be fabulous "yachts" advertising companies, causes and creativity, inspired prizes, live music, and children's fun, a fishing demonstration by the Muskie Club, food trucks and Sierra Nevada beer. You can sign up your "yacht" by clicking here.



I will see you on the river!
Join RiverLink for RiverMusic on Friday, June 12 in the RAD
RiverLink's RiverMusic continues Friday, June 12
in the River Arts District when The Ben Miller Band headlines one of our strongest lineups to date!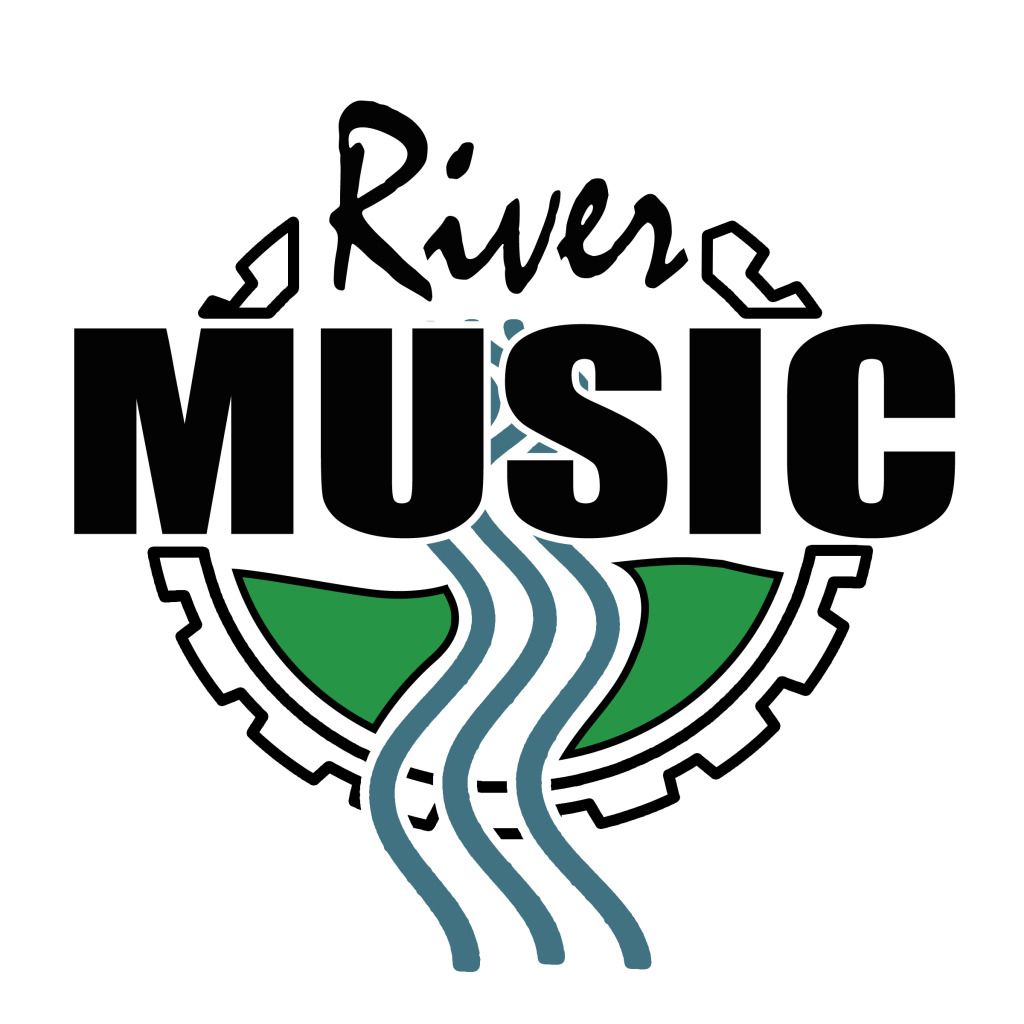 Gates at the RiverLink Sculpture and Performance Plaza (144 Riverside Drive in the River Arts District) open at 5. The music starts at 5:30, with the second band at 6:45 and our headliner at 8:15.
On the Prestige Subaru stage, grooves rule with headlining alt-rockers The Ben Miller Band. Former Washington Post music critic Joe Sasfy says of the evening, "My own sense of anticipation peaks on June 12 when the Ben Miller Band headlines what should be an evening of rowdy Americana. This Missouri trio wowed 'em as openers for rock legends ZZ Top, and have been turning heads and twisting ears everywhere with the inspired fusion of bluegrass, delta blues and old-timey they call "Ozark stomp." The band looks a little weird, plays some eccentric homemade instruments, but is no joke. This is one totally original, explosive American band that seems a perfect fit for Asheville. The evening's tone will be set by Asheville's alt-folkies, The Toothe, and a tough electric blues band from Hickory, the Red Dirt Revelators."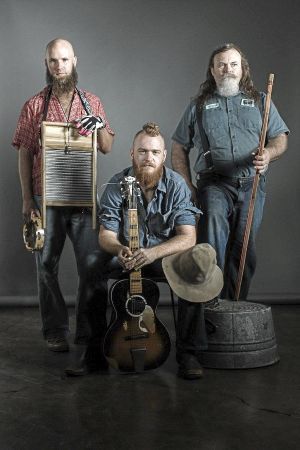 The Ben Miller Band
Read what Sasfy has to say about the evening's entertainment as well as the rest of the RiverMusic lineup by clicking here.
For June 12, RiverLink will be serving beer from New Belgium and Twin Leaf Brewing, and will have a variety of foodtrucks serving up eclectic delectables.
RiverMusic makes a nice cherry on top of a day in the River Arts District. Visit some of the 180 working studios in 22 former factories and historical buildings nestled along the French Broad River. Have lunch at one of the 14 restaurants in the RAD, get some Christmas shopping done and come to RiverMusic to dance by the River and have dinner and a few beverages.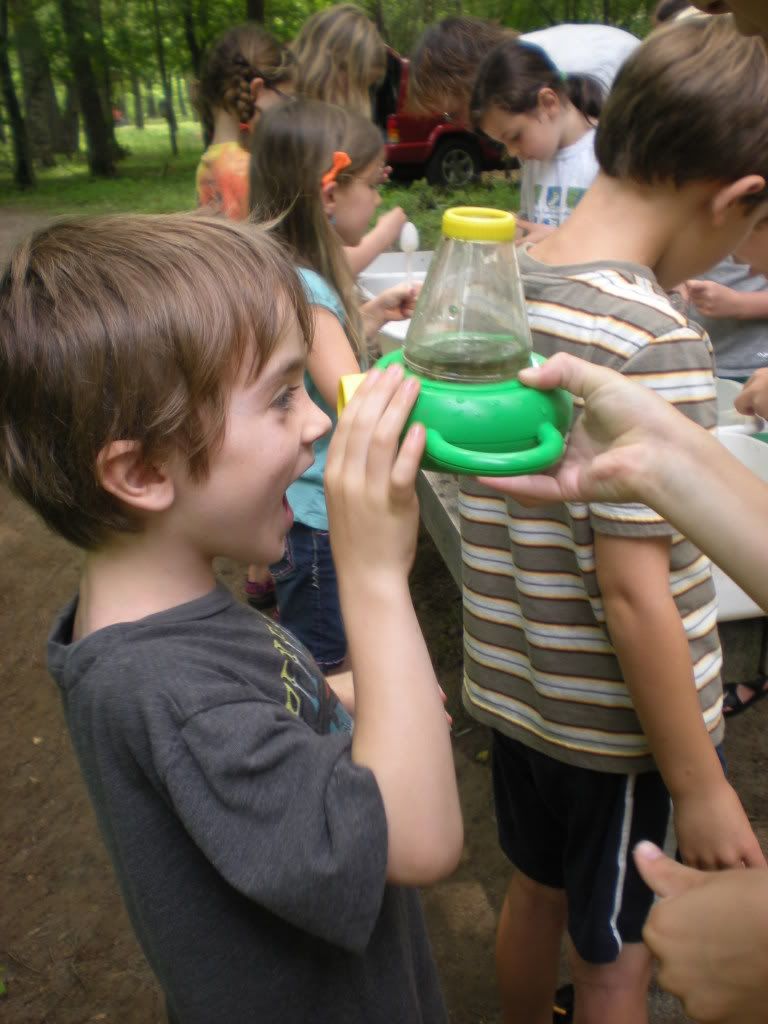 Free K-12 Educational Programs Offered this Summer

Not only do we teach watershed education lessons during the school year, we also teach during the summer! If you are looking for a fun opportunity for a group of students to learn about their watershed, contact our education coordinator for information about the programs we offer! Lessons range from indoor, outdoor, science-based, art-based, English-based, service-based, and recreation-based.
For more information and examples of the programs check out our education manual:
Alex Guyton
Education Coordinator
(828) 252-8474 x.18
education@riverlink.org
Hop aboard for the RiverFront Bus Tour on June 18
The next RiverLink RiverFront Bus Tour will be Thursday, June 18, when the public is invited to tour the French Broad and Swannanoa Rivers with
RiverLink
.
This is an opportunity to see the improvements that have occurred and hear what is coming over the next several months and years to make our rivers better places to live, learn, work and play. You will learn some local history and visit some streets and neighborhoods you have never seen before.
The tour is free for RiverLink members but the tour cost for non-members is $20 per person. Reservations are required. A final confirmation (or cancellation if needed) will be sent the week of the tour. Please go to http://www.signupgenius.com/go/10c0e4caea82ba1f49-february to reserve your seat today, email bustour@riverlink.org, or call 828-252-8474, ext. 10.
Penland Creek accepted as name of creek in East West Asheville
ASHEVILLE -- Asheville can add one more name to its map. RiverLink is proud to announce that the name "Penland Creek," has been accepted for a stream in Westwood Place, a neighborhood in East West Asheville bounded by Haywood Road, Craven Street, I-26 and Patton Avenue. Penland Creek was chosen after months of community input and voting, representing a nod toward Johnny Penland and his father, Grover Penland, who began Penland's Auctions in the late 1950s on what is now the New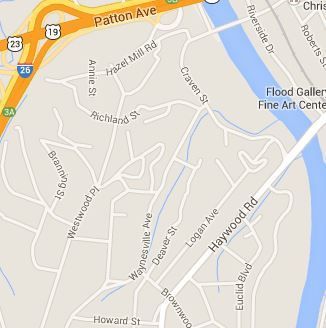 Belgium site. The famous auction house was active until 2013.
From the United States Geological Survey: "The U.S. Board on Geographic Names, at its April 30, 2015 meeting, approved the proposal to apply the new name Penland Creek to an unnamed stream in the City of Asheville. The name has been entered into the Geographic Names Information System, the nation's official geographic names repository, which is available and searchable online at http://geonames.usgs.gov. The entry reads as follows:
Penland Creek: stream; 0.8 mi. long; heads in the community of West Asheville, 2.2 mi. WSW of White Fawn Gap at 35°34'40"N, 82°34'41"W, flows NNE to enter the French Broad River 2.2 mi. SSE of Richmond Hill; named in association with the Penland Auction House, the former site of which the stream flows through; Buncombe County, North Carolina; 35°35'14"N, 82°34'14"W; USGS map -Asheville, 1:24,000."
Name that Creek is a long-time project whereby RiverLink asks the community to submit suggestions for creek names and then vote for the most fitting name and having a creek-naming ceremony. After a name is chosen, it is submitted to the United States Geological Survey and eventually becomes the official name for the creek. Since the project's inception, RiverLink has sponsored two other successful creek name changes with the help of community volunteers: Buttermilk Creek, a tributary of Hominy Creek in West Asheville, and Big Branch, a tributary of Reems Creek in Weaverville.
Any unnamed tributary of the French Broad is a candidate for Name that Creek. Interested parties can contact RiverLink's Dave Russell at dave@riverlink.org for more information.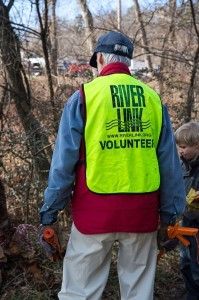 June Monthly Cleanup
Our monthly cleanup for June will be held on Saturday, June 13 along Smith Mill Creek. We will be cleaning up along the creek from 9:00 a.m. to 11:00 a.m. RiverLink and the Falconhurst neighborhood are teaming up to protect this conservation gem in West Asheville.

Smith Mill Creek runs through the neighborhood as well as some fairly steep slopes. RiverLink was gifted a one-acre parcel there for permanent open space protection next to an 11-acre conservation easement previously held by the Conservation Trust and now owned by the City of Asheville. We are thrilled to be working with this neighborhood that is so engaged in controlling storm water, investigating, documenting and preserving its history, developing a community garden and just making it a great place to be and to live.
Dress to get wet, we will also have chest waders for anyone who wants them!
Goats on the Hominy Creek Greenway
Over the next few weeks visitors to the Hominy Creek Greenway, the 14- acre park between Sandhill and Shelbourne Roads in West Asheville, will see goats along the walking path. The goats are part of a partnership between the Friends of Hominy Creek Greenway, FOHCG, and the City of Asheville to remove invasive plant material from the park. Asheville Greenworks and RiverLink are also partners to maintain the 14-acre park. This is the first phase of goat herbivory, with a second phase happening later in the year.
Through a grant from Buncombe County, RiverLink and the FOHCG hired KD Ecological Services to supply and manage the goats on the property, and ensure care and safety of the goats and visitors to the park. Goats will be monitored on a daily basis and will be on the property for approximately four to six weeks beginning this week through June. Goats are contained within electric wire fencing, along with an additional plastic fence along areas directly adjacent to the trail. Please be aware of the fencing when using the park with children and dogs. We ask that you do not feed or pet the goats.
Non-native plants are a growing threat in the Carolinas. They displace native plants and animals, decrease property values and hinder access to land resources. Using goats in particular is a very effective way to control non-native invasive plants by ecologically friendly technique. No machinery needs to be used, and little to no herbicide is needed to control large monocultures of non-natives.
Negroni Week -- enjoy a classic drink and support RiverLink
ASHEVILLE, NC -- June 1 - 7 is Negroni Week, a week-long international celebration of a very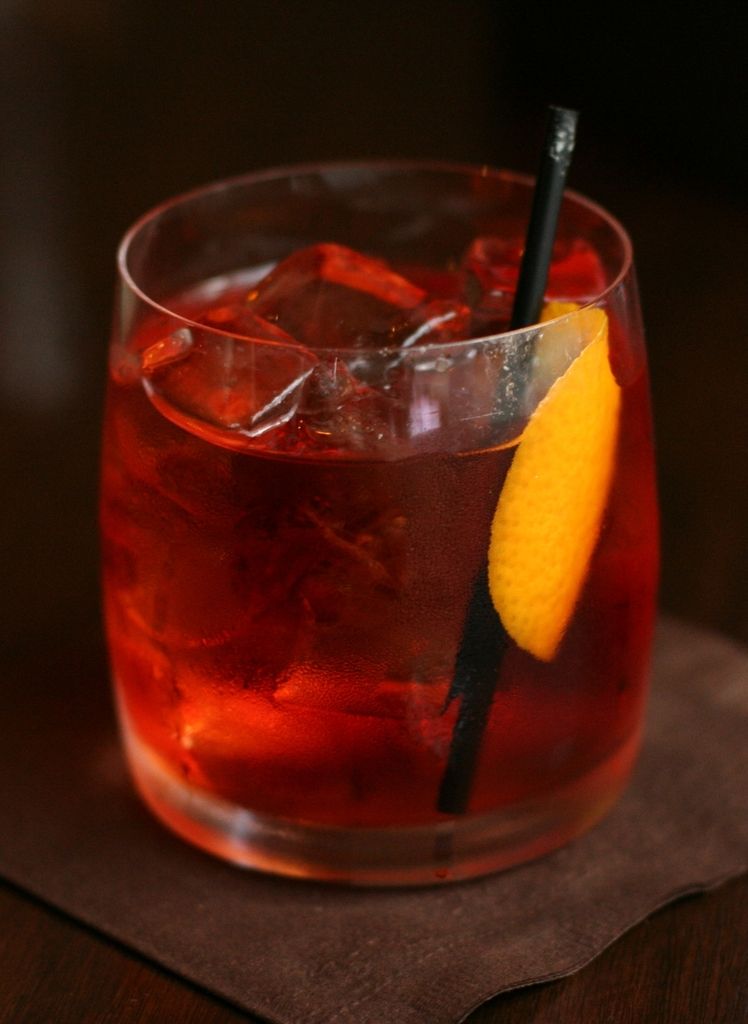 A slice of orange tops off the perfect Negroni
important cocktail; the Negroni. It is also a week-long international commitment to the causes/non-profits that each participating bar holds dear, and this year, Asheville's The Imperial Life is honoring RiverLink as its featured non-profit. The Imperial Life, an imaginative and intimate cocktail bar and lounge upstairs from Table in downtown Asheville, will donate $1 from each negroni sold.
The Negroni cocktail is made of one part gin, one part red vermouth, and one part Campari, garnished with orange peel. It is considered an apéritif. The drink is thought to have originated in Florence, Italy in 1919 when Count Camillo Negroni asked a bartender to strengthen his favorite cocktail, the Americano, by adding gin rather than the normal soda water.
Negroni Week launched in 2013 as a celebration of one of the world's great cocktails and an effort to raise money for charitable causes around the world. In 2014, Negroni Week grew from more than 100 participating bars to more than 1,300 participating bars around the world and more than $120,000 raised for charities.Over 2300 bars around the world are participating this year.
Located at 48 College Street in downtown Asheville, Table (http://tableasheville.com/) is a small, seasonal, New American restaurant. Upon opening the doors in 2005, Table committed to supporting, celebrating, and showcasing regional and sustainable agriculture. Upstairs at The Imperial Life cocktail and charcuterie lounge, guests are treated to an intelligent and imaginative wine and craft cocktail list - including Negronis!
Upcoming Events
Please note: When attending any of these events at the RiverLink office, please do not park at any of the studios on Riverside Drive. Thanks so much.
-----------------------------------
Wednesday June 10
10:00 a.m. & 5:30 p.m. at the RiverLink office - Volunteer Information sessions.
The information session will detail all of RiverLink's volunteer opportunities in a 30 minute powerpoint presentation. Volunteers will also have a chance to fill out a volunteer questionnaire and find the opportunities that best fit their needs.
RSVP to attend by emailing volunteer@riverlink.org.
----------------------------------
Friday, June 12, 5 p.m. at the RiverLink Sculpture and Performance Plaza --
RiverMusic continues with headliner The Ben Miller and The Red Dirt Revelators and the Toothe. Foodtrucks, beer, and more! Free parking and free admittance at 144 Riverside Drive in the River Arts District.
----------------------------------
Saturday, June 13, 9 a.m. - 11 a.m.
June monthly cleanup will resume along Smith Mill Creek in West Asheville. We will continue to clean trash out of the creek and improve our conservation easement that we were gifted.
----------------------------------
Wednesday, June 17

Wednesday Workday at 1 p.m. -- Please check our events calendar here for location details!
WednesdayWorkdays will take place every week from 1 p.m. -- 4 p.m. and will be an extension of our Comprehensive CreekCare program. We will focus on trash removal along rivers and streams, invasive plant removal, native tree planting and also storm drain marking. Click here to register
-----------------------------------
Thursday, June 18, 11:45 -- 2 p.m., the Riverfront Bus Tour -
Discover the magic of the Riverfront area firsthand -- past, present and future. Registration Required.
-----------------------------------
Tuesday, June 23, 10:00 am - 12:00 pm at the RiverLink office -- Minority Business Seminar. Join Riverlink and Brenda Mills as they team up once again to provide a 2-hour session for minority and women businesses or those who are considering a business to learn more about public contracting, getting registered and marketing their businesses.
Reservations are a must so make yours by emailing melinda@riverlink.org or calling (828) 252-8474, ext. 10.
A few spots left for 2015 RiverCamp!
If your family is still planning your summer, consider enrolling your children in RiverLink's RiverCamp. At camp your child will learn about the French Broad Watershed through hands-on education, recreation, and art! Don't miss out on this amazing opportunity!

Camp Info:

For rising 3rd-8th grade students


Monday-Friday 9am-4pm


June 15th-19th

June 22nd-26th

July 13th-17th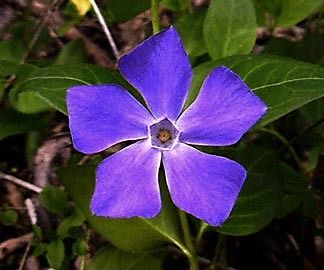 Periwinkle
Scientific Name:
Vinca spp.
Appearance:

Slender trailing stems 1-2 m (3-6 feet) long but not growing more than 20-70 cm (8-30 inches) above ground; the stems frequently take root where they touch the ground, enabling the plant to spread widely. The
leaves
are opposite, simple broad lanceolate to ovate, 1-9 cm (0.25-3.5 inches) long and 0.5-6 cm (0.25-2.25 inches) broad; the are
evergreen
in four species but
deciduous
in the herbaceous
V. herbacea
, which dies back to the root system in winter.
The
flowers
, produced through most of the year, are salverform simple, 2.5-7 cm (1-3 inches) broad, with five usually violet (occasionally white) petals joined together at the base to form a tube.
Ecological Threat:
Found around old homesite plantings and scattered in open to dense canopied forests. Form mats and extensive infestations even under forest canopies by vines rooting at nodes, with viability of seeds yet to be reported.
Buy Instead:
Northern Maidenhair Fern
(Adiantum pedatum)
Southern Lady Fern (Athyrium aspleniodes)
Partridgeberry
(Mitchella repens)
Volunteer Spotlight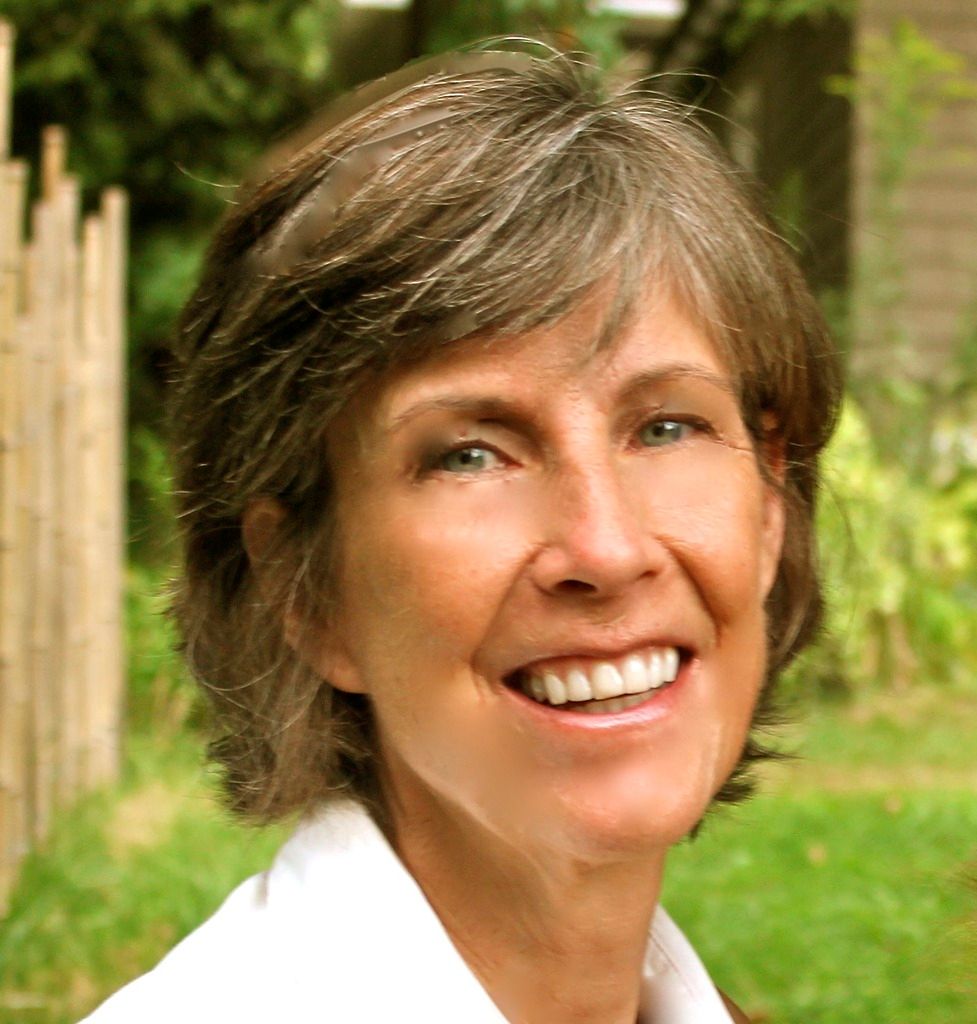 Gretchen Lewis
Upon moving to town five years ago, Gretchen attributes a bad, bad case of "adult-onset ADHD" to her beloved newly-adopted hometown. Harboring a dream of through-hiking the Appalachian Trail, the first six months (the time she allotted to accomplish the task) of living in Asheville squashed that thought....."living here is way too much fun to miss out on what this place has to offer!"
Gretchen left a career in real estate years ago to raise two sons, Sam and Jake. During those years spent in Massachusetts and Texas (yes, she "did time" there) she took her role as "family enrichment officer" to heart. Loading the station wagon the day school was out for summer, she and the boys camped across the country, charting their route to mirror that of their beloved Boston Red Sox. Arriving back home the day before school started, with just enough time to throw in a load of laundry, Gretchen filled her days with daily hikes with dogs and friends, and steady volunteering with various school and civic organizations - until the next year's Red Sox schedule became available - then the serious trip planning would begin again in earnest.
The move to Asheville was a "no-brainer." Despite the intent to return to New England, Asheville had sort of become an obsession. "The mountains have such a draw on my spirit. I love the northeast, but somehow, I just couldn't quit Asheville."
While life is still busy with hiking and playing on the water (and enjoying a craft beer now and again), Gretchen's back to selling real estate at Town and Mountain Realty with her partner, Golden Retriever, Amos...... and serving beer at RiverLink's RiverMusic events. Stop by and say hi!
Tsunami
Facts
Check out our tsunami facts and learn some interesting information related to these great walls of water that can cause so much destruction.
Tsunamis are huge waves of water that are usually caused by earthquakes or volcanic eruptions.
As a tsunami approaches the shore, water may recede from the coast, if it is shallow enough the water may be pulled back hundreds of yards. If you are in the area, observing this is a good indication that a tsunami is on the way.
Regions in tsunami danger zones often have warning systems in place to give people as much time to evacuate as possible.
When tsunamis hit shallow water (often near the coast) they slow down but increase in height.
An earthquake in the Indian Ocean off Indonesia in December 2004 caused a tsunami that killed over 200000 people in 14 countries.
In March 2011, the Tohoku earthquake off the eastern coast of Japan caused a tsunami that was a major factor in the death of over 15000 people.
The tsunami waves created by the Tohoku earthquake reached heights of over 40 metres (131 feet) in some areas, wiping out coastal towns and causing a number of nuclear accidents.
The Japanese word tsunami literally means 'harbor wave'.
Tsunamis are sometimes referred to as tidal waves but this term has fallen out of favour because tsunamis are not related to tides.