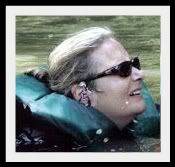 From the exec's desk
Dear RiverLovers,
First of all - a gazillion thanks to the hundreds and hundreds of RiverLovers who generously donated to our annual fund campaign this year. We made or goal thanks to you! Thank you so much! Your generosity has given us the tools to continue to implement a variety of projects within the French Broad River watershed guaranteed to make our region even better for living, learning, working and playing.
We are always beyond busy in the summer months. And in July things really
The Hackensaw Boys
heat up with RiverMusic on the 10th featuring the Hackensaw Boys, The Jon Stickley Trio, and Grits & Soul. This is a great event for the entire extended family. Don't forget to bring a chair or a blanket to WNC's most multi-modal event. RiverMusic is solar powered and a blast! More info is below.
We have had some unexpected visitors at the Performance Plaza where we host the concerts -- a nest of killdeer birds complete with three little eggs. If the eggs haven't hatched by the July 10th concert we will have their nesting area roped off. I hope they like acoustic bluegrass! Mother Nature never ceases to amaze me -- give her one little green respite area and she will incubate new life.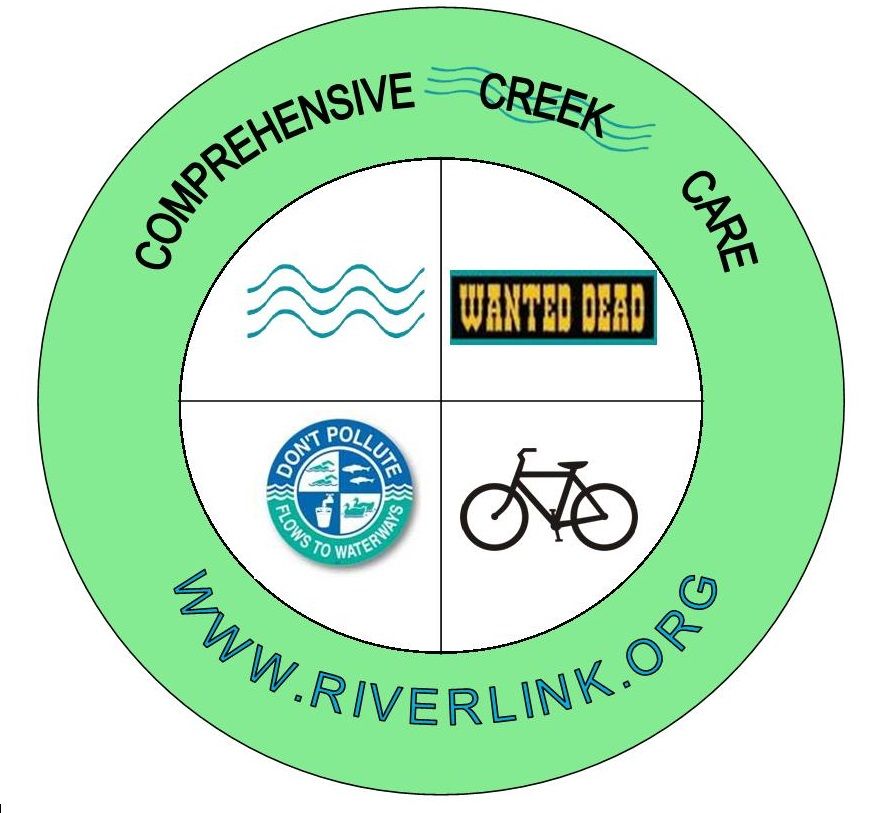 On July 11th we return with our Comprehensive CreekCare Team to the historic Falconhurst neighborhood for another workday, complete with storm drain stenciling, name that creek brainstorming, and exotic invasive removal. Join us by contacting Dave at volunteer@riverlink.org. Erin Bishop has been our intern working with neighbors in Falconhurst to document the history, flora and fauna of this very special area of west Asheville. Okay, a little history quiz about Falconhurst: What president's son started a farm in West Asheville and named the neighborhood Falconhurst? What was the name of the water company he was president of and what event did he promote as a tourist attraction? The first person to send me an email at karen@riverlink.org with all three correct answers will win a Judith Cheney print of the French Broad River Past, Present and Future.
For the entire month of July, RiverLink is being celebrated at Chiesa, 152 Montford Avenue (map), with a percentage of sales being donated in support of RiverLink's efforts to improve and protect the French Broad River watershed for living, learning, working and playing. For history buffs, Chiesa is an authentic Italian restaurant housed in an historic building built in 1905. During its former lives the building was a Piggly Wiggly, Jax Pax, Anne's Grocery, Full Gospel Assembly Church and most recently the Pentecostal Tabernacle Church. I can truthfully say that the homemade pastas and sauces are heavenly.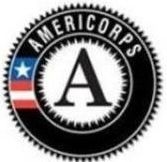 July is also good-bye month to our fabulous AmeriCorps members. If you volunteered with us you know just how wonderful Alex Guyton, our education guru, is teaching 5,000 students, managing our Art & Poetry Contest and our summer day camp. Mimi Caddell worked hard to help us submit our application for accreditation as a land trust. Adam Sanderson was our Assistant Volunteer Coordinator who managed our creek care and Wednesday Workday programs. We will miss them all terribly but the good news is we never seem to lose touch with our former AmeriCorps members -- they are family.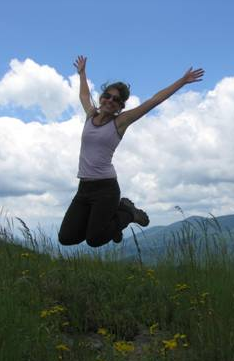 Amy Annino
In June we welcomed Amy Annino, an Asheville native and Warren Wilson alum who has a Masters in Landscape Architecture from the University of Portland to our staff as our Watershed Resource Manager. Amy has jumped right in and we are pleased to have her on our team. She remembers growing up here and can appreciate firsthand how much the perception and usage of the French Broad has changed since she was a kid.
August will be here before we know it and with that the French Broad River
A 2014 ATF entry
Yacht Clubs' annual Anything That Float Parade on Saturday, August 8. If you are building a yacht you have big shoes to fill because every year the yachts entered leave a bigger and bigger footprint. Enough with the puns, but you get the idea. This is a zany, fun, family event we call RiverFest and children of all ages love it. It's more than just the Anything That Floats, it's face painting, a kids parade, live music, fishing demonstrations, live music, craft beer, foodtrucks, craft vendors, and more! More details, including registration information, can be found below.
Downsizing or have gardening equipment you no longer use? Let us know. We're always looking to expand our arsenal of tools to continue our work in the watershed. Contact Dave at dave@riverlink.org and make a tax-deductible donation.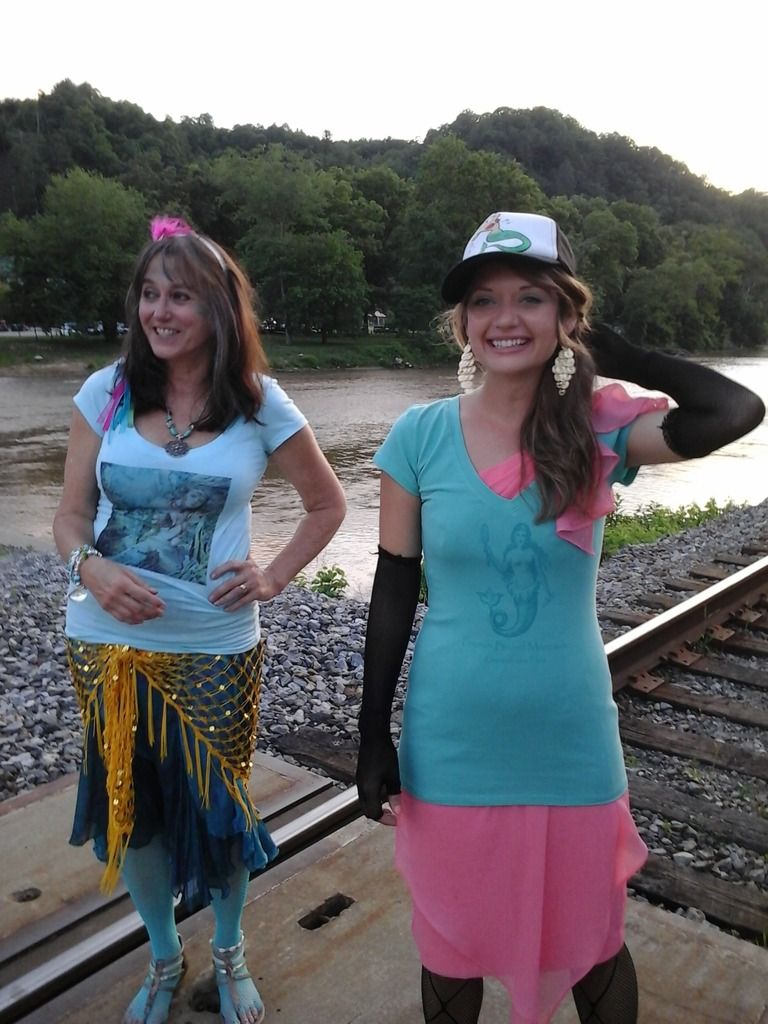 Calling all mermaids! You didn't know the French Broad had mermaids? Hmmm - maybe you just haven't spotted one yet. But I bet you see one or more mermaids at RiverFest and the Anything That Floats Boat Parade this year. There's more information about where to get A Mermaids in Marshall shirt below in this newsletter.
Thank you again for your support and for all you do to make the river better,
Karen
P.S. I was honored to be in two videos this month. Click here to learn about all the great industries in our region and click here to see a video about an award I received. Thanks all!
The Hackensaw Boys headline RiverLink's RiverMusic on Friday, July 10 in the RAD
RiverLink's RiverMusic brings the cool sounds -- FREE! -- again Friday, July 10 in the River Arts District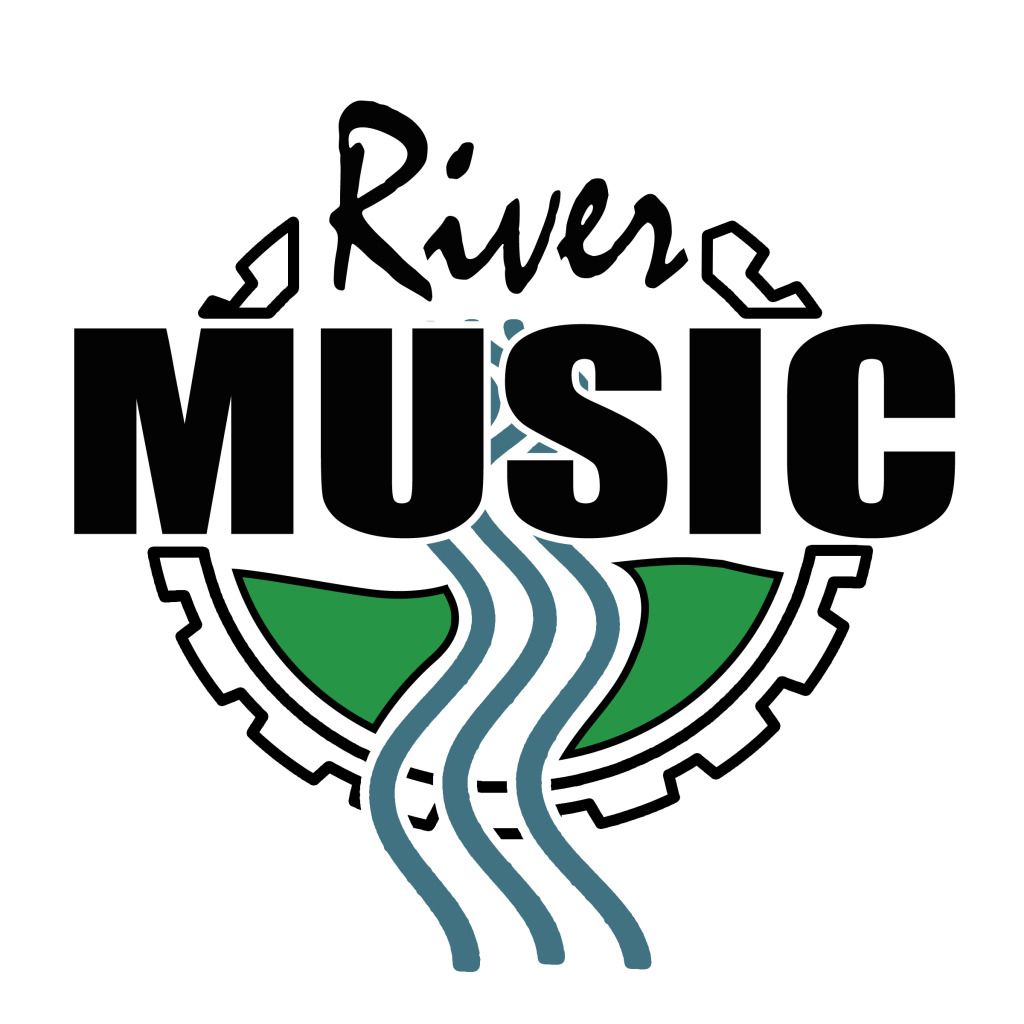 . Gates at the RiverLink Sculpture and Performance Plaza (144 Riverside Drive in the River Arts District) open at 5. The music starts at 5:30 with Grits & Soul, continues with the Jon Stickley Trio at 6:45 and our headliners, The Hackensaw Boys, at 8:15.
On the Prestige Subaru stage, it's a night of progressive bluegrass. Former Washington Post music critic Joe Sasfy says of the evening, "July 10 sees long-time Asheville favorites, the Hackensaw Boys, bring their kicked up brand of bluegrass to the stage. By stretching their sound from old timey to punky, the Boy's acoustic mashup invites you to shuffle, stomp, clog and even pogo. They can wear you out so pace yourself. Opening are two Asheville bands that also play around with bluegrass tradition -- the bluesy Grits and Soul and the virtuosic Jon Stickley Trio."
The Hackensaw Boys
Read what Sasfy has to say about the evening's entertainment as well as the rest of the RiverMusic lineup by clicking here.
For July 10, RiverLink will be serving beer from New Belgium and Highland Brewing, and will have a variety of foodtrucks serving up eclectic delectables.
RiverMusic makes a nice cherry on top of a day in the River Arts District. Visit some of the 180 working studios in 22 former factories and historical buildings nestled along the French Broad River. Have lunch at one of the 14 restaurants in the RAD, get some Christmas shopping done and come to RiverMusic to dance by the River and have dinner and a few beverages.
A Grey Line trolley -- also free of charge -- will make rounds between the concert venue and the Asheville Area Chamber of Commerce at 36 Montford Ave. The trolley service from West Asheville has been discontinued.
Registration opens for our FABULOUS Anything That Floats Parade, one of the events that makes Asheville cool!


Registration is open for RiverLink's Anything That Floats Parade to be held on Saturday, August 8, 2015 on the French Broad River in Asheville. Join RiverLink for the wildest, wackiest event of the summer. Creating and building a raft, float or flotilla with fun-loving friends, family or co-workers is not only a grand excuse to hang out and play on the river, it's also a unique chance to have a blast while showcasing mind-blowing creativity in a friendly competition.


Judges Suzanne Hudson, Frank Kracher and a local celebrity to be determined will select a winner in each of the four categories: 1. Most Creative - clever and imaginative, 2.Green Machine - best use of recycled and green materials, 3.Funniest - generates the most laughter and 4. Judge's Choice - overall best in parade.
Registration, fees and details are at:
www.riverlink.org/sign-now-anything-floats-parade/
. Don't forget your costumes!
The Anything That Floats Parade is a featured event of RiverFest 2015 held at French Broad River Park from 1 p.m. to 7 p.m. The festival has an exciting line-up of live music, dancing, face painting, and hooping along with food trucks, craft beers, a kid's parade and arts and crafts. Admission is free. Be sure to stop by the viewing platform at French Broad River Park to cheer on the parade rafters.
RiverLink hosts the Anything That Floats Parade and RiverFest as fundraisers to support their efforts in the environmental and economic revitalization of the French Broad River as a place to live, work and play.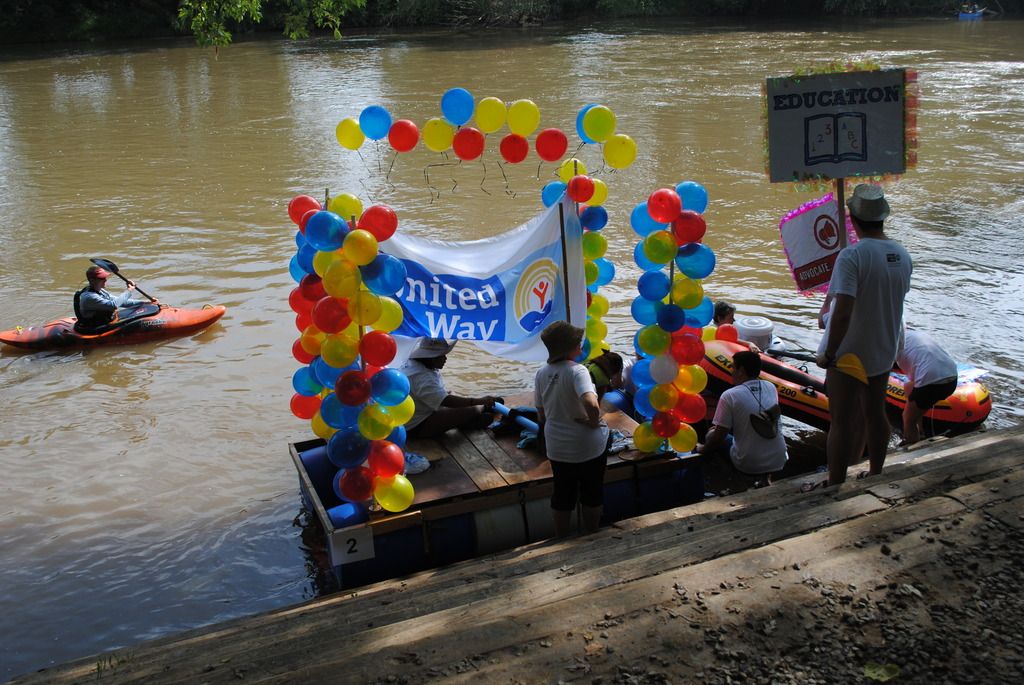 The United Way launches their yacht in 2014
Wai Mauna Asheville Stand Up Paddle Board Tours supports RiverLink
Stand-up paddle boarding is a growing sport in the Asheville area, and RiverLink and Wai Mauna Asheville SUP Tours are working together to get more folks paddling on the French Broad River. To give back to the community and the River, Wai Mauna is donating portions of the rental proceeds to RiverLink -- $5 of every tour and $2 of every rental is donated back to the river.
Wai Mauna offers tours on the French Broad River, beginning with a 5:30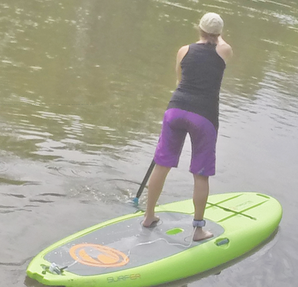 a.m. "Dawn Patrol" sunrise tour and further trips embarking throughout the day. Another option is a trip to RiverLink's RiverMusic concert events, the next one coming up July 10 with the Hackensaw Boys. More information about Wai Mauna and its tours is available at www.waimaunaashevillesuptours.com/.
RiverLink is an environmental non-profit located in the River Arts District of Asheville, working to make the French Broad River and her watershed a place for everyone to live, learn, work and play. Learn more about RiverLink at www.riverlink.org.
RiverLink Executive Director wins prestigious

William A.V. Cecil Leadership Award
Anyone enjoying boating, biking and other recreation on the French Broad River can thank Karen Cragnolin, Executive Director of RiverLink. For decades, Karen has spearheaded the revitalization of the river with passion and perseverance. She has kept her focus on preservation of open spaces, creation of greenways, restoration of historic buildings and river conservation. Karen serves on the Buncombe County Conservation and Greenway Commissions, The Self-Help Credit Union Advisory Board and a large variety of other committees and commissions. Her efforts, along with RiverLink staff and thousands of volunteers, have transformed the river into a wonderful community asset for people to live, learn, work and play.
The William A.V. Cecil Leadership Award recognizes senior management-level employees for leadership in the local hospitality industry. The recipient has displayed foresight, exceptional leadership skills and has impacted the Western North Carolina hospitality industry and the community as a whole.
And speaking of videos, Karen was also interviewed by office of Economic Development & Site Selection for Asheville-Buncombe County for this video on local job creation. Her segment starts at around 7 minutes into it.
Two volunteer opportunities coming up this weekend
RiverMusic -- July 10
The July 10 RiverMusic features headliners The Hackensaw Boys, a local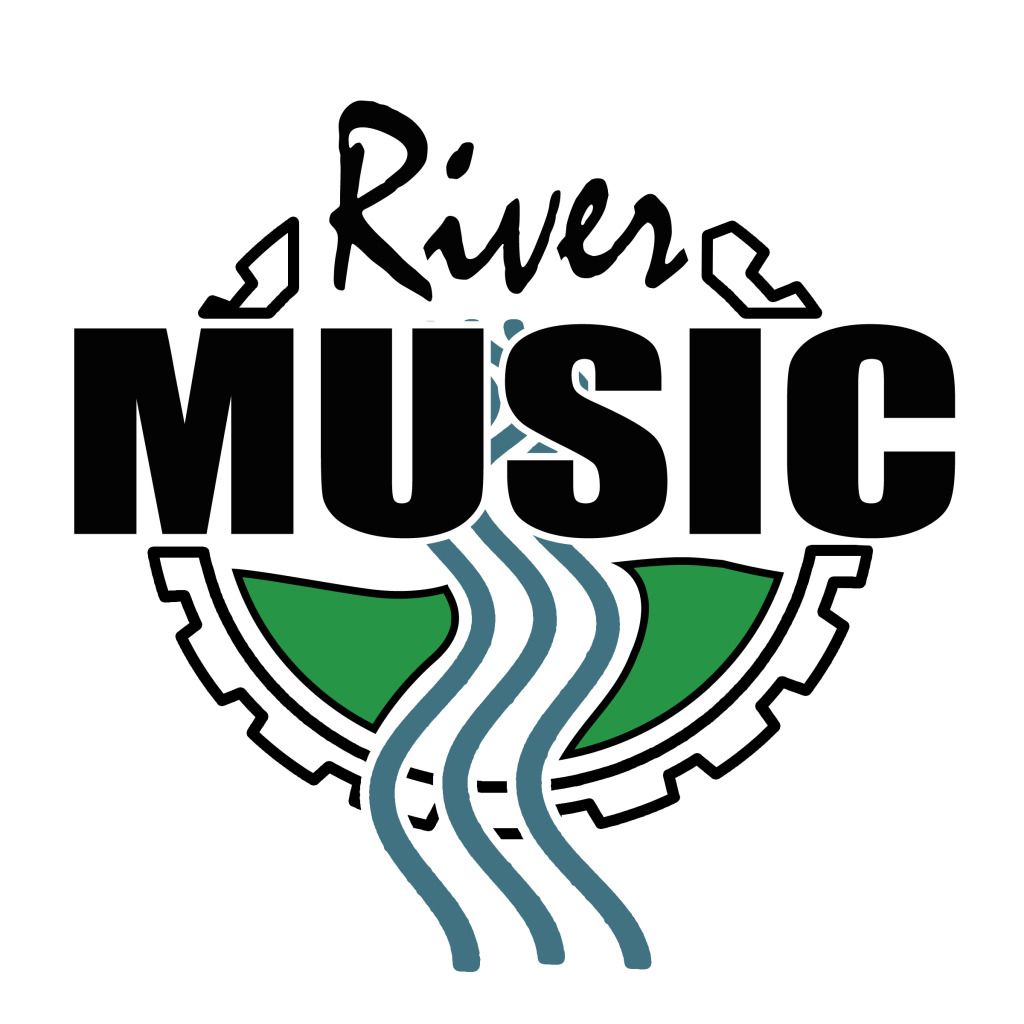 favorite that oughtta pack the place. Right now, we need about 15 more volunteers to completely fill out the roster.
Thanks to everyone who has already signed up, and if you don't sign up to volunteer, please come dance and drink and be merry!
You can sign up by clicking here!

Smith Mill Creek Cleanup -- July 11
On Saturday, July 11, we're going to clean a portion of Smith Mill Creek as it parallels Patton Avenue. We'll meet at the Asheville Savings Bank (map) at 1012 Patton Ave. at 9 a.m.
Sign up to get wet and dirty for a good cause!
Please do not hesitate to contact me should you have qualms, questions or quarrel.

Thanks,
dave
Dave Russell
RiverLink's Volunteer Wrangler
(828) 252-8474, ext. 11
Amazing Volunteer Groups
Thank you to all of our Student Life and FUGE volunteer groups from the Ridgecrest Conference Center in Black Mountain. These groups are high energy and have been a huge help to the French Broad River watershed!
If you have a group that would like to volunteer and assist us in keeping the French Broad River Watershed as a place to live, learn, work and play; please email us volunteer@riverlink.org or call 828-252-8474 ext 11.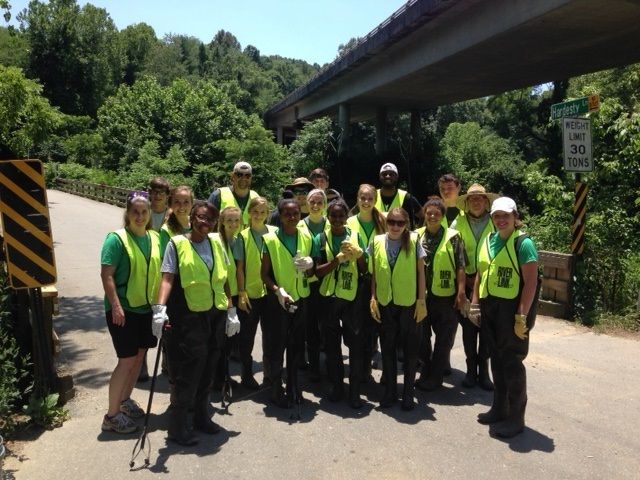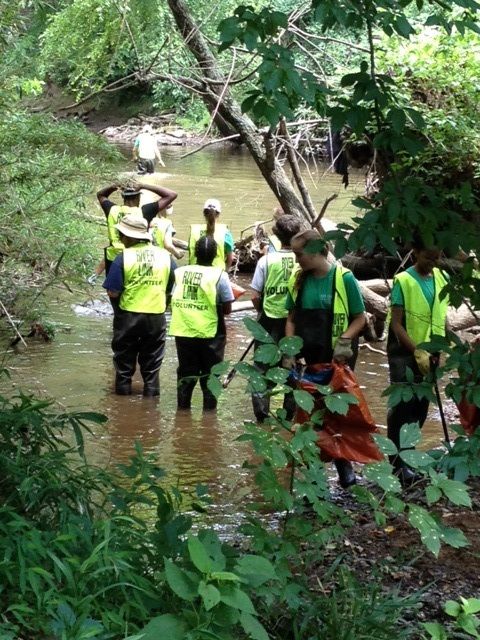 Asheville's One Center Yoga supports RiverLink and good health at the same time

In the interest of supporting and improving their community, One Center

Yoga offers two weekly donation-based classes at their studio at
120 Coxe Ave #3A in downtown Asheville (map)
. As part of this program, One Center generously splits the donations 50/50 with a partner non-profit, and for the next couple of months at least, it's RiverLink's turn!
The 2 donation classes are offered on Tuesdays at 3:45 p.m. with Cindy Dollar and on Saturdays at 11 a.m. with Anna Roques. Other classes offered at One Center include Alignment, Backbends Made Easy, Iyengar Slow & Mindful Yoga, Yoga Basics After 50, Therapeutics, and Purna Yoga & Meditation. The full online weekly schedule can be found here: http://onecenteryoga.com/class-schedule/.
We encourage yoga enthusiasts to take part Tuesdays at 3:45pm and Saturdays at 11am to help themselves while helping RiverLink.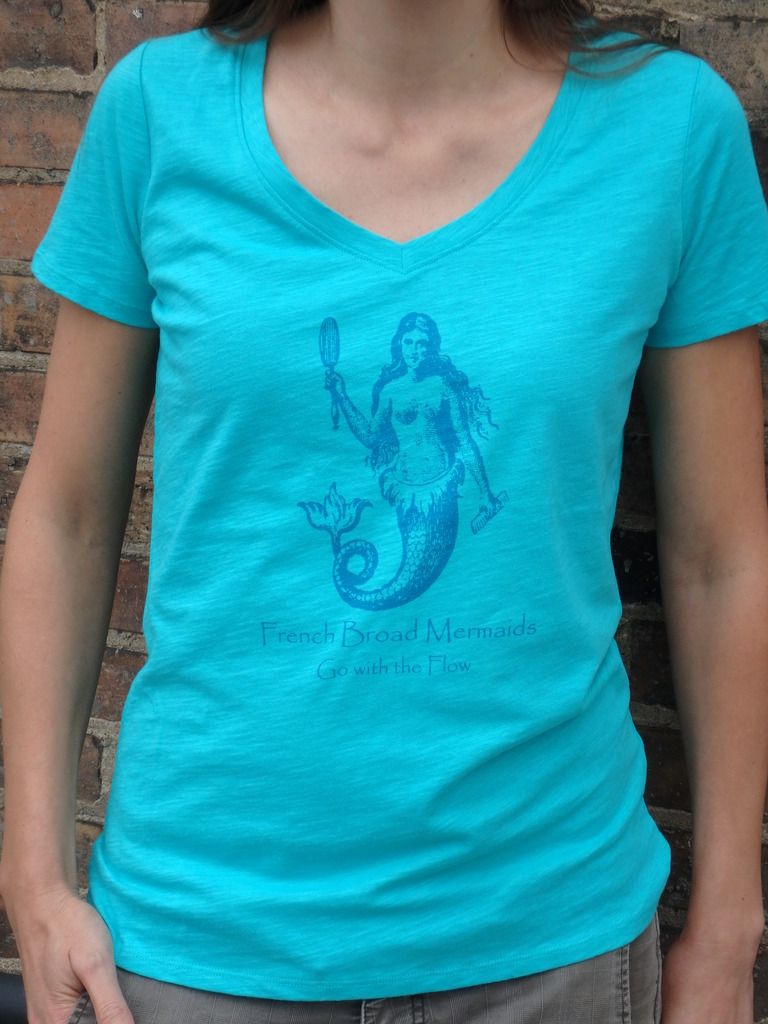 Get your Mermaid tee!
We are partnering with Mermaids in Marshall to sell these snazzy tee-shirts, with 10 percent of sales going to RiverLink.
We have a small supply of these tees at the RiverLink office (170 Lyman Street in the RAD). RiverLink will take orders and the Mermaids will supply us with tee shirts as requested. Also, the tees are available at
Hot Springs Resort and Spa
and at the soon-to-be-opened Asheville Market on Amboy Road.
To place your order, indicate size, color, and whether you want a men's or women's cut, in an
email to Mermaid Jan
and we'll get you set up.
Upcoming Events
Please note: When attending any of these events at the RiverLink office, please do not park at any of the studios on Riverside Drive. Thanks so much.
-----------------------------------
Wednesday, July 8
10:00 a.m. & 5:30 p.m. at the RiverLink office - Volunteer Information sessions.
The information session will detail all of RiverLink's volunteer opportunities in a 30 minute powerpoint presentation. Volunteers will also have a chance to fill out a volunteer questionnaire and find the opportunities that best fit their needs.
RSVP to attend by emailing Email link
----------------------------------
Friday, July 10, 5 p.m. at the RiverLink Sculpture and Performance Plaza --
RiverMusic continues with headliner Hackensaw Boys and Jon Stickley Trio and Grits and Soul. Free music! Foodtrucks, beer, and more! Free parking and free admittance at 144 Riverside Drive in the River Arts District.
----------------------------------
Wednesday, July 8,15,22,29
Wednesday Workdays at 1 p.m. -- will take place every week from 1 p.m. -- 4 p.m. and will be an extension of our Comprehensive CreekCare program. We will focus on trash removal along rivers and streams, invasive plant removal, native tree planting and also storm drain marking.
Dress to get wet and dirty!
-----------------------------------
Thursday, July 16th, 11:45 -- 2 p.m., the Riverfront Bus Tour -
Discover the magic of the Riverfront area firsthand -- past, present and future. Registration Required.
-----------------------------------
Tuesday, July 21, 10:00 am - 12:00 pm at the RiverLink office -- Join RiverLink and Economic Development Specialist Brenda Milla to find out how as an artist you can become a contractor for the City.
Reservations are a must so please email melinda@riverlink.org OR call 828-252-8474, ext 10 to reserve your spot!
Wilma Dykeman Book Club Series
Don't miss the Wilma Dykeman Book Club this fall at the Thomas Wolfe Memorial at 52 North Market Street in downtown Asheville, North Carolina. On the 2nd Thursday of each month, from September through December, local celebrities and authors will lead 4 monthly discussions of 4 chapters from Wilma Dykeman's classic book, The French Broad. Refreshments will be served at 5:30 PM, and the discussion will follow from 5:45 to 7:00 p.m.
Discussion details are as follows:
September 10
"Who Killed the French Broad?"
Karen Cragnolin, Executive Director, RiverLink
October 8
"The Chateau and the Boardinghouse"
Dan Pierce, Chair, UNCA Department of History
November 12
"Every Home Its Own Community"
Michael Sartisky, former President, Louisiana Endowment for the Humanities
December 10
"No Cokes in Hell"
Catherine Frank, Executive Director, Osher Lifelong Learning Center at UNCA

Coltsfoot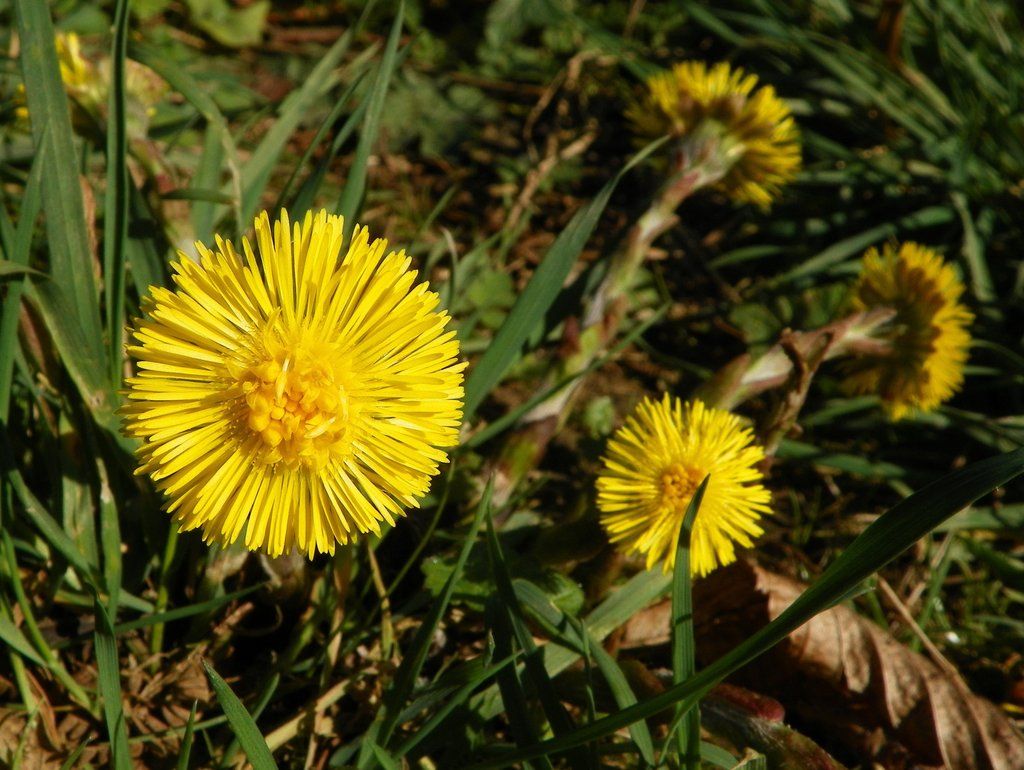 Tussilago farfara L.
Height: Flowers grow to a height of 7.5 to 30.5 cm.
Leaves: The cordate (heart-shaped) leaves are slightly toothed, upright and the underside is whitish. They arise directly from the root with no main stem present. Individual leaves are 7.5 to 17.5 cm wide.
Flowers: The solitary flowers are dandelion-like and bright yellow in color. There are several scaly white flower stalks per plant. Flowers emerge before the leaves in early spring through June.
Seeds:
The brown nutlets are attached to a pappus resembling
the seeds of common dandelion.
Origin and Distribution:
A native of Europe, this plant was probably brought to this country by early settlers for it's medicinal properties. It has spread throughout the northeastern United States from Maine to North Carolina, west to Tennessee and north to Minnesota.
Coltsfoot thrives in low lying areas such as stream banks, moist field or pastures, roadsides and disturbed areas. Can also be found in drier sites and poor soils. It is intolerant of shade and not commonly found in wooded areas.
Volunteer Spotlight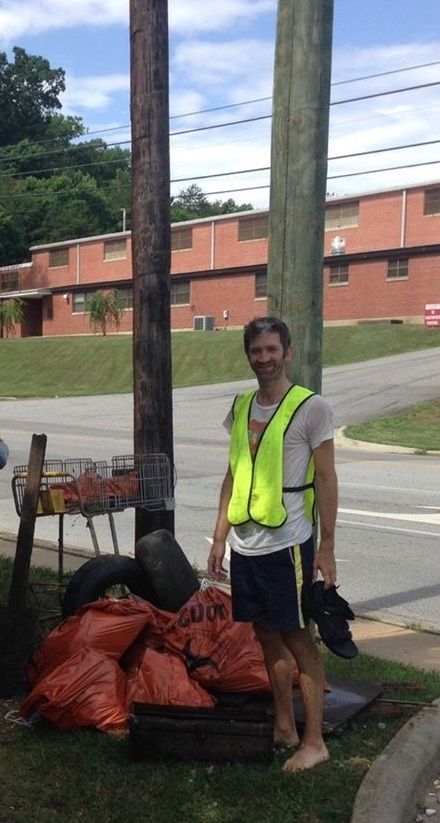 Justin Landry
As a young lad growing up in Maine, the woods were my playground. I spent a lot of time, with my best friend and twin, exploring and frolicking in the rivers, streams and forests. (Most of the areas in Thoreau's Woods, which I did not realize until much later).
After college, I moved to Vermont, where I began to really understand environmental issures. Then I moved to a city on the ocean and surrounded by the most beautiful creeks and swamps I had ever seen, and witnessed, too much, harmful effects people can have on ecosystems in large watersheds regions; and what they can do to reverse some of these effects.
And I just moved to a sort of Southern Vermont-Asheville- where I witnes these reversals taking place, particulary in the French Broad watershed. I immediately got involved with RiverLink, to be part of this community. At the end of each day of volunteering, and when I cross the bridges and see people in or on the water, I smile, thinking about how much happier we are in outdoor spaced, here and downstream, because of the dedication of our volunteers.
Fun Facts
Copperhead Snake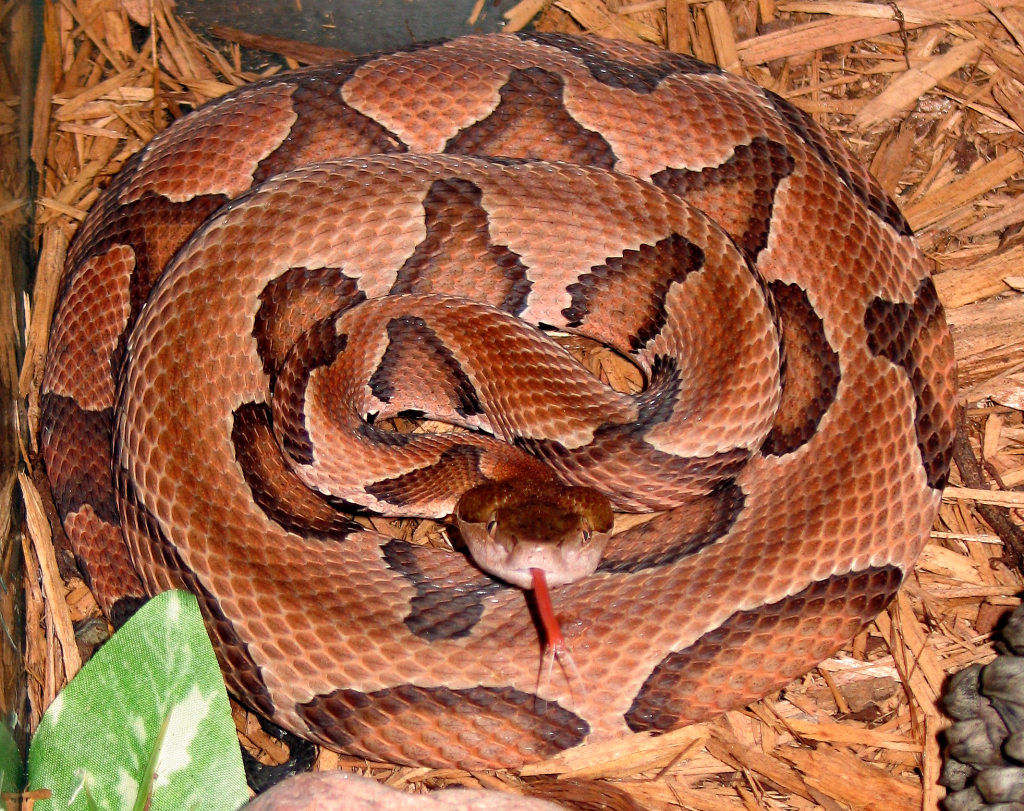 Order: Squamata
Family: Viperidae
Genus/species: Agkistrodon contortrix
Average length: 30 inches
Thick bodied and have keeled scales
Copperheads are social snakes
Hibernate in communal dens with other snakes
They also return to same den year after year
Males are aggressive in spring and autumn
Copperheads are carnivores
Copperheads mate from February-May and August-October
Mating lasts for 3.5 to 8.5 hours!
Brood sizes are 2 to 10
Average life span of a Copperhead is 18 years
Sometimes when touched they emit a musk that smells like cucumbers
They do bite and are venomous, do not touch and keep a safe distance!