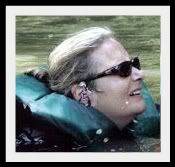 From the exec's desk
Happy Labor Day - we hope you are taking a well deserved rest this weekend and maybe getting on the river to paddle or walk or ride your bike? That is what we all pretty much plan to do.
What a busy August! We welcomed our annual visitors from the Friendship Force again this year. This year we welcomed friends from as far away as Tanzania and all across the country to our offices for a presentation about how RiverLink does what it does. It was a great day and in talking to our guests I heard that the big takeaway from our presentation was how effectively we use volunteers. One woman said she was going to go home and start an organization similar to RiverLink to help protect and promote her river. We love sharing our story and are working with a few groups around the country to cheer on their efforts!
The Freedom Force soaked in a lot of RiverLink information
If you missed the Anything That Floats and RiverFest this year it was a blast.
Click here to see the video
that our fantastically talented volunteer Kathleen Brugger of
Spirit of Asheville
did for us. This video will strengthen your resolve to participate next year. A big shout-out and thank you to our fantastic judges who helped us with this year's contest - WLOS anchorman Frank Kracher, Answer Woman Casey Blake from the AC-T, and local celebrity and former WLOS reporter Suzanne Hudson. And the winners are -- just scroll down for photos and winners details below.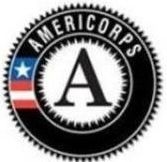 Next week we welcome our new AmeriCorps team members Justin, Leah andLaura. You can read their impressive bios further down in the newsletter. What would we ever do without them? Our small professional staff of 4 is greatly enhanced by the energy, youth and creativity of our AmeriCorps members. And one of the best parts is we get to watch them blossom and when they do move on to graduate school, and careers we stay in touch. They are family!
Only two RiverMusic concerts to go - Sept. 11 and Oct. 9 -- so get your beach chair or your blanket and plan on joining us for the most multi-modal event in the watershed that is solar powered, free and terrific! See the write-up below for all the details. And if you can't volunteer with us, please come dance in the sunset with us!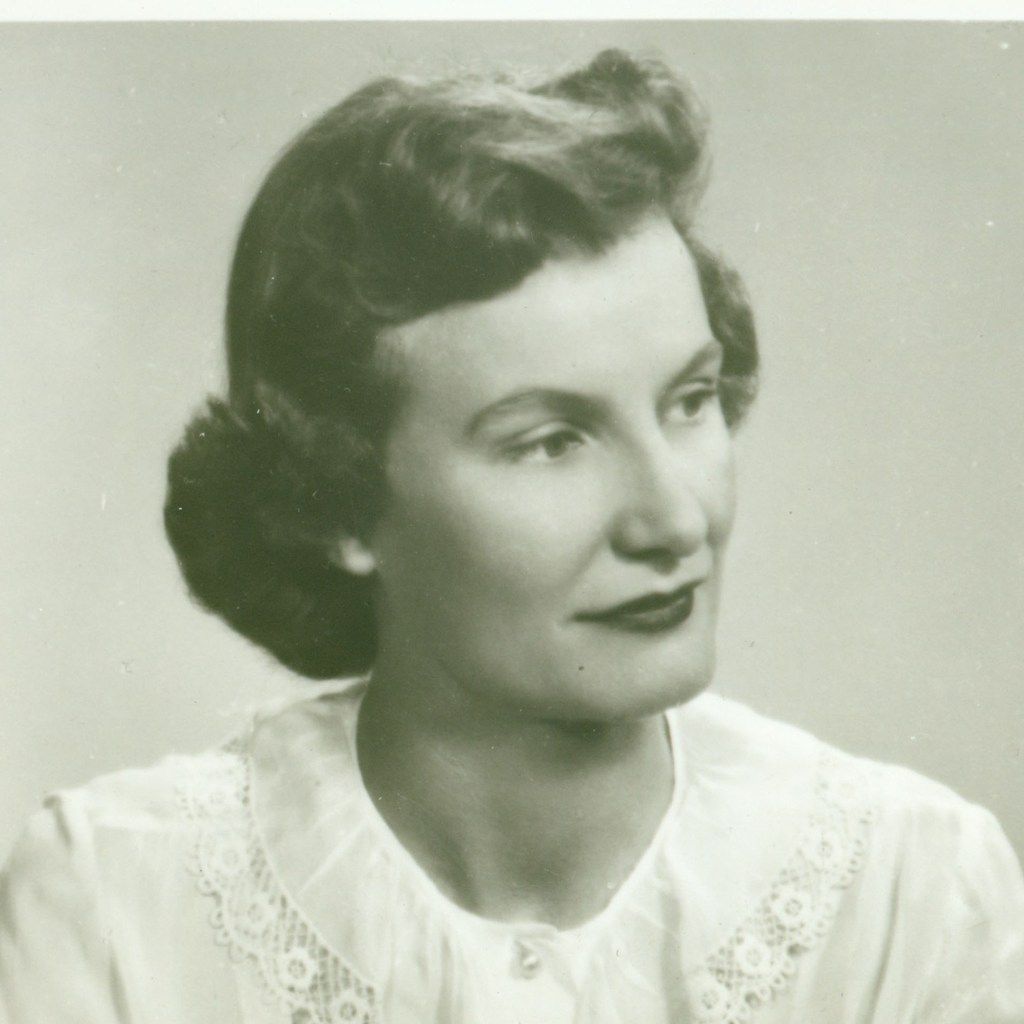 Wilma Dykeman, 1955

One of my favorite people and authors is Wilma Dykeman and I will be leading a discussion on "Who Killed the French Broad" at 5:30 Sept. 10 at the Thomas Wolfe Memorial, 52 North Market Street in downtown Asheville. The second Thursday of every month until December 10 a new chapter of the French Broad will be explored with such notable discussion leaders as Dr. Dan Pierce, Michael Sartisky and Catherine Frank. This follows a very successful series the Wilma Dykeman Legacy Book Club sponsored last year on Thomas Wolfe's work.
Speaking of Thomas Wolf, and back by popular demand is the 2nd Annual Of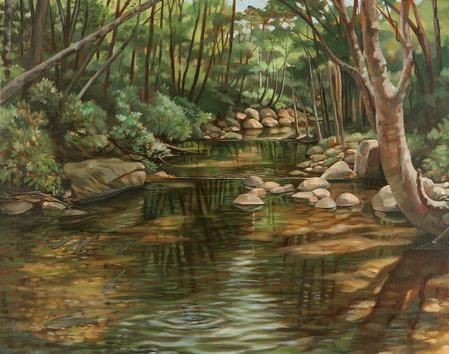 Work by Roger Nelson

Time and The River Art Show Thursday, October 15 at Sol's Reprieve overlooking the New Belgium site. Exclusively on October 15 RiverLink will have historic art and artifacts of the French Broad on display to admire as you wander thru some pretty terrific original art works, sip delicious wines from the Biltmore Winery, enjoy a New Belgium Brew and feast on heavy hor d' ourves provided by Whole Foods. New Belgium staff will be on hand to describe what all those new buildings are at the New Belgium site.
In every newsletter we try to add links to inspiring local, region and national stories about water. There is an especially compelling link on the sidebar from the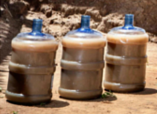 Huffington Post that describes water inequality worldwide that is definitely worth reading. Because we live is such a water-rich area here in WNC we tend forget that 663 million people around the world are living without potable water and waterborne illness remains a leading cause of death for children under 5, killing an estimated one child per minute! The poorer the country, the less access to clean water they have. We are so water-rich here in WNC that we can easily supply water and support the second (Sierra Nevada) and third largest (New Belgium) craft brewers in the U.S. in addition to about 20 microbreweries, a growing number of a cider producers and moonshine operations and a population that is growing as well. We have come a long way since Wilma Dykeman asked us to think about "Who Killed the French Broad."
See you on the river and thanks for all you do,
P.S. You have until Sept. 14 to nominate someone for the 2015 "Friends of the River" award. Visit the Land Of Sky website to find more information and make a nomination.

Recipients of the award will be honored during Land of Sky's Annual Banquet on Oct. 14 at the Asheville Ballroom and Dance Centre.
Nora Jane Struthers & The Party Line headline RiverLink's RiverMusic on Friday, Sept. 11
RiverLink's RiverMusic brings an evening of alt-country cool to Asheville on Friday, Sept. 11 in the River Arts District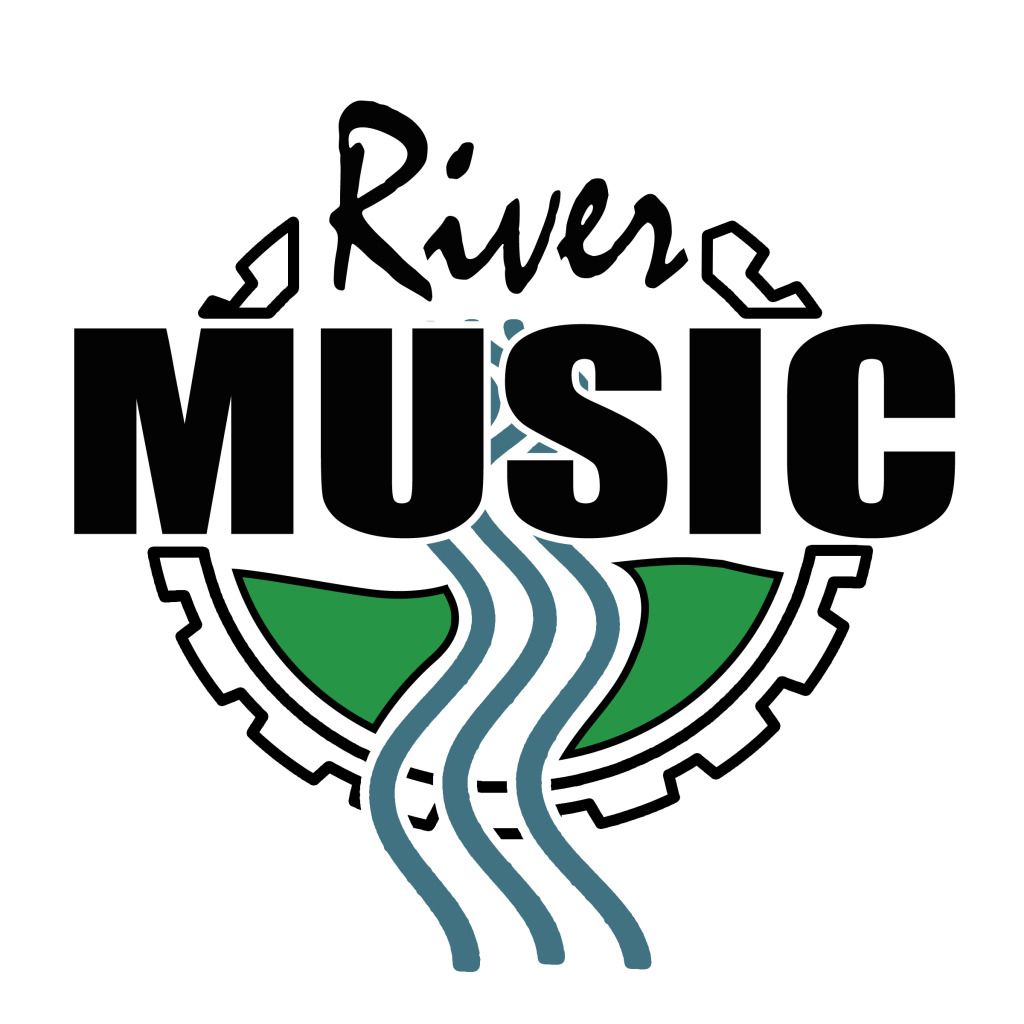 . Gates at the RiverLink Sculpture and Performance Plaza (
144 Riverside Drive in the River Arts District
) open at 5. The music starts at 5:30 with
Megan Jean & the KFB
, continues with the
Sweet Leda
at 6:45 and our headliners
Nora Jane Struthers & The Party Line
, at 8:15.
On the
Prestige Subaru
stage, it's a night of female vocalists.
Former Washington Post music critic Joe Sasfy says of the evening, "On September 11, RiverMusic brings three outstanding female artists to the stage, including one of Americana's ascending stars -- Nora Jane Struthers. Struthers has spent the last few years in Nashville creating impressive original songs dressed in folk, bluegrass (with the much heralded Bearfoot), and country. With her current band, the Party Line, Struthers is rocking harder than ever without shedding her roots. Opening is Megan Jean & the KFB, an exotic avant-folk-punk duo (sounds weird but works!) from South Carolina and Sweet Leda, a Baltimore rockin' soul band led by Julie Cymek, a fiery vocalist who can tear up the stage."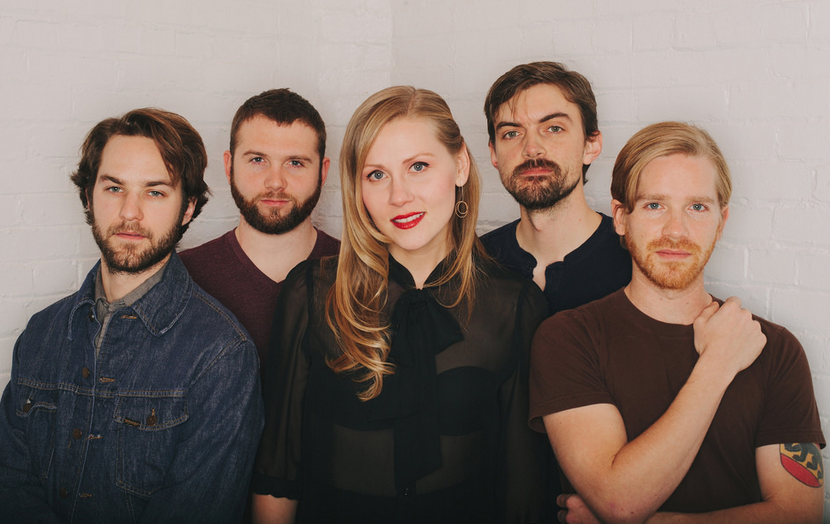 Nora Jane Struthers & The Party Line
For Sept. 11, RiverLink will be serving beer from
New Belgium
and
Catawba Brewing
, and will have a variety of eclectic delectables from foodtrucksTwisted Root, El Kimchi, Farm to Fender, Amazing Pizza, and Smash Box, with ice cream from The Hop.
RiverMusic makes a nice cherry on top of a day in the River Arts District. Visit some of the 180 working studios in 22 former factories and historical buildings nestled along the French Broad River. Have lunch at one of the 14 restaurants in the RAD, get some Christmas shopping done and come to RiverMusic to dance by the River and have dinner and a few beverages.
Join Us Oct. 15 For A Special Benefit Art Event - "Of Time And The River"

Last year's inaugural "Of Time and the River" event was not only a great time, but beneficial to the participating artists and RiverLink as well. The opening gala (ticket link below) was a wonderful evening of art, music, fine wine and food in the perfect venue for this event. Whether you're an art collector or just want to see our French Broad River through differing lenses, you won't want to miss this!
A excerpt from "Of Time and the River" by Thomas Wolfe himself: "At that instant he saw, in one blaze of light, an image of unutterable conviction, the reason why the artist works and lives and has his being-the reward he seeks-the only reward he really cares about, without which there is nothing. It is to snare the spirits of mankind in nets of magic, to make his life prevail through his creation, to wreak the vision of his life, the rude and painful substance of his own experience, into the congruence of blazing and enchanted images that are themselves the core of life, the essential pattern whence all other things proceed, the kernel of eternity."
Our first Fall Salon Series event takes place on Friday, Sept. 4
RiverLink kicks off the Fall Salon Series with a presentation for non-profits and the burgeoning craft beer industry on the rules governing selling adult beverages in North Carolina.
WNC is home to an expanding number of craft brewers and an ever-expanding number of events that support non-profits. Join us on Friday September 4, 2015 at RiverLink's Warehouse Studios at 3 p.m. for a presentation and question and answer session by Special Agent Stacy Cox of the Western District Alcohol Law Enforcement, a division of the NC Department of Public safety. Not knowing and following the rules can lead to litigation, embarrassment and suspension of permits for future fundraising events.
Agent Cox is a native of New York who has worked in North Carolina for most of her professional career.
The Wedge has graciously allowed parking at the south end of their lot -- click here for map and look for the red "X". Park there and walk across the tracks to our blue awning. Please do not park at Curve Studios.
DATE: Friday, Sept. 4, 2015, 3:00 p.m. - 5:00 p.m.
LOCATION: The RiverLink office at 170 Lyman Street in the River Arts District.

It's time to welcome a new slate of All Star AmeriCorps Project Conserve members
Every September, RiverLink has the pleasure of bringing aboard new members of AmeriCorps Project Conserve. While annual staff turnover sounds like a detriment, we find that the new skills and ideas they bring with them offsets the disruption. Last month we bade farewell to Adam, Mimi and Alex, and this month, we welcome aboard Justin, Leah and Laura.
Justin Young
Assistant Volunteer Coordinator 828.252.8474 x 17 justin@riverlink.org
Justin was born in Raleigh North Carolina. He attended school at Appalachian State University where he studied Sustainable Development. During his degree program he helped create the first Homegrown Film Festival. Traveled to Peru to research the effects of climate change on glacial retreat. But most importantly gained a passion for water and other environmental issues. After receiving his BS in 2013 he joined the Maryland Conservation Corps. During his year of service he spent a lot of time handling raptors and reptiles. The goal was to educate the public about the importance of those species and how we can protect them. His interpretive work also included field trips for schools and youth groups. Activities would range from paddling and fishing to low and high ropes courses. All aimed at encouraging positive interactions with the natural environment. Of course no conservation job would be complete without getting your hands dirty. Justin spent much of MCC removing invasive species, planting living coastlines, and administering prescribed burns. After facilitating such great interactions with nature Justin is ecstatic to bring that experience and passion to the people of Asheville. He hopes to inspire and encourage new groups of people to protect their natural surroundings. If you need to find Justin he'll likely be floating down a river, hiking up a mountain, or painting one of the incredible vistas provided by the Blue Ridge.
Leah Hart Handwerger
Assistant Watershed Resources Manager 828.252.8474, x. 13 leah@riverlink.org
After growing up in Baltimore, Maryland, Leah attended Appalachian State University where she studied Sustainable Development and Non-
Profit Management. A combination of outdoor experiences with her family in the northern Appalachians and traveling as a young adult has contributed to her passion for conservation and the natural world. After spending three years at Appalachian State, where she worked with various non-profits and explored the mountains and streams, she fell in love with the southern Appalachian region. Through her studies in sustainability and community development, she learned about the many issues surrounding water quality, and realized the necessity for protecting this precious resource. In Summer of 2015, she worked with the Cape Cod National Seashore as an Aquatic Ecology intern, where she is contributing to many different projects focusing on water quality monitoring throughout the park and restoration of the Herring River. She loves mountains, water, and travel, and is extremely excited to work with RiverLink as their Watershed Resources Coordinator.
Laura Evans
Education Coordinator 828-252-8474, x 18 laura@riverlink.org
Laura received her B.S. in Environmental Studies from Brevard College where she discovered her passion for the mountains of western North Carolina. During her college experience she participated in the AmeriCorps NC-ACTS Program, the Institute for Women in Leadership, and Delta Omicron Kappa Leadership Society. Before coming to RiverLink, Laura was an intern at the Sewee Visitor and Environmental Education Center and a horseback riding instructor at Rockbrook Summer Camp for Girls. Her love of the outdoors has taken her from the salt marshes of South Carolina, to the Rocky Mountain Front of Montana. In her free time Laura enjoys reading, hiking, and horseback riding. Her commitment to environmental education and love of wildlife led her to this exciting position at RiverLink to help educate people about protecting our valuable river ecosystems. Laura's other ecological interests include bat conservation, greenway development, and game management.
Another Fabulous Anything That Floats Parade has floated on by
Saturday, August 8 saw 18 wildly decorated rafts take to the French Broad River in the 21st annual Anything That Floats Parade. Our judges were
Suzanne Hudson, former WLOS reporter and local celebrity and all-around awesome person
Frank Kracher, current anchorman at WLOS
Casey Blake, reporter and "Answer Woman" with the Asheville Citizen-Times.
A really great time was had by all, and our judges faced some tough decisions but came up with winners in our 4 categories. Check 'em out!
The winner of the Most Fun Award in the 2015 Anything That Floats Parade was "Let the Good Times Roll."
Let the Good Times Roll
The winner of the Green Machine Award in
the 2015
Anything That Floats Parade was "Neptune's Naughty Nymphs."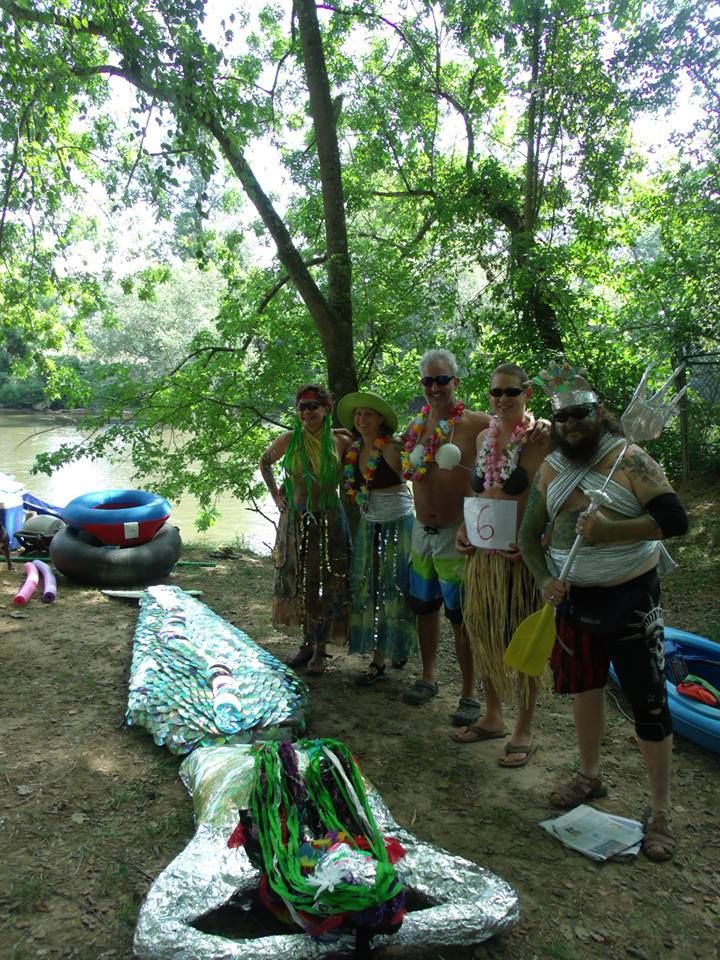 Neptune and the Naughty Nymphs repurposed CDs for this mermaid.
The winner of the Judges Choice Award in

the 2015

Anything That Floats Parade was "Daydreamz Pollinators."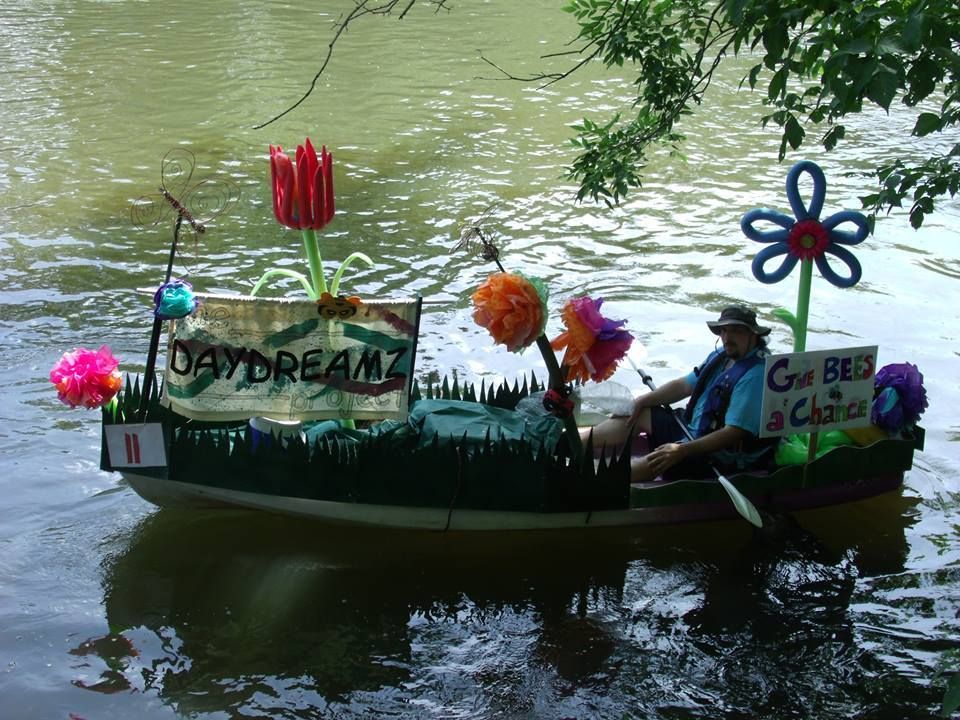 Daydreamz Pollinators also walked in the Kids Parade
The winner of the Most Creative Award in

the 2015

Anything That Floats Parade was "Big Foot."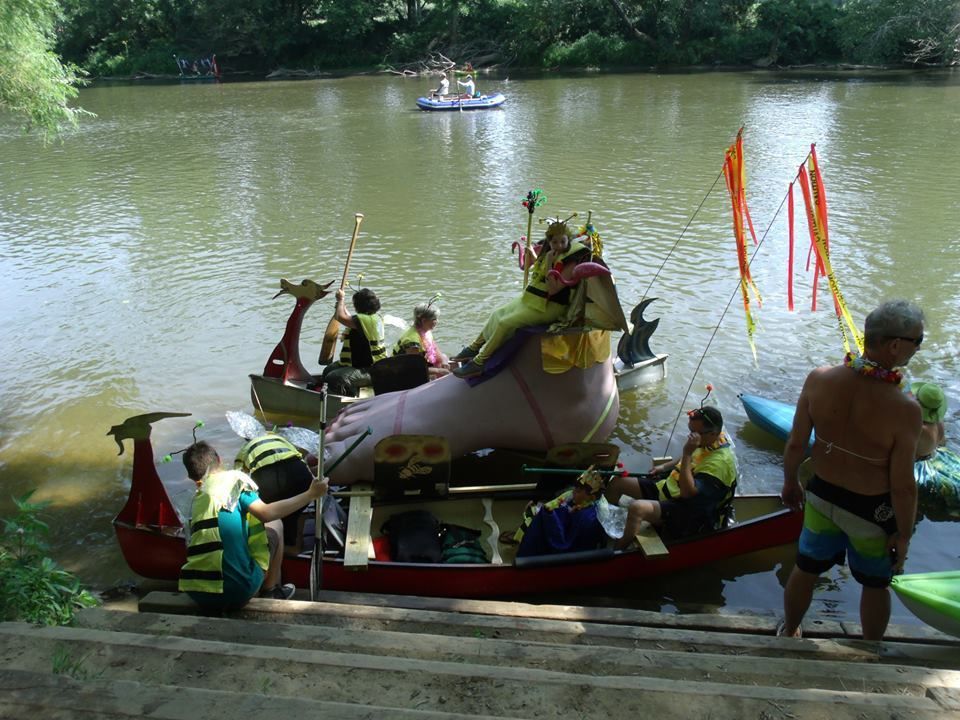 "Big Foot" returned and won this year


Anything That Floats 2016 happens on Saturday, August 13. Get your crew together and your creative caps on and maybe you'll be floating on a winner next year!

Raft the exhilarating Section 9 of the FBR in a special benefit for RiverLink
Blue Heron Whitewater is hosting a whitewater rafting trip in support of RiverLink. On Sunday Oct. 4, 2015, join us for a half day trip down Section 9 of the French Broad River. Spend the day on the river having fun and enjoying our beautiful river, with proceeds benefiting RiverLink.
What?
Half-day Whitewater Rafting trip down Section 9 of the French Broad River
How?
RESERVATIONS REQUIRED, so call Blue Heron Whitewater to reserve your space. Phone: 1-888-426-7238 or 828-450-4663

Cost?
$46 per person - Minimum 8 years old. Cost includes: rafting, gear, guides, and safety overview

Why?
Because we ALL live downstream!
Upcoming Events
Please note: When attending any of these events at the RiverLink office, please do not park at any of the studios on Riverside Drive. Thanks so much.
-----------------------------------
Friday, Sept. 4, 3 p.m. -- 5 p.m. at the RiverLink office at 170 Lyman Street in the
RAD:
Salon Series -- A presentation for Non-Profits and the Burgeoning Craft Beer Industry on the Rules Governing Selling Adult Beverages in North Carolina.
Free, but please sign up here.
-----------------------------------
10:00 a.m. & 5:30 p.m. at the RiverLink office - Volunteer Information sessions.
The information session will
detail all of RiverLink's volunteer opportunities in a 30 minute powerpoint presentation. Volunteers will also have a chance to fill out a volunteer questionnaire and find the opportunities that best fit their needs.
----------------------------------
Thursday, Sept. 10 from 5:30 pm - 8:00 pm at
Thomas Wolfe Memorial --
Wilma Dykeman Book Club Monthly Discussion
"Who Killed the French Broad" Discussion led by Karen Cragnolin, Executive Director, RiverLink
-----------------------------------
Friday, Sept. 11, 5 p.m. at the RiverLink Sculpture and Performance Plaza --
RiverMusic continues with headliner Nora Jane Struthers, with Sweet Leda and Megan Jean and the KFB opening. Free music! Foodtrucks, beer, and more! Free parking and free admittance at 144 Riverside Drive in the River Arts District.
----------------------------------
Thursday, Sept. 17, 11:45 -- 2 p.m., the Riverfront Bus Tour -
Discover the magic of the Riverfront area firsthand -- past, present and future. Registration Required.
----------------------------------
Tuesday, Sept. 22 at the RiverLink office, 10:00 am - 12:00 pm --

Calling all Artists: Learn how to contract with the City of Asheville. Join RiverLink and City of Asheville Economic Development Specialist Brenda Mills to find out how as an artist you can become a contractor for the city.
-----------------------------------
Thursday, Oct. 8, 5:30 pm - 8:00 pm at the Thomas Wolfe Memorial --

Wilma Dykeman Book Club Monthly Discussion, "The Chateau and the Boardinghouse." Discussion Leader: Dan Pierce, Chair, UNCA Department of History
.
-----------------------------------
Friday, Oct. 9, 5 p.m. at the RiverLink Sculpture and Performance Plaza --
RiverMusic wraps up with a night of soul and funk when Fred Wesley and the New JBs, The Lee Boys, and Lyric take the stage. Gates open at 5, music starts at 5:30. Free music! Foodtrucks, beer, and more! Free parking and free admittance at 144 Riverside Drive in the River Arts District (map).
Other ways to stay in touch with RiverLink


These monthly newsletters are chock-full of good information about what RiverLink has done, is doing now, and will be doing in the future. There are other ways to connect to us and stay riverlinked, though.
Check them all out and let's stay in touch!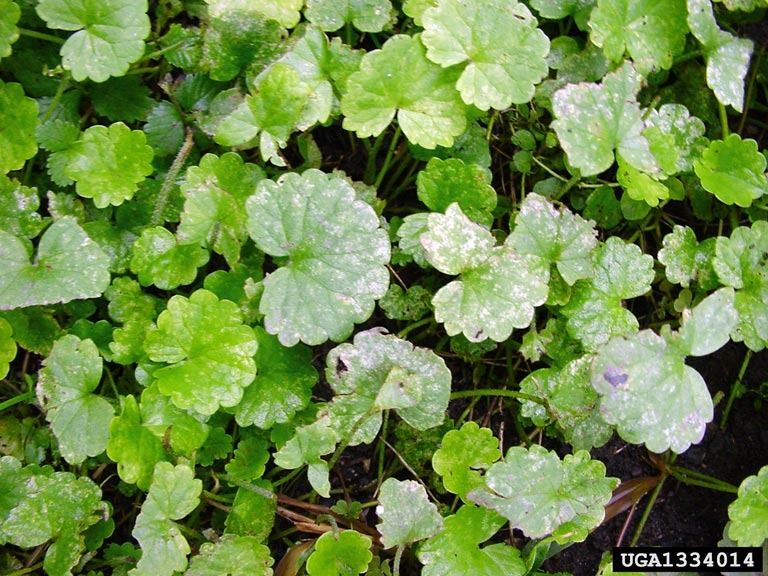 Creeping charlie, creeping jenny, or ground ivy
Scientific Name: Glechoma hederacea
Identification: Creeping charlie has four-sided stems that can vary from 15-30 inches in length. This low-growing perennial weed gives off a distinct odor whenever damaged, as it is part of the mint family. Its leaves are round and scalloped connecting to the plant via nodes. In the spring time, an abundance of tiny flowers ranging from lavender to blue appear on 2 or 3 inch spikes.
Ecology: This invasive weed thrives in moist, shady lawns. It is known to interact with numerous wild bees and be galled by several different insects. More often than not, this weed is found in areas of heavy, rich soils with high fertility and low boron content.
Plant control: Repeated weeding is required because creeping charlie is stoloniferous, meaning it will continue to grow/spread from its roots or bits of stem which reroot. If the weed becomes too thick a special tool called the dethatching rake is used to comb through the grass,pulling out the viny weed by its root. There are also a few chemical approaches to removing the invasive weed such as a combination of 2, 4-D, MCPP and dicamba or possibly with a borax application.
Volunteer Spotlight
Augusta McGuninness
Augusta McGuinness is a second year Student of Ecology and wildlife conservation at Bournemouth University, England. Part of her university course is the completion of a 5-week placement. As she has been on vacation in Asheville almost every year and been fully acquainted with the diverse atmosphere and the prominent wildlife, there was no question as to where she wanted to work. RiverLink gave her the great opportunity to internship for them for which she says she feels very fortunate. In her 5 weeks she has made a distinct learning curve, assimilated a copious amount of knowledge and have been in awesome company throughout.
She enjoys keeping fit and healthy, reading various types of media apropos various subjects, art, travelling, learning languages and protecting all forms of wildlife. After university she plans to travel, work at various conservation projects, and simply try to help people/the environment as much as humanly possible.
She firmly believes that the best way to achieve some form of balance between the growing economy and the ecological world is to educate people and she hope to do so through the medium of art and writing.
Flash floods can bring walls of water from 10 to 20 feet high.
A car can be taken away in as little as 2 feet of water.
In terms of lives lost and property damaged, floods are just behind tornadoes as the top natural disaster.
Ice jam flooding: In cold temperatures, bodies of water are often frozen. Heavy precipitation can cause chunks of ice to push together and create a dam in what is known as ice jam flooding.
The deadliest flood came in 1931, when between 1 and 4 million people were killed.
Thirty-four thousand square miles (88,000 sq km) of land were flooded, leaving 80 million people without homes. In 1887, natural flooding claimed between 1 and 2 million lives.
Flood losses in the United States averaged $2.4 billion per year for the last decade. Floods are the number one natural disaster in the United States.
Never swim or play around in flood water. It may contain chemicals, bacteria and disease causing organisms. If your skin comes in contact with floodwater, make sure to wash it with soap and disinfected water because the contents are unknown.
66% of deaths caused by floods usually occur in the vehicle, and most happen when drivers make a single fatal mistake trying to navigate through flood waters.
Unless a flood causes some kind of financial damage or loss of life to humans or livestock, it's not considered a significant flood.