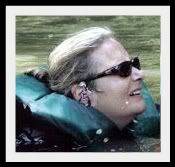 From the exec's desk
Please help us name that creek. You helped us name Penland Creek just a few months ago on the New Belgium site. Now we need your help to name an unnamed tributary of Smith Mill Creek in the Falconhurst neighborhood in West Asheville. So far the top three choices are Hayes Creek, Falcon Springs Creek and Fox Creek. Read about the names and cast your vote today!
Only one more RiverMusic in 2015, and boy is it going to be FABULOUS!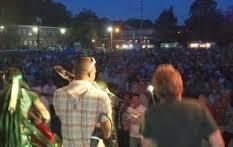 You don't want to miss Funky Fred Wesley, who was part of the backup band for James Brown as well as Funkadelic and Parliament. Check out this video -- it just doesn't get much better than this. Bring your chair or blanket, hop on your bike or boat, or enjoy on our free trolley that runs non-stop from the Chamber (map), drive if you must and park for free. Join us for a fun-filled multi-modal Fall event under the stars at the RiverLink Sculpture and Performance Plaza at 144 Riverside Drive in the RAD (map).
October is when Asheville hosts a conference in honor of local author Thomas Wolfe and RiverLink hosts its art show -- Of Time and the River --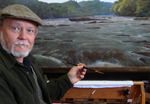 John Mac Kah with one of this paintings

at Sol's Reprieve (map). This year's opening gala is scheduled for October 15 from 6 p.m. to 9 p.m. Back by popular demand is a delicious array of foods from Whole Foods, great wine from the Biltmore Winery and a representative selection of beers from New Belgium. In addition to having a number of art and artifacts reflecting the glorious history of the river on display, we will also have representatives from New Belgium talking about the progress of the new brewery and the timeline for serving beer.
Located at 11 Richland Street, right off Craven, Sol's Reprieve offers a fantastic view overlooking the New Belgium site. And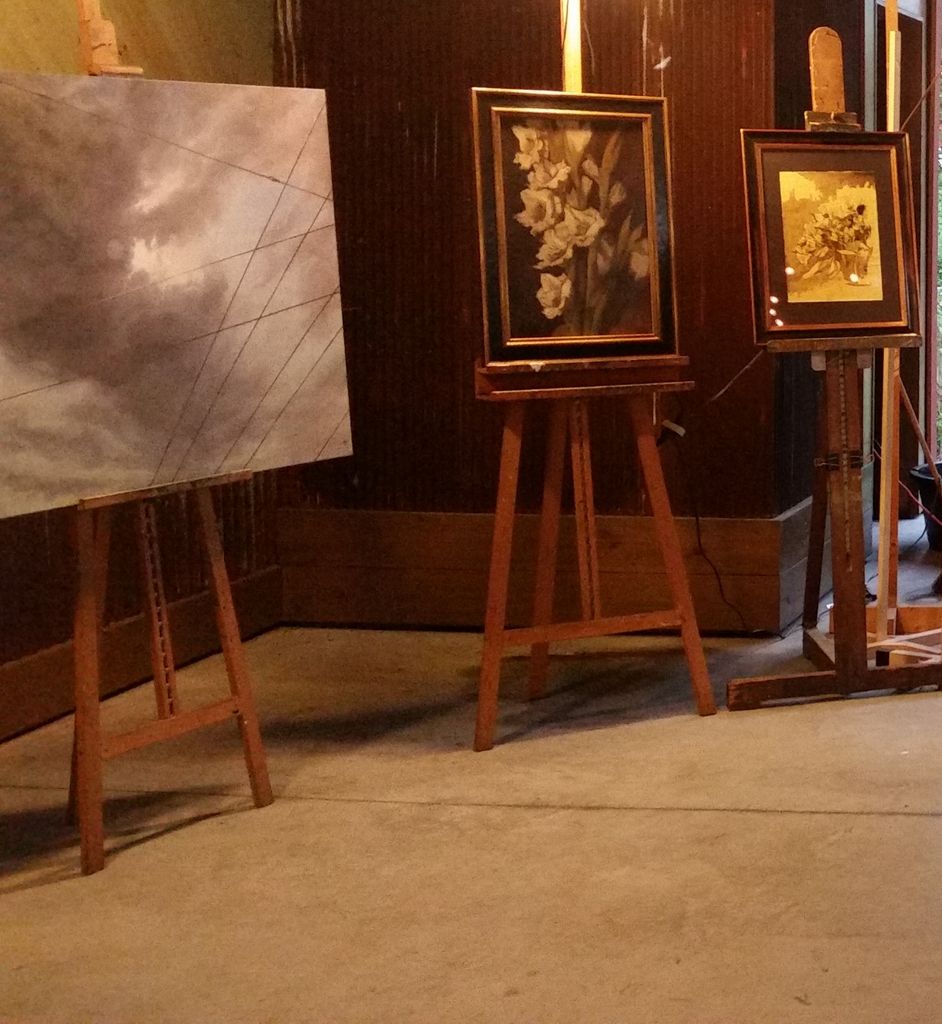 Preview at "Of Wine and the River"

of course we will have music to help you enjoy a wonderful evening viewing -- and hopefully buying -- the original art works of 19 of Asheville's most important artists. Here's a link to the catalog of the offerings, which will hang at Sol's Reprieve and be open to the public Friday, Oct. 16 through Sunday, Oct. 19, from 11 a.m. - 6 p.m.
On Wednesday, Sept. 30, we held a preview showing of the art entitled "Of Wine and the River" to get folks excited about the opening and the show. It was indeed an impressive array of styles and viewpoints.
Wednesday, October 14 is the annual Land of The Sky Regional dinner and
the Friends of the River dinner. The reception starts at 6 p.m. and the dinner at 7 p.m. Don't miss this special watershed-wide night and opportunity to meet and greet former executive director of Land of Sky Joe McKinney as the keynote speaker. The Friends of the River awards will also be announced. Click here to buy your tickets.
On October 16, RiverLink is thrilled to welcome Dr. Chris Lechner, the only man known to have paddled the entire length of the French Broad River on a stand up paddleboard (SUP). Chris is a river lover for sure. He first discovered the French Broad River as a camper under the guidance of legendary paddler Chuck Hines. He is very excited to share what he saw then and now and talk about all the wonderful, generous people he met along the way. Read more about Chris and our other salon event below. While these events are free, reservations are a must.
We had an incredible summer, filled with loads of old and new volunteers helping us clean up the rivers, kill invasives, streamline our office procedures, produce RiverMusic and haul Zombies out of the French Broad. Thank you all so much.
I think I mentioned before that the MPO -- Metropolitan Planning Organization -- has made the Wilma Dykeman RiverWay the number one priority. Not only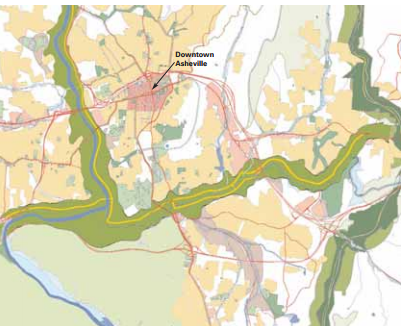 does this mean transportation dollars are being appropriated by the NCDOT but it means that the folks on the MPO representing other counties like Henderson, Madison and Haywood think that the Wilma Dykeman RiverWay is an important demonstration project for the entire watershed. That's how we planned and envisioned it, too. This is a very exciting time on the French Broad River, and thank you so much for your support. But don't even think for a minute that it is all done and the French Broad doesn't need our constant attention and love anymore. In many ways we are just at the very beginning.
Our snazziest event of the year: The Oct. 15 Benefit Art Event "Of Time And The River"
Last year's inaugural "Of Time and the River" event was not only a great time, but beneficial to the participating artists and RiverLink as well. The opening gala (ticket link below) was a wonderful evening of art, music, fine wine and food in the perfect venue for this event. Whether you're an art collector or just want to see our French Broad River through differing lenses, you won't want to miss this!
A excerpt from "Of Time and the River" by Thomas Wolfe himself: "At that instant he saw, in one blaze of light, an image of unutterable conviction, the reason why the artist works and lives and has his being-the reward he seeks-the only reward he really cares about, without which there is nothing. It is to snare the spirits of mankind in nets of magic, to make his life prevail through his creation, to wreak the vision of his life, the rude and painful substance of his own experience, into the congruence of blazing and enchanted images that are themselves the core of life, the essential pattern whence all other things proceed, the kernel of eternity."
RiverLink's final FREE concert of 2015 is Oct. 9
RiverLink's final RiverMusic of 2015 brings an evening of classic funk to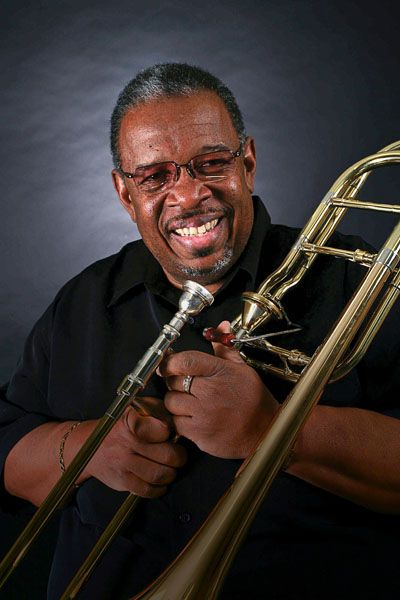 Funky Fred Wesley
Asheville on Friday, Oct. 9, when Fred Wesley and the New JBs take the stage in the River Arts District. Fred Wesley is an American jazz and funk trombonist, best known for his work with James Brown in the 1960s and 1970s, as well as Parliament-Funkadelic in the second half of the 1970s.
Gates at the RiverLink Sculpture and Performance Plaza (144 Riverside Drive in the River Arts District) open at 5. The music starts at 5:30 with Lyric, continues with The Lee Boys at 6:45 and our headliners Fred Wesley and the New JBs at 8:15.
Former Washington Post music critic Joe Sasfy says of the evening, "Last is hardly least as RiverMusic's October 9 finale features legendary funk master, Fred Wesley and his horn-heavy New JB's. Wesley served as trombonist, arranger and music director for the Godfather of Soul, James Brown, during Brown's funkiest years (1968-75) and went on to help shape the sound of Parliament, Bootsy Collins and George Clinton. In short, Wesley was key to the development of what we call funk. His 7-piece band will be preceded by Asheville's own Lyric and the raise-the-roof sacred steel gospel of the Lee Boys. If you believe music should move the body and the soul, this is your night!"
RiverLink will be serving beer from New Belgium and Hi-Wire Brewing, and will have a variety of eclectic delectables from foodtrucks Vieux Carre, Taste and See, The Real Food Truck, Latino Heat and Smash Box, with ice cream from The Hop.
RiverMusic makes a nice cherry on top of a day in the River Arts District. Visit some of the 180 working studios in 22 former factories and historical buildings nestled along the French Broad River. Have lunch at one of the 14 restaurants in the RAD, get some Christmas shopping done and come to RiverMusic to dance by the River and have dinner and a few beverages.
Put these two Salons on your calendar
RiverLink's Friday
Salon Series continues on Friday, Oct. 16 and Nov. 13 with two dynamite presentations. Our salons go from
3 -- 5 p.m.. at the RiverLink office at 170 Lyman Street in the River Arts District (
map
). Tim Schaller, owner of The Wedge Brewing Company, has graciously allowed us to park in the south end of his lot -- click here for map and look for the red "X". Park there and walk across the tracks to our blue awning. Please do not park at Curve Studios.
Friday, Oct. 16 with Dr. Chris Lechner
Dr. Lechner traversed 227 miles of the French Broad River on a standup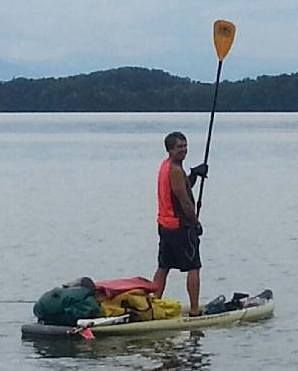 Dr. Lechner and his SUP

paddle board (SUP).
Starting in Rosman, near the headwaters of the French Broad, Lechner paddled 8 - 12 hours a day, all the while camping, portaging, and stopping for beers along the river, a total of 227 miles. He also filmed and posted Facebook and blog updates of his two week journey, which terminated in downtown Knoxville, Tennessee.
The first person to thru-paddle the entire French Broad River on a standup paddle board, Lecher will give a presentation of his adventure on Friday, Oct. 16 from 3 -- 5.
Friday, Nov. 13 with Barbara Duncan, Ph.D, and the Cherokee Friends
Traditional Cherokee music at the first Salon
Join us as Barbara Duncan and Friends will speak about the Cherokees' relationship to rivers, particularly the French Broad, and share some reproductions of Cherokee artifacts including pottery and ancient cloth. The Cherokee Friends are cultural specialists from the Museum of the Cherokee Indian, and will provide flute music and storytelling.
Barbara Duncan has a Ph.D. in Folklore and has written award winning books about Cherokee history and culture, including
Living Stories of the Cherokee
(Thomas Wolfe Literary Award) and the
Cherokee Heritage Trails Guidebook
with Brett Riggs (Preserve America Presidential Award and Willie B. Parker Peace Prize.) She has received the Brown Hudson Award from the North Carolina Folklore Society and the Cherokee Phoenix Award.
This is a can't-miss for anyone interested in Native American Culture and the history of our region. Join us Nov. 13 from 3 -- 5 p.m.
Our new AmeriCorps members say "Hello" and reflect on their first busy month with RiverLink
My name is Laura Evans and I am the very excited new RiverLink
Laura Evans

Education Coordinator through AmeriCorps Project Conserve. As Education Coordinator, I have traveled to Yancey and Mitchell counties to participate in the Toes in the Toe Watershed Discovery Event. Here, I taught a total of 253 awesome fifth graders, "Our water, our watershed" where they learned about the importance of water and the French Broad watershed with our EnviroScape. One of my favorite moments was seeing how excited all the students got about setting up the EnviroScape . In addition, I have coordinated with numerous schools for future lessons in the fall (and spring already!) including macroinvertebrate testing, water conservation, soil testing and EnviroScape. And it's never too late to start planning RiverCamp 2016! Stay tuned for more information and some exciting changes!
Leah Handwerger
As RiverLink's new Watershed Resources Coordinator, I've hit the ground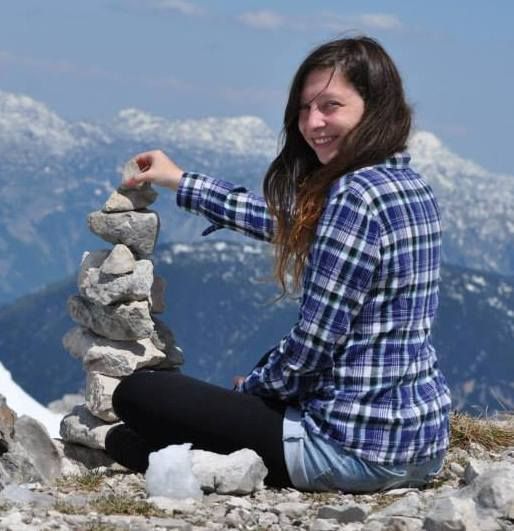 Leah Handwerger
running this month in helping improve how RiverLink protects the French Broad Watershed. A lot of my work is the "behind the scenes", such as writing grants to provide funding for our many projects, or making maps of our conservation easements so we can better understand the land that we are protecting.
When I'm not writing grants or making maps, I'm out monitoring the land that we are protecting. This means I'm making sure that our conservation and restoration efforts are effective in improving the French Broad's water quality. I might also be found at one of our river access sites along the French Broad River Paddle Trail, where I will be helping plan the construction of a new river access site for everyone to use and enjoy. In a few months, our newest river access point in Henderson County will be ready for recreational use, and I cannot wait to kayak through this beautiful part of the river. It's going to be an exciting year working with RiverLink!
Before joining RiverLink I was working with the Maryland Park service. I cut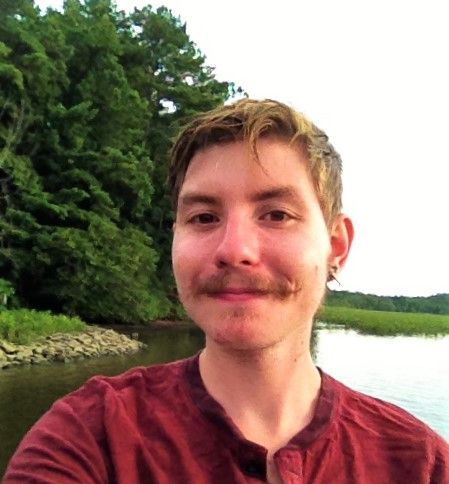 Justin Young

down trees, lead ropes courses, and taught kids about raptors and reptiles. Before that i went to school at Appalachian state, so I was excited to be coming back to WNC. During my first month at RiverLink I did a diversity of tasks, all helped me feel right at home along the French Broad River. I learned about the Wilma Dykeman RiverWay Plan and its beautiful vision of a revitalized River District. I helped set up my first RiverMusic, which was wonderful, exciting and a little exhausting. I began working with our Adopt-A-stream program. I introduced myself to our hardworking teams, and created an interactive map of their assigned locations on Google Maps. I revamped our volunteer orientation presentation with some of my own artistic flair. And I assisted with multiple cleanups which resulted in a total of almost 200 tires removed from the river and countless bags of trash collected. For one of these cleanups we worked with Boy Scout Troop 91 and Christ School. Together these boys removed 130 tires from Hominy Creek in one day! But more impressive than their tangible results was their general attitudes towards the project. They were all excited to be out there, and seemed to understand the far reaching implications of their actions. It was great to see a younger generation so enthusiastic about the environment. I can already tell that all the fantastic volunteers will be what makes this year worthwhile. I can't wait to meet all our existing volunteers and learn from their experience. And I'm excited to recruit new people and perspectives into our ever expanding network of river lovers.
Help RiverLink Name That West Asheville Creek
In an effort to name and protect the nameless tributaries of the French Broad River, RiverLink is holding Name That Creek contests throughout the watershed. These are local, grassroots projects in which the community submits suggestions for creek names and votes for the most fitting name at a creek-naming ceremony. After a name is chosen, it is submitted to the USGS and eventually becomes the official name for the creek.
Our latest effort is in the Falconhurst neighborhood of West Asheville.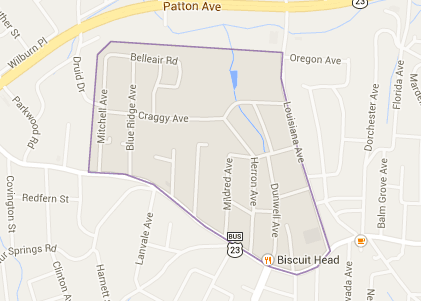 The Falconhurst Neighborhood

Falconhurst is a community in West Asheville, bounded by Haywood Road, and Louisiana, Mitchell and Patton Avenues.
Since the project began in spring of 2007, RiverLink has coordinated three contests with the help of community volunteers:
Buttermilk Creek, tributary of Hominy Creek in West Asheville, spearheaded by Doug Barlow of Malvern Hills
Big Branch, tributary of Reems Creek in Weaverville, spearheaded by Barbara Joshi of Hawk's Landing
Penland Creek, which flows through the New Belgium site into the French Broad, spearheaded by RiverLink
To take part in the polling,
click here to get to the polling page
, read about the names and choose one.
RiverLink and the Scouts worked together for a cleanup of Hominy Creek in Candler -- 130 tires!
On Saturday, Sept. 12, Scouts and Adult Leaders from Troop 91 along with students from Christ School in Asheville cleaned debris and tires from a segment of the Hominy Creek, a tributary to the French Broad River.
A total of 90 young men and adults came out to get wet and muddy that fruitful day, along with RiverLink's Dave Russell and Justin Young, and awesome volunteer Bob Ruddy.
Just some of the tires that are no longer in Hominy Creek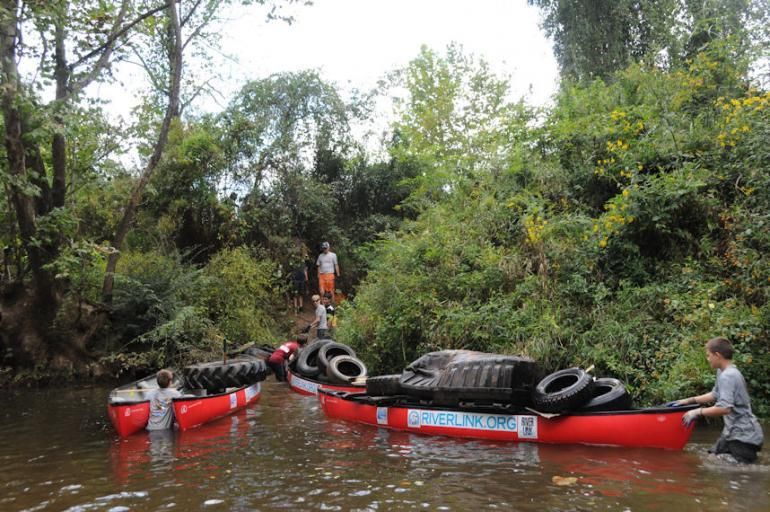 RiverLink's canoes really got a workout!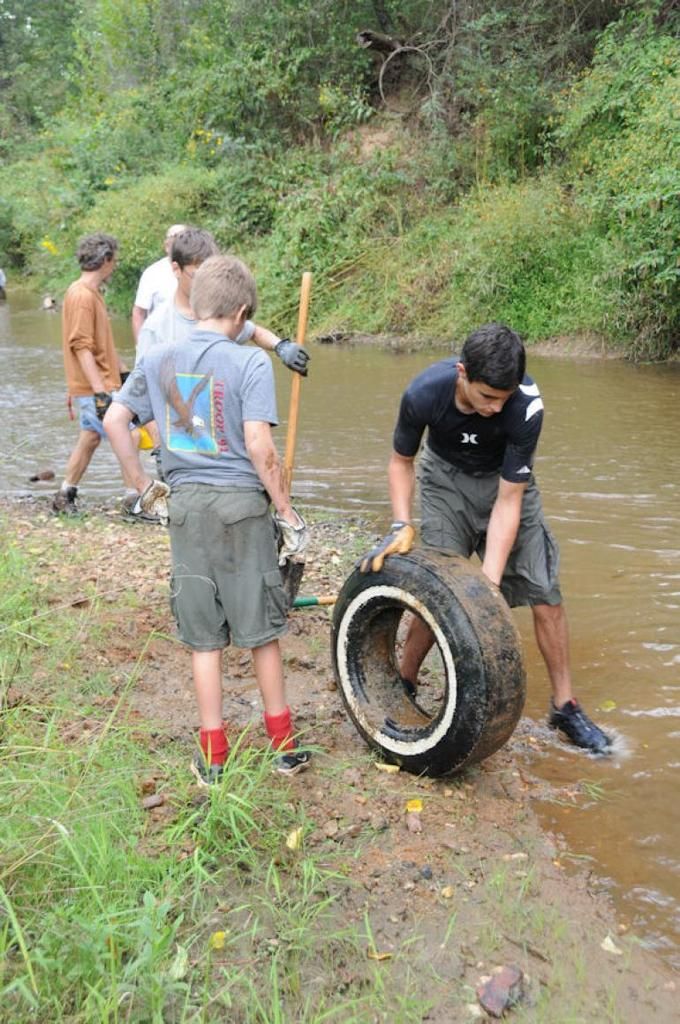 Organizer Bennett David rolls a tire
Altogether, 283 man hours were put into cleaning up our environment. Hominy Creek along the Buncombe County Sports Complex hasn't been that clean in a while
The "good news" is that most all of the tires could be identified as coming from decades past. It appears these have been in the stream a long time and there is no new tire-dumping going on.

The project has been listed on the World Scouting Website and Scouts have earned the Messengers of Piece award and patch for participating.
Thanks to all who participated, and let's do it again sometime!
Other ways to stay in touch with RiverLink


These monthly newsletters are chock-full of good information about what RiverLink has done, is doing now, and will be doing in the future. There are other ways to connect to us and stay riverlinked, though.
Check them all out and let's stay in touch!
Upcoming Events
Please note: When attending any of these events at the RiverLink office, please do not park at any
of the studios on Riverside Drive. Thanks so much.
-----------------------------------
Wednesdays, Oct. 7, 14, 21, 28, sites TBD -- Wednesday Workdays
We'll keep on working Wednesday afternoon with a variety of projects in mind! Contact Justin at justin@riverlink.org to find out more or watch your inbox for RiverLink volunteer emails!
-----------------------------------
Thursday, Oct. 8, 5:30 pm - 8:00 pm at the Thomas Wolfe Memorial --

Wilma Dykeman Book Club Monthly Discussion, "The Chateau and the Boardinghouse." Discussion Leader: Dan Pierce, Chair, UNCA Department of History
Pierce knew Wilma and can share his own insights into Wilma's pairing of George Vanderbilt with Thomas Wolfe.
-----------------------------------
Friday, Oct. 9, 5 p.m. at the RiverLink Sculpture and Performance Plaza --
RiverMusic wraps up with a night of soul and funk when Fred Wesley and the New JBs, The Lee Boys, and Lyric take the stage. Gates open at 5, music starts at 5:30. Free music! Foodtrucks, beer, and more! Free parking and free admittance at 144 Riverside Drive in the River Arts District
-----------------------------------
10:00 a.m. & 5:30 p.m. at the RiverLink office - Volunteer Information sessions.
The information session will
detail all of RiverLink's volunteer opportunities in a 30 minute powerpoint presentation. Volunteers will also have a chance to fill out a volunteer questionnaire and find the opportunities that best fit their needs.
----------------------------------
Thursday, Oct. 15 at Sol's Reprieve, 11 Richland Street (
map
), 6 -- 9 p.m. -- Of Time and the River Art Benefit opening gala.
Artists interpret the French Broad through drawing and painting, much of it from direct observation. Buy your ticket now for the exclusive showing of this artistic inspiration and sale of the works.
----------------------------------
Tuesday, Oct. 27, 10 a.m. - noon at the RiverLink office at 170 Lyman Street in the RAD -- Minority Business Seminar.
Join RiverLink and Brenda Mills, Economic Development Specialist with the City of Asheville, for this 2-hour seminar for minority and women business owners. Reservations are a must so make yours by emailing
melinda@riverlink.org
.
-----------------------------------
Friday, Nov. 13, 3 -- 5 p.m. at the RiverLink office -- Salon Series with
an encore presentation by Barbara Duncan, Ph.D., Museum of the Cherokee Indian, and the Cherokee Friends.
Due to its popularity the first time around, we've added a second chance to hear about the Cherokees' relationship to rivers, particularly the French Broad. The event is free but reservations are required.
Click here

.

Kudzu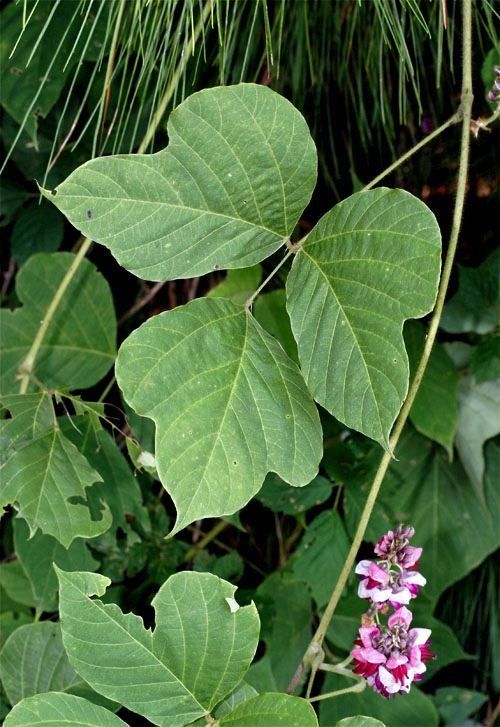 Scientific name
: Pueraria Montana
History and use
: Introduced from China and Japan in 1876. It was widely promoted and planted to help control soil erosion.
Identification
: Kudzu is a deciduous woody vine 35 to 100 feet long. Leaves alternate and grow in compound 3-leaf leaflets. Leaves are 3-7 inches long and slightly lobed. June-September slender clusters of pea like flowers in violet or
reddish
-purple grow on kudzu. September-January clustered dry, flattened seed pods start to form.
Ecology
: Kudzu can be found along right of ways, forest edges, and stream banks. It typically grows in thick, matted,
rope-like
formations, and can spread about 60 feet per year. It forms dense patches by twining around objects that are less than 4 inches in diameter.
Control
: To keep kudzu from spreading you can cut the vines and dig up the roots. You should also keep it mowed when found on the ground, and strip the vines from trees and bushes. You could also try letting animals graze on it, or covering it with black plastic or a heavy mulch.
Volunteer Spotlight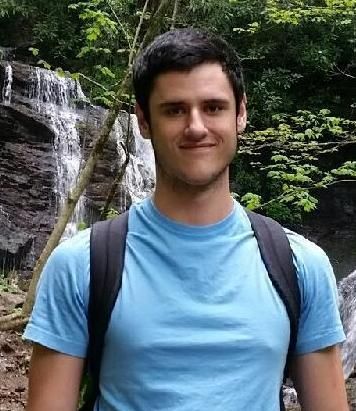 Shane McCarthy
Shane McCarthy is an Asheville native and a Civil Engineering student taking classes at UNC Asheville. He has worked for his family's construction company on and off since he was in high school, as well as working in the retail and service industries for about a year. He has always enjoyed spending time at Asheville's river parks and hiking up in the mountains.
He started volunteering with RiverLink in June so he could help with river cleanups. He found out about the organization after passing a work crew on the Swannanoa River. Seeing how many people had volunteered to do this dirty job made him want to join, too. Since then, he has participated in several river cleanups, as well as helping out at a couple of concerts and the Anything that Floats Parade. Cleaning trash out of a river is a very satisfying job. It's a good feeling at the end of the day when we look at all of the waste we've cleaned up. Car batteries, plastic bags, beer cans, and shopping carts don't belong in the river, and he's glad there is a group of like-minded people that agree and want to make a difference.
He says, "I'm very glad that I joined this organization. I'm impressed by the amount of good things they have done by converting industrial sites to parks, and creating greenways along the river. I've always had a good time and everyone I run into associated with RiverLink seems to love what they are doing."
Barred Owl Facts

Barred Owls are birds of prey, otherwise known as "Raptors" derived from the Latin word rapere which means to seize or take by force.
Barred owls subsist on a diet of small rodents such as mice and rats, other smaller birds, and occasionally crustaceans like shrimp or crayfish.
Because of their love of crustaceans the Barred Owl has earned the nickname "Swamp Owl" for their affinity towards wetland like habitats that support their tiny aquatic prey.
Shrimp and other crustaceans contain a chemical called beta carotene. This is the same chemical that makes carrots orange. When birds such as the Barred Owl eat enough of them it can turn their feathers pink. Flamingos anyone?

Another nickname for the Barred Owl is the "Southern Gentleman". This is because their 8 part hoot sounds like they're saying "Who cooks for you, who cooks for y'all?"
Owls can only turn their head 270 degrees around, not the full 360.
Owls can move their heads so far because their eyes are fixed in their sockets so they can't use peripheral vision like us.
If our eyes were the same size proportionately to our head as an owl they would be roughly the size of softballs.
Barred Owls have an extra eyelid called a nictitating membrane which protects their eyes from the claws of prey while they feed.
Owls are nocturnal meaning they hunt primarily at night. Their style of hunting requires a great deal of stealth.
Barred owls have serrated wing tips which reduce air resistance and allow for much quieter flight. This gives them the opportunity to sneak up on their prey, and use their sensitive hearing more effectively.
Barred owls rely heavily on their hearing to hunt. Their ears are offset; one is higher than the other. This allows them to triangulate and pin-point the location of prey even under leaf packs or snowfall.
They also have a facial disk angled towards their ears that funnels sound allowing them to hear well.
Barred Owls don't migrate, in fact they rarely move further than 6 miles from their original nesting site.
Young Barred Owls can climb trees by grasping the bark with their bill and talons, flapping their wings, and walking their way up the trunk.
The oldest Barred Owl on record was 24 years old.