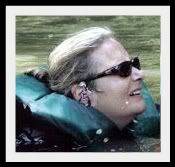 From the exec's desk
Dear RiverLovers,
For most of us, November is a month of reflection and thanksgiving in recognition of all our blessings. It is for me and my family. In fact, Thanksgiving is my very favorite holiday. I love that Thanksgiving's focus is on family, friends and food with time to stop and think about all we have to be thankful for in our work and
lives.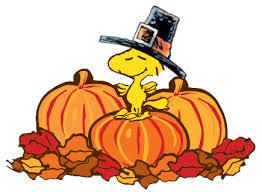 At RiverLink I am so thankful to all our members, donors, volunteers, staff and board. It takes a lot of people moving in harmony (or swimming in the same direction) to make an organization with as big a mission as RiverLink's actually work.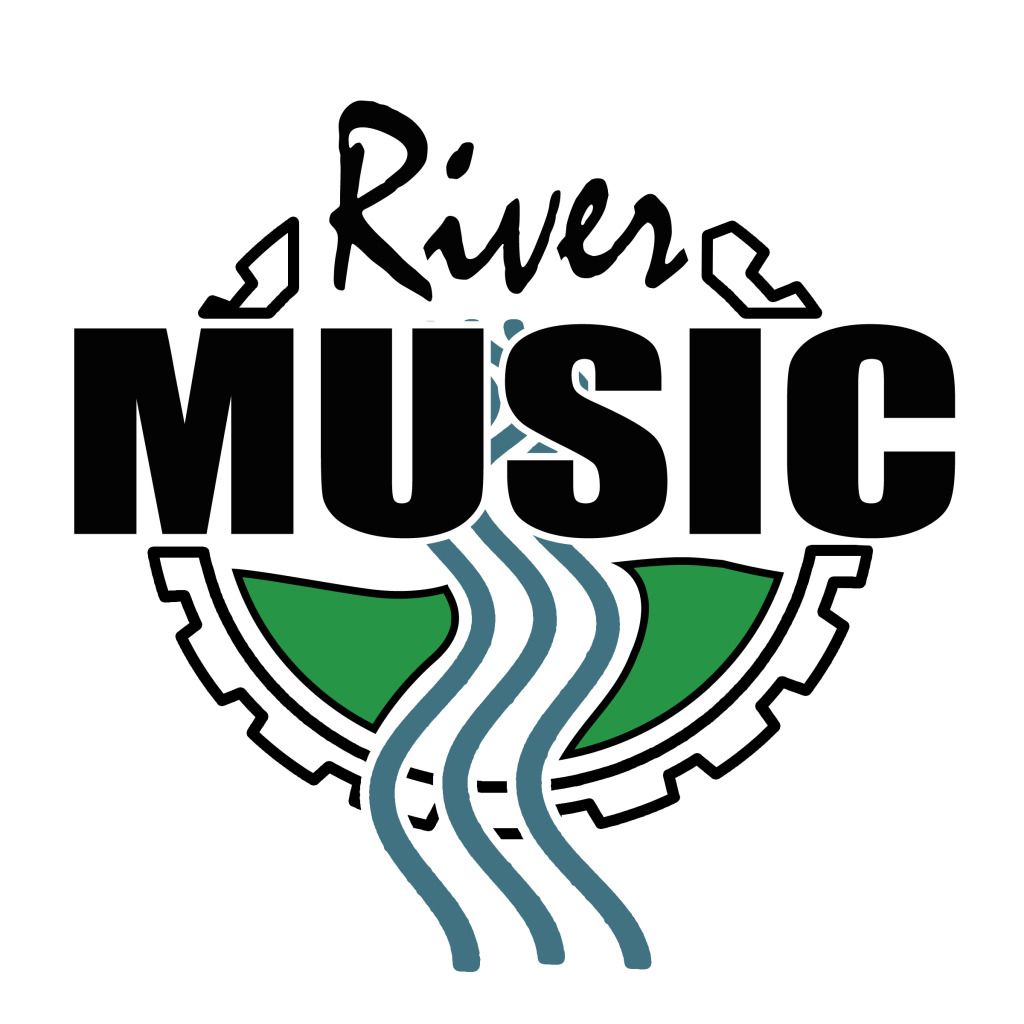 Do you know it takes almost 80 volunteers to produce one night of RiverMusic? That doesn't include all the folks we hire -- policemen, trolley drivers, sound experts, lighting specialists, electricians, musicians, solar installers, stage hands, and more. It's a BIG production and we couldn't begin to provide these six free solar powered multi-modal events under the stars on the river without all of that help and good will. We are very grateful for all of your help both coming to enjoy RiverMusic and your help behind the scenes making it happen.
This is also the time of year when we start to count how many tires we pulled out of the river, and how many bags of trash were hauled out of the floodplain. It's daunting that the volume of trash and litter is so large year after year. But again, thanks to our Adopt-A-Stream teams, weekday workday crews, camps, school groups and regular volunteers we keep making our riversides cleaner and more accessible for everyone.
RiverLink has always known that Wilma Dykeman's ideas and writing would stand the test of time - after all, her seminal work "The French Broad" has been in print continuously since 1955 - and it's great to see her
getting some attention from others as well. You may have seen her name in the news recently on a couple of fronts. The AC-T Writers Circle took up "The French Broad" resulting in an article entitled, "
Dykeman's 'The French Broad' 60 years later
." That experience lead group leader Dale Neal of the AC-T to pen, "
The woman who saved the French Broad
," "
Reading 'The French Broad': New challenges face our oldest river
," and "
You can't understand Asheville without "The French Broad
." A presentation given by Jim Stokely, Wilma's oldest son and executive director of the Wilma Dykeman Legacy, in Greeneville lead to "
Wilma Dykeman's Core Values Still Resonate
." It's wonderful to see Wilma and her enduring ideas get this kind of exposure.
We have a generous donor who has offered to gift us up to $10,000 to get the RiverLink license plate into circulation. The NCDOT requires that we present one check to them and 500 applications all at one time or they wont print our plate. The good news is we can pay your $30 license plate fee because of this donation we received (but if you want to send us a check, we wont say no) and all you have to do is fill out
this application
and drop it by our offices or mail it back to us with your details. Remember, the total cost of the plate is $30 - that's $10 to RiverLink for conservation and open space, $10 to the Clean Water Management Trust Fund for clean water projects around the state and $10 stays with the NCDOT to make the plate. See the writeup below for more details.
Happy Thanksgiving and thank you for all you do,
Karen
RiverLink is hiring a Development Director
RiverLink is seeking a seasoned development professional with a myriad of
skills and an equal amount of enthusiasm and energy to join our team of dedicated river conservationists and advocates.
For 30 years RiverLink has been the recognized leader in French Broad River revitalization having been voted the best environmental organization in WNC for 10 consecutive years. The successful candidate for this new position will have an impressive track record of working collaboratively with a board development committee and the executive director to increase annual fund, membership and sponsorship revenues for the organization. RiverLink offers a collegial atmosphere, the opportunity to help navigate the future of the watershed, a competitive salary and a simple IRA with employer match up to 3% for the right candidate.
If you think you are the right person for this position then please send your resume, cover letter, salary history and writing sample to RiverLink, PO Box 15488, Asheville, NC 28813-0488, by December 1, 2015, or email karen@riverlink.org. Absolutely no phone calls please.
This just in!!! A generous RiverLink donor has committed up to $10,000 to pay for your RiverLink license plate. All you have to mail or drop by
this application
so you can sport a RiverLink license plate on your car
for free
.If you would rather pay for a plate, it's only $30, and we wont say no to your contribution! In either case, we need to get this done by January 15th so the NCDOT can print the plates. This free license plate offer is first come, first serve, so send in your application today!
By applying for a RiverLink Quality of Life license plate, you are telling the world you believe in open space, greenways, bike trails, river access and overnight camping along the river, conservation and mixed-use development, water that is fishable, swimmable, and drinkable with a RiverLink "Enjoy the French Broad" specialty license plate.
In a bipartisan effort, o
ur local delegation was able to get this specialty license plate legislation passed. The good news is we were able to get the legislation through the NC House and Senate to approve the license plate. The bad news is we have to pre-sell 500 license plates by January 2016 BEFORE the NCDOT will produce them.
Your completed license plate application is essential to the success of this program, because we must order the first plates in a single order.
Please print out this form
and return to RiverLink. You can also help by telling your friends and neighbors how excited you are to be a RiverLink license plate owner. If you would prefer to receive the license plate application via US mail, please contact
melinda@riverlink.org
with your mailing address.
So more good news - if you choose to purchase a plate, when we place the order with NCDOT, we will be able to send you a charitable receipt for $10 for each plate you pay for. That's right! The state gets $10 (which is the value of the plate), the Clean Water Management Trust Fund gets $10 and we get $10 per plate. We will use 100% of these proceeds for greenways, open space and conservation AND you get a charitable receipt for $10!
We will deposit your license plate fee and hold those funds in a restricted "license plate" account. If for some reason we are unable to sell the required 500 plates, we will notify you and return the funds to you.
Already filled out an application for a license plate? You don't have to do anything -- we will be reaching out to everyone who has already bought a plate to confirm your information. We still need to sell 100 plates (in addition to the generous $10,000 gift to provide free plates) but if you would like a free plate, we can refund your money and you will get your free plate.

Special license plates are a great gift for friends and family especially if they love the "quality of life" these plates represent.
Healthy Rivers, Healthy Body & Spirit


One Center Yoga
has teamed up with RiverLink and is offering all new One

Center Yoga and RiverLink members a free yoga consultation, plus a free introductory class and a big discount on a series of six classes!

If you have been thinking about your health, your family and co-workers' health and the health of the French Broad River Watershed, here is an opportunity to make a difference in all these areas.

Here are the details (just show your RiverLink membership card for free yoga consult and introductory class):

Individual membership: RiverLink cost $40
- Free 15-minute consultation with One Center Yoga Teacher
- Free first class pass to any weekly One Center class
- Introductory offer: 6 classes for $60 for students NEW to One Center

Family membership: RiverLink cost $60
- (2) Free 15-minute consultation with One Center Yoga Teacher
- (2) Free first class passes to any weekly One Center class
- Introductory offer: 6 classes for $60 for students NEW to One Center

Corporate membership: RiverLink cost $500
- Free corporate wellness assessment
- (10) Free first class passes to any weekly One Center class
- Introductory offer: 6 classes for $60 for students NEW to One Center
- Free private group class with Cindy Dollar

The holidays are fast approaching and what better way to say "Happy, Healthy New Year and thank you for a great year!" than the gift of yoga and membership in RiverLink? This is a great opportunity to keep that New Year's resolution you made last year and just never got around to while supporting RiverLink. We're proud to have been voted the best environmental nonprofit in Western North Carolina for 10 consecutive years in the Mountain Xpress "Best of" public poll.

RiverLink members receive discounts to events during the year, free bus tours and the opportunity to be part of the team navigating the future health of the French Broad River. RiverLink's Wilma Dykeman RiverWay Plan incorporates health and wellness, arts and crafts, knowledge workers and recreation as core authentic and historic economic activities along the French Broad River corridor.

You can access the full schedule of yoga classes at One Center Yoga online at http://onecenteryoga.com/class-schedule/.

You can become a member of RiverLink online, too. Visit our Website to select your membership level -- individual, family, or corporate. If you want to discuss your membership, call us at 828-252-8474, ext. 10 or email us at melinda@riverlink.org.

RiverLink adds a second Cherokee presentation
Due to its popularity the first time around, our Fall Salon Series continues on Friday, Nov. 13 with an encore presentation by Barbara Duncan, Ph.D., Museum of the Cherokee Indian, and the Cherokee Friends
. From 3 p.m. until 5 p.m. at the RiverLink office at 170 Lyman Street in the River Arts District, the group will speak about the Cherokees' relationship to rivers, particularly the French Broad, and will share some reproductions of Cherokee artifacts including pottery and ancient cloth.
The Cherokee Friends are cultural specialists from the Museum of the Cherokee Indian, and will provide flute music and storytelling. Duncan and the Cherokee Friends will participate in questions and answers from the audience. Barbara Duncan has a Ph.D. in Folklore and has written award winning books about Cherokee history and culture, and has received the Brown Hudson Award from the North Carolina Folklore Society and the Cherokee Phoenix Award.
While the event is free, registration is required and available here:
RiverLink is located at 170 Lyman Street in the River Arts District (map). The Fall Salon Series is part of RiverLink's mission to make the French Broad River a place for everyone to live, learn, work and play.
Turn Black Friday into Green Friday this year


Join RiverLink on Friday November 27 and Enjoy the Zip Line and the View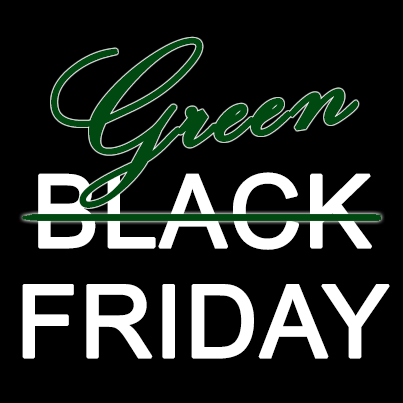 From the Top.

Want to avoid the mayhem of Black Friday? Come join us for the 5th Annual Green Friday at one of 5 zipline/canopy tour locations and help the environment at the same time! 50% of the proceeds from the canopy tours on Green Friday go to RiverLink.

Other regional organizations will also benefit from this post Thanksgiving tradition. RiverLink will use its portion of the proceeds to continue it s work of making the French Broad river and watershed a destination for everyone to work, live, learn and play.

Participants have to be 10 years old & 70 lbs. to go on a canopy tour, but kids as young as 4 can enjoy the new Kidzip at the Nantahala and the KidZip at the Adventure Center of Asheville. Call the Reservations Center at 800-451-9972 or book online at www.wildwaterrafting.com. Please mention Green Friday when you call us so we can pass along our appreciation for your support.

More Info about Zipline canopy tours and Black Friday event.

RiverLink proudly announces the 2015 RiverBusiness Award winners


Each year the RiverLink board of directors recognizes river friendly businesses that have through their standard operating practices contributed to the health and well being of the French Broad River watershed as a destination to live, learn, work and play. Previous winners include the Phil Mechanic Studios, artist John Payne, The Asheville Brewers Alliance, AvL Technologies and a host of other companies that have been good stewards of the environment and operated successful business that have helped protect and promote the French Broad River.
This year RiverLink is proud to recognize the following diverse businesses as contributors to the popularity, protection, and sustainability of the French Broad River.
The Bywater
The Bywater has become a favorite meeting place for everyone. Whether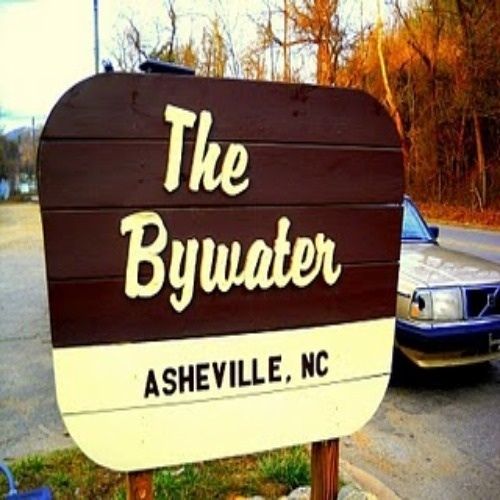 you are wearing a business suit or a bathing suit, brought your dog or left her at home, kids of all ages love sitting on the banks of the French Broad River at the Bywater on Riverside Drive. The Bywater is a great equalizer, much like the river itself. Its a very democratic destination for our entire community and the larger community has responded to its vibe. We love to see multi-generational folks celebrating a birthday sitting next to a young couple with a dog and a man in a suit and a tie sitting next to someone who just pulled their paddle board out of the river. The Bywater is further proof that the river belongs to everyone and everyone loves the French Broad.
Roots
Rootsfoods.com is a local success story on every level. Located in a small building in the River Arts District Roots is a locally grown business that in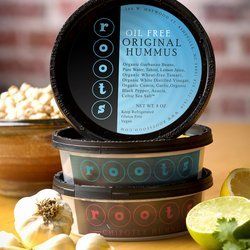 addition to making delicious traditional hummus makes hummus out of every conceivable vegetable combination from lima beans to red peppers. For Asheville foodies its also very important that all Roots Hummus treats are certified non GMO, vegan and gluten free. Roots business has grown expediently and is now distributed in select markets across the USA. Roots is a constant partner with RiverLink. They feed our 2,700 volunteers all year long. Most times the owner and employees will read our newsletter and anticipate our needs by delivering hummus to our offices for an upcoming event.
The Biltmore Estate & Winery
Western North Carolina just wouldn't be western North Carolina without the Biltmore Estate and Winery. Not only is the house the largest privately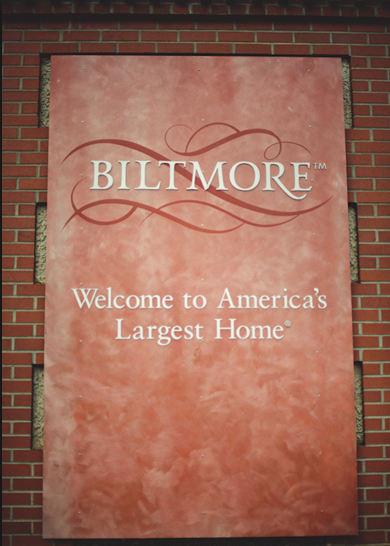 owned house in the USA, but it's where the first school of forestry began and sustainability has always been in the forefront of operations. Today when you drive past the estate on I-40 you can see the acres of solar panel fields that help fuel their operations. Much of the food served on the Estate in their numerous restaurants is grown on the Estate. The Estate uses best management practices and a combination of traditional and the latest technology to control erosion and run off into the rivers. The 10 or so miles of the French Broad that flow through the Estate are easy to spot from the river because the riparian buffer along the Estate is in such great condition. For all the times the last 30 years we have been on and around the river, we have never known of any erosion sloughing off the estate and into the river. The Biltmore Estate has a unique and enviable tradition of being extremely conscious property owners and river stewards. They help establish the standard for being good stewards of our resources as good business practices.
Mountainspiration offers up support and tees!


RiverLink is happy to be partnering with
Mountainspiration
to bring you these wonderful t-shirts. 100 percent of the proceeds after production costs will go towards RiverLink to help support our mission.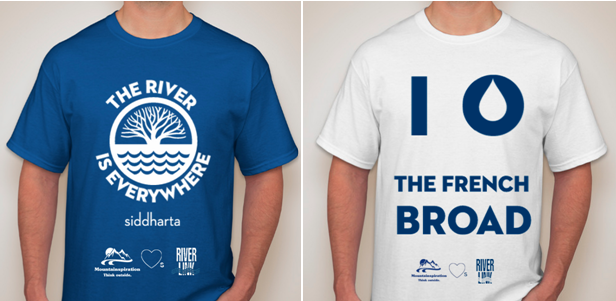 Mountainspiration
aims to provide you with the perfect apparel you need to tell the world just what moves you. Based in Asheville, NC,
Mountainspiration
not only wants you to express your love for the mountain lifestyle, but gives you the option to donate a portion of your purchase to any number of environmental protection and wildlife preservation non-profits.
Buy a t-shirt and support your favorite non-profit at the same time!

Community Race Relations to be Debated at Asheville High
Asheville area residents are invited to attend a community debate in which four prominent citizens will argue against and in support of the following resolution: Asheville has disenfranchised its African-American population.
This is the kickoff event for what will be an ongoing community debate series, taking place Friday, Nov. 13 at 5:30 p.m. in the Asheville High School Auditorium.
There is no charge for attendance. The events are sponsored by
Asheville High/SILSA and the Wilma Dykeman Legacy, in cooperation with the Asheville Citizen-Times.

The debate features Dr. Dwight Mullen (political science professor) and Dr. Darin Waters (history professor) of UNC-Asheville arguing in SUPPORT of the resolution, and Dr. Carl Mumpower (local psychologist) and Dr. Wendell Runion (local radio station owner and evangelist) arguing AGAINST the resolution.

The students and coaches of Asheville High / SILSA's Speech and Debate Team believe that formal debate - the disciplined discussion of an issue between matched sides - can create more light than heat. Listeners might actually learn something, and debaters can demonstrate or develop the critical skills of persuasion and public presentation.

To highlight the power of the spoken word in a structured debating forum, Asheville High/SILSA and the Wilma Dykeman Legacy, in cooperation with the Asheville Citizen-Times, are proud to present a series of public debates between prominent local citizens. The three-part debate series will take place on Friday evenings at 5:30 PM in the Asheville High School auditorium.
On November 13, January 29, and April 8, two-person teams will debate substantive issues including race relations and the organic food and eat-local movements. Asheville Citizen-Times "Answer Man" John Boyle will moderate the first debate while Asheville High debate students will keep time and judge the "winners" of the debate.
For more information, contact Jim Stokely of the Wilma Dyeman Legacy at
stokely.jim@gmail.com
or 828-458-5813.
Come to the River Arts District and get your holiday shopping done early


The River Arts District Fall Studio Stroll is
November 14-15 from 10 a.m. to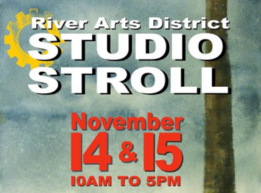 5 p.m.
The Artists of Asheville's River Arts District open their doors for a full weekend in the Fall Studio Stroll, welcoming the public to see and collect amazing art in their studios and galleries.
RiverLink sponsored t
he first Studio Stroll in 1994
. Only one artist is still here from that year -- woodworker and RiverLink Board member Joe Ransmeier -- so be sure to drop into his studio and say hello to a pioneer!

Take advantage of ample parking and hop aboard one of the free trolleys running throughout the Studio Stroll Weekend.

The River Arts District consists of a vast array of artists and working studios in 22 former factories and historical buildings nestled along the French Broad River.

More than 180 working studios, many with showrooms and galleries, are open every day, all year round. The Artists work in paint, pencil, pottery, metal, fiber, glass, wax, paper and more.

Come be inspired, shop, meet the artists and watch live demonstrations!


Francine Delany New School education day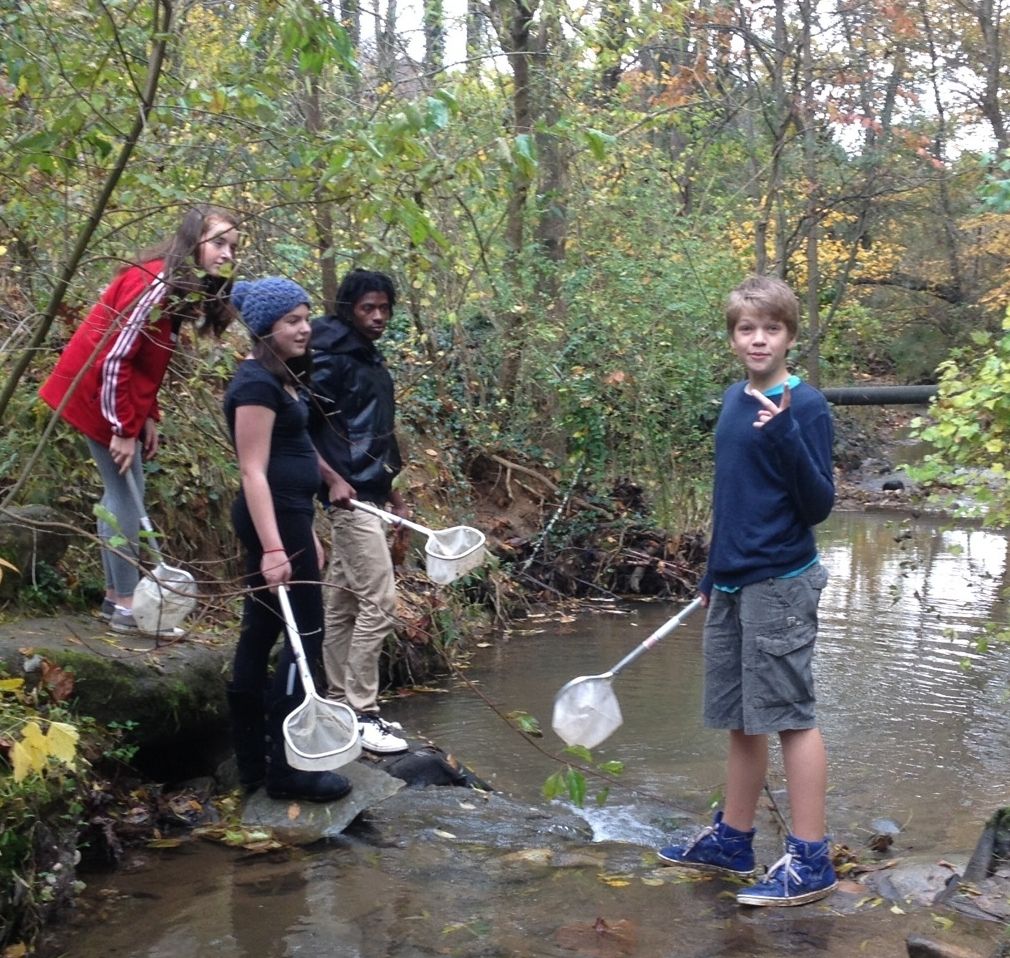 Thursday October 29th, RiverLink had a wonderful event with Francine Delany New School for Children in aim of the education and empowerment of the next generation of water stewards. Our educational, fun-filled event at West Asheville Park with the 7th and 8th grade students was centered around water based environmental education. RiverLink staff and Francine Delany teachers lead activities about water quality, plant ecology, watershed stewardship, and more! It sure was a blast getting the students in Rhododendron Creek!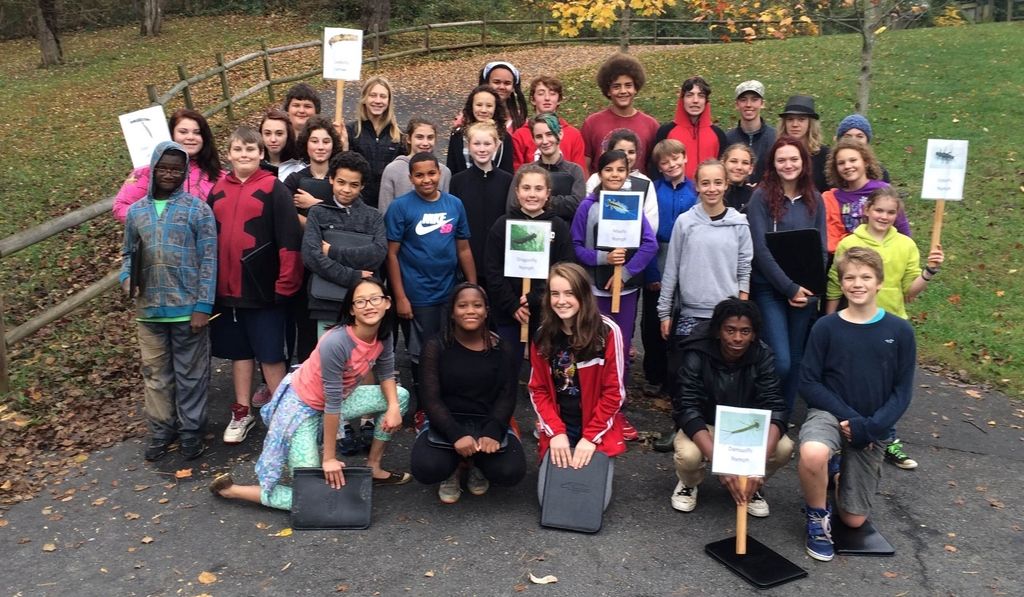 It was a good day. Look at all those smiles.
Upcoming Events
Please note: When attending any of these events at the RiverLink office, please do not park at any
of the studios on Riverside Drive. Thanks so much.
-----------------------------------
Tuesday Nov. 3, Thursday Nov. 12, & Monday Nov. 16 -- Weekday Workdays
We'll keep on working afternoons with a variety of projects in mind! Contact Justin at justin@riverlink.org to find out more or watch your inbox for RiverLink volunteer emails!
-----------------------------------
Thursday, Nov. 12, 5:30 pm - 8:00 pm at the Thomas Wolfe Memorial -- Wilma Dykeman Book Club Monthly Discussion, "Every Home Its Own Community." Discussion Leader: Micheal Sartisky, former President of the
Louisiana Endowment for the Humanities

-----------------------------------
Wednesday, Nov. 11
10:00 a.m. & 5:30 p.m. at the RiverLink office - Volunteer Information sessions.
The information session will
detail all of RiverLink's volunteer opportunities in a 30 minute powerpoint presentation. Volunteers will also have a chance to fill out a volunteer questionnaire and find the opportunities that best fit their needs.
----------------------------------
Tuesday, Nov. 17 at the RiverLink office, 10:00 am - 12:00 pm --

Calling all Artists: Learn how to contract with the City of Asheville. Join RiverLink and City of Asheville Economic Development Specialist Brenda Mills to find out how as an artist you can become a contractor for the city.

Reservations are a must so make yours by emailing
-----------------------------------
Friday, Nov. 13, 3 -- 5 p.m. at the RiverLink office -- Salon Series with
an encore presentation by Barbara Duncan, Ph.D., Museum of the Cherokee Indian, and the Cherokee Friends.
Due to its popularity the first time around, we've added a second chance to hear about the Cherokees' relationship to rivers, particularly the French Broad. The event is free but reservations are required.
Click here.
Other ways to stay in touch with RiverLink


These monthly newsletters are chock-full of good information about what RiverLink has done, is doing now, and will be doing in the future. There are other ways to connect to us and stay riverlinked, though.
Check them all out and let's stay in touch!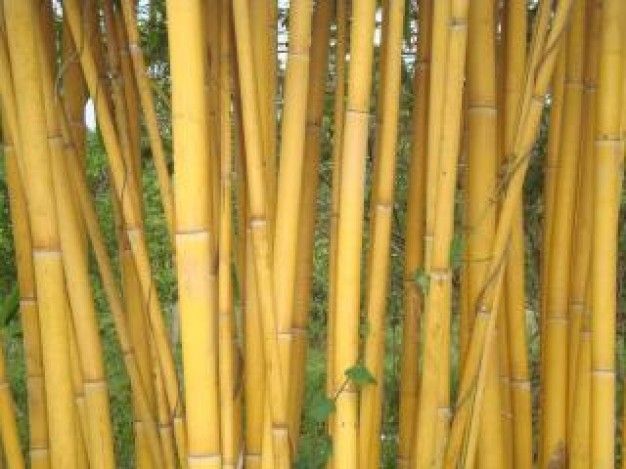 Golden Bamboo

Scientific name: Phyllostachys aurea

History and use: Native to China Golden Bamboo is used for paper pulp, handicrafts, and as a food source in many countries throughout Asia. It was introduced to the U.S. in Alabama in 1882 as an ornamental.

Identification: Golden Bamboo is typically 16 to 40 feet (5 to 12 m) in height, with jointed cane stems and bushy tops of lanceolate leaves in fan clusters on grass like stems, often golden green. Can be confused with native River Cane, Golden Bamboo will have one side of the stem flattened whereas River Cane will have a more rounded cross section.

Ecology: Thrives in full or partial sun and in moist, deep loamy soils. Often found as dense thickets along roadsides and residential right of ways. Also invades secondary forests, clearings, and forest edges.

Threat: Infestations of bamboo displace native vegetation, alter habitat, and upset food chains. For streams, bamboo leaf litter alters stream food webs starting with litter-feeding stream invertebrates. It is also known to attract roaches in urban areas.

Control: For small infestations, regularly cut back the bamboo, which eventually kills rhizomes by exhausting stored energy. Keep a barrier of at least three feet around the infestation to prevent spreading. For larger infestations use caution and apply a foliar chemical treatment (2% solution of glyphosate).
Volunteer Spotlight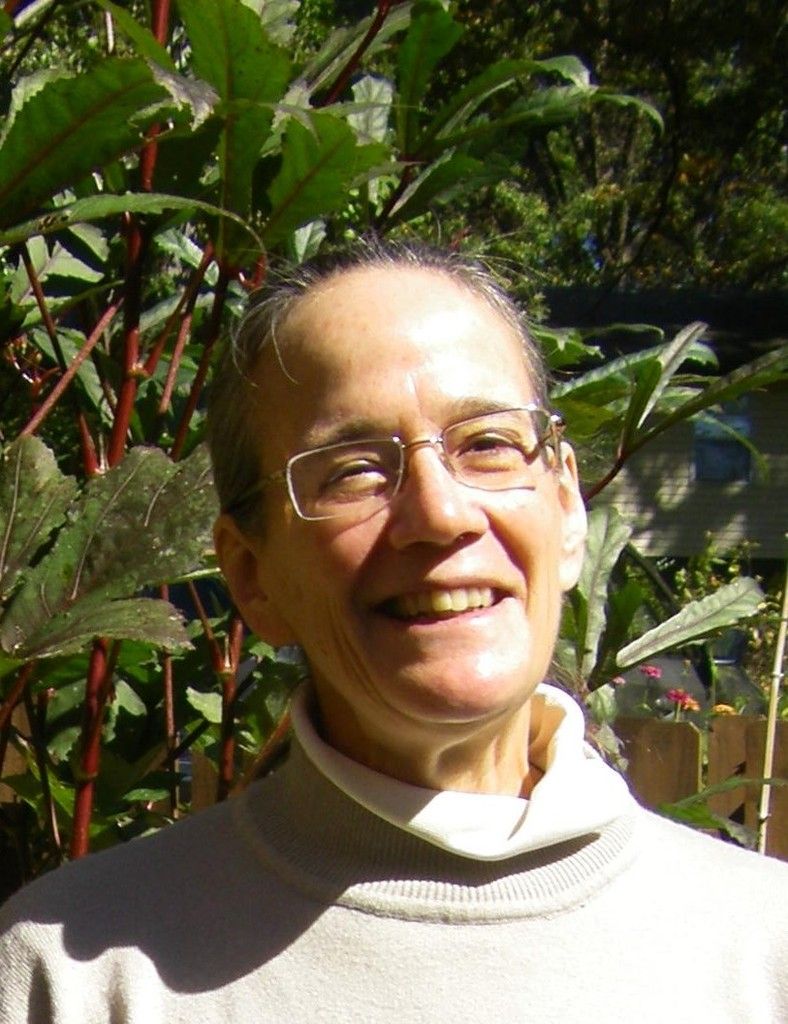 Elaine Smyth
After years of visiting her parents in in the area, Elaine Smyth moved permanently to Asheville with her husband, David, in August of 2014. On her birthday that year, her father gave her a copy of Wilma Dykeman's The French Broad, as well as several hiking guides. He could not have made a better choice! When the Smyths learned about RiverLink, they already understood the importance of the river and were eager to help forward RiverLink's mission.
In addition to volunteering for clean-up and helping out with RiverMusic, Elaine discovered that Riverlink had some needs that related to her professional expertise. A retired librarian, she worked for 26 years in the Special Collections at Louisiana State University, helping to collect, organize and make accessible papers and records of individuals and organizations in Louisiana. Elaine is excited to be able to help to make sure that RiverLink's records and the plethora of regional information that it has gathered over the years are all organized, and preserved. "It's important to maintain the historical record of what RiverLink has accomplished. It's easy for newcomers - and there are lots of us! - to take the current state of the river for granted, as though it just happened with a wave of the wand," says Smyth. "It's a journey full of effort, and these records will help us understand where we've been and where we're going."
Mayfly Facts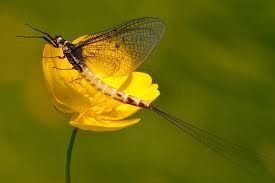 * Mayflies spend most of their life as larva in the water.

* As larva mayflies eat algae, but as an adult they don't eat anything because they don't have a functional mouth.

* Mayflies are about ½ to 1 inch in length and have two or three tails that extend from their body.

* Mayflies go through three stages of development: egg, naiad, and adult.

* During the egg and naiad stage mayflies will live about three years in the water.

* Once in the adult stage they only live two minutes to two days, just long enough to reproduce.

* Mayflies have been around since before the dinosaurs existed, over 350 million years.

* They need clean water to live, so scientist look for their larva to see if the water's polluted.

* Mayflies are also known as shadflies.

* There are 2.500 know species of mayfly, 600 of which are native to North America.

* The adult phase of mayflies is also known as the subimago, in which it has wings and can fly but has immature legs tail and reproductive system.

* Adult mayflies emerge from the water by the thousands in early spring creating a silvery mist over the water.

* Mayflies are an important food source to many amphibians, birds, and other stream dwelling creatures.

* Mayfly gills are attached along the sides or bottom of the abdomen.

* Mayflies will always have either two or three tails.

* Can easily be confused with stone flies, you can distinguish by looking at the gills. A stoneflies gills look like hairy armpits.
Mayfly Eggs
Mayfly Nymph
Mayfly Adult