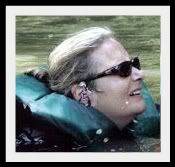 From the exec's desk

Dear RiverLovers,
Happy holidays from all of us to all of you. Wow -- was it a quick year or what? I have to think that we are all so busy that the weeks and the months just fly by. But this holiday season is a good time to slow down and just reflect on what is important and what worked well.
For 2015 our volunteers continued to be hugely successful for us. Citizens from all corners of our community put in countless hours doing just about everything from parking cars to killing exotic invasives to cleaning up other people's litter to make our watershed even better.
This year we are thrilled to celebrate some of our outstanding volunteers. We call them "critical links" because they are critical links to our successes. So for 2015 please join us in toasting and thanking the following critical links for their years of service and dedication to the French Broad.
Dan Hitchcock
served with distinction on the RiverLink's board for 6 years.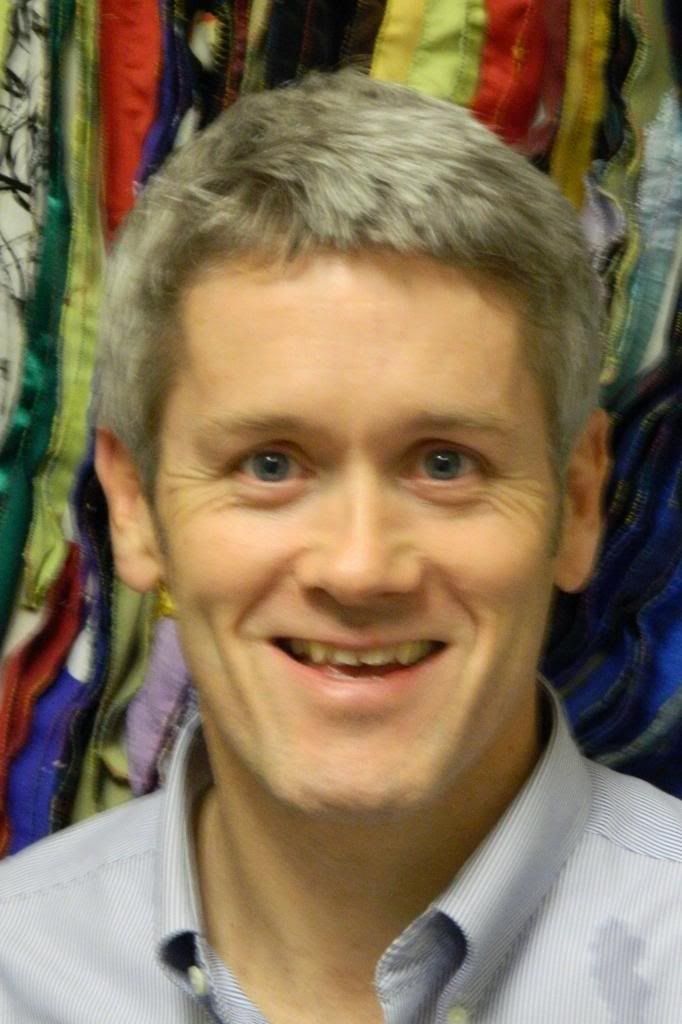 Dan Hitchcock
Three of those years he served as our very able chairman and helped us immensely with a number of legal issues including our first efforts at becoming an accredited land trust. Stay tuned as we are awaiting word on our accreditation. Dan was an outstanding leader and is still a RiverLink volunteer. He is an avid bike rider and spends what little leisure time he has enjoying WNC on two wheels.
Jan Phillips
Jan Phillips
hails from Madison County and has a passion for the River and mermaids. Jan has lent her considerable marketing talent to us for years to make RiverFest a huge success. She and hubby Jim are often at RiverLink just helping out, whether it's hanging banners or designing posters and tee-shirts. The French Broad is lucky to have this mermaid's energy and devotion.
Barb Korb
is another 2015 winner of the critical link award who served on
Barb Korb
our board and helped elevate the Anything that Floats Parade to new heights through her hard work, intelligence and creativity.
The IRS puts a $22.50 per hour value on volunteer labor. I can tell you from almost 30 years as executive director of RiverLink that figure is not nearly enough. RiverLink would never have accomplished all it has to improve and preserve the French Broad River and Watershed without our legendary legions of volunteers.
There are more details about Dan, Jan and Barb -- our 2015 Critical Links -- in this newsletter, so keep reading. I just wanted to say a heartfelt "Thank you!!" to them and to all our magnificent volunteers.
Starting in January we will be celebrating our 30-year history by highlighting a different project or series of projects that we have accomplished together with this community to make the French Broad the best place in WNC to live, learn, work and play. We are working hard on this new monthly series and Justin, one of our outstanding AmeriCorps members, has offered his considerable graphic skills to help illustrate our amazing French Broad. Stay tuned we think you will enjoy this series of events on the French Broad.
Only a few weeks left to order your free French Broad license plate. You can
download the application here
. This is the ultimate buy local project in that every penny we raise through the license plate sales will be used for local open space and greenways.
Since it is the end of the fiscal year we hope you will
consider a donation to RiverLink as part of your holiday giving
. We have a myriad of giving opportunities from deeds of support greenway certificates where 100% of your donation is used to develop greenways. We also have memberships you can give, as well as a whole series of RiverLink gift packs that we will deliver on your behalf with a lovely note to your friends and family and a charitable receipt for you. These RiverLink gifts are guaranteed to be just the right color and size for everyone on your gift list and provide you with a charitable receipt and the knowledge you did something really positive for our watershed this year.
We thank you for all your past support and look forward to another spectacular year of progress and success in the French Broad watershed. We appreciate the opportunity of working with you, your neighborhood, your group and your company as well as your watershed and subwatershed and improve our river so that it is drinkable, swim able and fishable for generations to come.
Merry, Merry Christmas to all,
Karen
Thank you for being a Voice of the River!



You can be one of the first people in North Carolina to display the new RiverLink Enjoy the French Broad specialty license plate on your vehicle for FREE*. A generous donor has committed up to $10,000 to pay for your RiverLink license plate! All you have to do is complete this application and send via email to melinda@riverlink.org to reserve your free RiverLink license plate today. You may also mail your application to PO Box 15488 / Asheville NC 28813. Don't delay! This is a first-come, first-served offer, so send in your application today.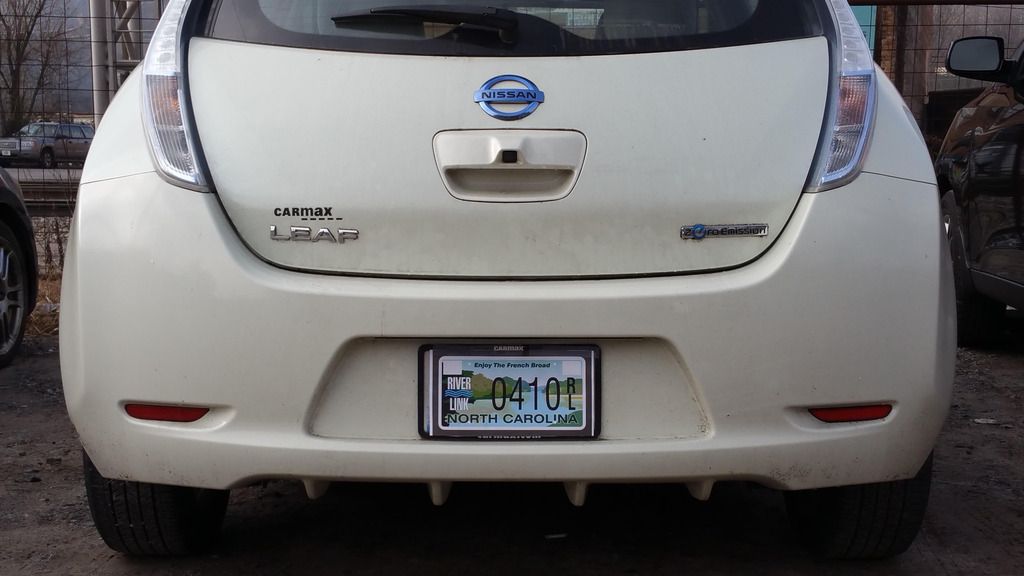 You can't have the car, but you can get the license plate!



If you would rather pay for your license plate, we won't say no! Select this

pay what you can

option* and contribute any amount that fits your budget. Then send in your application to reserve your RiverLink Enjoy the French Broad specialty license plate. We appreciate all of your support as we work towards our goal of 500 license plates.

For each license plate, RiverLink and the Clean Water Management Trust Fund will receive $10 each. If we don't reach our goal by January 2016, we will refund any payment you made towards your license plate.



This specialty plate tells the world that you believe in open space, greenways, bike trails, river access, conservation and fishable, swimmable, drinkable water. It's also a great way to contribute to RiverLink each and every year.


*Free or reduced rate license plate fee applies to first year only. After that, you are responsible for paying the full state specialty license plate fee. Personalized plates not included in free or PWYC promotion
To mark Giving Tuesday on Dec.1, RiverLink gave back to people who donate. We're extending the spirit of Giving Tuesday through December 18th, as a way of saying "Thank You" for supporting the non-profit's work in improving the French Broad River.

RiverLink is offering a variety of gift packages for each donation level.
Donation Levels:
The Frosty French Broad

For a donation of $120 donors will receive: a French Broad River Yacht Club Pint Glass, Great Blue Heron Earrings, RiverLink Hat (your choice of grey or khaki), French Broad River Access Guide, FBR Yacht Club License plate, and a RiverLink Sticker.
Holiday Heron

At the $80 level: Choice of Great Blue Heron Earrings or RiverLink Hat (in grey or khaki), French Broad River Access Guide, FBR Yacht Club License plate, and a RiverLink Sticker.
Jingle Brook Trout
For a donation of $60 donors get their choice of Great Blue Heron Earrings or RiverLink Hat (in grey or khaki), FBR Yacht Club License plate, and a RiverLink Sticker.

Merry Muskie
At $40, RiverLink offers the French Broad River Access Guide, FBR Yacht Club License plate, and a RiverLink Sticker.

Holly Hellbender:
At the basic level of $25, donors will receive: a FBR Yacht Club License plate and a RiverLink Sticker.

RiverLink's Deeds of Support that support the development of greenways along the French Broad River also make great gifts!
RiverLink hopes you have a wonderful holiday season and thanks everyone for their support!
The French Broad Adventures

We're proud to unveil our first installment of the "French Broad Adventures!" This is our in-house created art series featuring the lovely personification of our beloved river. Over the course of the year this broad will find herself in all sorts of shenanigans revolving around good watershed management practices. We hope you enjoy her and the many adventures she will go on.


It's time to start thinking about Art & Poetry 2016


RiverLink is pleased to announce the 9th annual "Voices of the River Art & Poetry Contest." Each spring, we encourage Pre-K through 12th grade students in the French Broad Watershed to creatively illustrate how they see the River.



Create your favorite aquatic animal with recyclable materials. Make a collage of images that captures what the river means to you. The world is your canvas! Give a voice to our river through YOUR eyes.

Categories include 2D Art, 3D Art, and Poetry. Submission deadline is Friday, March 25 at 5 p.m. Work must be turned in with submission form, found on riverlink.org, to the RiverLink office at 170 Lyman Street from 9 a.m. - 5 p.m., or mailed to: P.O. Box 15488 Asheville, NC 28813.

Submitted work will be on display at the AB Tech Holly Library in April in honor of Earth Day. An awards ceremony will be held on Saturday, April 16for the students, teachers, parents, and friends to view the art.
For additional information or questions, please contact RiverLink Education Coordinator Laura Evans:
(828) 252-8474 ext. 18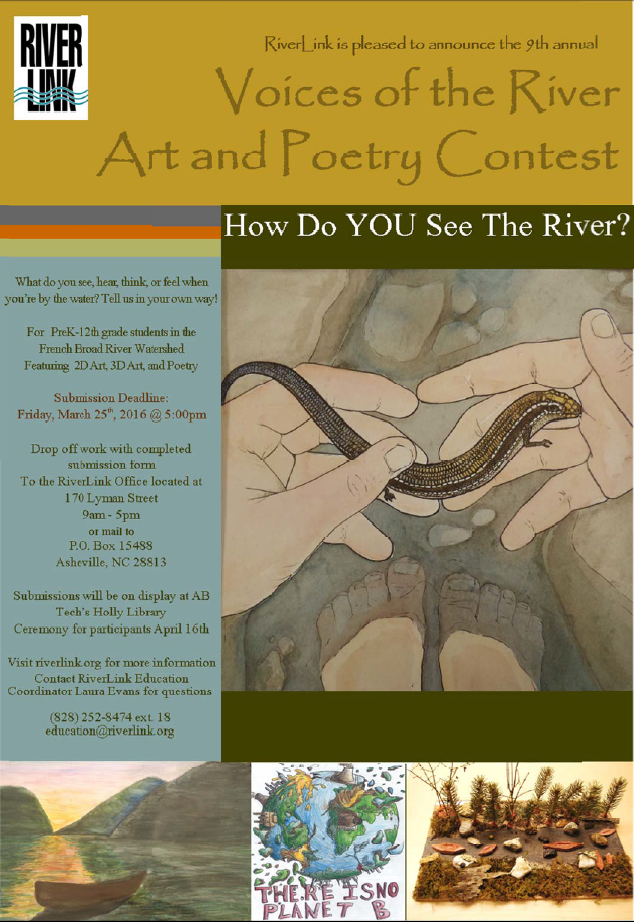 Get a cool shirt, support RiverLink at the same time
Lisa Hawkins at It's Hip To Be Green® is offering to
donate
to
RiverLink
10% of sales of her
100% organic cotton T-shirts.
Lisa is a native of this area, very green and she loves these rivers. Western North Carolina is important to her and she wants to support keeping it Green and Clean.
1925: The year you could jump across the French Broad River without getting your feet wet
On a recent trip to Oxford, GA to visit family, RiverLink Volunteer Coordinator Dave Russell was lured to a roadside fruit stand by a sign offering "Peach Cider." The proprietor, an elderly gentleman sporting a long grey beard and overalls, introduced himself as Otis Weatherton.

Noticing the RiverLink "Everyone Loves the French Broad" tee-shirt Russell was wearing, he asked, "You from Asheville? Know the French Broad River?" When Russell replied affirmatively, Weatherton went on, "My momma was born in 1910 in Asheville. She said that the drought of 1925 was so bad that she jumped across the French Broad River without getting her feet wet."

How bad was the drought of 1925? Bad enough that Lee A. Denson wrote a chapter about it in the Oct. 1926 Journal of the Elisha Mitchell Scientific Society. Denson writes, "The whole of the Cotton Belt and most of the corn and wheat regions were comparatively dry. ... Of all the sections the deficiency was greatest in the Carolinas and north Georgia, and of this section greatest in the mountain region and upper Piedmont."

The U.S. Department of Agriculture weather station in Asheville recorded only 22.79 inches of rain for the entire year, less than half the station's normal rainfall of 48.14 inches. July and August are the area's wettest months (over 7 inches combined), but in 1925, slightly less than an inch fell. To make matters worse, that amount fell in 28 separate precipitation events. Given that it takes a tenth of an inch to penetrate the hardwood canopy that covers much of WNC, very little - if any - of that precipitation would have made it through the canopy, the leaf litter, and dry soil to a stream.
Rainfall totals by month in 1925, Asheville station:
Jan Feb Mar Apr May Jun Jul Aug Sep Oct Nov Dec Total
2.74 1.85 2.45 2.45 2.15 1.97 .77 .22 1.92 2.74 2.43 1.10 22.79


Could Otis's mother have jumped across the French Broad River that dry year? Truth or legend? We'll never know. But as the great film director John Ford famously said, "When faced with the truth or a legend, always go with the legend." Let's just say she did, and let's hope it's never possible again.
RiverLink Critical Link Award Winners for 2015
Asheville attorney Daniel Hitchcock served as the Chairman of the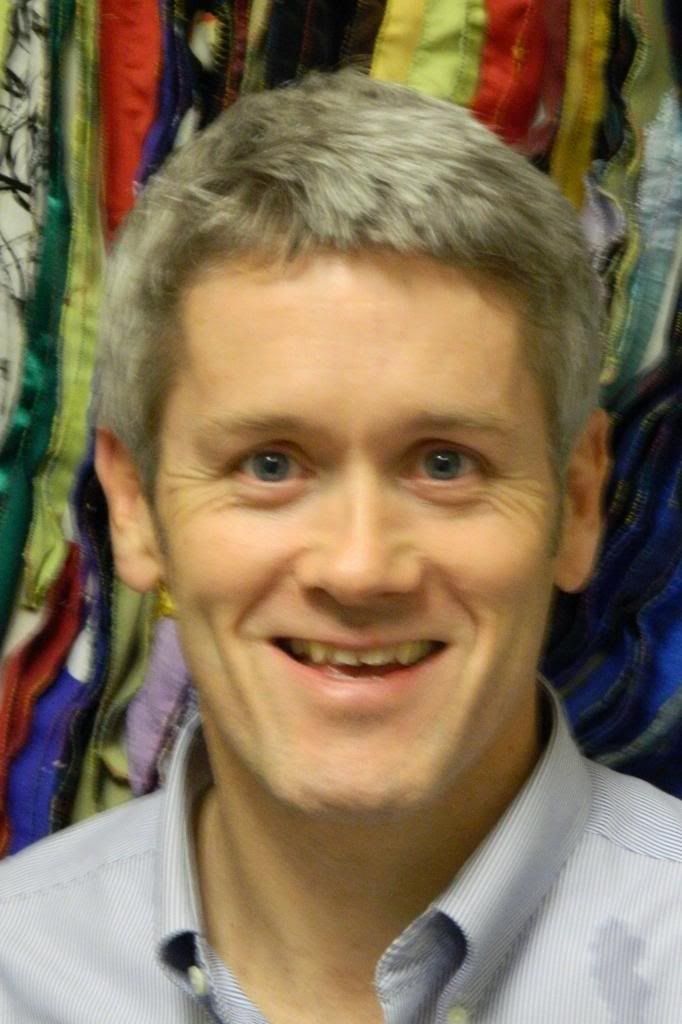 Dan Hitchcock
RiverLink Board of Directors July 2012 -- June 2015. He joined the Board in 2009, and served as Vice Chair 2010 -- 12. Dan is a shareholder with the law firm of Adams, Hendon, Carson, Crow & Saenger, P.A. where he has practiced since 2004. Dan is an avid cyclist and enjoys hiking and camping in the Mountains of Western North Carolina with his wife and two sons. In addition to his steady hand on the helm, Dan's expertise was instrumental in RiverLink's conservation easement program and the French Broad River Paddle Trail.
"I love to float the French Broad River in a canoe and reconnect with the sense of adventure that I knew as a child," Dan says. "I love to take my boys to Carrier Park and to look around and see the smiling faces of people enjoying the open space in so many different ways. RiverLink is bringing people to the river thru its camps for kids, concerts, establishment of parks and creation of the French Broad River paddle trail, and by supporting the redevelopment of the River District."
Pittsburgh native Barbara LaGuardia Korb retired as marketing and operations director for AT&T and moved to the Asheville area with her husband Dave in 2009. Barb served two terms on the RiverLink Board of Directors and headed up the Anything That Floats Parade team three years in a row, including 2013, when RiverLink saw a record 30 entrants take part in the floating party. Barb Korb's love of rivers emerged as she grew up in the "City of Bridges," Pittsburgh, PA. When she was searching for a volunteer opportunity that focused on economic development, RiverLink was the perfect match.
"I enjoyed my time with RiverLink because RiverLink has a proven track record of improving our watershed in ways that advance the economic development of our communities," Barb explains. "I was thrilled to be able to contribute to such an effective and results-oriented organization that focuses on two areas of great interest to me -- job creation and the environment."
Jan Phillips, a.k.a. French Broad River Mermaid, exemplifies the definition
Jan Phillips
of RiverLove. After graduating from UNC-Chapel Hill is the mid- 70's, she moved to Asheville and began a lifelong love affair with the French Broad River. Preferring a "beneath the surface" or "all hands on deck" workhorse role, she has been instrumental in creating and administering a marketing plan for RiverFest and The Anything That Floats Parade, securing musicians and performers and coordinating with artists to develop eye-catching posters and banners for the Anything That Floats Parade. Along with her husband, Jim Howe, a.k.a. French Broad River Merman, they have provided on-site photography for RiverMusic and RiverFest events, as well as designing, building and installing frames for banners used in promoting RiverLink.

Always an enthusiastic, creative and dedicated supporter of RiverLink's mission, Jan has recently designed a tee-shirt, "French Broad Mermaids Go With the Flow" with plans to donate 10 percent of future sales to RiverLink in support of our ongoing work to ensure the river is kept clean and accessible to all for generations to come. Because everyone knows that mermaids, like fish, thrive in clean waters.

"Whether canoeing, tubing or camping, biking and hiking along its banks, the river always nourished and renewed me," Jan says. "Several years ago, I found that I wanted to give back in some way to the river that had given me so much and chose RiverLink as the organization where I felt I could be of service."
Thanks to these three and all the wonderful volunteers who make our work possible!
Eastern Hemlocks are in serious decline
The decline of Eastern hemlock in our riparian corridors is threatening water quality throughout the French Broad River watershed. The hemlock wooly adelgid is a non-native, introduced pest from Asia and is responsible for the decline of Eastern hemlock throughout the Eastern United States.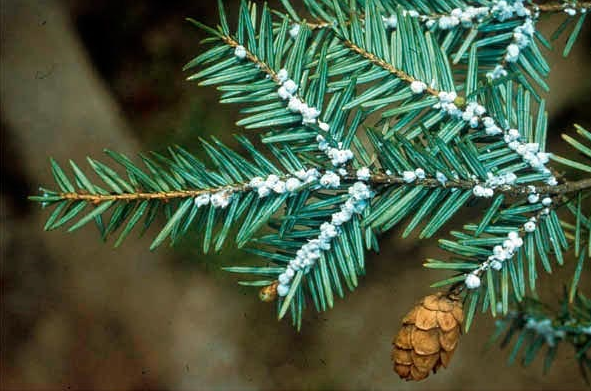 Wooly adelgid on a hemlock


As hemlocks decline, other forest species are taking their place. Rhododendron growth is increasing in response to eastern hemlock decline more so than deciduous trees. Researchers at Coweeta Hydrologic Lab have hypothesized that this may lower the pH of streams, making the water in streams and rivers more acidic. This could negatively impact aquatic species.

This evergreen tree plays a critical role in stream flow because it transpires a lot of water. Researchers at the Coweeta Hydrologic Lab suggest that streams without Eastern hemlock populations will have a greater peak flow. This can have a big impact on stream hydrology with predicted patterns of climate change, which may bring wetter 'wet' years, more frequent extreme rainfall events, and droughts. This may result in more frequent flash flooding with more damaging stream bank scouring and erosion.

As mature hemlocks die off in riparian corridors and the canopy becomes more open, it is possible that streams may see a shift in their trophic dynamics. A change from a detrital-based food web (composed of leaves, limbs, and dead insects decomposing in the water) to an algal-based food web is possible. An increased presence of algae in the water could alter the populations of aquatic species in our region's streams and rivers.

Hemlocks provide shade to streams and play an important role in keeping the temperature of creeks and rivers cold during summer months. Research has shown that stream temperatures have increased with the loss of Hemlock from riparian corridors at Coweeta Hydrological Laboratory. This could have an effect on Southern Appalachian brook trout, Western North Carolina's only native trout, which need cold temperatures to survive.

As hemlocks die off, they will fall into streams and rivers. Downed trees can block streams and rivers, making it impassible for boaters. While in-stream woody debris provides habitat and food for fish, this can wreak havoc on the businesses that depend on the river for tourism.

The Eastern hemlock plays an integral role in providing water quality throughout the Southern Appalachian Mountains. The decline of eastern hemlock poses numerous environmental concerns that could bring about changes to the region's communities, fish and wildlife habitat, and economy. Stay tuned for next month's article on measures to protect our remaining hemlock populations.

Upcoming Events
Please note: When attending any of these events at the RiverLink office, please do not park at any
of the studios on Riverside Drive. Thanks so much.
-----------------------------------
Wednesday Dec. 9th, & Monday Dec. 14th -- Weekday Workdays
We'll keep on working afternoons with a variety of projects in mind! Contact Justin
at justin@riverlink.org to find out more or watch your inbox for RiverLink volunteer emails!
-----------------------------------
Wednesday, Dec. 9
10:00 a.m. & 5:30 p.m. at the RiverLink office - Volunteer Information sessions.
The information session will
detail all of RiverLink's volunteer opportunities in a 30 minute powerpoint presentation. Volunteers will also have a chance to fill out a volunteer questionnaire and find the opportunities that best fit their needs.
-----------------------------------
Saturday, Dec. 12th 10:00 am to 12:30 pm -- Stream Cleanup
We will be doing a cleanup of Nasty Branch Creek. All tools and materials will be provided. Just wear sturdy shoes and appropriate clothes. Sign up here.
----------------------------------
Thursday, Dec. 17, 11:45 -- 2 p.m., the Riverfront Bus Tour -

Scientific name:
Discula destructiva,

History and use: Unknown origin. Anthracnose was first reported on the flowering dogwood in 1983. By 1988, it was traced south, primarily along the Appalachian mountain range, and was discovered in high-elevation sites and cool, wet valleys in Georgia, North Carolina, and Tennessee.

Symptoms: Trees with the disease usually show medium-large, purple-bordered leaf spots and scorched tan blotches that may enlarge to kill the entire leaf. Leaves may also have necrotic veins and
leaf margins, and large necrotic blotches. Girdling cankers (dead sections of bark) typically develop at leaf nodes, causing twig dieback. Brown, elliptical annual cankers will often form on the main branches and trunk.

Ecology: Infection of dogwoods is favored by cool, wet spring and fall weather, but can occur throughout the growing season. Drought and winter injury weaken trees and increase disease severity. Consecutive years of heavy infection have resulted in extensive mortality in both woodland and ornamental dogwoods.

Control: Dogwoods receiving good cultural care will be better able to withstand anthracnose during years in which the disease is favored by weather conditions. Maintain the health of dogwoods by watering during periods of drought. Mulching trees can help to reduce watering needs as well as protect trunks from mechanical injury. Avoid overhead watering to minimize the chance for leaf infections. Improve air circulation around trees to help dry foliage and reduce infection. Effective control is possible only if the disease is detected before extensive dieback occurs. Prune and
dispose of diseased twigs and branches to reduce potential sources of inoculum and improve tree appearance. Raking up fallen leaves may be of some benefit. Remove succulent branches as they form to prevent trunk canker formation. Avoid high nitrogen fertilizers which stimulate succulent branching. Trees with poor vigor may be bolstered by applying a balanced fertilizer in early spring.
Volunteer Spotlight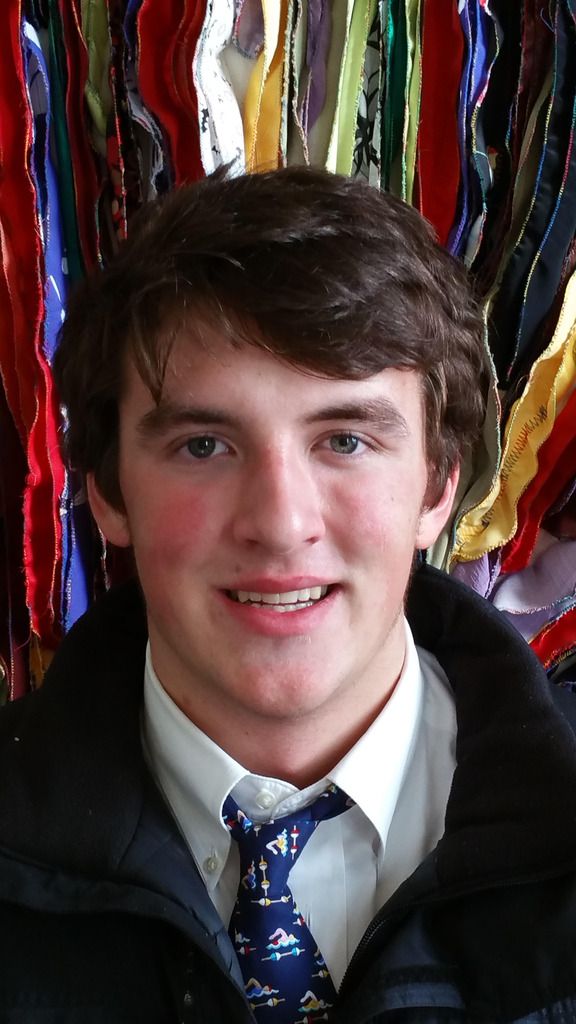 Jacob Cogburn
Jacob Cogburn is a 17-year old and a senior at Asheville High. He is very active in swimming and scouting and spent three weeks this summer working to restore a historic site for the Student Conservation Association in the Grand Tetons National Park. He has been working with RiverLink for almost three months as part of an internship program through AHS. He is a member of Boy Scout Troop 91 and will be completing his Eagle Scout in the spring. He is currently applying to colleges and looking to major in Park and Recreation Management.


After his time with SCA he spent a few days with his step-brother, a park ranger in the Grand Tetons. His experience in Wyoming led him to a decision to focus his life on the trail to becoming a national park ranger. His goal is to join the National Park Service as a park ranger and work his way up to be a park director.
When he returned to AHS for the fall semester and learned about the opportunity to start an internship he thought that RiverLink would be a great place to go. He has always loved the outdoors and working with RiverLink to help save and preserve this world for the next generation has been an outstanding experience and one he hopes to continue even after his internship is complete. He says he would really like to thank everyone at RiverLink for the great experience and for all they do to preserve the environment in and around our waterways.
Green Roofs

Green roofs are roofs that are partially or completely covered with vegetation planted over a
waterproof layer.
 Germany is leading the world in this initiative to help avert climate change and build more
sustainable societies. Today, it is estimated that about 10% of all German roofs have been
"greened".
 Green roofs manage stormwater runoff headed toward over taxed sewage systems and
waterways. These rooftop gardens can absorb up to 70% of rainwater.
 Intensive green roofs are heavier, thicker, require more maintenance, and are designed for
social use. Extensive green roofs are typically inaccessible, have less plant diversity , and are
more self sustaining especially in extreme climates.
 Green roofs provide a reduction of heat island effect across cityscapes. This creates cooler and
cleaner air in urban areas.
 A study conducted by Environment Canada found a 26% reduction in summer cooling needs and
a 26% reduction in winter heat losses when a green roof is used.
 They also provide green corridors creating continuous stepping stone habitats that connect
urbanscapes to natural landscapes
 Industrial buildings can incorporate green roofs for cooling, providing green space for
employees and improve the aesthetic surroundings of industrial spaces.
 Green roofs can be used in urban housing projects to provide a space to grow food.


 These roofs help improve water quality by filtering the stormwater runoff through the plants
root systems before moving on.
 Greening a roof is expected to lengthen a roof's lifespan by two or three times, according to
Penn State University's Green Roof Research Center.
 The largest living roof in the world spans a 10-acre (454, 000 square feet) area. Plans are in
place to construct a 30-acre green roof on top of an old mall in Silicon Valley.
 A new trend of green walls is also starting to become prevalent.


 Greenery on your roof acts as a sound barrier and exterior noises are reduced by around 8
decibels more than a traditional roof.
 Green roofs can increase the efficiency of rooftop solar panels by absorbing more heat and
making them more effective.
 Since plants retain water, green roofs act as a natural form of fire resistance.
Other ways to stay in touch with RiverLink


These monthly newsletters are chock-full of good information about what RiverLink has done, is doing now, and will be doing in the future. There are other ways to connect to us and stay riverlinked, though.
Check them all out and let's stay in touch!