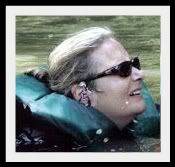 Dear RiverLovers,


Welcome to springtime in February! We have a big month lined up for you all, guaranteed to make you fall in love with the French Broad - even more.
On Friday, February 5th, all three our amazing AmeriCorps members - Laura, Justin and Leah -- are hosting a Friday Salon about disaster mitigation. They kick it off with an overview of the flood of 1916 by
History at Hand
owner and local author Sharon Fahrer and move from there to flood risks and mitigation possibilities with a presentation by risk assessment professional and RiverLink volunteer Lowell Grabel . And since French Broad flooding in North Carolina is a "when rather than an if" question you will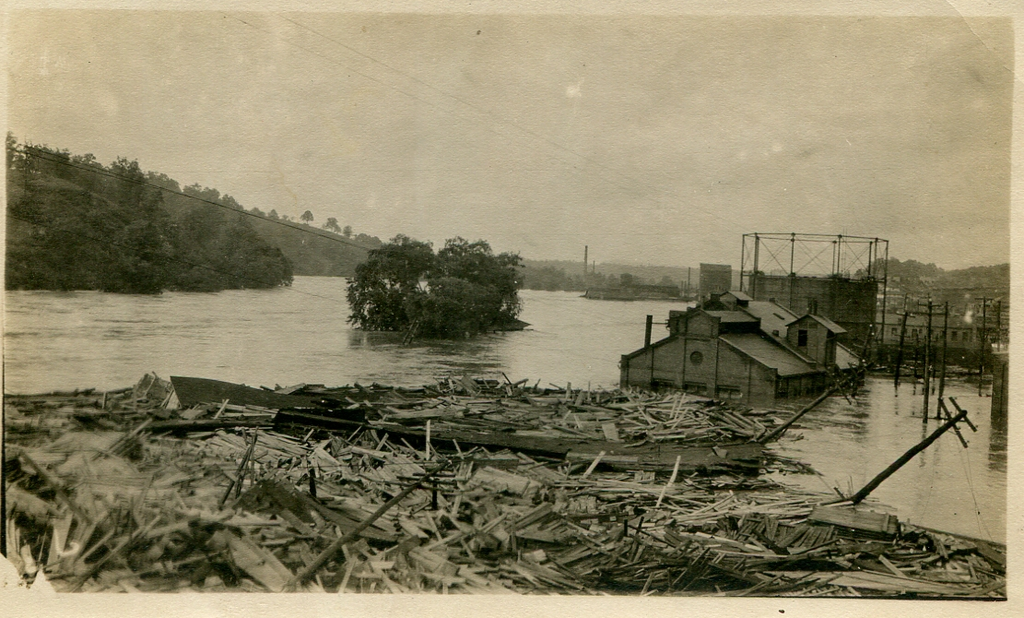 want to come. Plus, 2016 is the 100th anniversary of the
BIG Flood of 1916
that caused so much damage and loss of life. The Salon is free, but reservations are a must.
On February 19th, as part of our 30-Years of RiverLink celebration, join us to meet Amy Annino, our watershed resource manager, and a variety of generous donors who have donated easements and land in the riparian corridor to ensure water quality protection FOREVER. This is an exciting opportunity to hear from land donors about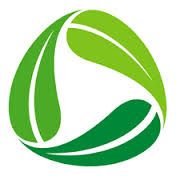 why they did it and what they and their families hoped to achieve. We will also present an overview of RiverLink's conservation strategy for the future that layers protection tools like stream restoration, storm water innovation controls, exotic invasive removal with easements to make positive changes in water quality FOREVER.
On February 23rd we are honored to host Pat Thomson, Director of the National Development Council. Pat will give an overview of New Market Tax Credits Program. In the Wilma Dykeman RiverWay economic development plan RiverLink advocates using New Market Tax Credits (NMTC) to help revitalize our riverfront. Delphi Development is utilizing NMTC at the RAD LOFTS Project.
Click here for an NMTC Fact Sheet.
Historically, low-income communities experience a lack of investment, as
evidenced by vacant commercial properties, outdated manufacturing facilities, and inadequate access to education and healthcare service providers. The New Market Tax Credit (NMTC) Program aims to break this cycle of disinvestment by attracting the private investment necessary to reinvigorate local economies. The NMTC Program attracts private capital into low-income communities by permitting corporate investors to receive a tax credit against their federal income tax in exchange for making equity investments in specialized financial intermediaries. As of the end of FY 2014, the NMTC Program has:
* Generated $8 of private investment for every $1 of federal funding
* Created 163 million square feet of manufacturing, office and retail space
* Financed over 4,700 businesses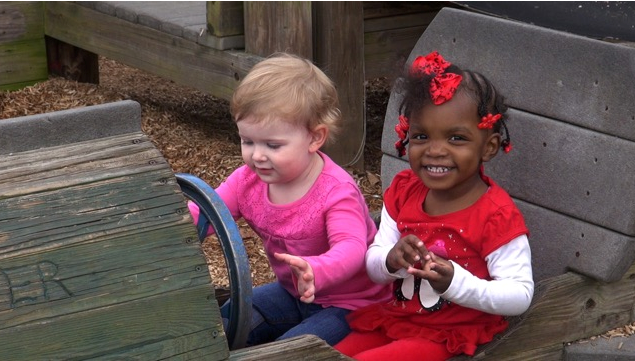 Two of the cutest Ashevillians we encountered enjoying Carrier Park
If you see us around town with a tripod and a camera we are filming a variety of videos about our programs and projects as part of our 30th Anniversary Celebration. A big thank you to all the folks at Carrier and French Broad River Park this week who allowed us to film them enjoying the river. We'll have video to post soon. You might just find your neighborhood project and your friends and neighbors or yourself at play on the French Broad!
RiverMusic and RiverFest are already on our calendar: May 6, June 10, July 8, August 13 (RiverFest), Sept. 9 and Oct. 7. It's a wonderful evening of great music, great food, great beer, and all happening as the Sun sets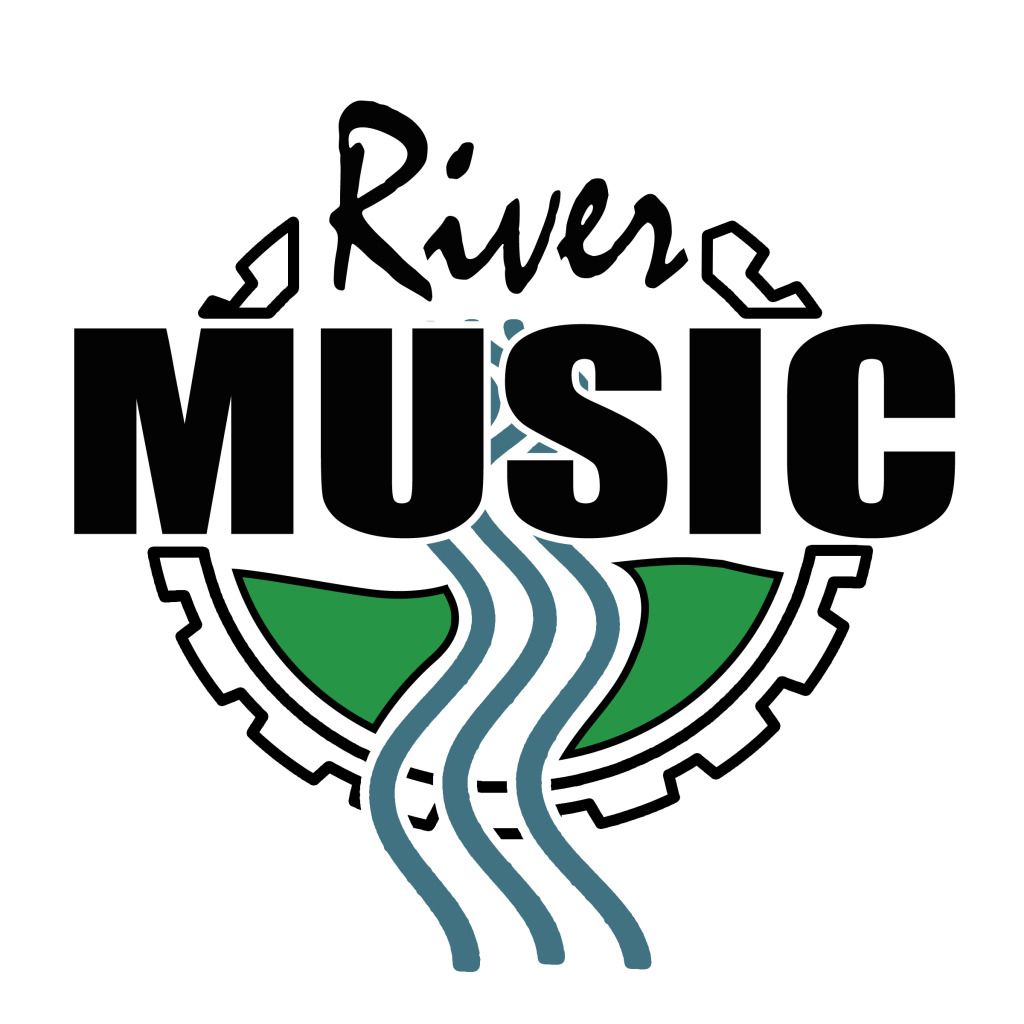 over our beautiful French Broad River. It gets bigger and better each year and this year we expect record crowds. Get your business's logo and message out to thousands of Ashevillians and out-of-towners alike by becoming a RiverMusic/Fest sponsor. We'll give you six months of recognition from the stage, via Facebook, this newsletter, press releases, our blog, website, etc. when you come aboard. Contact Dave Russell at 828-252-8474, ext. 11 or dave@riverlink.org to get a sponsorship packet and learn more.


See you on the river,
Karen

The Perfect Valentine's Day Gift
Valentine's Day is 10 days away. Have you made that hard to get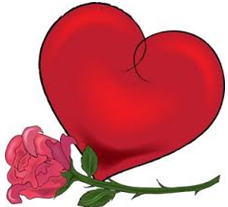 reservation yet? Why not think outside of the box this year?
When we say "out of the box thinking " we mean a gift of FOREVER, which is not your typical gift even on Valentine's Day.
RiverLink offers a piece of the Wilma Dykeman RiverWay with its Deed of Support program. For $50 you can purchase one linear foot of the RiverWay with 100% of your donation used to make greenways and bike paths a reality. We have a variety of dedicated Deed of Support options - Missing Links, Karen Cragnolin Park, Hominy Creek, Westfeldt Park. A Deed of Support on your valentine's wall not only shows the world you support RiverLink's mission but also gives a gift that will last forever - unlike chocolates or roses. And we will use 100% of the proceeds for greenways - like we have done in the past to create the greenways we all use and love along the French Broad River.
So this Valentine's Day as you gaze into your lover's eyes sipping coffee over your scattered smothered and covered dinner, give them a gift that lasts. Give them a Deed of Support! For more information on how to purchase a Deed of Support please contact Brantlee Eisenman, our Development Manager, at brantlee@riverlink.org or (828) 252-8474, ext. 12 or go online at
http://riverlink.org/buy-deed-support/
. Happy Valentine's Day!
Events planning -- Join us for a clean, dry and very, very fun volunteer opportunity
RiverLink is looking forward to a very busy 2016, with activities planned up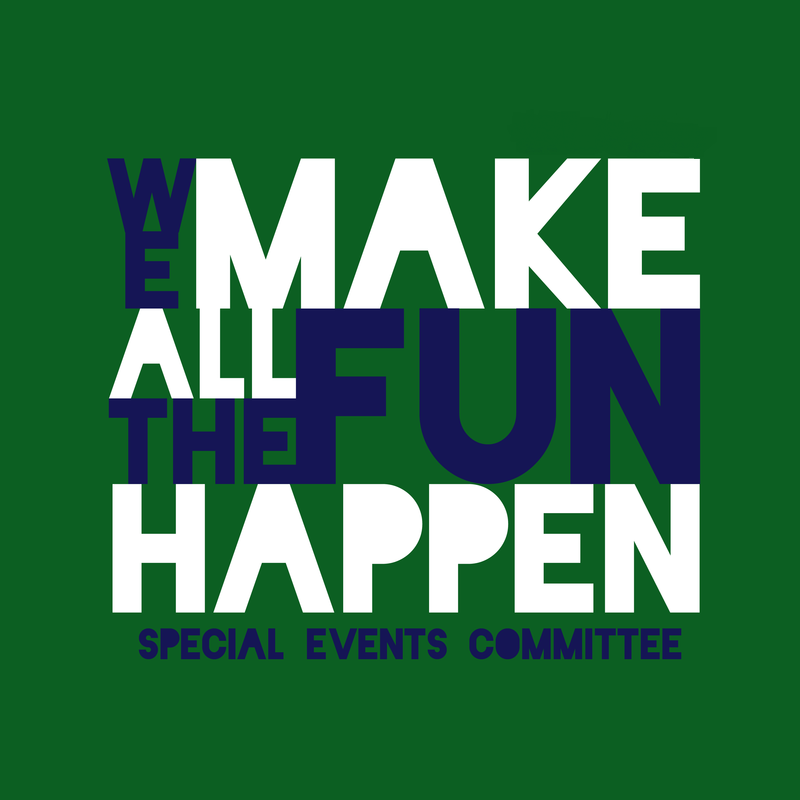 and down the French Broad River for most of Spring, Summer and Fall. To help with the planning and execution of festivals, concerts and parties, we are establishing a Special Events Committee.
Volunteers for this committee will be asked to assist RiverLink at least through the summer, tackling RiverMusic and RiverFest, our biggest event of the year.
Volunteers will take on tasks relating to a part of each event, and report progress to the committee. The special event committee will meet at least once a month, usually at 5:30 p.m.
RiverLink staff will be working with and directing the committee, but outside help is essential to accomplish all RiverLink has planned. This would be a great opportunity for volunteers who enjoy or have experience in planning, and the folks who tell us, "I'd like to get involved but don't want to get in the water."
For more information about helping out, volunteers should call RiverLink's Dave Russell at 252-8474, ext. 11 or e-mail to dave@riverlink.org.
Our first meeting is Thursday, February 18 at 5:30 p.m. at the RL office at 170 Lyman Street in the River Arts District -- you can park at the Wedge and walk across the tracks to our blue awning. Even if you can't make that one, don't be shy! Give us a call.
Press Release announces the Sale of The Phil Mechanic Building at 109 Roberts Street


On Friday, January 22, the Phil Mechanic Building changed hands. The longtime owners, Mitch and Jolene Mechanic sold the building to James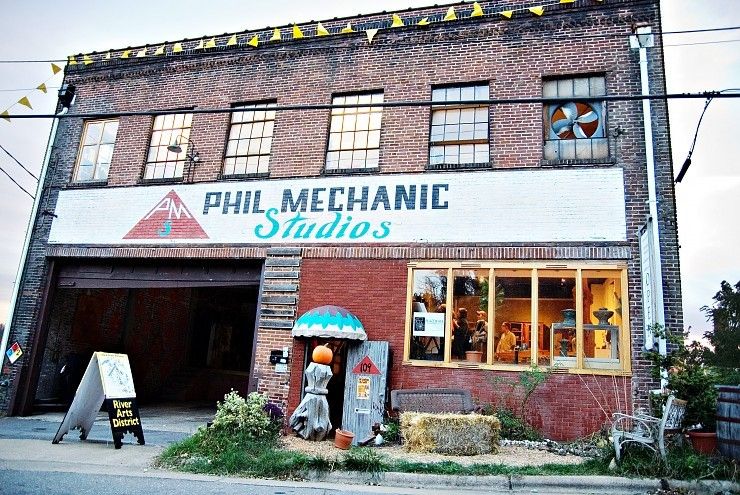 Lifshutz, a real estate investor and developer from San Antonio, Texas.

Lifshutz is no stranger to urban infill development with an arts-twist. He developed the popular Blue Star Arts Complex in San Antonio which has become the anchor for a revitalized Southtown (the collection of neighborhoods south of the central business district). "I am very pleased to be a part of the exciting things going on in the RAD. There is a great vibe here, and even greater potential to build on it to realize the vision for an interesting, pedestrian-friendly, art-centric urban neighborhood - with residential options, art studios and galleries, and of course food, beer, and entertainment. "

Jolene Mechanic has poured much energy and heart into the building and its programming over the years - she is moving on now, but with mixed emotions. "It has been so gratifying for me to have been an early positive influence in the RAD, to have had the opportunity to showcase the important work of so many gifted artists over the years, and to have made so many lasting friendships. I will miss it", says Jolene Mechanic.

Karen Cragnolin, executive director of RiverLink said, "the energy and ideas and experience in the arts that Mr. Lifshutz bring to the river is welcome. He did a lot of homework around town and met with loads of folks before he purchased the building which is a big plus in my mind."
To which Mr. Lifshutz responds, "I am amazed by how much positive activity that Jolene generated during her ownership. The Asheville arts community should be ever indebted. And although much of that programming has ramped down over the past couple of years, it remains imprinted on the building." Lifshutz is buying the Mechanic Building with the intention of changing some of the uses, including converting some space to residential use, and a possible brewery or restaurant on the river level. "But art is in the DNA of the building, so must continue to be featured prominently in the mix. What will the final mix be? My intent is to spend the next year or so figuring that out by way of a planning effort that will involve my consultants, the City of Asheville, current tenants, and other stakeholders. I am looking forward to it."

For information, contact: James Lifshutz 210-225-6742 james@lifshutz.com
March 4, 2016: RiverLink is hosting a Native Seed Bomb Workshop

Join our AmeriCorps Watershed Resources Coordinator Leah Handwerger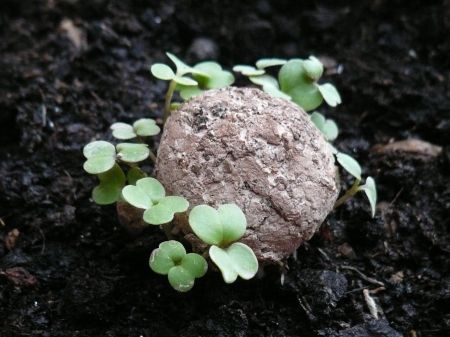 Photo by Guerilla Gardener_s Blog

and help encourage native plant growth with this fun and simple activity!
Combine your choice of wildflower seeds, clay, and compost, place (or throw) where you'd like, and watch your garden grow! These little seed bombs have huge impacts on our environment: encourage pollinators like butterflies and bees, and make your home a little more beautiful.
In this workshop you will learn about the history and science behind the seed bombs before making some for yourself! RiverLink will provide all materials.
This event is free but registration is a must.
Admiration of the French Broad goes back a ways
We all know about the myriad "Best place to _____" lists that Asheville and WNC have made in recent years, but this is not a new development. Ninety six years ago, the region -- and the French Broad in particular -- were cited as a great place to visit and to fish.
At RiverLink we often refer to the French Broad River as a "world class
Small mouth bass
small mouth bass fishery." Local anglers will heartily agree, and FBR fishing guides offer half-day fishing trips for $275 for a half-day and up to $425 for a full day.
In the April, 1920 edition of "Outers' - Recreation," which billed itself as "The Magazine that Brings the Outdoors In," Dr. David Starr Jordan, president of Stanford University and said to be "America's greatest fishing authority," touted the FBR as the best small mouth bass fishing he'd experienced.
"Counting over the many clear rippling streams where I have met the small-mouthed bass," he wrote, "I believe that I must give first place to the French Broad River in East Tennessee, just after it has come tumbling and foaming down the gorge of the Great Smokies whereby it descends from the 'Land of the Sky' of the Asheville - Swannanoa region. Where the current slacks a bit, you will find bass enough and the banks will be white with laurels and rosy with rhododendron in the early Summer."
"The stream I mention is no better for bass than a hundred others in the eastern part of Tennessee and southwestern Virginia. None is more beautiful than the French Broad, which can be reached by rail from Morristown, Tennessee, which is on the trunk line to the southwest, east of Knoxville. The Swannanoa is one of the head streams of the French Broad, flowing down from Mitchell's peak, the highest of the Great Smokies, to Asheville. This whole region is very attractive in summer, and abounds with bass wherever the streams are large enough and not too rocky."
Put RiverMusic/Fest on your calendar now!
RiverLink's RiverMusic began in 2012 and was immediately a huge success. Every year since then it has grown bigger and better, and we expect more of the same in 2016. As usual, 2016 will feature two beer vendors, 5 food trucks, three bands and a beautiful sunset on the mighty French Broad River.
Our dates are Fridays: May 6, June 10, July 8, Sept. 9 and Oct. 7. RiverFest, featuring the fabulous Anything That Floats parade, takes place on Saturday, August 13. All of these events should take place at the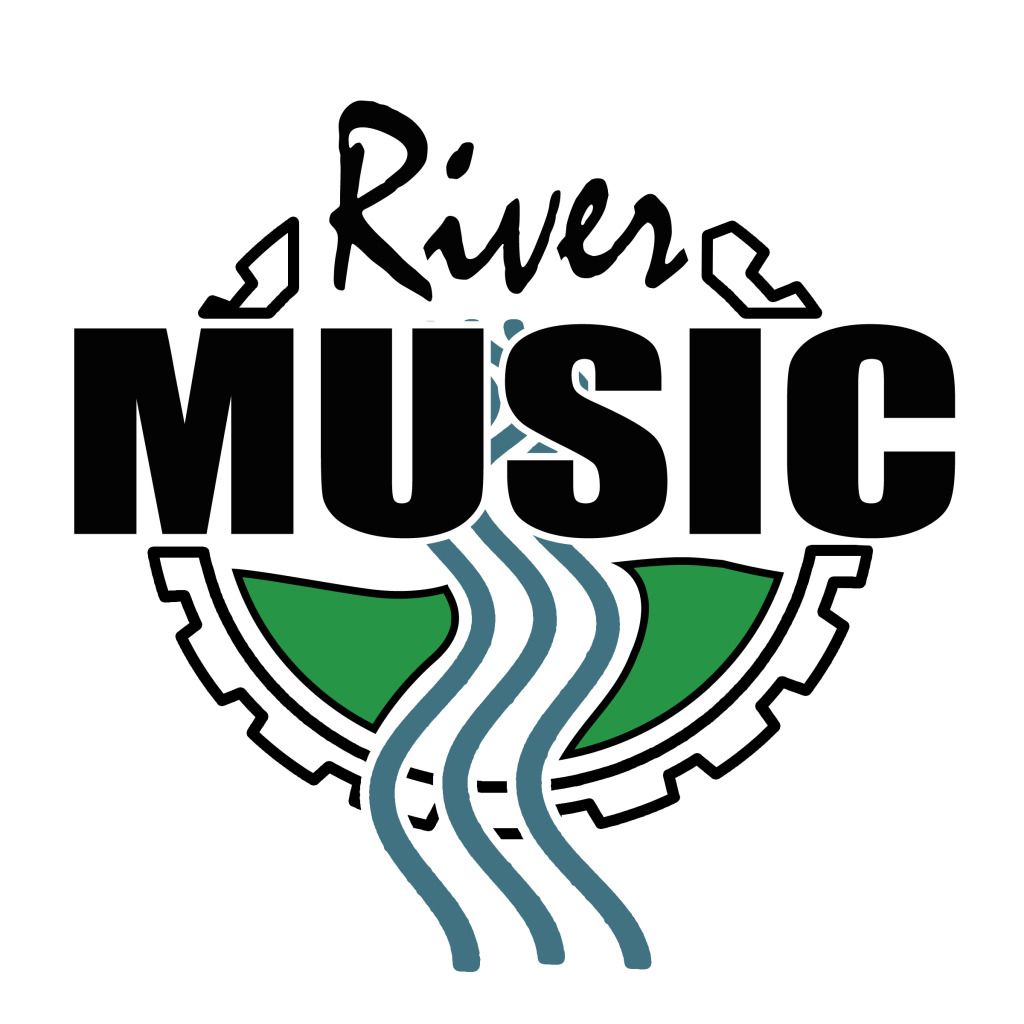 RiverLink Sculpture and Performance Plaza at 144 Riverside Drive, though construction might cause us t
o move the last two events to Carrier Park. Stay tuned.
We always shoot for a variety of genres and this year you can expect funk, rock-n-roll, bluegrass, a "Friends of Widespread Panic" night, and more! Some of headlining acts we're offering include The Greyhounds, Bloodkin, and Patrick Sweany. We've enlisted Jeff Whitworth of the Grey Eagle to book our bands, and we look forward to benefiting from his experience and knowledge.
RiverMusic and RiverFest offer great sponsorship opportunities. Local businesses can get their logo and message disseminated to Western North Carolina in a variety of ways - social media, event presence, press releases, announcements from the stage, etc. We're seeking sponsorships at all levels. Download and take a look at our sponsorship brochure, and/or contact RiverLink's Dave Russell at 828-252-8474, ext. 11 or dave@riverlink.org for more information.
Voices of the River: Music, Art and Poetry Contest
Don't forget to get your student and their school involved in our Voices of the River: Music, Art and Poetry Contest! This community event gets students from all over the French Broad Watershed to create art and music influenced by our water resources and the French Broad River. Student submission deadline is March 25th 2016. Reception and Award Ceremony will take place at AB Tech's Holly Library on April 16th 2016. Studentswork will be on display at Holly Library for the month in honor of EarthDay. For questions please contact Education Coordinator, Laura Evans, laura@riverlink.org or call (828) 252-8474 x 18. Need some ideas for your piece? Look below!


 A 3D model of your favorite aquatic animal made from recycled materials
 A 2D painting or collage of your favorite spot along the river
 A poem from the river's point of view about what she sees everyday
 A instrumental/vocal piece about our water resources or created by you about how you feel about the river
Thanks for being a voice of the river!
Join us for the
January 2016 RiverFront Bus Tour
The RiverLink Bus Tour offers answers about Asheville's past, present and
future: What is the
Wilma Dykeman RiverWay Plan
and what does it hold for Asheville's future? How did the Flood of 1916 change the river area landscape?
The next tour will be Thursday, January 21, 2016, when the public is invited to tour the French Broad and Swannanoa Rivers with
RiverLink
.
This is an opportunity to see the improvements that have occurred and hear what is coming over the next several months and years to make our rivers better places to live, learn, work and play. You will learn some local history and visit some streets and neighborhoods you have never seen before.
What
: RiverLink's Riverfront Bus Tour
When: Thursday, Jan. 21, 11:45 -- 2 p.m.
Upcoming Events
Please note: When attending any of these events at the RiverLink office, please do not park at any
of the studios on Riverside Drive. Thanks so much.
-----------------------------------
10:00 a.m. & 5:30 p.m. at the RiverLink office -- Volunteer Information sessions.
The information session will
detail all of RiverLink's volunteer opportunities in a 30 minute powerpoint presentation. Volunteers will also have a chance to fill out a volunteer questionnaire and find the opportunities that best fit their needs.
-----------------------------------
Thursday Feb. 4, Friday Feb. 12, Wednesday Feb 17, & Monday Feb 22 -- Weekday Workdays
We'll keep on working afternoons with a variety of projects in mind! Contact Justin
at justin@riverlink.org to find out more or watch your inbox for RiverLink volunteer emails! You can also create an account at Hands-On Asheville and become a fan of RiverLink to receive updates each time we post a new opportunity.
-----------------------------------
Thursday, Feb. 18, 11:45 -- 2 p.m., the Riverfront Bus Tour -

Common Chickweed
Scientific name:
Stellaria media
History and use: A native of Europe, anthropologists have found that early European civilizations used Chickweed as a food source. Freshly washed chickweed leaves are an acceptable addition to salads. The plant also has some medicinal properties. Strained and cooled, chickweed tea makes a refreshing bath for tired eyes. Flavored with honey and lemon, the tea is a tonic for constipation. A poultice for abscesses is made by boiling several handfuls of fresh leaves in a small muslin bag for two minutes. The hot bag is then applied to the infection.
Identification:
Stems grow 3 to 15 inches long and are widely branched. The stems are limp or only slightly erect, so chickweed must lean on other plants for support. A single line of white hairs grows along the stem. The line is not continuous, but alternates between nodes from one side of the stem to the other. Mature leave grow about a ½ inch and have smooth surfaces.
At night, each pair of leaves closes up around the stem, the last set folding up around the growing tip of the shoot. White flowers form on long stalks either singly or in clusters. These flowers have a starburst shape, last one day, and only open under sunny skies.
Ecology:
Common chickweed grows vigorously in cold weather, surviving air temperatures as low as 14°F. It prefers shady, moist locations and rich, neutral soil. It occurs naturally in woodlands, meadows, and waste places. When introduced to such an area it can adapt quickly, but it needs disturbed ground to become established. It is a common weed under trees and shrubs, on cultivated land, and in gardens, lawns, alfalfa fields, strawberry beds, and vineyards. Because of its ability to withstand cold temperatures, it often overwinters in orchards, small fruit crops, and nurseries, and may be well established by spring.
Impact:
In the continental United States, it is a problem in alfalfa, pastures, gardens, and lawns, often spreading over turfgrass in large dense patches. It emerges at the same time as many vegetable seeds and often invades gardens, where it serves as an alternate host for beet yellows virus. Chickweed finds the perfect growing conditions in overwintering perennial crops, winter and spring cereals, and early planted crops such as peas, spinach, and onions.
However, some farmers plant chickweed on slopes to hold soil in place, conserve water, and to help keep soil temperature constant.
Control:
Practicing crop rotation disrupts the growth cycle of chickweed and helps to prevent its establishment. Rotating to crops that allow spring cultivation when the crop is still small is a good cultural control.
In lawns, establishing and maintaining healthy sod is the best defense against chickweed. If chickweed becomes a widespread problem in turfgrass, it can be controlled by chemical herbicides. To rid a lawn of a few scattered plants, any soluble nitrogen fertilizer will do.
Volunteer Spotlight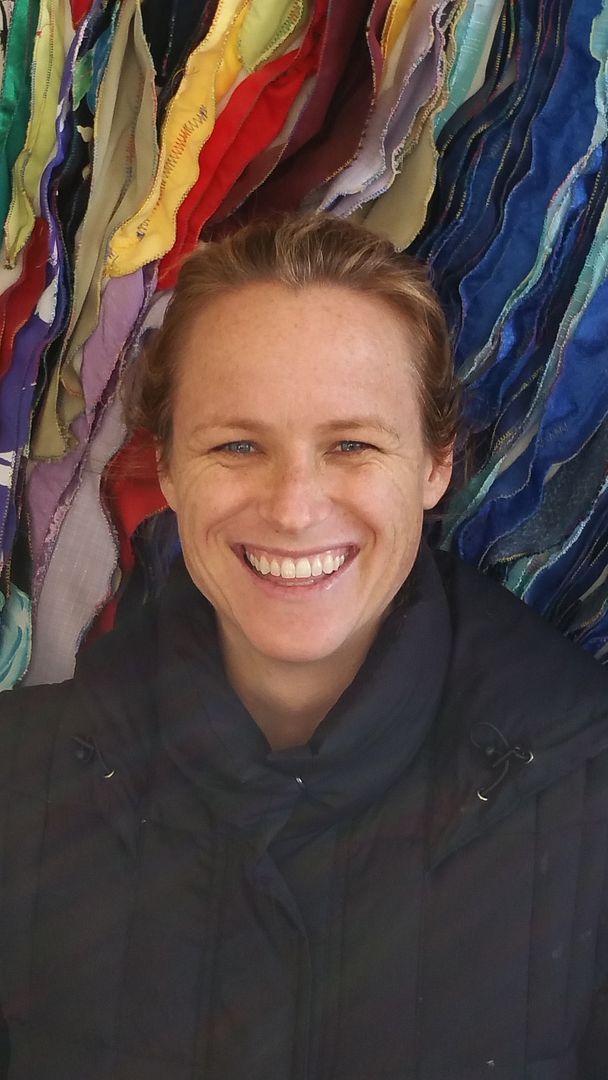 Emily Tynan
Emily Tynan McDaniel has been helping Elaine Smyth with RiverLink's archiving. Emily is a relatively new transplant to Asheville; she moved here with her husband, Adam, in the summer of 2013 from their previous home in Philadelphia. Growing up in Massachusetts, Emily inherited a passion for conservation and the outdoors from her parents and was outside as much as she could be. Summers spent camping in Maine and Canada and backpacking in the Rockies, as well as a semester with the National Outdoor Leadership School, parlayed into working as a trip leader for Adventures Cross-Country throughout the west coast.
After graduating from Brown, Emily enjoyed teaching for eight years: marine biology on Catalina Island, science in Delaware, and outdoor education in Philadelphia. After earning her Master's in Linguistics (her academic passion), Emily transitioned to working with a garden designer in Philadelphia. She loved designing new spaces for clients, being back outside and in the dirt, and managing the crew, but she missed teaching.
So in 2011, she founded Homegrown Gardening, LLC, which allowed her to work in gardens, but also teach interested clients interested to care for their outdoor spaces. She brought her business with her when she moved to the beautiful Blue Ridge Mountains. Since winter is a quieter time in her professional life, Emily has had time to become a regular volunteer, working weekly at RiverLink. She believes in RiverLink's mission, loves being a part of the team, and plans to continue volunteering at RiverLink throughout the year!
Eastern King Snake Facts
- Eastern King Snakes are typically banded, with colors ranging from black and white to brown and yellow with horizontal stripes, bands, speckling, and chain marking.
- The genus species for the Eastern King Snake is Lampropeltis (which means shining, beautiful scales) getula getula
- King Snakes range in size from 36-48 inches, but the longest recorded individual was 82 inches.
- King Snakes get their name because they are commonly known to feed on other snakes.
- They will also feed on small mammals and eggs.
- The incubation period for the Eastern King Snake is about 60-75 days.
- The incubation temperature of the snake's eggs may determine the offspring's sex; warmer temperatures usually create males while cool temperatures create females.
- King Snakes typically lay 3-29 eggs at a time.
- These snakes live anywhere between 10 to 15 years.
- King Snakes are non-venomous and kill their prey by constriction.
-King Snakes- use quick, jerky movements so that their bands flash, startling predators. Their bright colors signal danger and often confuse predators, making these snakes hard to follow.
- King Snakes are immune to the venom of the snake species that they prey upon.
- These snakes act as an important food source for many birds of prey.
- They also help to curb the rodent population especially near human settlements.
- In optimal conditions 2 mice could turn into 100 million mice over the course of a year, if there were no snakes to control their population.
- King snakes have one of the widest distributions of any American snake. They range throughout the southern United States and Mexico.
- The Eastern sub-species can be found as far north as southern New Jersey and as far west as southern Alabama.
- King Snakes are almost exclusively active during the day, being the most active in the mornings during the summer.
- They thrive in many habitats including hardwood and pine forests, bottomlands and swamps, hammocks, tidal wetlands, and even farmlands and suburban areas.
- Although they frequently rattle their tail, release musk, and bite upon capture, they generally tame quickly and are often kept as pets.
Other ways to stay in touch with RiverLink


These monthly newsletters are chock-full of good information about what RiverLink has done, is doing now, and will be doing in the future. There are other ways to connect to us and stay riverlinked, though.
Check them all out and let's stay in touch!